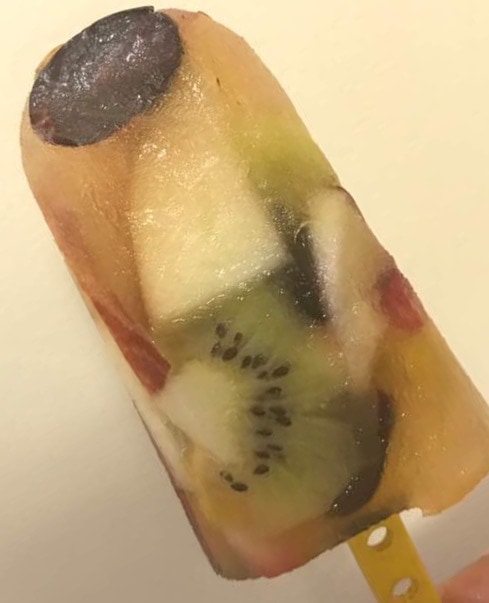 Call it Popsicles or Lollies or Ice Lollies or something else... they are  all age favourites... especially children.
Amidst yummy creamy ice creams, orange lolly is my and my family's favourite ice cream.
A lolly is the best way to beat the heat and it gives instant relief.
With moulds available easily, it is the best thing to go for in summers.
You can make popsicles of anything, any juice or smoothie or creamy dessert can be easily turned into ice lollies.
Here we are talking of fruity popsicles.
Fresh fruits on stick looks tempting and tastes superb.
You can use any fruit for this purpose but the fruits which go best for this are apples, pears, grapes, pomegranate, kiwi, plums, peaches, berries, oranges etc.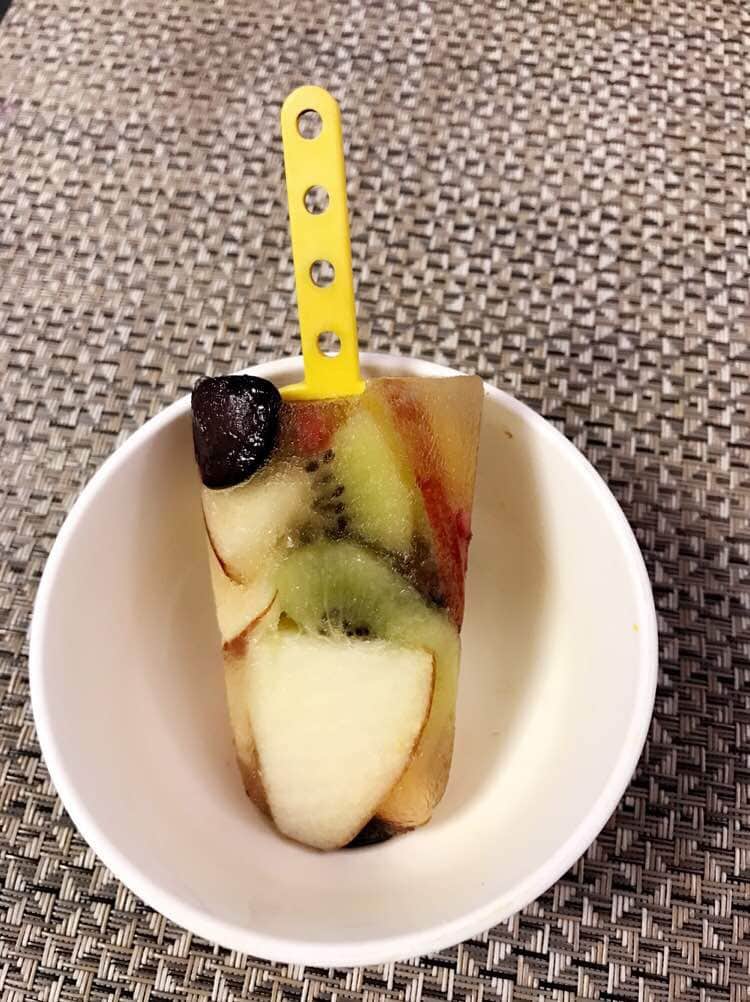 No recipe as such.
Take popsicle moulds, arrange chopped fruits in it and fill it with apple juice.
We use apple juice for two reasons, firstly, its all about fruits. Fruits taste good when consumed with apple juice. Tonic water will make the fruits taste watery  and lemonade too will not go with fruits.
Secondly because of its colour. With apple juice you can see the beauty of fruits popped in.
Still, writing a brief recipe for my mini chefs...
Ingredients
1/2 Apple
1/2 Kiwi
7-8 Grapes
Few pearls of Pomegranate
1/2 Plum
200 ml Apple Juice
Method
Slice all the fruits thinly.
Take moulds, start putting fruits in it.
Put fruits like apple and kiwi on the sides of the mould.
In between put some grapes then pomegranate then plums, again grapes and so on.
Fill the moulds 4/5th with fruits.
Pour Apple juice in the moulds.
Close the lids and put these in the freezer for 5-6 hours at least.
When properly set, just run it under running water for 3-4 seconds and take it out.
Your yummy-healthy popsicles are ready...
Eat fast or you will spill it... as these melt very fast.
Variations
You can use orange juice in place of apple juice.
Make popsicles of watermelon juice, any squash, frooti, mango shake etc etc.
If you like this recipe, please join me on my Facebook page,
Thanks,
Samira