Call it Chocolate Ferrero Rocher Chocolate Cake or  Hazelnut cake, whatever you call it, but the fact is that it looks exotic and tastes heavenly delicious. 
Eggless and made with whole wheat flour, it is a very rich cake covered with ganache and filled with lots of hazelnuts, Ferrero chocolates and Nutella flavored whipped cream. If you love Ferrero Rocher chocolates, then definitely this cake is for you.
When I Tried Ferrero Rocher Chocolate Cake First Time
When your loved one celebrates his/her birthday almost after a decade (after 9 years) in his/her own home then it calls for a special cake. The same happened here. My sister-in-law's son, Satvik, who is now based in the United States, was with us last week and it very well coincided with his Birthday. It was indeed a special day for all of us.
As it was Satvik's special Birthday so I wanted to bake a special cake for him. And after a lot of brainstorming and of course, Googling decided to go for this chocolate Ferrero rocher cake.
And this Ferrero Cake turned out awesome, exactly the way I wanted and was loved by everyone. In fact, I got the compliment that it was much better than the bakery cake. 
How to Make

 
This cake is basically a chocolate hazelnut cake with lots of chocolate in it. Keeping the base cake simple,. I followed my Vegan Chocolate Cake recipe, added the required flavors, and voila! A perfect Ferrero Rocher Cake! No one could say, it was with wheat flour.
I used a good quantity of hazelnuts in it and that made all the difference. I looked for hazelnut essence or syrup but couldn't get it, so used Nutella in this cake. This is because Nutella is nothing but hazelnut butter so it imparted an excellent flavor to the cake, Also, a lot of Ganache was filled into it which made the cake perfect chocolaty.
Along with the recipe, one thing I would like to emphasize is that you need 2 cake boards for this cake. Yes, 2. One is the usual one on which we keep the cake. And the other one is hidden under the cake, as it is exactly of the same size as the cake.
Why 2 boards? Soon, it will be clear to you as we proceed with the recipe.
Divide the Process
Don't get alarmed seeing the long list of ingredients and the steps to follow. No doubt, it's a long process but then when you aim to have an exotic cake then some extra miles don't really count.
As it is a lengthy process, you can divide the various steps into 2 or 3 days period depending on your convenience as the process of making this cake can be divided into 4 parts, namely:
The base cake: Make it a day before and keep it in the refrigerator.
Ganache: Make it one or two days prior.
Whipping cream: Whip the cream at the time of use or just a few hours before.
Assembly
Step By Step Recipe
A. Make the Base Cake
Grease a 7'' round cake tin and dust it with flour. Keep it aside.
Toast hazelnuts and grind coarsely. Toasting enhances the flavor. Toast in oven or a wok till light golden.
Start preheating the oven at 180 degrees for 15 minutes. If baking in microwave convection then preheat at 170 degrees.
Sift together wheat flour, cornflour, cocoa powder, baking soda, instant coffee powder, and salt at least 3 to 4 times.
Mix ground hazelnuts and brown sugar in it.
Make a well in the center and add oil, vanilla essence, Nutella, water, and vinegar in it.
Mix everything lightly using the cut and fold method. Do not mix it vigorously else the cake will turn out hard.
The batter should be of flowing consistency. If need be, adjust the consistency of the batter by adding a little more water.
Pour the batter in the prepared cake tin.
Tap it lightly 2 to 3 times to release air bubbles, if any.
Bake in the preheated oven for 30 to 35 minutes.
Check if the cake is baked fully. Insert a toothpick and see that it comes out clean. Along with this, press the cake lightly and it should feel spongy. If not, bake for few more minutes.
Take out the cake tin and wait for 8 to 10 minutes till it cools down slightly.
Invert it on a wire rack.
Once completely cool, wrap it in cling film and keep it in the refrigerator for 4 to 6 hours. If possible, keep it overnight.
B. Make Ganache
Heat cream for a minute in the microwave. Or heat it on the gas stove till bubbles appear around the edges.
Add chopped chocolate and butter in it. Cover for 5 minutes.
Add Nutella. Mix everything and keep it in the refrigerator for 5 to 6 hours, better if overnight. Do not keep it in the freezer else tiny frozen pieces will create difficulty in icing.
C. Make Whipped Cream
Chill the whipping blades and the bowl in the freezer for a minimum of 15 minutes (maybe longer).
Whip cream till you get soft peaks. You may refer to my post on Tips For Making Perfect Whipped Cream
Add 2 tablespoons of set ganache.
Ensure that it is set.
Whip again till you get stiff peaks.
D. Assembly
Take 2 cake boards, one of 9'' and the other of 7''. Bigger one to keep the final cake and a smaller one, exactly of the same size as the cake. (The smaller one I made using cardboard lying in the house and then covering it with aluminum foil)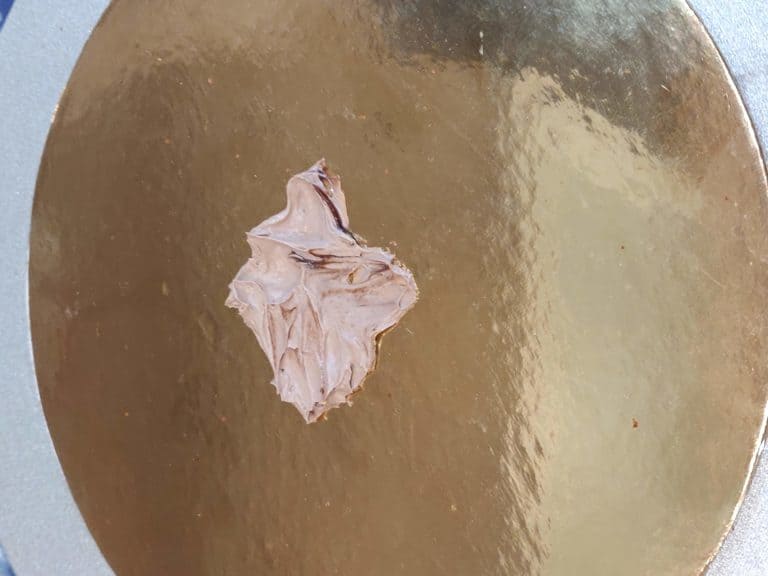 Take out the cake. Divide it into 3 parts by making a cut around it and then pulling it through a thread.
Keep the bottom layer on the 7'' cake board. Brush sugar syrup on it.
Sprinkle chopped hazelnuts.
Spread a layer of whipped cream.
Put the other part on it and repeat the process, that is, sugar syrup then hazelnuts and then whipped cream.
Put the final layer of cake. Just brush sugar syrup.
Now, cover the entire cake with whipped cream. You don't have to be very neat as we will be covering it with Ganache.
Keep it in the freezer for half an hour.
Now, the Ganache which is set by now, melt it by putting it in the microwave for a minute. It will be smooth and runny again.
Keep the inverted cake tin or any other utensil in a plate.
Once melted ganache comes at room temperature, pour it on the cake, covering the top as well the sides. Excess Ganache will drip off and get collected in the plate.
Now, carefully lift the cake and keep it on the bigger cake board. The smaller cake board will ease the lifting of the cake otherwise the cake will crumble.
Keep it in the refrigerator for half an hour or till the Ganache sets.
Decorate it with whipped cream and Ferrero Rocher chocolates.
FAQs 
Q) Can I skip Nutella and hazelnuts in this cake?
Yes, in that case, use hazelnut essence. 
Q) Is it necessary to pour Ganache on the top?
No. Once covered with whipped cream you can skip the ganache and decorate it with whipped cream only. In that case, you don't have to take two cake boards. Just take one bigger cake board only. Though this will ease the process but then there will be a difference in the taste too.
My other cream cakes which you may like are
Let's Connect
I am sure you will definitely try this Eggless Ferrero Rocher Cake for your loved one's birthday or any event. Do share your feedback as you know your feedback fuels my enthusiasm to post more good recipes.

Let's connect on Facebook, Pinterest, Twitter, Instagram (#samirasrecipediary) too.
Eggless Ferrero Rocher Cake Recipe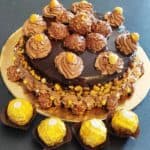 Pin it to Read Later