Roasted cashew nuts are a rich, healthy and a delicious snack in itself. And these roasted cashews get ready in less than 5 minutes that too without using excess salt or oil. Make them plain salted or Masala or in any other flavour.
These cashews are roasted in water. Roasted In water? Yes, let's see how this magic is done...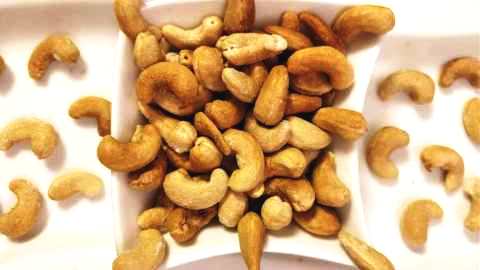 The biggest risk of eating these kidney-shaped, white-colored roasted cashew nuts is that you find it difficult to stop eating them and before you can count whoosh!!! A whole bowl would have vanished. Apart from eating them in various ways, one also needs to learn to manage quantity.
However, Cashewnuts when roasted tastes awesome and are wonderful for munching or for serving to guests.
How To Roast Cashews in Microwave
Roasted Kaju can be made in OTG or in a pan with salt in it, but both these methods are time-consuming.
Here I am sharing with you the roasted cashews recipe and we will do this without any excess salt and in just 4 minutes.
Also, as they get ready instantly, many times I roast these for my sudden guests also. By the time I prepare coffee and arrange cookies etc, a warm, healthy, and rich snack gets ready.
When I serve freshly roasted and salted cashews to my guests, they just love it and find it difficult to believe that these are roasted in the microwave.
About  250 g cashews get roasted in just 3 to 4 minutes. After this just wait for 5 minutes, till they get slightly cool, as then only they get crisp.
Tips For The Perfect Outcome
Do not run the microwave for 4 minutes continuously otherwise, cashews will burn. 
Always run it for a short time, say 1 minute or 30 seconds, take it out to toss, and then again start it.
Do not use plastic bowls in the microwave.
Why You Will Love This Recipe
Ready in 4 minutes.
Neither oil nor excessive salt is used.
Instant warm snack.
 

Step by Step Method
Take cashews in a  shallow microwave-safe dish.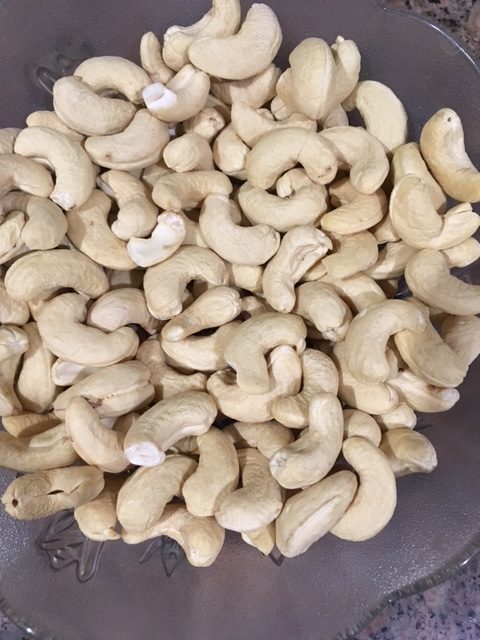 Sprinkle water and then salt so that salt sticks to cashews. You can sprinkle Chaat Masala too at this stage.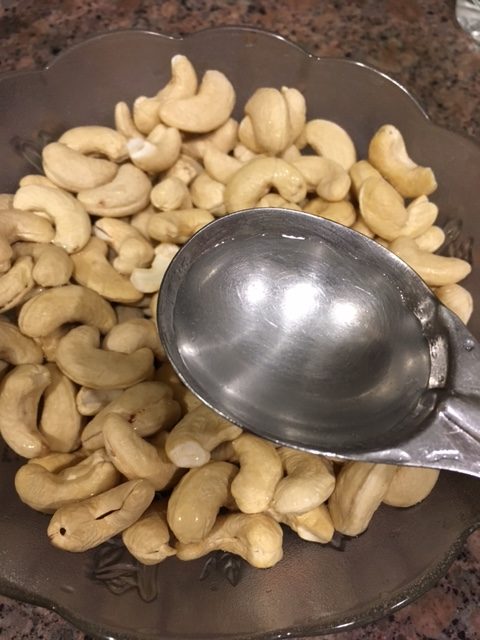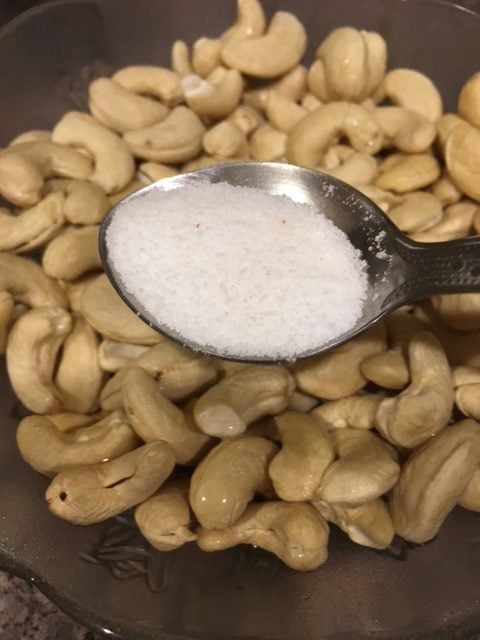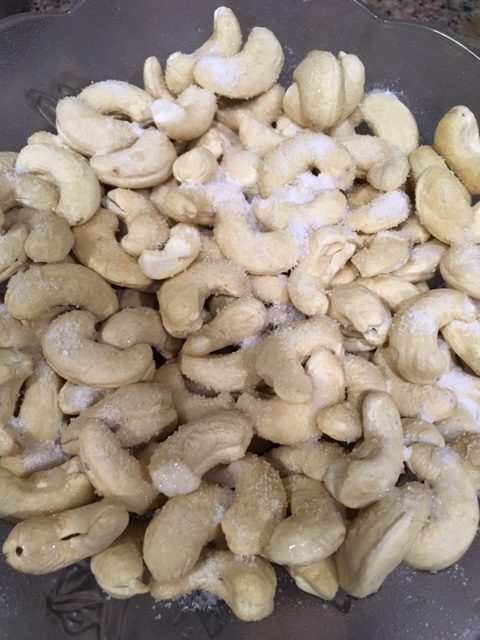 Toss and put in microwave 'High' for 1 minute.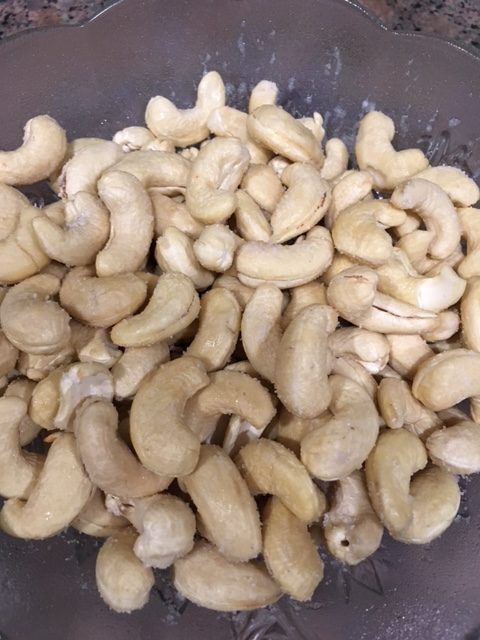 Repeat this process of  'Toss' and 'Run for 1 minute' 3 to 4 times till you get golden brown cashews.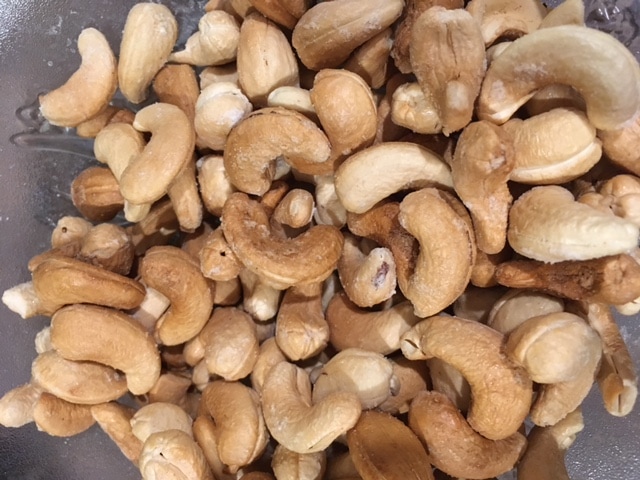 Let them cool down for about 5 minutes so that they get crisp.
Serve with love, tea optional.
FAQs
Q) How long do roasted cashews last? 
A) You can store these for up to a month.
Q) Should cashews be refrigerated?
A) It depends on the weather. In winters, these can be stored outside also nut in summers, store cashews in the refrigerator or maybe in the freezer,  in an airtight container to avoid absorption of other food odors. In the freezer, these last for up to a year. And yes, they neither freeze nor stik to each other in the freezer. Anytime you wish to use just take them out of the freezer and use as required.
Q) Are roasted cashews good for health?
A) Both raw and roasted cashew nuts are good for you and provide health benefits. Both varieties contain similar amounts of calories, protein, carbs and fiber. These are rich in minerals and are heart-friendly.
Q) What are the culinary Uses of Cashews?
A) Apart from forming part of cookies, or breakfast cereals or chocolates, in India, they go into the preparation of sweets being used as the main ingredient or for garnishing or used as a snack.
A) Yes. Just use rock salt (saindha namak) and you can eat these during fasts too.
Some other Roasted Recipes which you may like

:
Let's Connect!
Thank you for reading this post. Hope you will surely try out this easy, quick and healthy way of making roasted cashews for your loved ones. Do not forget to share your feedback. Your feedback fuels my enthusiasm to post more good content.You may share this post with your dear ones by clicking on the little buttons below. You may follow me on Facebook   Pinterest   Instagram (#samirasrecipediary) too. for latest recipe updates. Thank you
Oil Free Roasted Cashews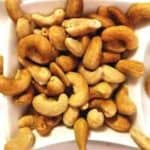 Testimonials