3 Minute Besan in Microwave is a breeze to make with perfect texture and sponginess as is there in the one bought from the market. 
Though this instant dhokla recipe is very simple, it's the tips that are needed the most. Normally, homemade Dhokla is not as porous as the store-bought one. Why is it so? What goes wrong so the result is not good?
So, sharing here the recipe along with tips to make perfect Besan dhokla in the microwave.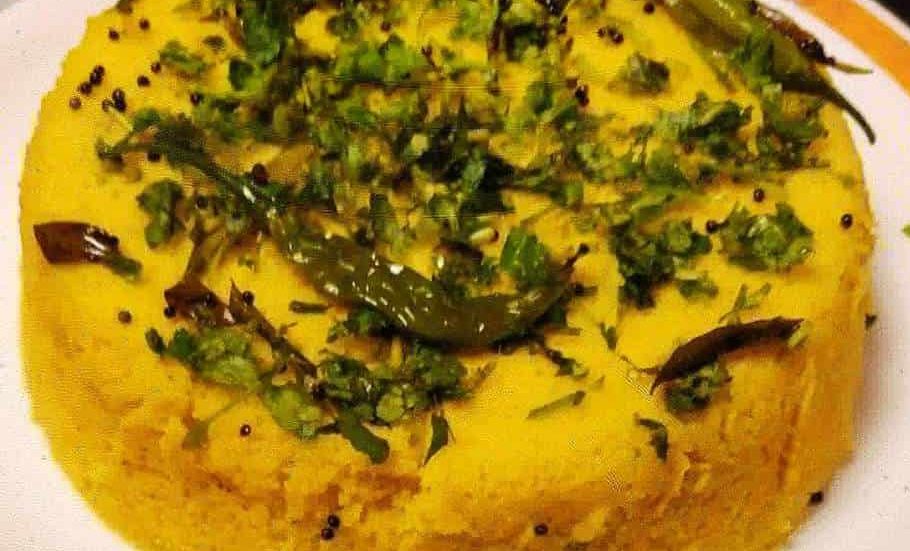 Gujarati besan dhokla is a rage. No tea party is complete without it. Any guests coming to your place then dhokla is sure to be there on the menu. Isn't it? But it takes almost half an hour to make this if making in a steamer on the gas stove. But in the microwave, the same dhokla can be prepared in just 3 minutes. Isn't it cool?
Before we have a look at the dhokla recipe without ENO, let us see what 'dhokla' means exactly.
What Is Dhokla Made of?
Dhokla, in simple words, is a steamed savory cake. It is a specialty of Gujarat and is made with fermented batter. It is also known as Khaman Dhokla or simply Khaman.
This fermented batter can be made with lentils, rice, and lentils, semolina (Rawa) millets, or even gram flour (besan). Here, we are referring to dhokla made with besan.
But nowadays, instead of fermenting it naturally, which takes a few hours, we quicken the process by using Eno. But in this recipe we are not using ENO too. Then?
 

Dhokla Recipe Without Eno
It's been ages that I have bought Eno. Then how do I make instant idli or dhokla? Whether for acidity or for instant fermentation, I use baking soda only.
Actually, what is Eno? Eno is nothing but a combo of baking soda and citric acid. So, if you use these 2 ingredients then there is no need to use Eno. I have a detailed post on Homemade Eno. If interested, then read everything about how to make Eno at home in this post.
 

In Microwave Oven
Over the past few years, I have been making Dhokla but it used to be on the gas stove which took 30 to 40 minutes. A few months back, while I was making it, somehow I was left with little batter, that too after adding baking soda. So, I couldn't keep it to steam later. Therefore, I steamed it in the microwave. And within 3 minutes, it came perfectly whereas my bigger batch was still in the cooker and not even half done. I was so impressed with the microwave dhokla that now, I use that only. No hassle of heating water, keeping stand and waiting for long.
Some other Microwave Recipes:
 

On Gas Stove
Take a steamer/Idli stand/pressure cooker.
Keep a wire rack or steel bowl in it.
Add 1 cup water to it. Let it come to a boil.
Before adding baking soda and lemon juice to the batter, your steamer must be ready so that you can immediately put it in the steamer for steaming.
Keep the dhokla tin in the steamer/cooker/idli stand.
Cover with lid.
If using a pressure cooker then remove the gasket (rubber ring) and let the whistle be there. Without a gasket, the whistle will not blow and it will be like a steamer only.
Steam on high flame for 1 minute.
Then reduce the flame to low and let it cook for 25 to 30 minutes.
Check with a skewer.
Both methods are equally good. It's just that in the microwave, it gets ready in 3 to 4 minutes whereas, on the gas stove, it takes approximately half an hour. So, you can proceed at your convenience.
Tips For The Perfect Spongy Outcome
Instant besan dhokla gets ready in 3 minutes in the microwave but like the one made on gas stove, it tastes good only after few hours. This is because, during this time, it absorbs the water well and then tastes good.
Beat the batter at least for a minute or two.
The batter should be smooth and lump-free.
The batter should be of flowing consistency. Thick batter leads to hard dhokla, very thin batter collapses after cooking, so keep it moderately thin only.
Leave the batter minimum for 15 minutes.
Put tempering over it in 2 to 3 batches after an interval of an hour in between.
Consume it after 3 to 4 hours to enjoy perfect moist and spongy dhokla.
Step by Step Recipe
A. For Dhokla
Take besan, salt, oil, lemon juice, sugar, and green chilies paste in a bowl. Whisk it nicely.
Make a smooth, lump-free batter, adding little water at a time.
Beat it for a minute or two.
Cover it and leave it for at least 15 minutes. You may keep it longer too.
Now, instead of Eno, we are using baking soda and lemon juice here. So, sprinkle baking soda on the batter.
On this, add lemon juice. Immediately, you will see bubbles.
Mix the batter quickly for about 30 seconds. You will find the batter foaming up a lot.
Put this batter in the greased microwave-safe dish.
Tap it to release air bubbles.
 
Cook it in the microwave, on high power, for 3 to 4 minutes.
After, 3 minutes, check by inserting a toothpick. If it comes out clean then take the dish out or continue cooking for 1 more minute.
After taking out of the microwave, let it cool down for 5 to 10 minutes.
Loosen the edges with a knife and invert it on a wire rack.
Let it cool down.
Cut pieces.
B. For Tempering
Heat oil, crackle mustard seeds.
Add green chillies and water.
Add sugar and boil it for 2 to 3 minutes, so that chillies impart their flavour in the water.
Let it cool down.
When at room temperature, add lemon juice.
C. Assembly
Put 1/3 of this water on the prepared dhokla.
Keep the dhokla in the refrigerator. After an hour or so, you will find dhokla has absorbed all the water and is dry. Now, again put some water.
Similarly, after an hour, add the remaining water.
Serve it with love.
FAQs

 
Q) You have added lemon juice many times. Is it ok?
Yes, lemon juice is used 3 times.
The first is while making the batter. It's given in the recipe card, but still, it's 1 tablespoon
The second time it is added along with baking soda. This is in replacement for Eno. Again, its 1 tablespoon
And thirdly, it is added while making tempering which is to be poured over the cooked dhokla. It's 1 teaspoon. This is optional and can be avoided too.
Q) Why Dhokla becomes red at times?
Dhokla becomes red due to the reaction between turmeric and baking soda. If the baking soda is even slightly more than required then it reacts and turmeric leaves red spots in the dhokla.
Q) Can we replace lemon juice with any other ingredients?
Yes, you can use 1/4 tsp citric acid in place of lemon juice.
Q) Is Dhokla A Healthy Food?
Dhokla, made with gram flour, is gluten-free and is vegan too.
Being steamed and made using just a tablespoon of oil, dhokla is definitely a healthy food as it is low in calories.
It can be had in breakfast or lunch or just as an anytime snack.
Though the recipe of besan dhokla is very straight forward but still usually the homemade is one is not that spongy and is devoid of fluffiness. Actually, it calls for certain tips. These tips were given to me by my aunt (my bua) Anju Jain long back. If these tips are followed then you are sure to get the perfect instant besan dhokla without eno in the microwave.
Q) Can we keep Dhokla in the fridge for long term use?
A) You can keep it in the fridge for a day or two only. Thereafter, it becomes dry. Also, ensure that you keep it in an airtight container.
Q) Why is my Dhokla not spongy?
A) Possible reasons can be:
Dhokla batter is too thin or too thick. In both cases, dhokla will not be spongy. 
The quantity of baking soda (or Eno) is insufficient.
Q) Why is my dhokla bitter in taste?
A) Baking soda needs acid to react with otherwise it leaves a soapy or bitter taste. If baking soda is added without lemon juice (or citric acid or vinegar or curd) then the dhokla will taste bitter.
Let's Connect!
Thank you for reading this recipe of Dhokla without Eno. I hope you have liked it and will surely try it out for your loved ones. When you try it out then do share it on Instagram and tag me too using #samirasrecipediary

If you have liked this recipe then do let me know by leaving a comment below. Your feedback fuels my enthusiasm. You may share this post with your dear ones by clicking on the little buttons below. You may follow me on   Facebook and Pinterest too. for latest recipe updates. Thank you!
Testimonials
Besan Dhokla Without Eno In Microwave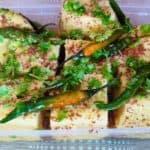 Healthy Eating…Healthy Living…
Samira