Sharing with you 21 easy recipes To Fight the Quarantine Blues. Because may everything shut down but "Mummy ka Dhaba" is always open.
We all are going through the most difficult and critical period in our lives. Everything is at a standstill except time.  COVID 19 is what everybody is talking about. The spread of the COVID 19 virus has been phenomenal in our lives. There has never been a calamity like this, shaking our fast-paced lives to a grinding halt.
Though the situation is very critical life goes on and we have to deal with the situation sensibly. Do not panic! Let us understand the situation and act wisely. Let us all work towards the safety of all of us.
The situation is really alarming and nothing except staying isolated can help. But what is a little good in this whole episode is that nature has started breathing again. Trees and all species on this earth except humans are living happily. After ages, we have got to see the beautiful blue sky, traffic-free roads, and pollution-free city.  It has invoked the feeling of Gratitude in all of us for all the services, things, people that we take for granted. And besides all this, the best thing is families.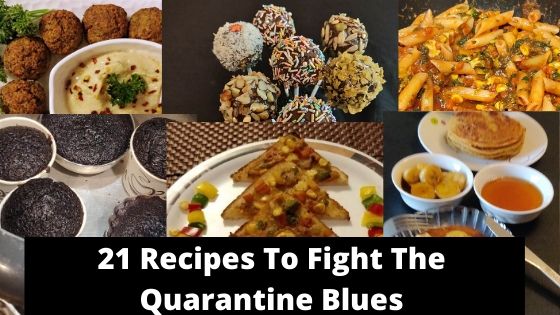 As we fight the virus, following the mantra of social distancing, we have been isolated to our homes. All members of a family are together 24X7 and have time to spend with each other. It, therefore, is a challenging time for the lady of the house to take care of everybody's health and to keep them engaged and in good humor too. What better way to do it than through the gastronomic route!
In between the 3 main meals, breakfast, lunch, and dinner, everybody gets hungry in the evening and wants to have some light but tasty, and importantly, something different! I am sure you all must be facing the same.
Whatever may shut down but "Mummy ka Dhaba" is always open. Not only open but Mumma tries to pamper her darlings with their favorite delicacies.
21 Recipes For 21 Days Lockdown
Here I recount some of my recipes which would not only uplift everybody's mood and make them happy but are nutritious too. Here's a  list of 21 recipes for the upcoming 21 days lockdown. I know that the times are difficult and procuring groceries is not easy because of complete lockdown. That's why I am sharing those recipes which will not take much of your time and can be made with basic ingredients like flour, gram flour, bread, potatoes etc which anyways you must be using in your kitchen. You pick and choose as per your taste, preference and most importantly, availability of ingredients.  The recipes are such which you can try either for breakfast or dinner or as an evening snack. And some of these could be tried by your darlings too.
So, lets have a look at these recipes:
A 3-minute recipe using gram flour (besan) as the main ingredient and made in the microwave. Fresh coriander leaves can well be skipped.
Make these no-cook cookies using your leftover biscuits. Though one should never waste but at this hour we just cannot afford to waste anything
Treat your family with these easy-to-make kulchas that are made without using any yeast. Also, these are made with whole wheat. So, someday, just swap your regular chapatis with these kulchas.
Perfect breakfast! All you need is bread, wheat flour and veggies, that too, the basic ones, onion, capsicum and tomatoes.
Made with semolina these Kanchipuram idlis are perfect to have in breakfast or with your evening tea. No sambhar is needed. A simple tomato chutney also goes well with this.
Chocolate mug cake, made with wheat flour, that too in just 2 minutes in the microwave. Isnt it good to have in breakfast?
Sandwiches, made with homemade coleslaw, a very easy recipe, is something everyone will love to have. Serve plain or grilled, as you want.
Again you require just bananas and wheat flour for this along with sugar. A tasty as well as nutritious breakfast.
Give a party-type makeover to your regular chapatis. If no veggies are available, make these just with tomato ketchup and some cheese. No other sauce, veggie or curry is required with this. A complete meal in itself.
A simple recipe but always in demand. Make the pasta sauce nourishing by adding whatever veggies you have handy.
A tasty kebab made with chickpeas. Easy for you and a delicacy for the family members. Serve this with hummus, again made with chickpeas only. They will love these.
South Indian food is loved by everyone. When you make this someday then make some extra idlis and then your snack is ready. A simple yet sumptuous Idli Chat made with leftover idlis and chutneys.
A favourite of all! Do I need to say anything about this?
All-day at home, no walking, not much work! in such a situation, it must to add fruits and veggies to your diet. If children do not want to have fruits, serve them these fruity bowls. Just another way to serve fruits to your darlings.
The best thing about these sandwiches is that you make these whenever you have time, early morning/late night, and put the rolls in the refrigerator. And then just take the rolls out of the refrigerator, cut and serve or saute for a minute on the griddle and a hot snack is ready.
Pizza is an all-time favourite. So, recreate the magic of pizza on a small, humble Papdi. If you do not have Papdi then use cracker biscuits. All it takes is 5 minutes of chopping and 5 minutes in the oven.
Do not skip this just by reading the name itself. These are very easy to make with 2, 3, 4 or whatever flours you have handy and are made in kadhai only. The addition of Italian seasonings take these crackers to an altogether different level.
No one can believe that this yummy snack is made with just 2 ingredients, bread and… Any guesses? A simple ingredient that is always there in every house.
I know this is my another chocolate cake recipe in this list but couldn't resist sharing it as it is a very simple one. No oven, no muffin liners, nothing special is required, Hardly any ingredients are used. A must-try. Please do not leave this.
if you had been thinking to try out these Amritsari kulchas for long, then this is the time to go for it. Again, no yeast is required.
–
Last but not the least, Healthy Salads! The importance of salad can not be undermined. I have shared many recipes on my blog, hence sharing with you the link which will take you to the page where all the salad recipes are posted. You choose whichever suits you the most.
So, these are some very simple recipes that you can easily try out during this period and spread cheer. All these recipes can be viewed by clicking on the title of the respective recipe.
For Baking Recipes
All the recipes that I have shared above are easy, day-to-day ones that can be easily made on gas top or microwave only. I have purposefully refrained from sharing recipes that require an oven. If interested in baking then please let me know or simply search for "çakes n bakes".
I hope you have liked the ideas as well as the recipes. Do let me know in the comments section below.
And in the end, let us be together in this fight of Coronavirus and do our bit by staying at home, by maintaining social distancing. Let us all pledge to stay at home only till we are free of this danger.
Thank you for reading this post. If you have liked this recipe then do let me know by leaving a comment below. Your feedback fuels my enthusiasm. You may share this post with your dear ones by clicking on the little buttons below. You may follow me on       Facebook   Pinterest    Twitter   Instagram(#samirasrecipediary) too. for latest recipe updates. Thank you!
Stay Fit… Stay Happy