Falsa Sherbet/ Juice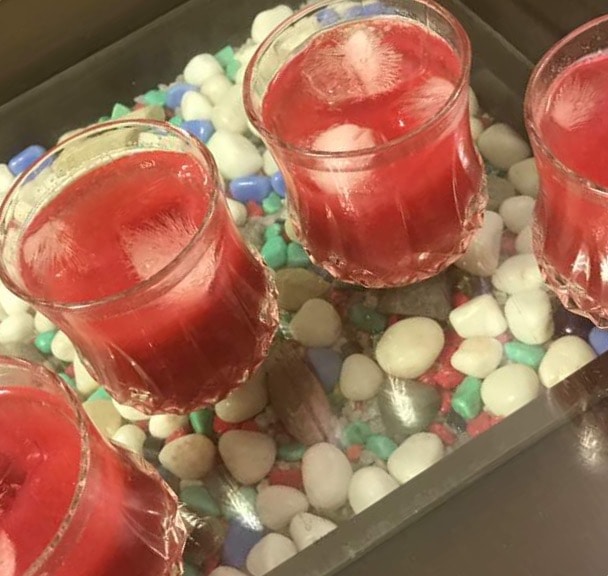 I remember during childhood, vendors would roam around the bylanes of old Delhi ( where I lived then) calling at very high pitch so that their voice could reach inside the big houses lining the streets.
Eaten with  rock salt and chat masala they tasted awesome.
But now, this fruit is very sparsely available. It is very rarely available in markets and that too for a very short time. All Falsa lovers keep a vulture eye and grab it as it comes.
I too was anxiously waiting for it this season. Luckily saw these yesterday and of course grabbed them.
Its a highly perishable fruit and needs to be consumed almost the same day. But its juice, as we call it, Sherbet with the pulp, can be preserved. And even better if frozen into a "Falsa Kulfi".
Falsa also known as Phalsa is a fruit which is native of India and South Asia. Its mostly available in the hot months of May and June. May be due to excessive heat this year, I got these yesterday, in April too.
Falsa is known as Grewia Asiatica in English language.
It can be eaten on ripening or can be consumed in a syrup / pulp form.
In looks it resembles cranberry, blue berry and jamun.
The fruit in the form of berry is quite fragile and needs very careful handling. It is difficult to transport and therefore distribute on long distances. On ripening it acquires a deep purple or blackish colour with a sweet-sour-bitter-acidic  taste which is very unique.  The fruit is rich in nutrients - sodium, potassium, iron, vitamins, dietary fibre.
Read about Falsa's Health benefits to know more.
Falsa  is very useful particularly in summers. It has antioxidants, has a cooling effect on the body, assists in preventing heat strokes, stomach aches and disorders,  cures anaemia etc.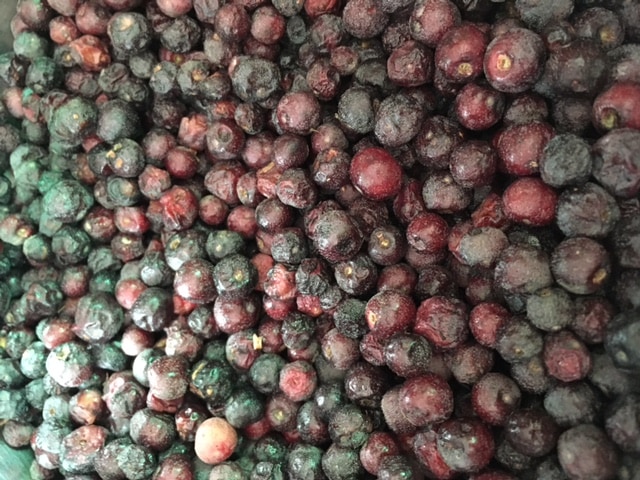 How to make Falsa Sherbet or juice and Kulfi
No Cooking No Boiling Only Juice Extracted
First of all, I  wash it in a colander turning them very lightly with delicate hands. Yes, you have to do it with really soft touch, otherwise the pulp skin would get peeled off and you would be left with seeds only.
Once washed,  I soak Falsa in just enough water with sugar for an hour or so.
Now using  hands, rub it thoroughly so that all the pulp comes out. Strain the solution using a colander . Add little more water to the left over pulp/ seeds, rub them again and strain after once again the juice in a different container.
Repeat this process till you are left with pale seeds, with no more pink colour juice coming out.
The first juice is excellent for making "Falsa Kulfi", as it contains the maximum pulp, by pouring them in moulds and freezing them. In case you do not have it, you can use ice tray.
If consuming as Sherbet/juice only, then chill it thoroughly and add a pinch of Black rock salt before serving. Black rock salt is my favourite but you can also try with a pinch of Chat Masala if you prefer. Add ice cubes to chill it further. I do not prefer using crushed ice as it may dilute the sherbet quite quickly.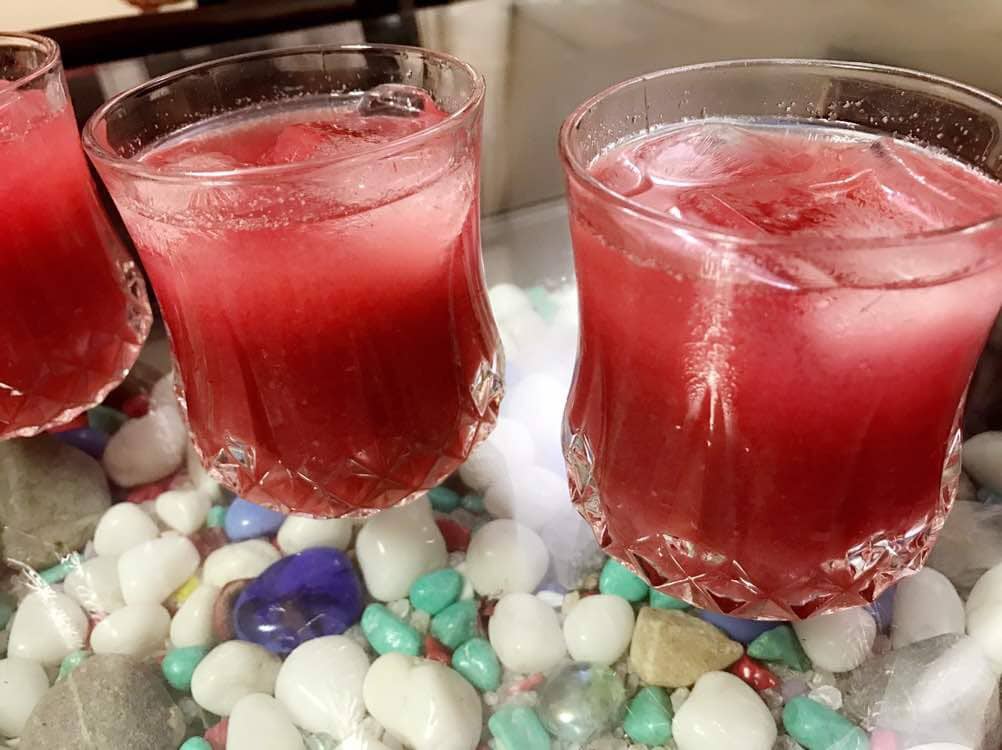 Caution -Please be very careful in the whole process or you will be left with pink/red patches everywhere. This is because  Falsa has a very strong vegetable colour and stains may be left on clothes while handling it, which would be near impossible to remove. So wear an apron while handling it.
Ingredients
500 gms  Falsa  
250 gms or as per taste Sugar
1/2 litre Water
Method
Wash Falsa very lightly and delicately.
Soak it in just enough water for an hour or so.
Add sugar while soaking only so that it dissolves during the soaking period only.
After an hour (can keep longer also), rub it with your hands to extract pulp.
Pass this mixture through a sieve.
You will get thick juice.
Now, put the leftover seeds in the sieve, into a vessel. Add some more water. Rub with hands and again pass through the sieve.
Repeat this process 1 or 2 times more till you are left with just seeds.
Collect all the juices extracted in 3-4 times and chill in refrigerator.
Before serving, add rock salt and serve.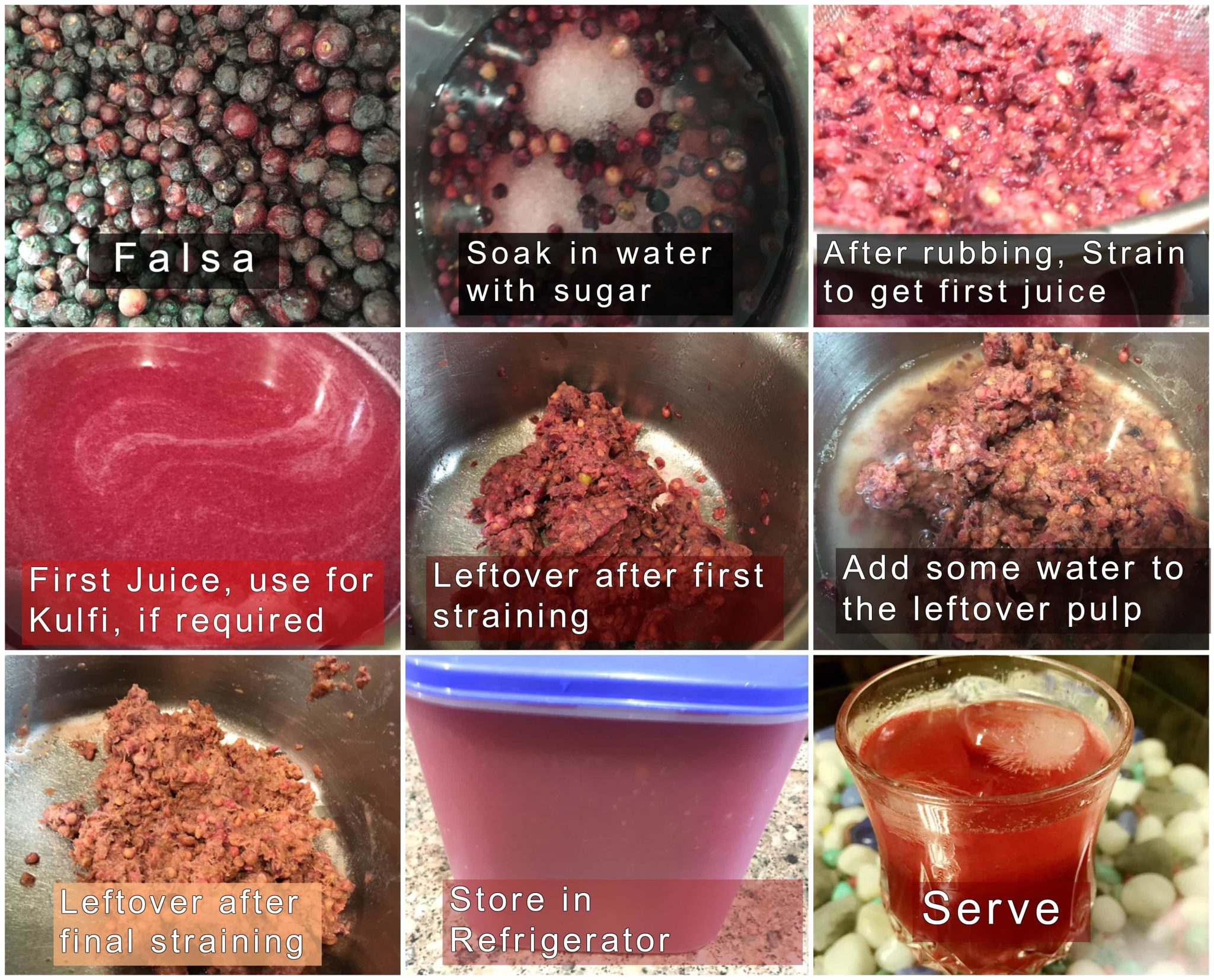 Notes
Add rock salt only at the time of serving. If added earlier, it deteriotates  the taste.
Remains good in the refrigerator for 3-4 days.
Incase, you wish to preserve it for long, then freeze the juice and later on , thaw and use.
                                                             

 Falsa Kulfi
Thick pulpy juice extracted from Falsa is used to make kulfi.
First Juice extracted from Falsa (see steps 1 to 6 above) is poured into the moulds and put in freezer.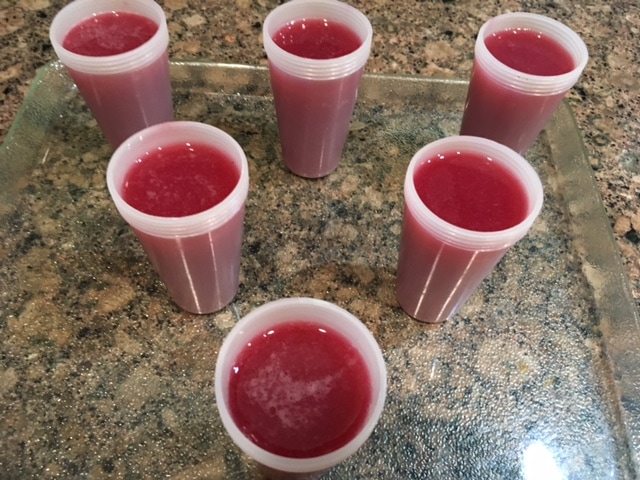 Enjoyyyyy....
Share  your comments here in the comments section below.
If you like this recipe, please follow me on my face book page,
Thanks
Samira