Muesli Yogurt is a wholesome breakfast that has everything which should be there in breakfast and that too without lighting the gas stove.
It has fruits, it has nuts, it has seeds, it has yogurt, it has oats, it has taste, flavor, looks, freshness- yes, it has everything.
And, it's a no-cook recipe!. Just assemble few nutritious things from your pantry and a filling and tasty breakfast is ready.

Having muesli with milk is common and we all have it in breakfast.
But muesli with yogurt? Well, frankly, I never even thought about it unless my son Shivang shared this recipe with me. When he returned after attending 2 months of summer school in LSE, he was all gaga for this, as he had, had this in London in the breakfast and called it Brain Booster. He only gave this idea. I tried it and it was a hit. Everybody loved it.
Later, I tried Mango Parfait and it is equally good.
Why You Will Love This Recipe
Nothing can be better than this super duper easy,  yummilicious yet Healthy Breakfast. It is said that if you take a proper Healthy Breakfast then you are all set for the whole day.
Yogurt Muesli is ideal for summers as it is very cool, involves no cooking, and also has a cooling effect on the stomach.
And this is packed with nutrients along with the freshness of fruits.
Yogurt Muesli has fruits, it has nuts, it has seeds, it has yogurt, it has oats, it has taste, flavor, looks, freshness- yes, it has everything.
It is filling yet light on the tummy.
It's a quick fix-up.
Ideal for students, bachelors, busy bees, and also for weight watchers.
How to make 
No hard and fast recipe for this.
Actually no recipe, just assembling certain things.
You can make it in a variety of ways so as to suit your taste buds and with whatever available in your kitchen.
Daily you can try a new combination in this.
What else? Well, the rest I would like you to share with me once you make it.
But what is it????
So, here I go with the basic recipe, leaving you in your kitchen with your imagination.
I have used homemade mango yogurt here. You can use Banana Yogurt or Strawberry Yogurt as well.
Treat your tummy daily with a new variety of yogurt...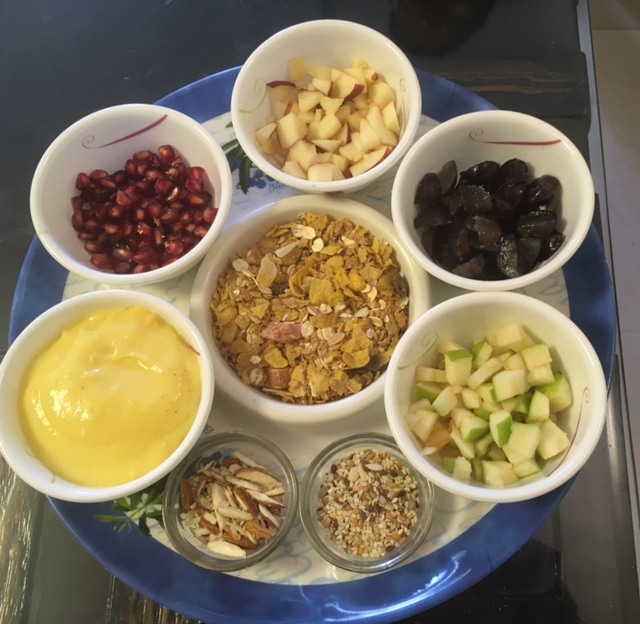 How to Eat Muesli with Yogurt
1. Take Muesli in a bowl.
2. Pour yogurt, store-bought, or homemade over it.
3. Sprinkle fruits, nuts, and seeds over it.
4. Serve with a smile.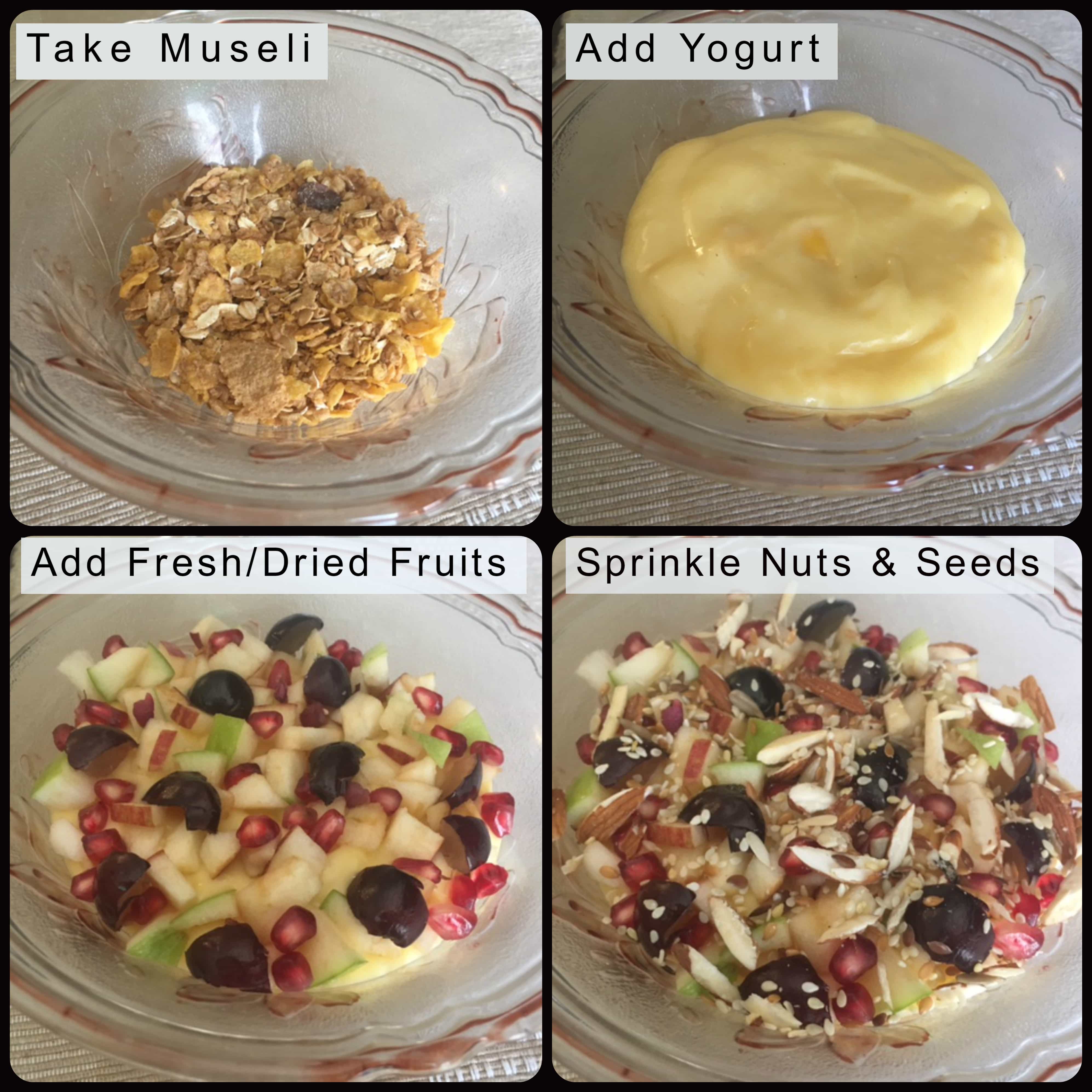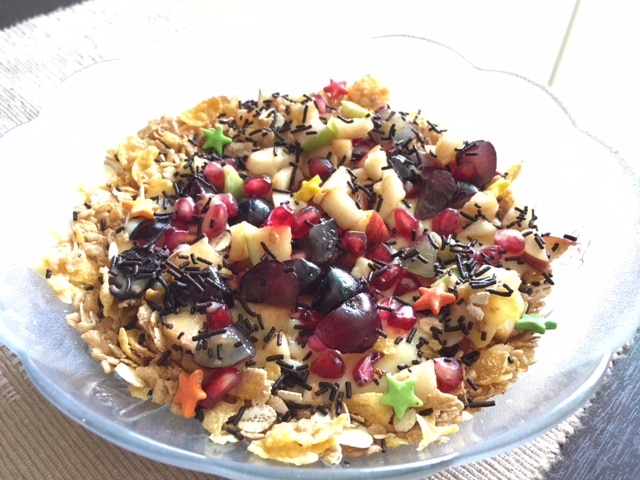 FAQs
Q) Can I have muesli with curd instead of yogurt?
Yes. Just ensure that you use hung curd.
Must Read: Difference Between Curd And Yogurt
Q) Can I use granola instead of muesli in this recipe?
Yes, you can. Just crush granola and use it but remember to adjust the quantity of sweetener as granola is sweetened.
Q) What is the difference between muesli and granola?
Though both have more or less the same ingredients, namely oats, dried fruits, seeds and nuts but still they differ from each other.
Granola is baked whereas muesli is raw.
Granola is sweetened with honey or maple syrup whereas muesli is unsweetened.
Granola is in bar form whereas muesli is in mixture form.
Q) What can I use instead of muesli or granola in this recipe?
Just use rolled oats.
Some other Breakfast Recipes:
LET'S CONNECT!
hope you have liked this recipe of Muesli Yogurt and will surely try it out for your loved ones. When you try it do share your pics on Instagram and do not forget to tag me @samirasrecipediary. I would love to see your pictures.
Thank you for reading this post. If you have liked this recipe then do let me know by leaving a comment below. Your feedback fuels my enthusiasm. You may share this post with your dear ones by clicking on the little buttons below. You may follow me on      Facebook   Pinterest    for latest recipe updates. Thank you!
Yogurt Muesli
An easy, healthy, no cook breakfast
4 Tbsp Muesli
1/2 Cup Yogurt, Store Bought or Homemade
1 Tbsp Chopped fresh fruits
1 Tbsp Chopped dried fruits
1 Tbsp Chopped nuts
1 Tsp Mixed Seeds
Take Muesli in a bowl.
Pour yoghurt, store-bought or homemade over it.
Sprinkle fruits, nuts and seeds over it.
Serve with a smile.
No extra sugar required as yogurt already has sugar.
You can replace muesli with oats/wheat flakes/corn flakes.
Take any yogurt, be it mango/strawberry/blueberry/banana/plain.
 Apples, pears, grapes, pomegranate go very well with it.
Dried bananas, apricots, berries tastes superb.
Slivered almonds, raisins, dates, apricot etc.
 Seeds of pumpkin, watermelon, cucumber, sunflower, etc.
Can make this with just one fruit at a time also.
Feel free to adjust the quantity of all the ingredients.
When serving to children, can also sprinkle chocolate shavings/confetti.