In Easy Cooking Without Fire Recipes For Children, you will find recipes of desserts, snacks, mocktails as well as cakes and cookies. Have them in breakfast or any other time of the day or to win a prize in a fireless cooking competition.
Along with children, you will also love these recipes, as they will give you a respite from scorching heat in peak summers.
This, in fact, is my second post in the series and some more easy recipes for kids can be checked in my first post on the title:  11 Fireless Recipes For children.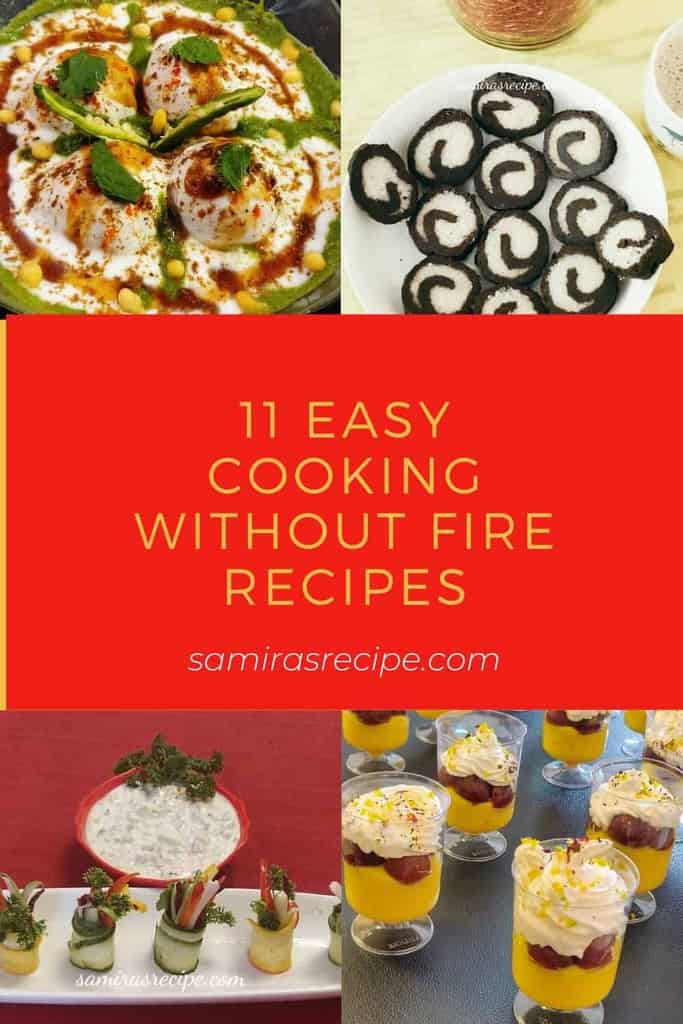 Cooking is an integral part of our lives. Whether you like it or not, cooking doesn't spare you. You may avoid it but cannot escape it. You may rely on "ready to eat" packets but still, at some point in the time, you have to enter the kitchen. It is for this reason that we want our children to learn to cook.
But everything has a time and so is to introduce cooking to your children. Most of the cooking involves the use of a gas stove and it may be risky for young kids to work around it. So, till that time, isn't it better to start with cooking without fire recipes so that children too get a hold of it?
Important: Do not leave your children alone in the kitchen while they are cooking. Remember, Your supervision is utmost required, not your interference.
So. here are those easy recipes for kids that you are eagerly looking forward to!
Dahi vada and kids? Am I joking? No, not at all! These Dahi vadas are neither fried nor baked. This is just a fireless recipe. All you need is bread, dahi and meethi chutney for this. Meethi chutney can also be prepared in just 10 minutes. Stuff these Vadas with dry fruits and you have the yummiest Dahi Vada ever. You can check this easy recipe of fireless dahi vada here.
Your guests will be full of awe, children will be on cloud nine and you will be a proud mom when your kids will make this pudding for your guests. Go for readymade Gulab Jamuns (or you make and hand over to kids). It does involve making custard but that can be replaced with whipped cream or ice cream too. And the best thing is that kids can prepare it in advance and keep these in the refrigerator. And just take these out of the refrigerator at the time of serving. Check the recipe of Gulab Jamun Dessert Pudding.
Cake-making is a child's play when your children will make this cake. All you need is a sponge cake and ice cream. Ice cream can be in just one flavor or multiple flavors, as your children prefer. Again, the sponge cake can be baked at home or bought from the market. Though making this cake is very easy but it does require a set time of a few hours in the freezer. Thus it may not be suitable for fireless cooking competition but definitely great as cooking without fire recipe. Here is the recipe of Ice cream cake.
Oreo cookies are a hit among children and adults alike. So, why not give these Oreos a new look which shows your creativity too? These oreo rolls require neither cooking nor baking! Again not many ingredients are required to make these awesome rolls. So, in the next fireless competition in your kid's school, prepare him/her to make these rolls and be all set to see them in the list of winners. You can check the recipe of Oreo Rolls here.
Who can say no to the salad if served beautifully like this? This little roll has veggies and a dip too. A complete package! Be it, the judges, in the competition, or your guests, no one can stop raving about these healthy rolls. A must-try for you as well by your darlings. You can check the recipe of Zesty Zucchini Rolls here.
If you ask me one dessert that is equally liked by all age groups and still is the easiest to make then undoubtedly my vote goes to fruit cream. It is easy to make but it also ruins the taste if not made properly. Watery fruit cream or cream with large chunks of fruits is a strict "No" for me. If it's fruit cream then it has to be creamy, thick, and with finely chopped fruits in it. If you make fruit cream following my method even this common dessert will become exotic and a crowd-pleaser. You can check the recipe of Fruit cream here.
Anything made with the king of fruits, mangoes, is always full of taste & flavor and is very much in demand. Mango Parfait is one such easy and delectable dessert. Normally, Mango Parfait is made with cream and is thus loaded with calories. But not this one! It is in fact a healthy recipe and can be had even in your breakfast. So, how is it made?  You can check the recipe of Mango Parfait by clicking here.
A sandwich is kids' favorite and they can have it anytime. They also love taking these in their lunch box. Right?  The Pinwheel sandwich I am talking of is yummy in taste, beautiful to look at, and easy to make. And above all, it remains good for up to 15 days in the refrigerator. So, make it, keep it in the refrigerator and then eat as and when you like. Children can make it themselves on weekends and easily take it in their tiffin box on any day of the week.
Though I have used potatoes here but that can be replaced with sandwich spread or mayonnaise or cheese or hummus. Basically, all you need is 3 different types of spreads for this recipe. Use your preferred dips and prepare it the way you would relish more. You can check the recipe for the Pinwheel sandwich by clicking here.
Your children will love making this sprouts salad not only because this is colorful and nutritious but also as they can relate to it very well. How?
So, you also know that Germination is something which is taught in all the schools. At that time, you give them some moong beans to make sprouts out of them. Once they sprout, make its salad. You can also check how to make sprouts easily and share them with your children. Children will be too happy to make a salad out of the seeds sprouted by them only. Along with tomato, cucumber, onions, etc even fruits are added to it which takes its taste to another level. The recipe of Sprouts Salad can be checked by clicking here.
Children will love making these cake pops. Not only is this recipe fireless but it is also the "best out of the waste" recipe. You can make it either with a fresh cake or a leftover one. Though rare but at times, kids get bored of eating the cake too. Then you can transform it into cake pops. These cake pops can then be left in the freezer for months or eaten then only. Check the recipe by clicking here.
A very easy recipe that your kids will love to make and eat. They can make this mango yogurt and have Yogurt muesli for breakfast. Yogurt Muesli is a simple yet very nourishing breakfast with all the healthy foods in it. To check the recipe of Mango Yogurt, click here.
As I always say, food is not just about the recipe but presentation too! A good presentation makes the food so appealing. In this recipe too, ordinary fruits and veggies are presented in a new avatar. This new avatar not only fills a lot of flavor in the food but also makes it look attractive. So, no more fruit chat. Rather have these fruity bowls. To view the recipe for fruity bowls, please click here.
Colors add their own value to food. Anything red or pink is attractive to eat or drink. And why add artificial colors when mother nature has blessed us with so many natural colors? So, add a twist to your regular lemonade with this beautiful fruit. Serve it to or guests or have it yourself, you are going to have more and more of it. The recipe for Strawberry Lemonade can be viewed by clicking here.
Must Read: 11 Fireless Recipes For Children. You and your children will love those recipes too. So, Do Not Miss that!
FAQs
Q) When & how to introduce fireless cooking to children?
With these fireless recipes, children will not be introduced to cooking but they will also develop love towards it. Along with these recipes, rather before going for these, start involving your kids in kitchen-related activities. This gives you a constructive and playful time with them and this also strengthens your bond.
Here, I would like to add one more thing. Try to involve your children in activities like laying the dining table, kneading flour, arranging salad platter, serving water/cold drinks, making lemonade, and such activities right from your childhood. Make it a point to appreciate their efforts, even if something is not up to the mark. Your appreciation will fuel their enthusiasm to help you more and more. And then slowly introduce them to cooking starting with fireless recipes.
I have already shared with you my and my children's experiences regarding this in my earlier post.
Q) What are the benefits of cooking without fire?
A) Out of many benefits, some that I would like to list are:
Children start valuing food a lot more when they prepare any food item on their own.
They understand the type of labor involved in making delicious dishes and hence stop wasting food.
They understand the basics of food preparation.
These are great for fireless competitions at school or in other places.
Great when you are not in a mood for heavy cooking for whatever reason.
Let's Connect!
So, how do you find this list of easy cooking without fire recipes for children?  I am sure you and your children have found it interesting and will surely give it a try.
Thank you for reading this post. If you have liked this recipe then do let me know by leaving a comment below. Your feedback fuels my enthusiasm. You may share this post with your dear ones by clicking on the little buttons below. You may follow me on  Facebook   Pinterest  Instagram for the latest recipe updates.