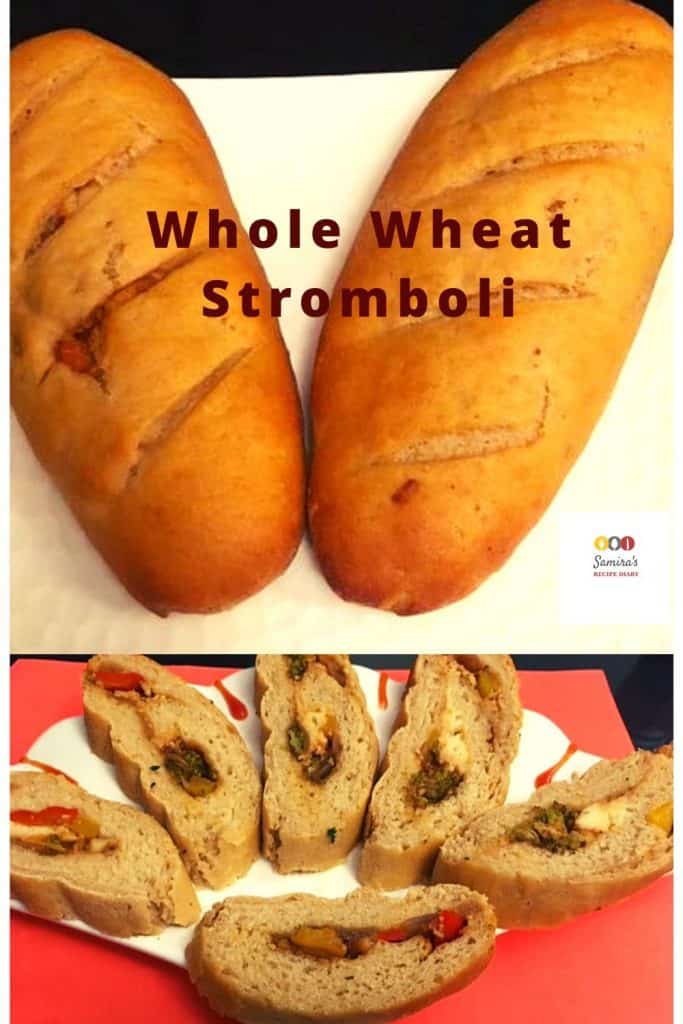 Stromboli has become a regular in my house. Everybody loves it. And the best part is that it comes as a handy snack whenever anybody wants it as it easily lasts for 3 to 4 days.
Last year, I read the word 'Stromboli ' for the first time in a magazine. Had no clue what it was. Really thought that it must be some very difficult and ticklish dish. Then after some digging came to know about it and gave it a try. It was a big hit. Since then I have made it umpteen times not only for my family but also for gifting. The response has been awesome always.
However, if you have a sweet tooth, then do try these sweet loaves of bread made with orange marmalade and Nutella: ORANGE BABKA BREAD or CHOCOLATE BRAIDED BREAD
What is Stromboli?
But what is Stromboli? Stromboli is a bread filled with cheese and vegetables.It was invented by Italian-Americans in the United States in Philadelphia.
In simple words, Stromboli is nothing but Rolled Pizza. But I think it is somewhere between bread and pizza. You can call it stuffed bread or rolled Pizza. 
How to Make
Being a vegetarian, I make vegetarian Stromboli only. I started making stromboli with all-purpose flour. Then after some time, shifted to a little healthy version by mixing whole wheat flour and all-purpose flour in 50: 50 ratio. But now, I make it 100% with wheat flour.
You can choose to make the dough as per your liking. Everything remains the same except for the quantity of liquid. Whole wheat absorbs much more water than all-purpose flour. So, reduce the liquid intake if making otherwise.
The recipe for the dough is exactly the same which I use for making pizza. So, if you have tried my WHOLE WHEAT PIZZA then its, even more, easier for you.
It has everything that a pizza has. It is made with the pizza dough only. The dough is spread like a chapati, then spread the mix of veggies and cheese. Thereafter, it is rolled and baked. Simple, isn't it?
Then it is cut into slices like that of bread. And you can keep these slices for few days in the refrigerator. So, a handy snack.
 

Filling Ideas
Stromboli is a rolled bread with stuffing inside. Now, you can use anything as the filling, Use whatever you love to but ensure that the filling doesn't have too much of liquid otherwise, it will not only make the rolling part difficult but also, it will get soggy and the liquid will ooze out while baking. So, keep the filling on a drier side.
Sharing with you some vegetarian ideas which you can use as a filling:
Normal veggies like onion, capsicum, bell peppers, broccoli etc . sauteed in olive oil and some PIZZA SAUCE.
If you are short of veggies and still want to have it then need not worry. Try these GARLIC ROLLS
Why Make Stromboli?
It is wonderful to be packed in Lunchbox, or an evening snack or your lunch/dinner.
Going for a picnic? Take this.
When children, no matter even if grown-up, throw tantrums in eating normal chapati with vegetables then recipes like this are a boon. Made with wheat flour, stuffed with veggies... what else do we want. It satisfies both kids and the mothers at the same time.
So, what do you say? Liked the idea?
Can I Make Ahead The Stromboli Dough?
If this question is popping in your head then I will share my experience with you which will give you the answer.
This time, while I was kneading the dough, I got a call from dear hubby that we had to go out somewhere urgently. What to do?  So, I kneaded the dough, kept it in an airtight container and straight away kept it in the refrigerator. Next day, almost after 24 hours, took it out, was well risen by then. Deflated it and proceeded as usual. And the strombolis came perfect.
So, yes, you can make the dough the previous day. Not only the dough, but even filling can be made ahead of time. And then on the day of baking, you are left with the simple task of assembling and baking. Oh! one more! Any guesses? So, that is to collect the compliments which are bound to follow from whosoever eats it :)-
How To Fold Stromboli?
It is easy to make but rolling part requires little practice. But I promise you, if you follow the steps and the tips given, you will be able to make wonderful stromboli. In case, it tears while rolling or sealing, feel free to cover it with some pizza dough, like a patchwork.
The recipe seems to be very lengthy. But actually is simple. I suggest you read it first carefully. Understand it and then start making your delectable Stromboli.
Stromboli Vs Calzone
Calzone is a much popular word as compared to Stromboli and you all are already fond of it, courtesy, various Pizza joints. And now, you must be thinking that arent these two, Stromboli and calzone same? 
Well, to some extent yes, in the sense that both are made with pizza dough and are filled with sauce and veggies.
But still, they are different. The difference lies in their shapes.
Calzone is folded whereas Stromboli is rolled. Thus, for making, Calzone, the dough is first rolled in a square shape, the filling is laid and then it is just folded once and it gets a semi-circular shape. Whereas for Stromboli, the dough is rolled in a rectangular shape, fillings are spread and then it is rolled and baked whole only.
Detailed Recipe 
(With this much dough, you can easily make 3 Strombolis. But, I usually make two Strombolis and  one GARLIC BREAD)
A. For The Dough
Sift flour and salt at least 3 to 4 times.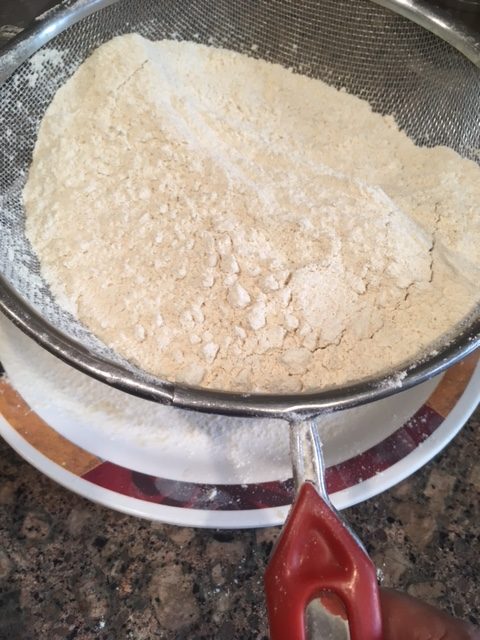 Add sugar and instant yeast to the sifted flour.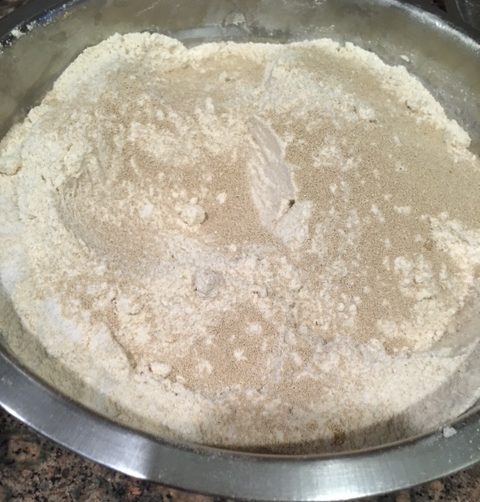 Add lukewarm water and lukewarm milk and start kneading. It will be very sticky initially.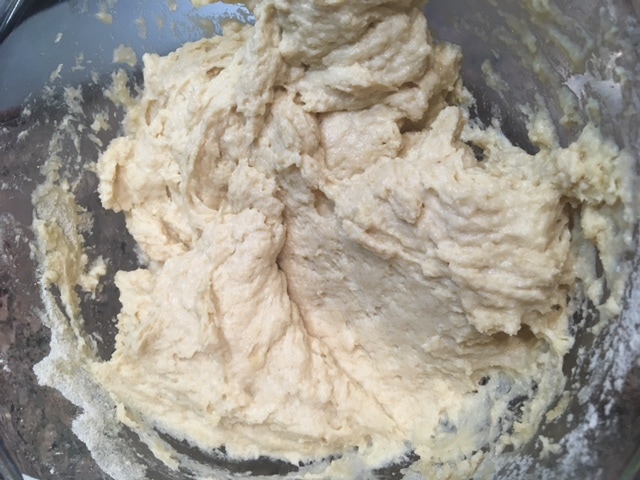 Add oil in between while kneading
Keep kneading, after about 15 minutes, it will stop sticking and will become smooth and shiny.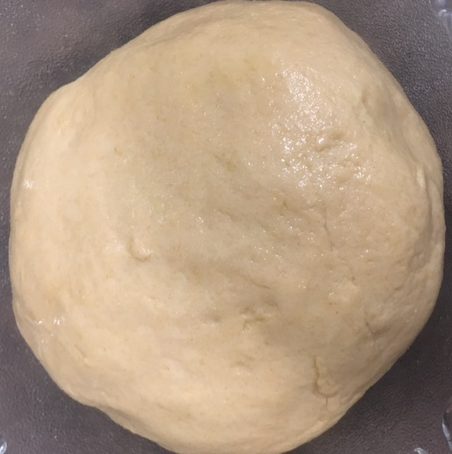 Grease a bowl, put this dough, invert it so that it is greased from the top as well. Cover it and let it rise for an hour or so.
While the dough is resting, prepare the filling.
B. For The Filling
In a pan, heat oil.

Add all the veggies and saute on high flame for 2 to 3 minutes, stirring continuously.

When all the excess moisture evaporates, switch off the flame.

Let the filling cool down completely. Never use the warm filling as it is not only difficult to handle but also the dough may tear.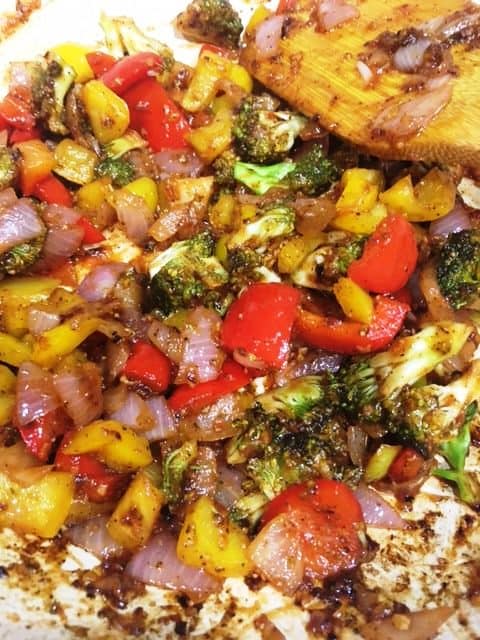 C. Assembly
After an hour or so,  when the dough doubles in volume, deflate it.
Knead for 30 seconds or so. Form a log and divide it into 3 parts using a cutter.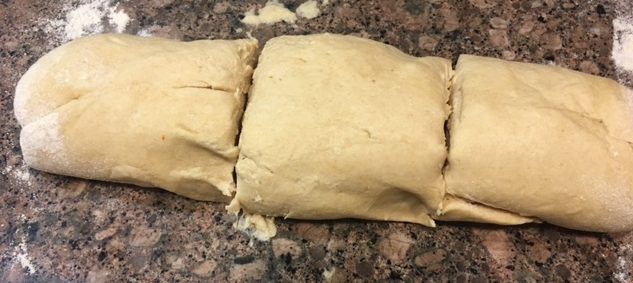 Keep the two parts covered in a bowl. Take one part. Sprinkle flour on the working surface and roll it in oblong shape using a rolling pin. You may roll it rectangular too, but I find this one much easier hence did so.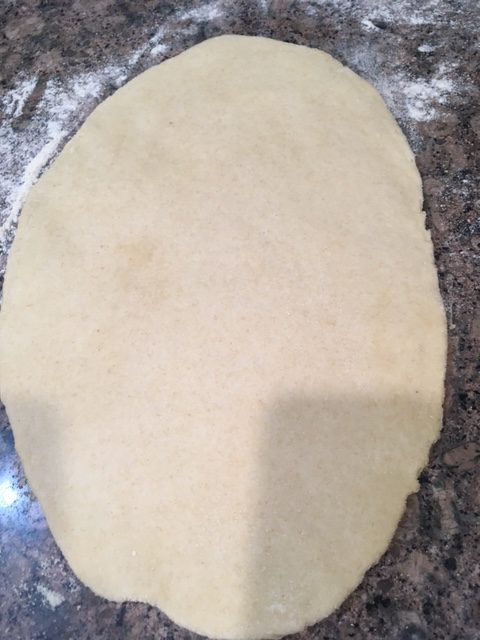 Ensure that it is not at all sticking to the surface and you can lift it easily.
Put the filling towards the bottom.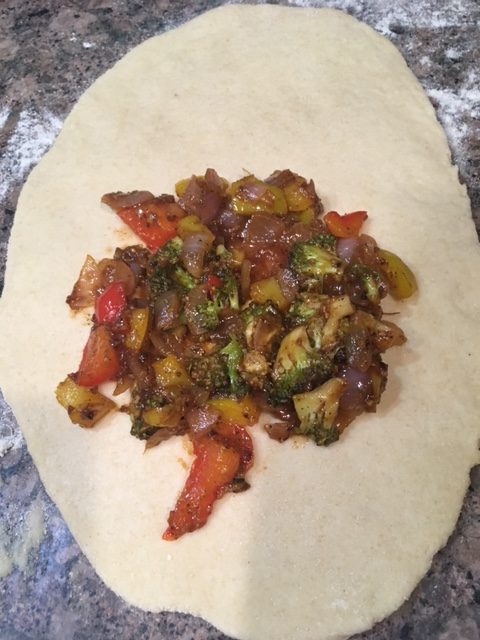 Brush water on the edges, as it helps in sealing the dough.
Grate cheese on the veggies.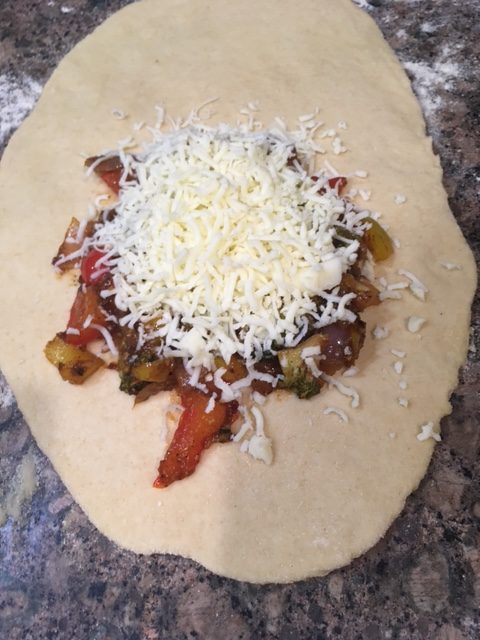 Fold it like an envelope, as shown in the pic, and then start rolling.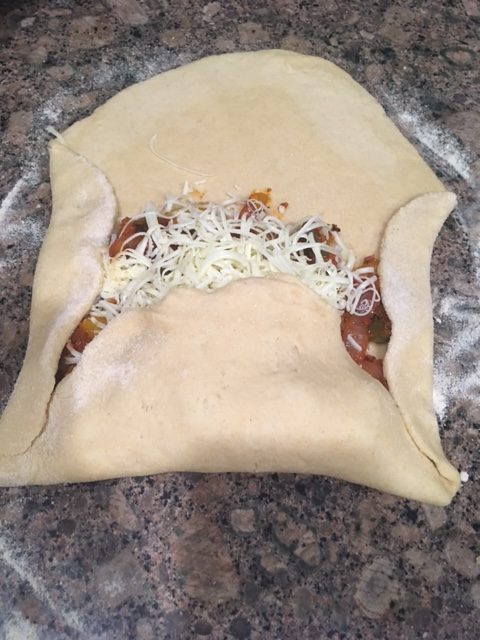 When rolled, seal the edges by pinching motion first and then flatten it, with wet fingers.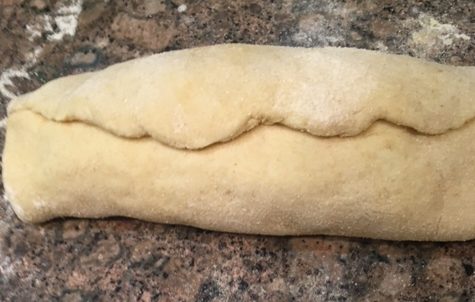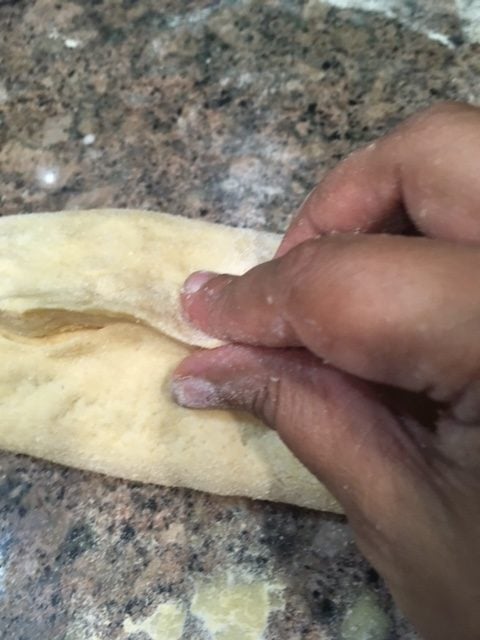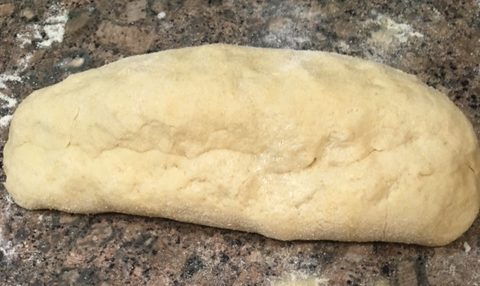 Invert it and keep it on the baking tray, lined with parchment paper/aluminium foil.
Similarly, make the other stromboli also and keep it on the baking tray, with sufficient distance in between.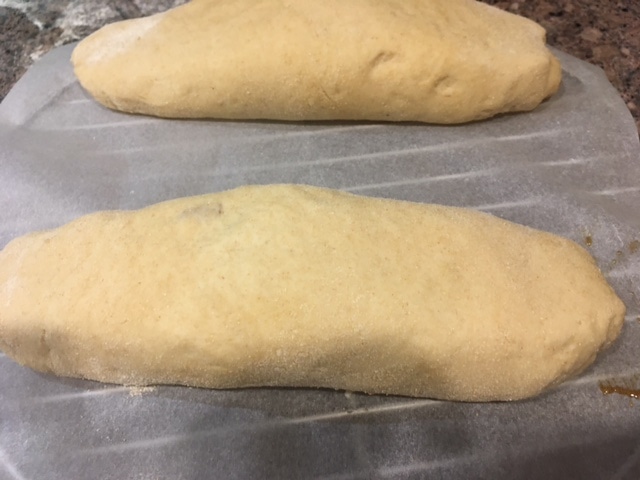 Cover it with a damp cloth for 15 to 2o minutes.
After 15 minutes, start preheating the oven at 190 degrees for 10 minutes.
Brush the strombolis with milk, sprinkle seasonings.
Make cuts with a serrated knife. Cuts are necessary as they let the steam escape otherwise Stromboli may tear apart while baking.
Or,
Bake for 35 to 40 minutes, until golden brown and the whole house, comes to know that stromboli is being baked.
Keep it on a wire rack.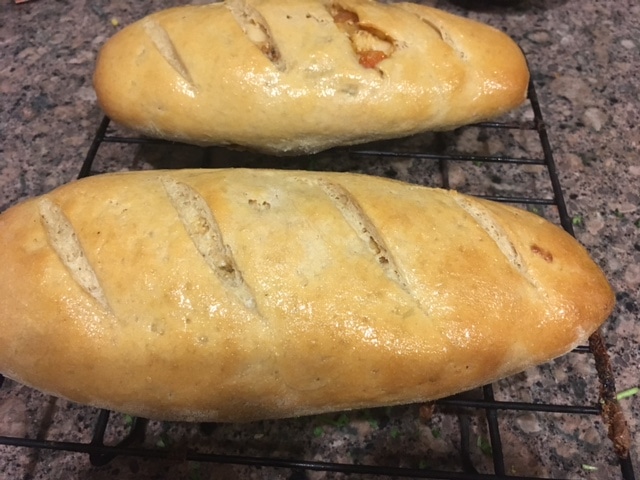 Cover with a damp cloth, for minimum 10 minutes or till cools down.
Serve with love, COLD COFFEE optional.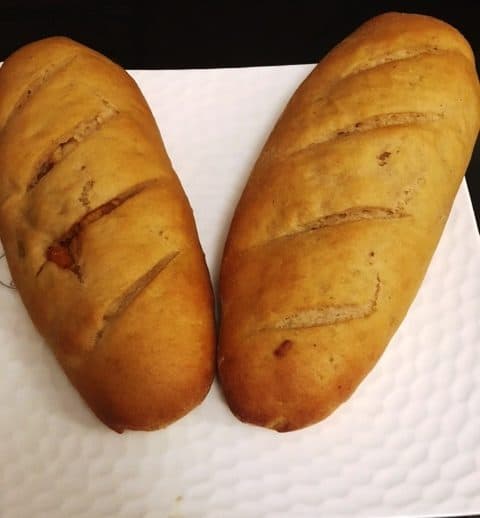 (If you are wondering where is the third portion of the dough, so I kept it back in the refrigerator and made garlic bread the next day.)
New To Bread Baking?
If you are new to bread making or have some inhibitions in using yeast, then my suggestion is that you first go through the basics by reading ALL ABOUT YEAST and BASICS OF BREAD MAKING.
However, if you are friendly with yeast then forget the above posts and dive straight into the recipe below.
And still, if you are not comfortable in using yeast then try these easy PIZZA MUFFINS. These muffins are made without yeast and the best thing is that very little cheese is used in this. A perfect healthy option to have in the breakfast. Try it!
Testimonials

Related Recipes Wheat Pizza    All about Yeast    Basics of Bread Baking   Garlic Bread
I hope you have liked this easy recipe of making Vegetarian Whole Wheat Stromboli and will surely try it out for your loved ones. I will be happy if you share your creations on Instagram and tag me #samirasrecipediary there.
Thank you for reading this post. If you have liked this recipe then do let me know by leaving a comment below. Your feedback fuels my enthusiasm. You may share this post with your dear ones by clicking on the little buttons below. You may follow me on  Facebook   Pinterest    Quora too. for latest recipe updates. Thank you!
Stay Safe… Stay Happy