Dominos Style Cheese Garlic Bread With Wheat Flour is the best combo of health and taste. Garlic breadsticks filled with cheese become irresistible.
You can make this without cheese too and shape it like GARLIC ROLLS which again is a great party starter.
Make this bread in microwave convection or Otg or AIR FRYER.
Garlic Bread is loved by one and all. The aroma of garlic with cheese is itself intoxicating. And if it's from Dominos then nothing like it. Whenever we order pizza from Dominos then there has to be at least one garlic bread in it. The semi-circular Garlic bread with a cheesy dip makes your day.
So, when I started baking bread at home, then this garlic bread had to be tried. I tried it and soon it became a regular at my place. 
When you make this garlic bread at home then you don't have to tell anyone that you have made this. The whole house automatically comes to know that it is being made.
I am on cloud nine when my son, on returning home from the office, says at the gate itself, "Mom, you have made garlic bread today… Yayyyy."
Garlic Bread With Wheat Flour
Dominos Garlic bread is made with all-purpose flour but this one I have made using both wheat flour and all-purpose flour, half of each. But the softness and taste remain the same. As you can also see in the pics, the perforation and the texture speaks for itself. 
I would like to share here, that after this I have made garlic bread using 100% whole wheat flour too and the results have been excellent. If you want to avoid refined flour then check my GARLIC ROLLS recipe where the dough is being made with whole wheat flour only.
 With Instant Yeast
I have used Instant yeast here which can be directly added to the flour. No need of proofing in water first.
But I still proof it in warm water. Apart from giving me the assurance that it is good, it also gives me some sort of happiness seeing that frothy, bubbly water. Also, when the yeast is being proofed, I do my other preparations like sifting flour, chopping garlic etc.
So, if using instant yeast, you can do it, either way, add directly to the flour or first proof it in warm water.
To know about different TYPES OF YEAST read here.
Serving Suggestions
It is one bread you can have any time of the day be it breakfast or lunch or dinner.
You can pack these in your children's lunch box and they will be the happiest ones.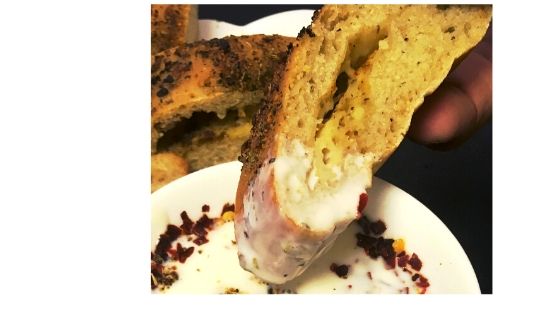 However, if you have a sweet tooth, then do try these sweet loaves of bread made with orange marmalade and Nutella:  ORANGE BABKA BREAD or  CHOCOLATE BRAIDED BREAD
Tips For The Perfect Outcome
Seal Properly: While folding it, as you will see in the recipe, take care that the edges are sealed properly.  If not sealed properly then its shaping will be distorted and also the cheese will spill over.
For sealing you can use any method like pressing it with thumb or with a fork or folding the edges. Whatever method you choose just to ensure that it is done properly.
Slashing: Also, before baking, slash it, which means make cuts with a serrated knife. This is to ensure that steam passes out while baking otherwise it may burst open.
For information regarding yeast and its varieties, check my post All About Yeast.
For understanding the basics of bread making like kneading flour, poke test etc, check my post, Basic steps Involved In Bread Making.
It's a very long post, please go through it at least twice and follow steps to get the desired result.
Step By Step Recipe
Take warm water in a big bowl, add sugar and yeast, instant or dry. Cover it.
Sift wheat flour, all-purpose flour and salt
Add oregano/mixed herbs, chilli flakes, crushed garlic to the flour.
When the yeast becomes frothy and bubbly, add butter and milk in it.
Add flour in 2 or 3 instalments, mixing after each addition.
When mixed, leave it for 8 to 10 minutes, covered.
Knead the flour with the heel of your hand or fist. Knead till the dough becomes soft and smooth.
When kneaded properly, keep in a greased bowl, flip.
Cover the bowl and let it rest in a warm place for 40-45 minutes or till double in size.
When doubled, deflate and knead just for 20-30 seconds.
Divide the dough into 2 equal parts.
Sprinkle flour on the kitchen platform, put one part and roll and spread garlic butter on it.
Grate pizza cheese on it and sprinkle herbs etc.
Fold in half, seal edges, either pinching motion or with a fork.
Keep it on the baking tray. Repeat with another part of the dough.  Keep distance between the two loaves of bread.
Cover with a damp cloth. After 30 minutes, preheat the oven for 10 minutes.
Milk wash the bread.
Sprinkle Herbs and Make cuts.
Bake for 20-25 minutes. Brush with butter.
Serve with love, cheesy dip optional.
In Air Fryer
Make sure that you keep the size that fits in the air fryer.
Take out the air fryer basket and after shaping the garlic bread, keep it straight in it for proofing. This is because once proofed it is difficult to lift it.
Preheat the air fryer at 180 degrees for 5 minutes.
Brush the garlic bread with milk, slash it and sprinkle herbs.
Keep the basket back in the air fryer and bake for 20 minutes approx.
FAQs
Q) Can I make it ahead of serving time?
It takes approximately 2 hours to make including the two rising times as well the baking time of 20 minutes.
You can reduce this time by kneading the flour and keeping it in the refrigerator for at least 8 hours and maximum up to 3 days. In the refrigerator, it will have a slow rise which is all the more good. Then in the morning (or evening depending on when you kept it), take out, punch down the dough. Shape it, leave it for half an hour and bake. So, your breakfast will be ready in about an hour.
Q) What is the shelf life of this bread?
Remains good for a day or two at room temperature. For longer storage, keep in the refrigerator.
Q) I have dry active yeast. How much to use it then?
In that case, you need it slightly more than instant yeast. Take 3/4 tsp for this recipe.
Q) Which cheese is to be used for stuffing?
For the filling, use any pizza cheese.
New To Bread Baking?
If you are new to bread making or have some inhibitions in using yeast, then my suggestion is that you first go through the basics by reading ALL ABOUT YEAST and BASICS OF BREAD MAKING.
However, if you are friendly with yeast then forget the above posts and dive straight into the recipe below.
And still, if you are not comfortable in using yeast then try these easy PIZZA MUFFINS. These muffins are made without yeast and the best thing is that very little cheese is used in this. A perfect healthy option to have in the breakfast. Try it!
Let's Connect!
Thank you for reading this post. If you have liked this recipe then do let me know by leaving a comment below. Your feedback fuels my enthusiasm. You may share this post with your dear ones by clicking on the little buttons below. You may follow me on  Facebook   Pinterest  Instagram for the latest recipe updates. Thank you!
Testimonials
Cheese Garlic Bread Dominos
Make your own Dominos style garlic bread that too healthily
Ingredients
For Dough
1

Cup

130 gms Wheat Flour

1

Cup

120 gms All-Purpose Flour

1/2

tsp

Instant Yeast

See Note 1

3/4

tsp

Salt

3

Cloves

Garlic

Crushed

3/4

tsp

Sugar

3/4

Tbsp

Butter

Melted

1/2

Cup

100 ml Water

Warm

1/2

Cup

100 ml Milk

at room temperature

1

tsp

Oil

1

tsp

Oregano/Mixed Herbs

1

tsp

Chilli Flakes

Optional
For Filling
1/2

Tbsp

Garlic Butter

See Note 2

60

g

Pizza Cheese

1

tsp

Oregano/Mixed Herbs

1

tsp

Chilli flakes

1

tsp

Milk
Instructions
For The Dough
Take warm water in a big bowl, add sugar and instant yeast. Cover it and leave it for 10-15 minutes. During this time, do the following preparations.

Sift both the flours and salt at least 2 times. (See Note 3)

Add crushed garlic, oregano and chilli flakes to the sifted flour and mix properly. Rub with your hands to ensure even distribution of garlic in the flour.

When the yeast water becomes frothy and bubbly, add milk and butter to it.

Now, add flour to this water in 2 or 3 batches, mixing well after each instalment.

Knead the flour for 10-15 minutes. (See Note 5)

Take a greased bowl. put the dough in it and then invert the dough so that the greased side comes on the top. This is important or else the dough may dry up and form cracks while rising.

Cover the dough with a plate or clingfilm and leave it to rise for 45 minutes to 1 hour or till it doubles in size. (See Note 7 and 8 )

Time to knock down the dough. The term knockdown means to deflate the dough and knead lightly for 30 seconds or so.
Shaping Garlic Bread
Divide the dough into 2 equal parts.

Sprinkle dry flour on the kitchen counter, put one part of the dough, roll it, about 1" thick, in a circular shape using a rolling pin or just with your hands. (See Note 9)

Apply garlic butter, and spread out grated cheese on it. Take care that it remains away from the edges.

Fold it into a half, giving the shape of a semi-circle.

Press the edges and seal them through a fork or pinching motion.

Put this on the baking tray, either greased or lined with parchment paper.

Repeat the same process with the other part also.

Keep distance between the breads as they will rise and expand during the rising time.

Cover these with a damp cloth and leave for 30-40 minutes.

After 30 minutes, start preheating your oven. Preheat it to 190 degrees C for 15 minutes.

Milk Wash... Before keeping in the oven, milk wash your breads. It simply means brushing milk on the bread. (See Note 11)

Make cuts in the bread. Do not cut fully, just up to three-fourth only. Sprinkle oregano/mixed herbs.

Bake at 190 degrees for 25 minutes.

Once done, take out from the oven, keep it on a wire rack to avoid getting soggy from the bottom.

Brush it with melted butter.

Cut n serve n enjoy.

For storing, after brushing with milk, cover it with a damp cloth and let it cool completely.

When cooled, cut pieces and store in an airtight container.

Remains good for a day or two at room temperature. For longer storage, keep in the refrigerator.
You may PIN Domino Style Garlic Bread Recipe to try later
Published 27th June 2017 Republished 8th July 2020