Sugar-free Thandai Kulfi
Kulfi, kheer, halwa, laddoo are some of the traditional sweets that are usually made in all Indian kitchens. And our house is no exception. All the family members with a sweet tooth, there has to be some sweet... either homemade or store bought.
And in summers, kulfi was the most preferred option. My mother in law made excellent kulfi. She made it in a very simple way by reducing the milk for at least an hour or till reduced to almost half. She neither used corn flour nor condensed milk. She made it rich by adding lots of reserved (in refrigerator) milk cream (malai) and of course nuts and flavourings. And trust me, it tasted Divine. Mostly throughout summers, it used to be in our freezer.
You may also like Fruity Popsicles Frozen Pizza Ice cream Sundaes Falsa Kulfi
Kulfi or say traditional Indian ice cream is denser and creamier than modern day ice cream. The dessert, most probably, originated in the Mughal Empire in the 16th century. Kulfi is traditionally prepared by evaporating sweetened and flavoured milk via slow cooking, with almost continuous stirring to keep milk from sticking to the bottom of the vessel where it might burn, until its volume is reduced by a half. Thickening increases its fat, protein, and lactose density.Unlike ice cream, kulfi is not whipped and is set directly after reducing the milk and adding flavours. It is garnished with ground cardamom, saffron, or pistachio nuts. Kulfi is also served with falooda (vermicelli noodles made from starch).Traditionally, kulfi is set in specially formed earthen pots. Even today, if you go to Old Delhi to eat kulfi, you will find it in earthen pots only. Most popular flavours of kulfi are Kesar-pista, mango, rose, cream or malai, pomegranate and the latest is Paan kulfi. You can read more about kulfi, here.
Today, I am sharing with you the same recipe with a new flavour. This new flavour is of Thandai. Yes, along with nuts and flavourings, I have added thandai powder to it and it tasted awesome. My husband loves thandai as well kulfi. so thought of mixing the two and thus came up with this Thandai Kulfi. Thandai, a mix of nuts and spices, is also known as summer coolant. It keeps the body cool and gives very good protection from hot winds (loo). You can read more about Thandai here.
Also, I have used honey in this instead of sugar. This is because of two reasons. Firstly, undoubtedly, honey is a healthy option. Secondly, because, as I said my hubby has a sweet tooth and unfortunately he has diabetes so I thought of making it sugar-free. Now, though small portions only, but he can have it. You will not at all miss sugar in this kulfi.
Honey for diabetics may not be the best option but definitely, it is better than white sugar. It has fewer calories and low Glycemic Index, it does not raise blood sugar levels as rapidly as white sugar. To know more about this, read here. But as there are mixed responses regarding usage of honey in diabetes then if you are diabetic then best is to check with your doctor. If your doctor advises you to consume honey then go for it otherwise replace it with some other sugar substitute like stevia or that you normally use.
Few days back, we went out for dinner and in desserts my husband asked for sugar-free kulfi. What he was served was a kulfi along with sugar-free sachet. That is, sprinkle it on kulfi as per your requirement. Even that tasted good.
I have used toned milk here, as that is what we get in daily, and thus added lot of cream (malai) in it. You can go for the same or full cream milk.
Also, I have used bread in it. Bread soaked in milk for few minutes and then grounded in the blender. This is added to give the grainy texture to the kulfi, similar to the ones we get in the market. But this is not necessary and you can avoid it if not comfortable using it. Take care that bread is added in limited quantity only. If added too much it spoils the taste of kulfi. Like I have added 1 slice of brown bread in 1 litre of milk.
This recipe of Thandai Kulfi is a very simple recipe but time-consuming. Milk is reduced to almost half on sim gas which takes all the time. It takes normally an hour or little more. What I do is that start making this while preparing dinner. So, keep on stirring it in between and it gets prepared without much hassle.
Now let's have a look at the recipe for Sugar-free Thandai Kulfi...
Preparation Time: 15 minutes
Cooking Time: 1.5 hours
Yields: 10 Kulfis
Ingredients
For Kulfi
1 litre Milk, Full cream or Toned
4 Tablespoon Thandai Powder
2 or 3 Tablespoon Milk Cream (Malai) (Optional)
2 Tablespoon Slivered Almonds
1 Tablespoon Blanched and Chopped Pistachios
Few strands of Saffron dissolved in 1 teaspoon milk
6 Tablespoon Honey (Or anyother sweetener like Stevia)
1 Tablespoon Dried Rose Petals (Optional)
1 Slice Brown Bread (Optional)
For Thandai Powder
15 g Almonds
15 g Green Pistachios
2 Teaspoon Melon Seeds (Magaz)
1 Teaspoon Poppy Seeds (Khuskhus)
1 Tablespoon Fennel Seeds (Saunf)
4 to 6 Peppercorns (Kali Mirch)
4 to 6 Green Cardamom (Chhoti Elaichi)
Pinch of Nutmeg Powder (Jaifal)
Few Rose Petals, dried
Method
For Kulfi
Boil milk and let it get reduced on sim gas.
Take about 1/4th cup milk and dissolve thandai powder in it. Let it stand for some time. Thandai flavours get infused very well like this and give excellent taste.
Till milk is getting reduced, chop almonds. Blanch green pistachios in boiling water, peel it off and chop finely.
Soak saffron in 1 teaspoon milk.
When milk is reduced a little, add thandai paste and milk cream and continue to reduce it until reduced to almost half.
While the milk is simmering, stir it on and off. It has the tendency to stuck down to the base of the vessel so be careful. If it does, it will spoil the taste of kulfi by giving the burnt smell. Also, keep scraping the sides of the vessel as the real stuff gets stuck there. And do not forget to put the scraped malai back into the simmering milk.
Trim the edges of the bread and tear it into pieces. Soak it in 2 tablespoon milk for 10 minutes.
Now blend the soaked bread in the blender. Keep it aside.
When milk is reduced to almost half of its original quantity then add almonds, pistachios, saffron milk and dried and crushed rose petals.
When the mix cools down then add honey (or stevia) and bread paste.
Fill this in kulfi moulds. (See Note 5)
Set in freezer for minimum 4 to 5 hours.
When set, rub it between hands to loosen up and demould it.
Serve cold kulfi with a warm smile, falooda optional.
For Thandai Powder
Heat a pan and lightly dry roast almonds and pistachios. Though you can use the nuts without roasting also but roasting augments their flavour.
Put all the ingredients in the grinder and powder everything.
In case you are left with Thandai powder then store it in an airtight container. Remains good up to 4 months. For details of Thandai Powder or for making it in bulk, check here.
Tip
At the time of serving, sprinkle little Rose water or kewra water on kulfi.
Notes
I have taken toned milk here. You can use full cream milk for richer texture.
In case you wish to add sugar, then reduce milk further for few minutes after adding sugar.
Bread is added to give grainy texture to kulfi. It does not add to its taste. So, you can omit it if not comfortable using it. Especially if making to eat it during fasts then avoid bread.
I have added extra crushed rose petals for that beautiful look of thandai. Also, roses are known for their cooling properties. So the choice is yours though not necessary.
Adjust the quantity of Thandai powder as per your taste.
Though thandai powder has everything, almonds, pistachios and green cardamom but these are in powdered form, thus I have again added little of all these for the looks and feel of it while eating kulfi.
In the absence of moulds, you can set it in paper cups or in shallow cake pans or in ice trays also. My mother in law always set it in ice trays after taking out the divider in between.
Always cover the kulfi with lid or aluminium foil before freezing it otherwise ice crystals will be formed on it and deteriorate the taste of kulfi.
Detailed Recipe of Sugar-free Thandai Kulfi With Step By Step Pics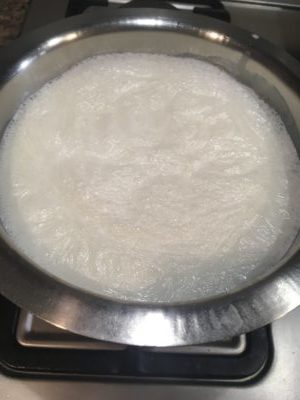 Remove 1/4 cup milk in a bowl and add thandai powder to it. Leave it for 15 minutes (or longer).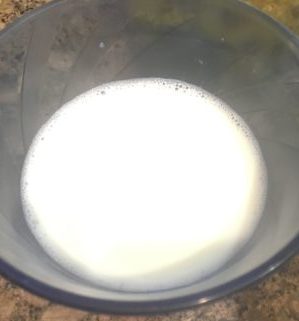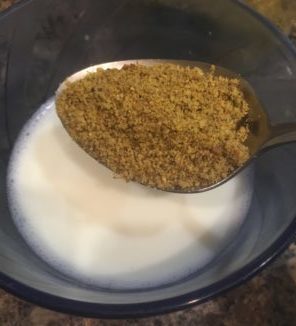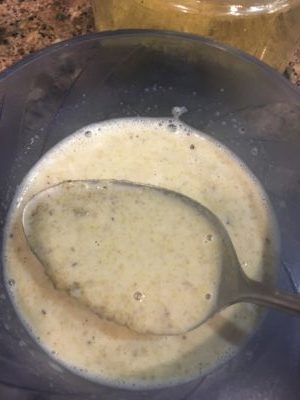 After some time the thandai paste will look like this...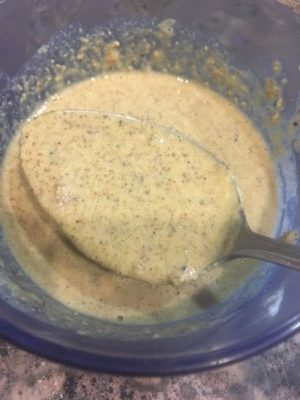 Let the milk get reduced on sim gas. Keep stirring in between.
After about half an hour, when the milk is reduced a little then add thandai paste and milk cream.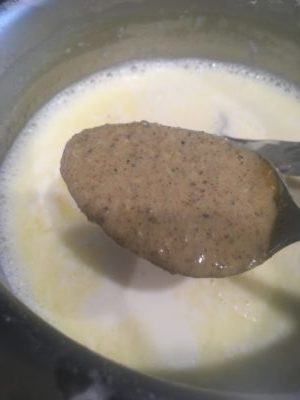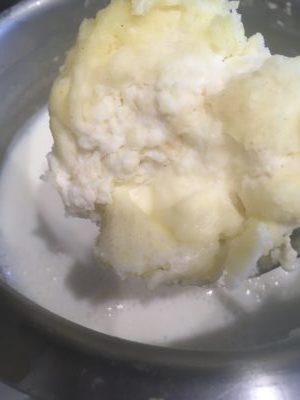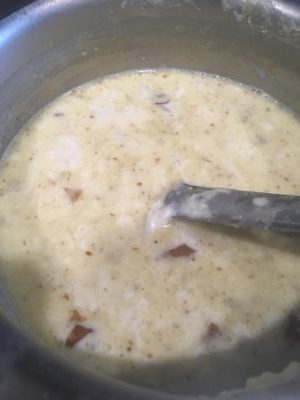 Soak saffron in 1 tablespoon milk. Chop almonds and blanched pistachios finely.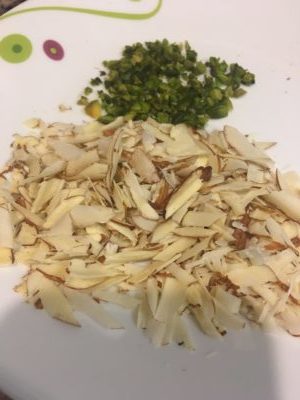 Trim the edges of the bread and soak it in 2 or 3 tablespoons milk.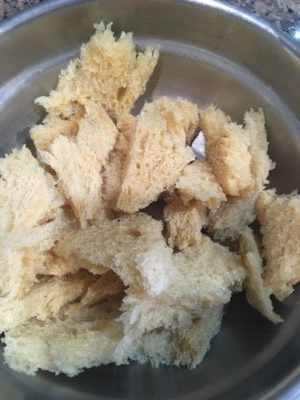 Blend the bread mix in the blender.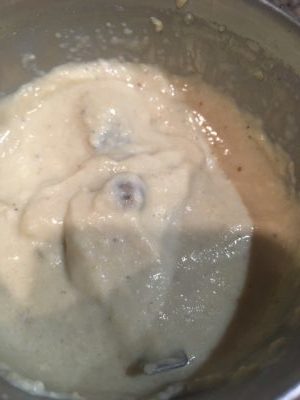 When the milk is reduced to half, add almonds, pistachios, dried and crushed rose petals and saffron milk.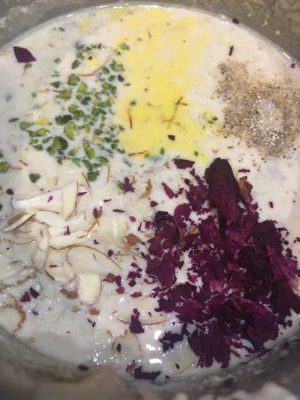 When the mix cools down then add bread paste and honey.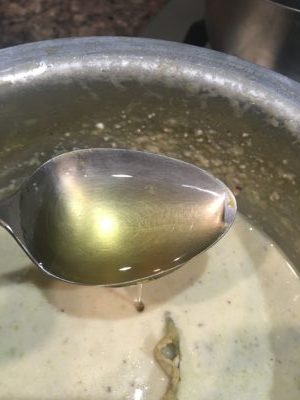 Fill the kulfi moulds. Set in freezer for 4 to 6 hours. (I added cocoa powder in just 2 kulfis on my son's demand to make it chocolaty)
Close the lids and set in freezer for 4 to 6 hours.
Rub between your hands and demould it. Serve cold kulfi with warm smile.
Related Recipes Falsa Kulfi
Frozen Pizza
Fruity Popsicles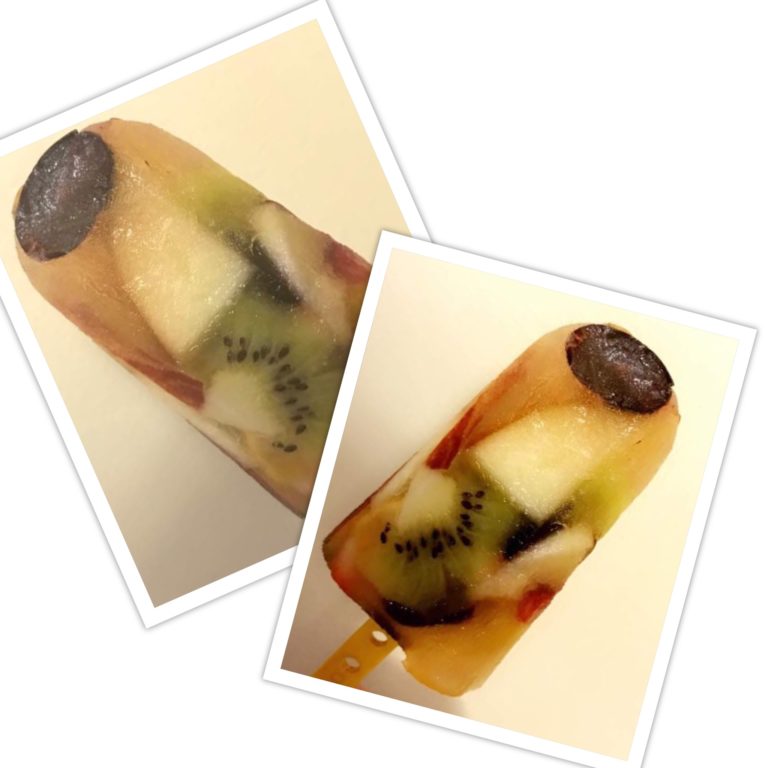 Ice cream Sundaes
So, how did you like it? I am sure you have loved it and will soon try it out in your kitchen. When you do so do not forget to share your feedback with us here. As you know your feedback not only fuels my enthusiasm to post more good content but it also prompts other readers to try it out.
Let's get together on FB, Pinterest and Instagram also.
Waiting to hear from you...
Samira