This recipe of Besan Ladoo with jaggery is not only healthy but it also saves time, labor & use very little ghee as its a microwave recipe.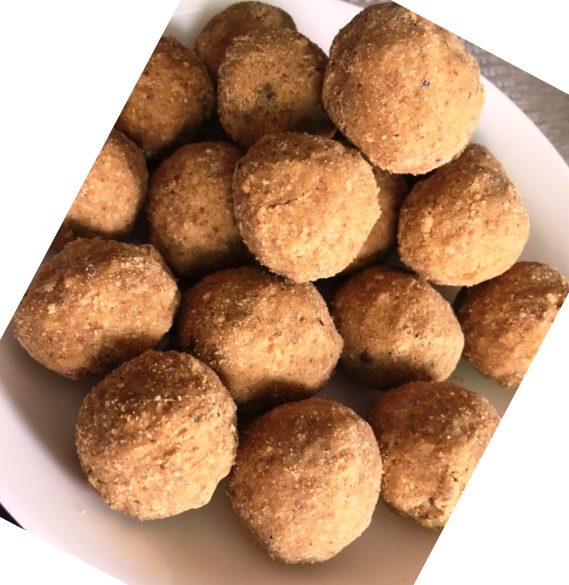 Must-Try: Chana Laddu: Another easy and healthy recipe of laddu, that is without ghee and without any sugar
Besan Ladoo Recipe
Besan ke Ladoo is one of the oldest sweets. These are made all over India and needs no introduction. it is one sweet which every Indian lady has made some time or the other.
I recall today what my grandmother used to tell me often. During her childhood days, food was very simple. No elaborate breakfasts or teatime snacks were there. Being an early riser, she says that her mother (my Great Grandmother) would give all the children 1 or 2 ladoo and 2 matthi with a glass of buttermilk or simply water. This used to be the breakfast.
Even today, when children move to hostel then it is mandatory that Indian mothers would pack matthi and besan ke laddus for their darlings. It is also for the simple reason that these have a long shelf life and comes as a handy snack to curb hunger pangs.
Some other easy recipes with besan are:
Besan Dhokla: Another besan recipe in microwave, that gets ready in just 3 minutes!
Eggless Frittata: A savoury dish made with gram flour and veggies.
Healthy & Quick Recipe of Besan Ladoo with Jaggery
You must be wondering that if it is so common then what on earth makes me post its recipe? So, friends, this is for two reasons.
The recipe I am sharing here is a very healthy recipe.
Unlike the traditional recipe, it is made with very little clarified butter (ghee) and with jaggery powder.
These Besan Ladoo have a very good quantity of almonds.
Along with almonds it also has poppy seeds and white pepper powder, both having excellent medicinal properties and are perfect to have in winters.
And the best part is that all these additional ingredients are perfectly camouflaged. No one, especially children, will come to know about these. So they won't make faces while eating these Ladoo.
Another very good thing about these laddu is that these are made without sugar, Yes, no refined sugar is used for making these laddu. Instead, jaggery is used. So, isn't it completely healthy?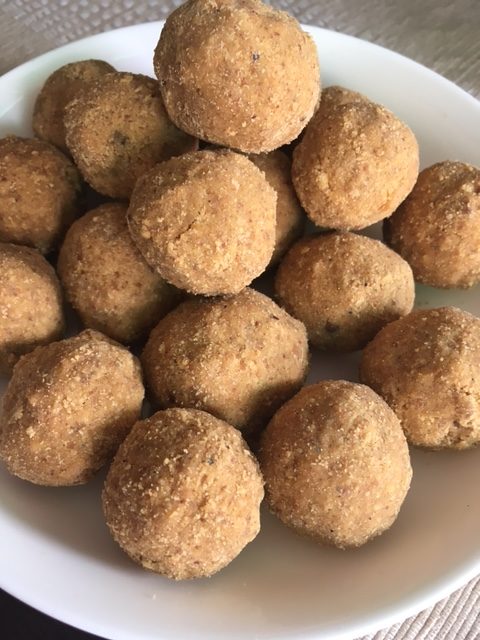 Some more winter delicacies that you may want to try:
 Benefits of Besan Ke Laddu
They are good for building inner strength and immunity.
Good for people with a lean and thin constitution.
Good for eyesight as it has white pepper.
Brings the benefits associated with almonds.
It is considered nutritious as part of the post-pregnancy diet.
During winters, you give these Ladoo to your darlings either in the breakfast or in their lunch box or in the evening or as a dessert after meals. These will give them the required warmth along with energy.
Step By Step Recipe
Melt ghee in the microwave.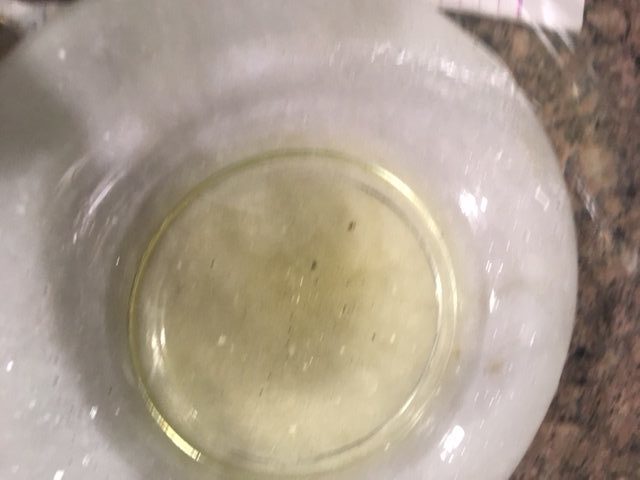 Add gram flour and mix nicely.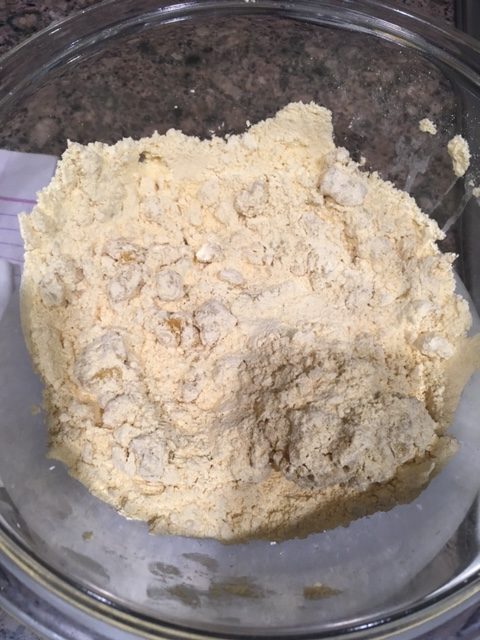 Grind almonds and poppy seeds into a fine powder.
Tip: If making these laddu in summers, then skip poppy seeds and reduce the quantity of almonds as these are really warm and suitable for summers. Instead of 75 g use 30 g almonds only.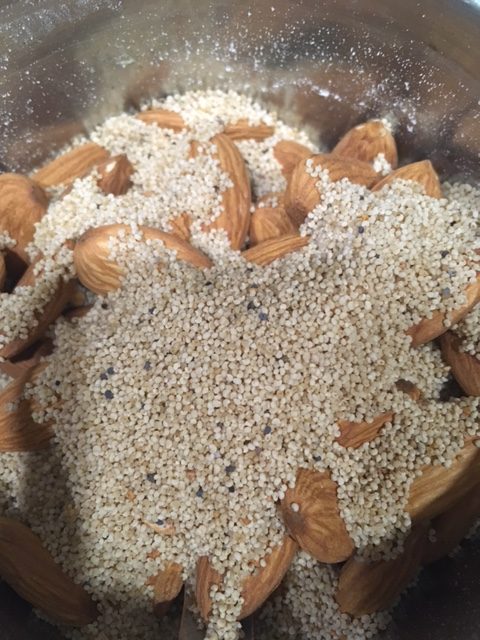 Roast gram flour in the microwave for 7 minutes, stirring after every 1 minute.
After 4 minutes, it looks like this.
Tip: Stir the mix after every 1 minute otherwise you will have burnt besan.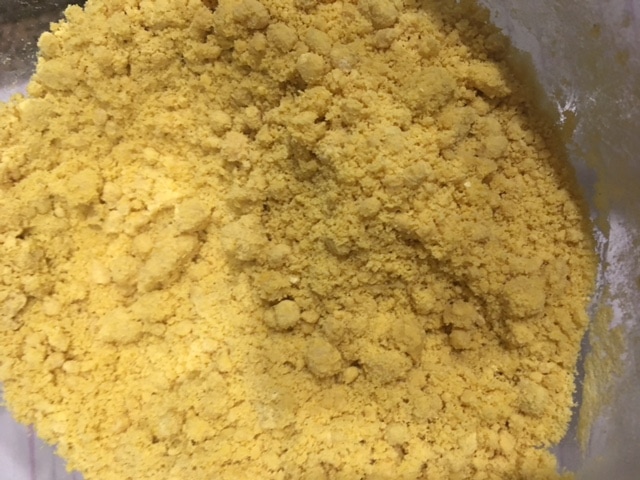 After 7 minutes, mix the almond-poppy seeds-white pepper powder into it.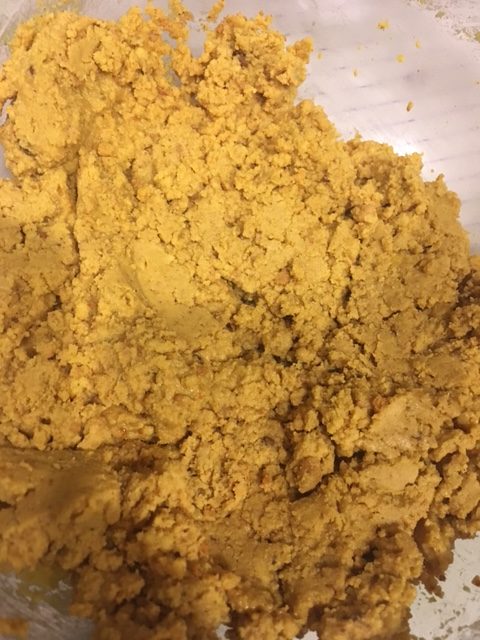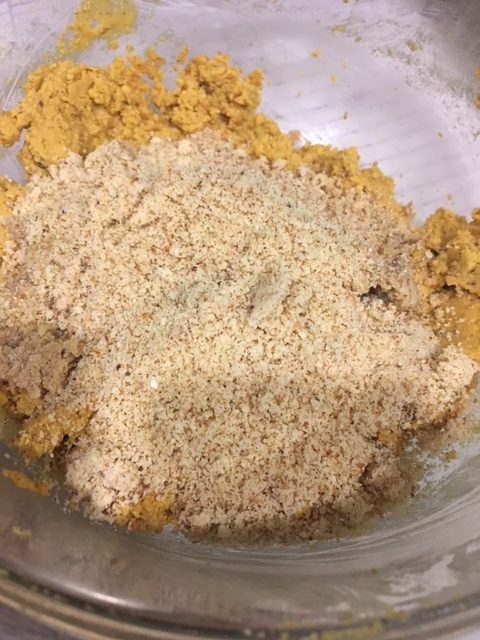 Roast for another 4 minutes, stirring after every 1 minute. In between keep pressing the mix so that lumps, if any are broken.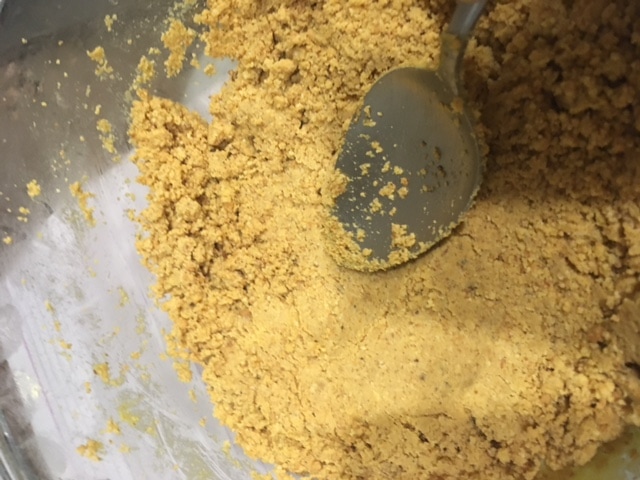 Tip: If not properly roasted then you will not like the taste of raw gram flour. So roast till the colour changes to light brown or say turns mustard colour.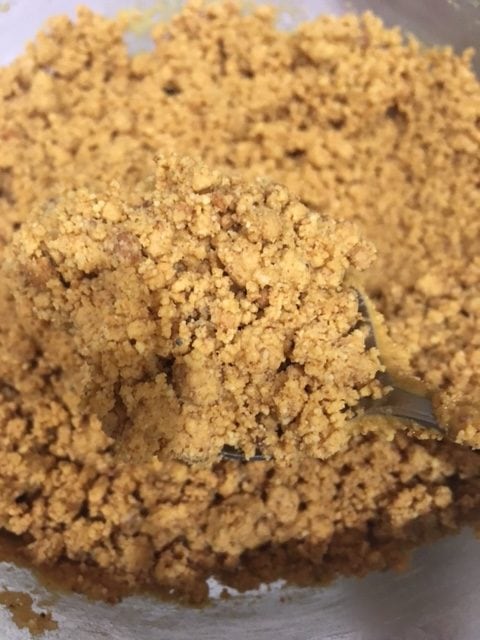 Let the mixture cool down a little (not completely).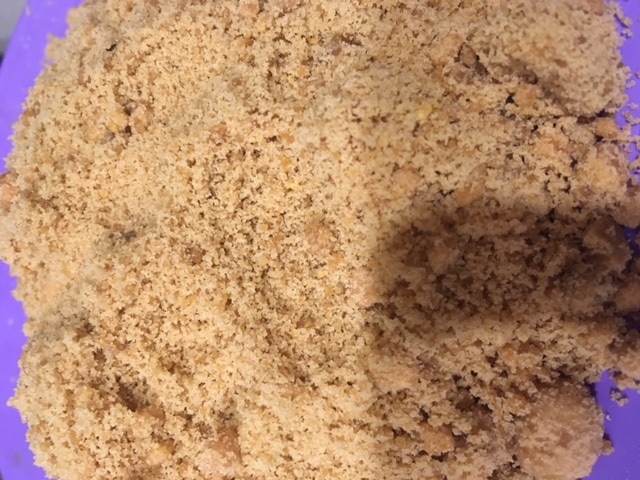 Add jaggery powder into it.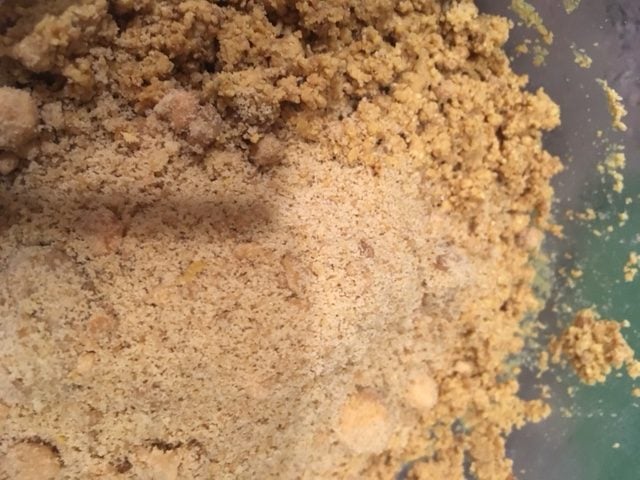 Add green cardamom powder and white pepper powder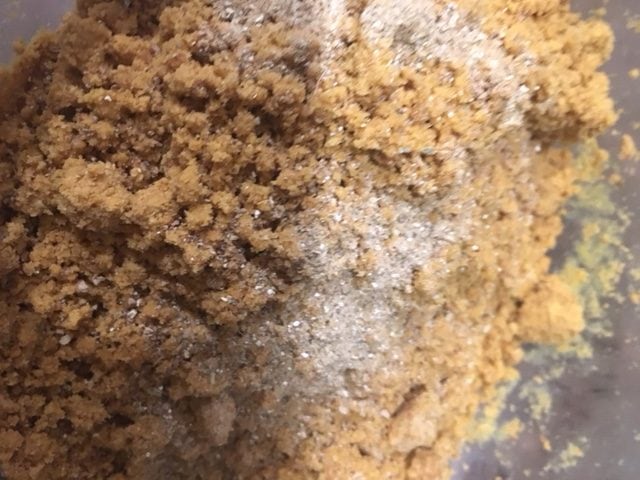 Form Ladoo using both hands.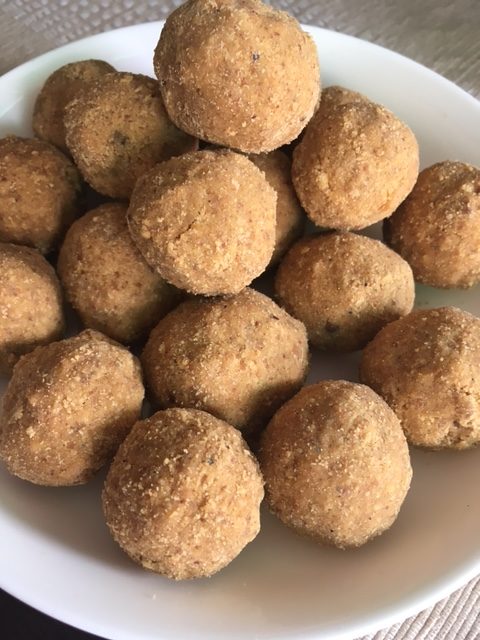 Store in an airtight container. Remains good easily for 2 to 3 months.
Serve with love, Almond milk optional.
Variation
Give them the shape of modak and offer to Lord Ganesha on Ganesh Chaturthi.
You can make these with both wheat flour and gram flour, half each.
Frequently Asked Questions
Q) I do not like the taste of jaggery. Can I replace it with something else?
No problem. Replace it with equal quantity of Boora sugar. Boora is powdered cane sugar, hence healthy.
Q) I am not able to bind  these ladoo. Can I add little water or milk?
Never!. If the mix is too dry then add little melted ghee but never dd milk or water as this would affect their shelf life.
Q) How much should I roast Besan?
Roasting besan is the most important step in this recipe and this is where most people make mistake. If the gram flour is not roasted properly then you will have raw taste of besan while eating its laddu.
Roast it till ts color changes.
Another tip is its fragrance. When besan is sufficiently roasted then it gives wonderful aroma so that even your neighbours come to now that you are making besan ke laddu. So, roast it till you are able to smell it.
Let's Connect
I hope you have liked this Besan ke Laddu recipe and will surely try it out for your loved ones. I will be happy if you share your creations on Instagram and tag me #samirasrecipediary there.
Thank you for reading this post. If you have liked this recipe then do let me know by leaving a comment below. Your feedback fuels my enthusiasm. You may share this post with your dear ones by clicking on the little buttons below. You may follow me on  Facebook   Pinterest too. for the latest recipe updates. Thank you!
How To Make Besan Ke Laddu
An easy, healthy and quick recipe of making besan ke laddu in microwave.
My Cup Measures 240 ml
2 Cups (200 g) Besan (Gram flour)
1/2 Cup +2 Tbsp (120 g) Ghee (Clarified Butter)
150 g Jaggery Powder (See Note 1)
75 g Almonds
20 g Poppy Seeds (Khuskhus)
1/4 tsp White Pepper Powder
1/2 tsp Green Cardamom Powder
Heat ghee in the microwave for 30 to 35  seconds.

When melted, add gram flour and mix properly.

Microwave this mixture for 11 minutes, stirring after every 1 minute. This is very important or you may end up burning your gram flour.

In between, whatever time you get, grind almonds and poppy seeds  to a fine powder.

After 7 minutes of roasting, mix this almond and poppy seeds powder into this and continue roasting for 4 more minutes. This is mixed at this stage so that even poppy seeds and almonds too get slightly roasted.

After 11 minutes, roasted gram flour will give out a wonderful aroma and even your neighbours would come to know that somewhere ladoos are being made. By this time, the colour of gram flour would also change from yellow to mustard.
Wait for just 10 minutes so that the mix turns warm. Do not let it cool completely.

Mix jaggery powder and green cardamom powder and white pepper powder into the roasted gram flour and form ladoos. Since it has less ghee, therefore, press it hard using both the hands and you will get perfect round shape. If the mixture turns completely cool and it becomes difficult to bind ladoos then heat the mixture in the microwave for just 30 seconds. (See Note 3 & 4)
You can use powdered sugar or 'Boora' in place of jaggery powder.
Some people like lightly roasted laddu whereas others prefer darkly roasted. We prefer the latter ones.
If you find it difficult to bind laddu then add a tablespoon of ghee.
At any stage do not add water or milk to this as this will affect its shelf life.
You can vary the quantity of almonds, poppy seeds and white pepper as per your preference.