Icecream  Sundae recipes that are easy to make and are sure to please your loved ones.
Simple looking ice cream turns gorgeous and exotic when decked up with syrups or sauces or nuts or wafers/biscuits or cakes or fruits etc etc. and thus gets a new name called Ice Cream Sundae. 
It is so very tempting to look at and of course yummy to gorge on.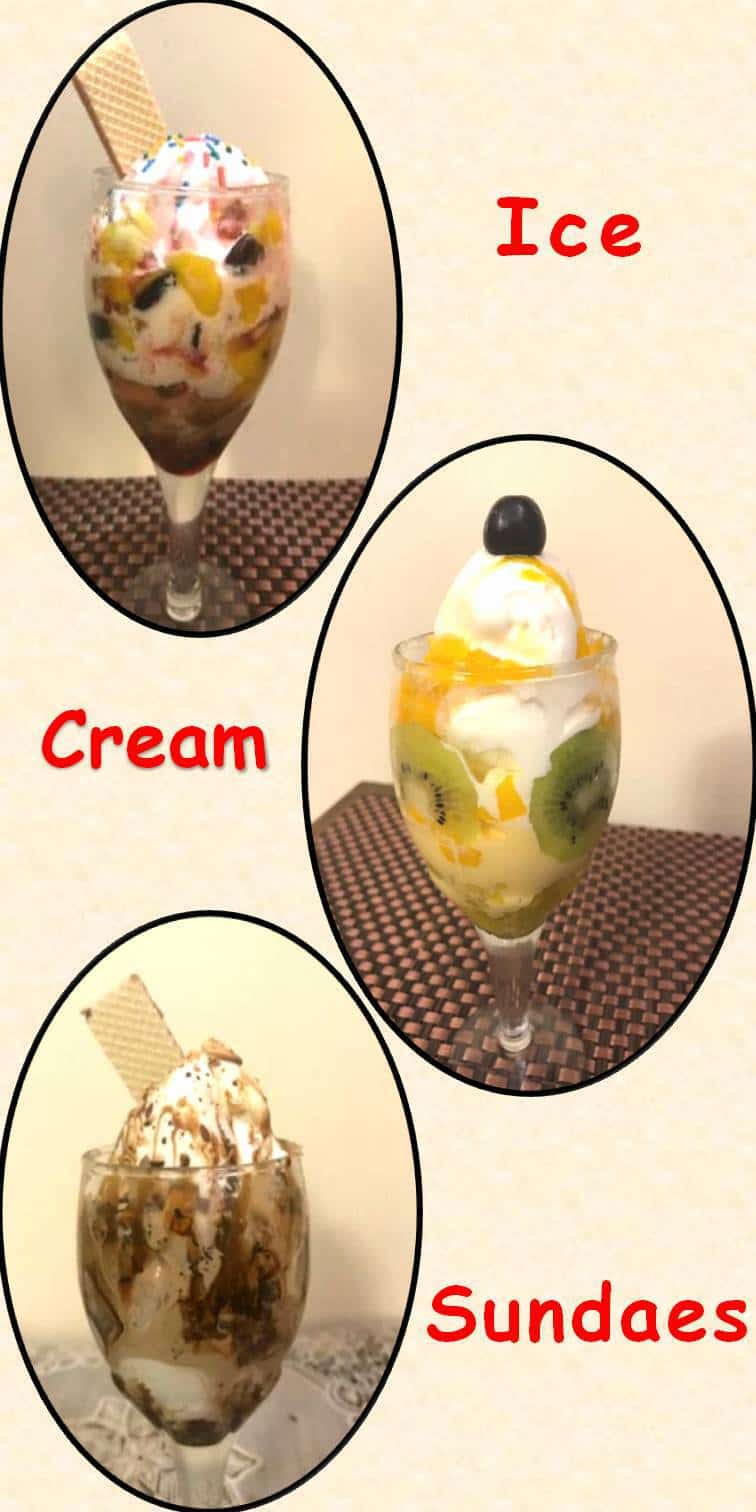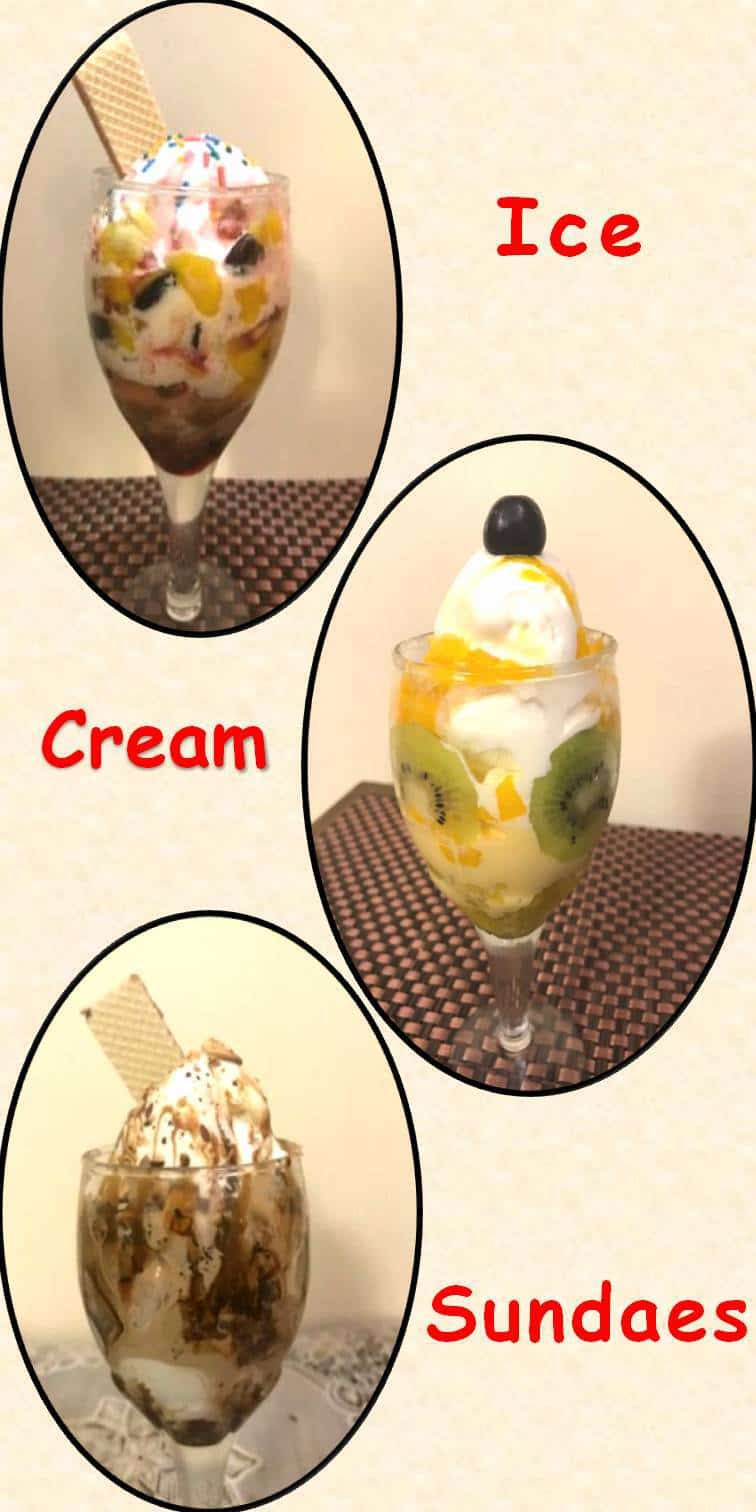 Why Ice Cream is called Sundae?
Well, no dictionary meaning.... except what we can think of is probably the person who first gave it a try, must have tried it on Sunday and hence gave it that name. Ok... that was on a lighter note.
Ice creams are as it is tempting, delicious and are loved by everyone. Then why Sundae? 
We can say that when ice cream is decked up it is called Sundae.
Remember having vanilla ice cream with cola? How yummy it used to be.
Why You Will Love these Recipes
 Taste apart, no hard work or cooking is involved in preparing it.

Just assemble 1 or 2 or 3 different flavoured ice creams, some nuts/ fruits/ confetti, drizzle some syrup/coulis and your Sundae is ready.

Simple and easy to make that even your little one can make it.

An easy recipe but with terrific results.

As you all know there is no fixed recipe to make a sundae. Any ice cream can be turned into an Ice Cream Sundae.

Or, you can lay certain things on the table and your guests/family members can make their own sundae suiting their taste and preferences.
Tips For The Perfect Outcome
However, take care of certain things while making an Ice Cream Sundae...
Keep the layers distinctive by putting things of contrasting colours.
If possible, decorate the glass with chocolate sauce or any other syrup.
Decorate the top with fresh fruits or cherry or sprinkles or chocolate shavings etc with a wafer biscuit or Munchini on the side.

 
 So you see it is that easy to make but, but.... but what?
And that is that you need to have a plan in your mind as to what all you will be putting in a particular Sundae so that you can make the arrangements accordingly.
1. Mango Monanza Sundae Recipe
Now, this Sundae recipe is for Mango lovers. Only and only mango flavours....starting with mango cake, then mango drink followed by mango pieces and mango ice cream.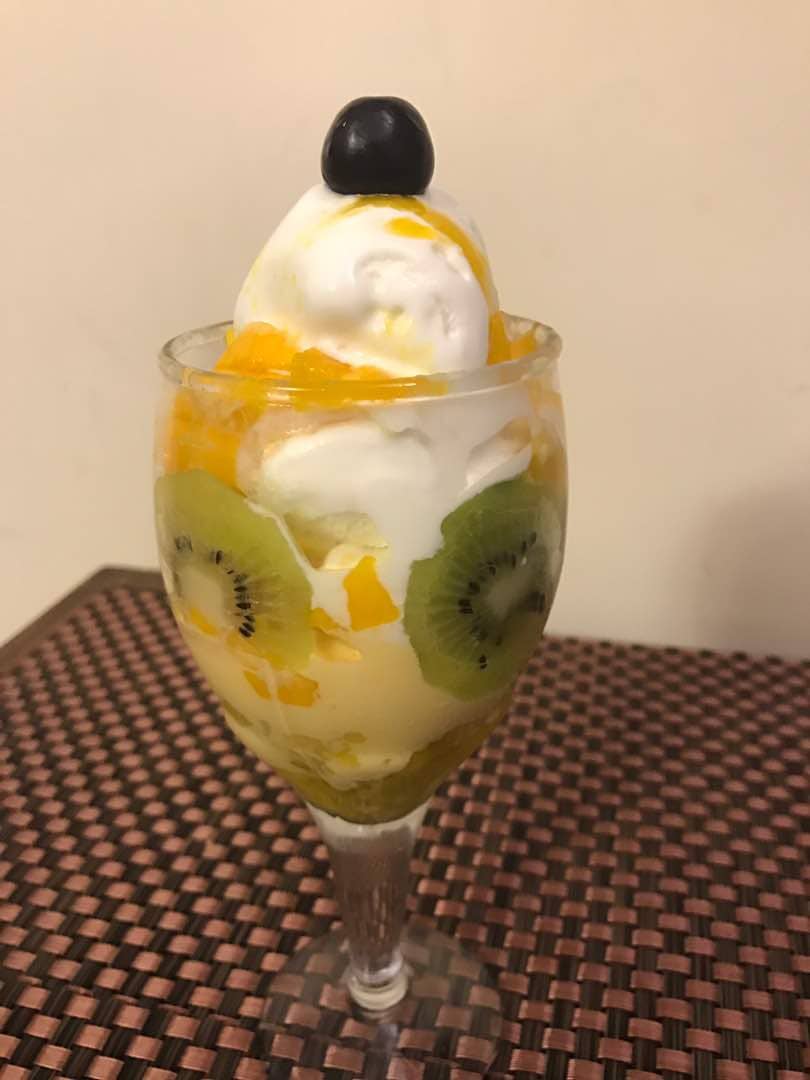 Ingredients
2 or 3 Mango cake pieces

1 Scoop Vanilla Ice cream

1 Scoop Mango Ice cream

 

2 or 3 tsp Mango drink

1/2 Cup Chopped Mango

1 tsp Mango coulis/ Mango jam
Method
Put Mango Cake pieces in the glass.
Moisten it with mango drink like Frooti or Maaza.
Put Mango Icecream.
Add mango pieces.
Put Vanilla  Icecream.
Drizzle mango coulis and some mango pieces.
Serve with pride.
Tips
In the absence of mango cake, take a vanilla cake and apply some mango coulis/jam on it.

To prepare mango coulis, cook mango puree with sugar ( as per taste ) for 7/8 min till slightly thick.

Can add a few pieces of kiwi before mango pieces to give colour to your sundae.
2. Healthy

 Sundae Recipe
Yes, this one is a healthy Sundae as it is made by using ultra nutritious muesli.
Must be thinking I am crazy. But believe me, the crunchy muesli goes very well with ice cream.
Ingredients
2 tbsp Muesli

1 scoop Vanilla Ice Cream

1 scoop Chocolate Ice Cream

 / Butterscotch Ice Cream

1 tsp Biscuit crumbs

1 tsp Roasted and Crushed Peanuts

Chocolate sauce for decoration

 

Wafer Biscuit ( chocolate or vanilla )
Method
Put chocolate sauce on the walls of the glass from inside. Keep rotating the glass while doing so.

Put 1 tbsp Muesli in the glass.
On it put 1 scoop of Vanilla Ice cream, then crushed biscuits and some more muesli.
On this put 1 scoop of Chocolate chip ice cream then crushed peanuts.
Drizzle Chocolate sauce and serve.
3. Rainbow Sundae Recipe
Real soothing to the eyes, this Sundae is ornamented with fruit cake, vanilla ice cream, strawberry ice cream and fruits.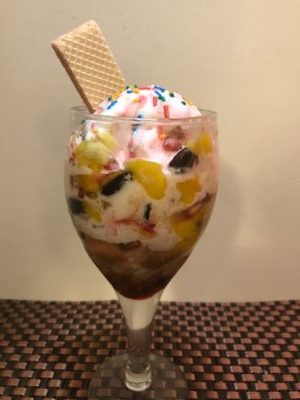 Ingredients
2 or 3 Vanilla Cake Pieces (or Fruit Cake)
1 Tbsp Fruit Juice
1 Scoop Vanilla Icecream
1 Scoop Tutti Fruiti/Strawberry Icecream
2 Tbsp Mixed Fruits, Chopped Finely
1 tsp Confetti
1 tsp Strawberry Crush/Rose Syrup
1 Wafer Biscuit
Method
Put Fruitcake/vanilla cake in the base of the glass.
Moisten it by adding fruitcake.
Put 1 scoop Vanilla ice cream.
Add mixed fresh fruits.
Put Strawberry or tutti-frutti ice cream.
Decorate with confetti and Rose syrup.
Slide a wafer biscuit on the side.
Serve with love.
Variation
Use Raspberry jelly in place of fruitcake. In that case, omit fruit juice.

Can add raisins, cashews, etc if have a liking for it.
Related Recipes 
Let's Connect!
Hope you will surely try out these easy and yummy Ice cream Sundae recipes for your loved ones. Do share your feedback as it  fuels my enthusiasm to post more good content.
Let's connect on Facebook Pinterest Twitter Instagram (#samirasrecipediary) too.
Thanks,
Samira