Cheesy Vegetable Croquettes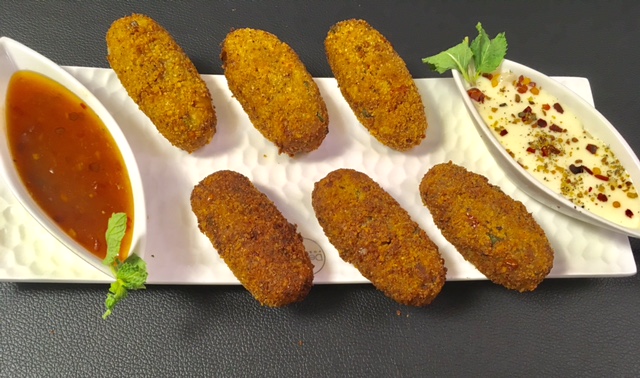 Though these have the looks of a cutlet/roll but is much more than that. The addition of oregano and chilli flakes gives them a unique flavour.
Croquettes with melting cheese in the centre are too hard to resist. My children are crazy for these croquettes.
These croquettes are a wonderful combination of veggies, soya granules and roti (chapati) crumbs.
Thus fibre, protein and carbs under one roof.
Normally bread crumbs are used for binding the potato veggie dough but here we are using crumbs made by grinding fresh/leftover chapati.
So, though fried but has a healthy angle too.
I have deep fried it but you can make these in air fryer too. But take care that air fryer is preheated well and at the highest temperature given in it.
You can make these in advance also and store in the freezer. Whenever required, just take these out and put directly into the hot oil.
So let us see how to make them and how they are different from cutlets.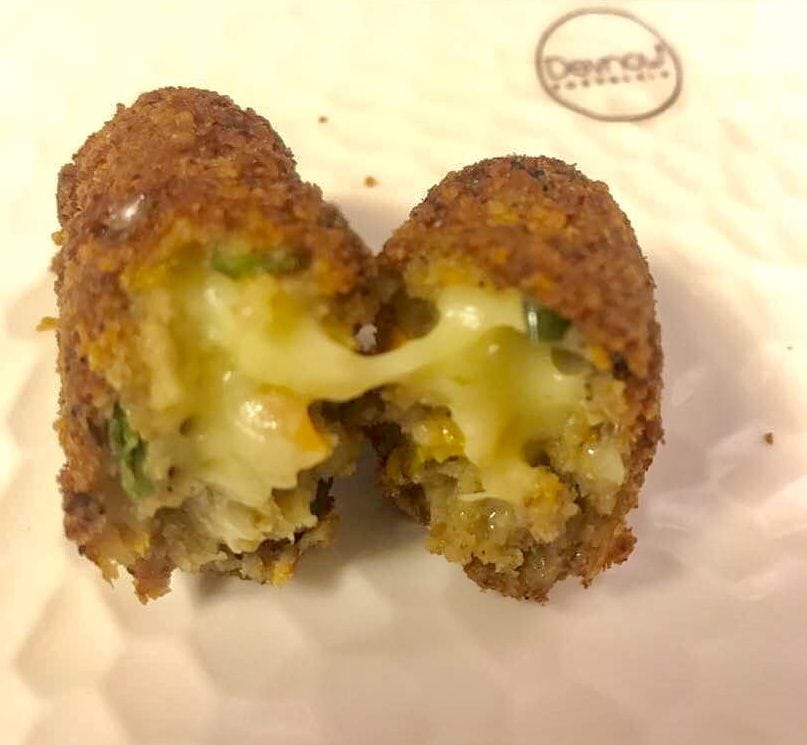 Preparation Time : 30 minutes
Makes : 15-17 Croquettes
Ingredients
4  Medium Sized Boiled Potatoes
1/2 Cup Soya Granules
1 Cup Finely Chopped Veggies (onions, carrots, beans, bell peppers etc)
1.5 Cup (approx) Roti Crumbs ( or Breadcrumbs)
Salt to taste
1 tsp Oregano
1 tsp Chilli Flakes
1 tsp Black Pepper
1 Tbsp All Purpose Flour mixed with 1 Tbsp water
150 Grams Pizza Cheese
Oil for frying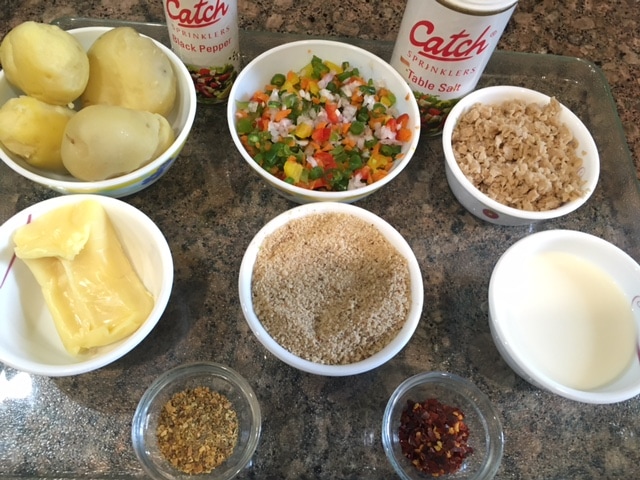 Method
Soak soya granules in hot water for 10 minutes. During this time, do the following preparations.
Mash potatoes.
Chop veggies very finely.
Take all purpose flour and make its thin batter by adding water, little at a time, so as to avoid lumps.
Squeeze out all the water from soaked soya granules.
Add chopped veggies, soaked and squeezed soya granules, roti crumbs ( around 1 Cup), salt, oregano, pepper and chilli flakes to mashed potatoes and make a tight dough.
Take little dough in your hand, flatten it, keep some cheese in it and folding carefully give it the shape of roll/croquette.
Similarly, make all the rolls.
Dip the roll in flour batter and then coat roti crumbs on it.
Do this with all the croquettes.
At this stage, you can put these in the freezer for future use or fry straight away.
Heat oil in a deep pan.
When the oil is very hot, put 3 or 4 croquettes in it.
Don't be in a hurry, don't touch it and let it fry. After a minute or so, gently toss it and cook from the other side.
When done from both the sides, take out and fry another lot.
Similarly, fry all the croquettes.
Serve with tomato ketchup or honey chilli sauce or mayonnaise.
Notes
You can use bread crumbs in place of roti crumbs or a combination of both.
The quantity of crumbs used may vary depending on the moisture content in potatoes.
4-5 chapatis are needed for making 1.5 cups of roti crumbs.
Make sure that the dough is very tight.
Once the cheese is stuffed, you cannot remake it, therefore it is better to check the dough by putting a small roll in hot oil. If it fries well then go ahead and make all the croquettes. In case it splits, add some more crumbs to it.
After filling cheese, ensure that it is sealed properly without any cracks.
Always put cutlets/croquettes in very hot oil.
Always put 3-4 croquettes only, depending on the size of the pan. Don't try to put as many as you can.
For the initial 30-35 seconds, do not try to touch it or toss it, it may split.
You may vary the quantity of soya granules and veggies according to your taste and preferences.
You can make these without cheese too.
Alternatively,instead of crumbs, you can put some corn flour (arrowroot) in it for binding.
Step by Step Detailed Recipe
Mash Potatoes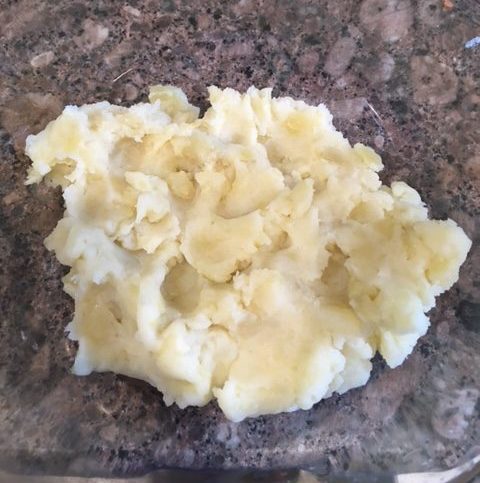 Add chopped veggies, soaked and squeezed soya granules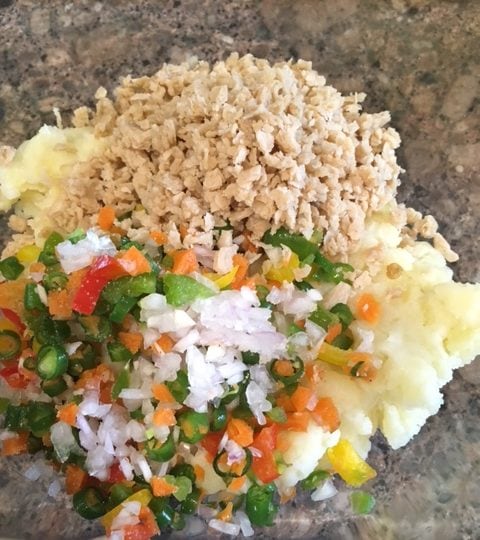 Add Roti/Bread Crumbs
((Reserve some(1/4 cup) for coating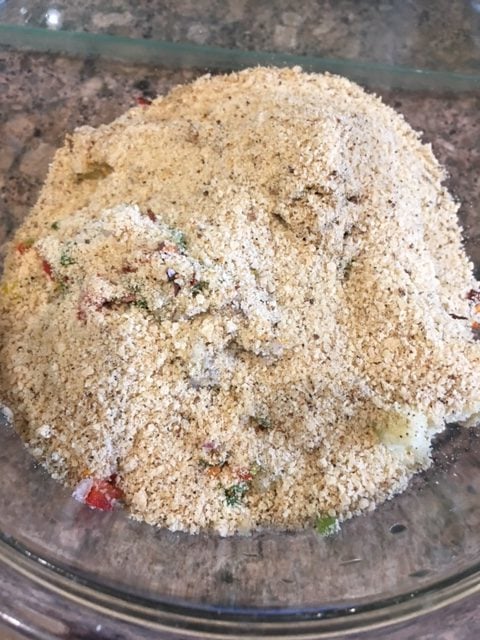 Make a tight dough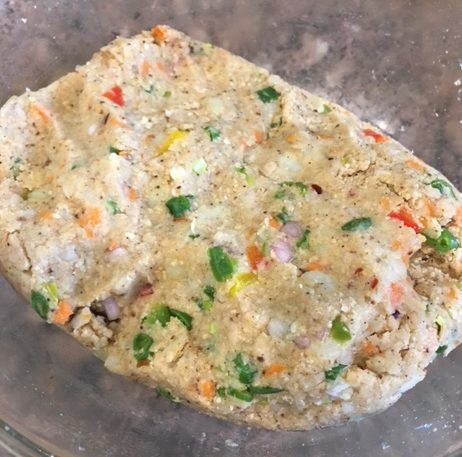 Take little dough in your hand and flatten it.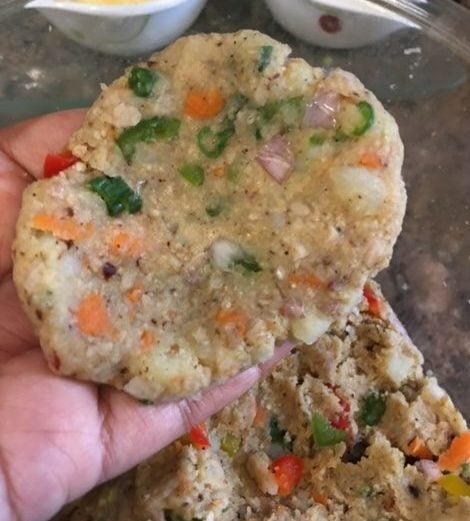 Keep a little piece of cheese on it.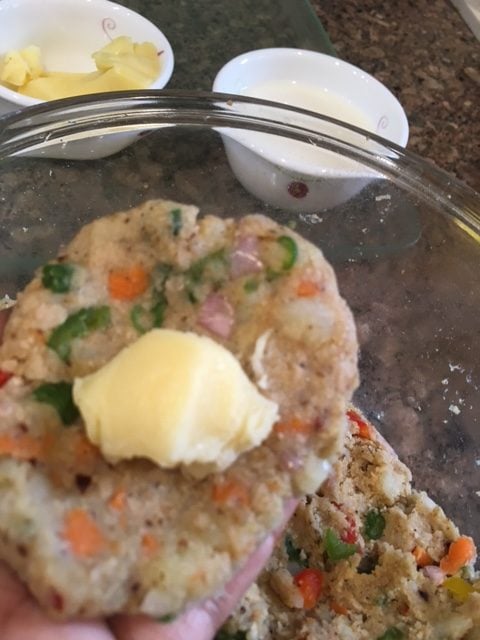 Shape all croquettes like this
( The ones in the centre are without cheese)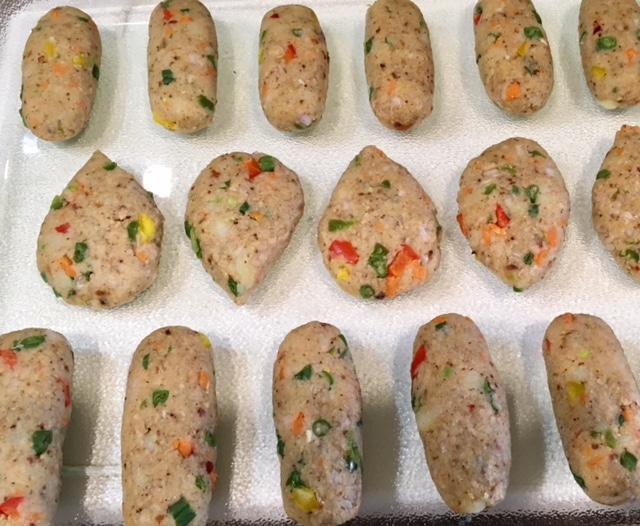 Dip one by one in flour batter
Roll these croquettes in roti/bread crumbs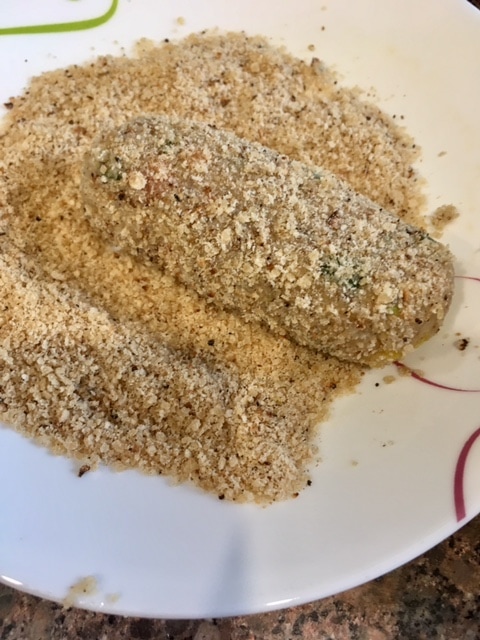 Prepare all croquettes like this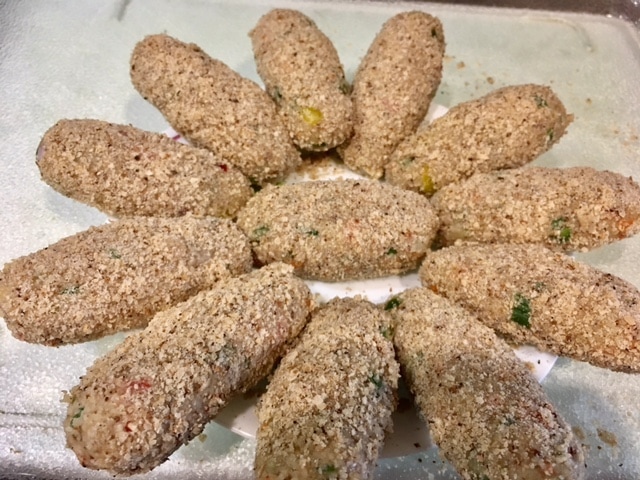 Deep fry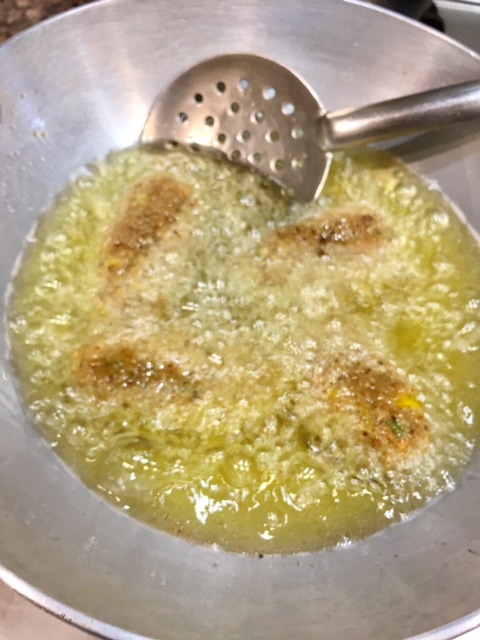 Serve with love and Dip of your choice....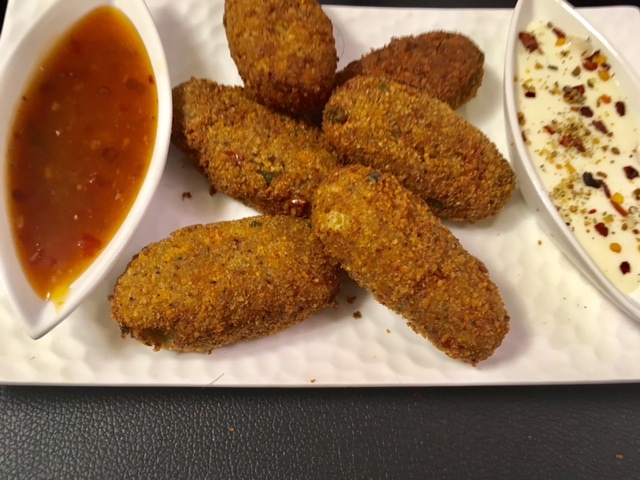 Make ahead Cheesy Vegetable Croquettes
After step number 10, that is after rolling them in crumbs, keep these in a tray at a distance and put the tray in the freezer. Once frozen, you may fill these in ziplock bags and store them in the freezer. When required, just take out and put straight into the hot oil. No need to thaw.
How to make Roti Crumbs
Tear roti (chapati), fresh or leftover, into pieces. Put them in grinder and grind. Roti crumbs are ready.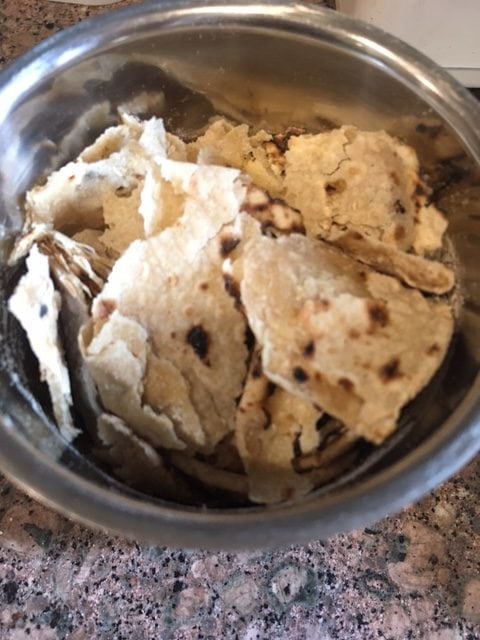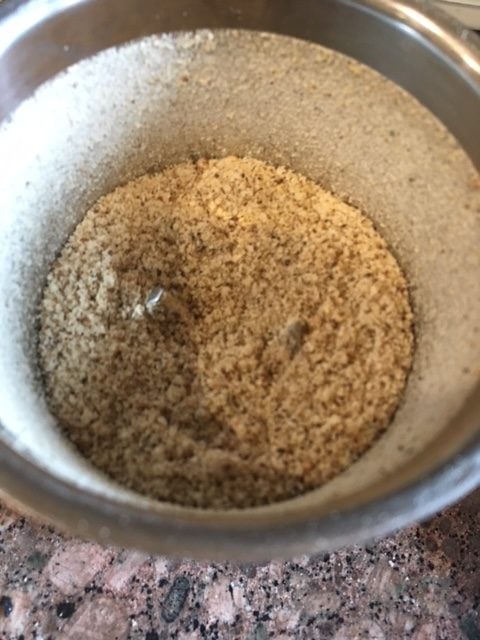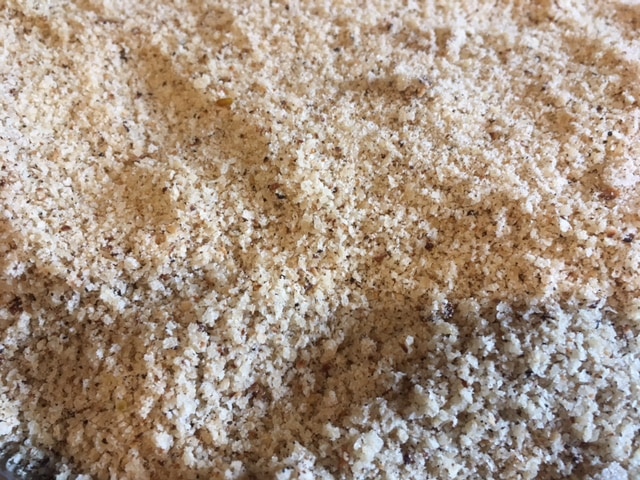 Thanks for stopping by...
If you have liked this recipe, then please leave a comment, with your suggestions, if any.
Also, join me on my Facebook page.
Let's move together...