Sprouted Ragi Cutlets are ultimate in taste as well in nutrition. And the unique thing is that these cutlets have a continental touch. How? You will soon see that too.
These cutlets are one of the best ways to consume sprouted Ragi. When I shared my post on how to Sprout Ragi, I promised you that the recipe would be shared soon and here I am keeping my promise.  The method is easy and I bet that once you try out these you will not mind the tedious and slightly lengthy process of sprouting Ragi too. and will make it often.
As this recipe uses sprouted ragi, therefore it is imperative that you need some planning to make these. Once you have started Sprouting ragi then comes another task of soaking and boiled Rajma.  But all this planning will seem worthwhile to you once you taste it and know the benefits that come with it.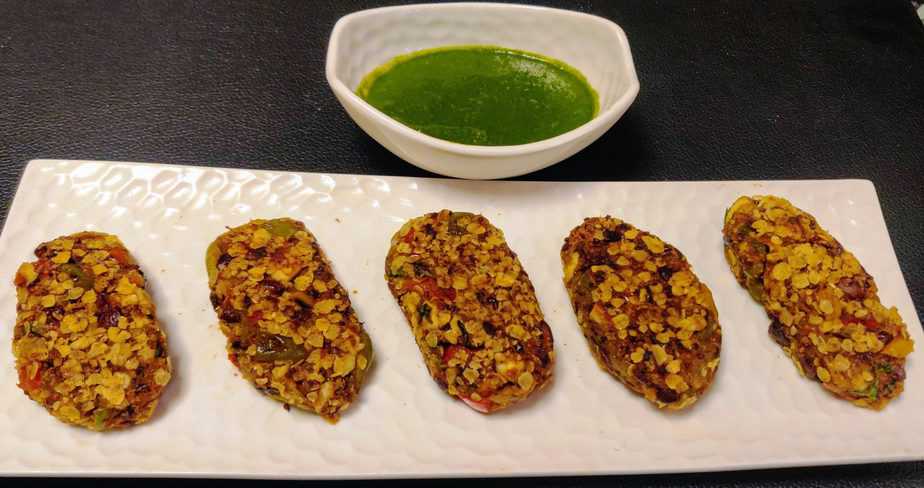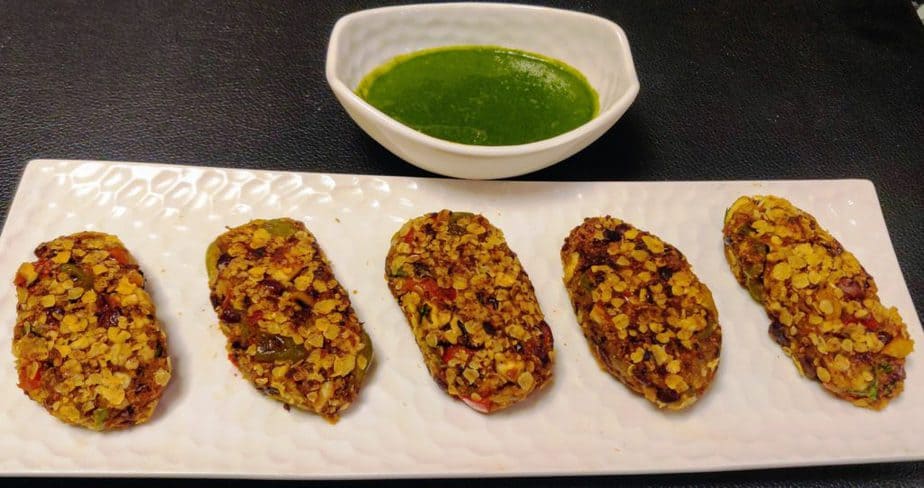 I made these cutlets just by using some leftovers and the result was a hit. Actually, the day before I made these cutlets, I had made Mexican Tacos and thus had leftover Rajma filling as well as some veggies. So, I combined both of these with the sprouted Ragi. And as the mix was loose, so used oats which helped in binding too.  And for the spices, instead of using Indian spices, I used oregano, basil, and parsley. The reason was that my Taco filling already had these so I added more of these only. An experiment that turned out to be a hit. The idea of using Rajma was taken from here but thereafter I tweaked it all together with my way.
The idea of making these Ragi cutlets with continental flavors was also inspired by my vegetable and cheese croquettes recipe which is a very different and healthy recipe as it uses Roti crumbs instead of bread crumbs.
Benefits Of Sprouted Ragi
Increase in calcium by 20%
Increase in iron by 10%
Vitamin B12: Sprouted ragi naturally contain B12 in them! We, the vegetarians have very limited options to consume B12 and thus its deficiency in vegetarians is very common.
Reduction in antinutrients like phytic acid.
Lower GI in sprouted ragi: Proportion of protein and fiber increases and that of starch decreases in sprouted ragi, and its overall impact is that sprouted ragi has a lower GI than the non-sprouted ones.
Easy digestion: Sprouting ragi can be easily digested as dense proteins are converted into easy amino acids. This is the reason, sprouted ragi flour is the most preferred option to feed babies. You can read about the benefits of sprouted ragi here
Why You Will Love This Recipe
Gluten-free
Full of nutrition
Easy to make
Excellent in Taste
Have a continental taste and flavor.
One of the best ways to consume sprouted ragi
Ragi is paired with the benefits of Oats too.
A wonderful party starter as well as an appetizer.
No use of potatoes.
Detailed Recipe 
Make Rajma filling. For this, soak and boil Rajma till tender.
In a pan, heat oil, saute onions, garlic, and tomato puree.
Add boiled Rajma. Mix everything.
Add salt, dried basil, oregano, and parsley.
Mash everything using a potato masher. Cook it for a while till the moisture goes away and the mix becomes slightly dry. Let it cool down.
Chop peppers,
Take sprouted Ragi in a bowl, add mashed and cooled Rajma, chopped peppers and mix everything.
Add oats, The quantity of oats may vary depending upon the moisture level in your mix.
Adjust seasoning as per your taste.
The dough should be tight so that can be formed into cutlets.
Shape cutlets.
Keep some oats on a plate and roll the cutlets in it.
Heat the skillet, put oil, and shallow fry these oats-wrapped Ragi cutlets.
Serve with love, mayonnaise optional. (I served with green chutney only)
Related Recipes:
FAQs
Q) How to sprout Ragi? 
I have already shared a detailed post on how to sprout Ragi so I will not repeat that here. You can just click here and see the detailed and step-by-step method of sprouting Ragi.
Q) Do I cook or boil sprouted Ragi?
No need! You can steam these if you want but there is no need as such. The reason is that these get cooked when we shallow fry the cutlets so anyways these get cooked.
Q) Why use Sprouted Ragi?
First of all the benefits of sprouted ragi are enormous and way more than the non-sprouted ragi. Secondly, sprouted ragi can be eaten easily but non-sprouted one needs to be cooked first.
Lets Connect!
I hope you have liked this recipe of making Sprouted Ragi Cutlets. I would love to have your views regarding this.

Thank you for reading this post. If you have liked this recipe then do let me know by leaving a comment below. Your feedback fuels my enthusiasm. You may share this post with your dear ones by clicking on the little buttons below. You may follow me on   Facebook   Pinterest   Instagram(#samirasrecipediary) too. for latest recipe updates. Thank you!
Sprouted Ragi Cutlets
A unique recipe with a perfect blend of taste and nutrition
Ingredients
My Cup Measures 240 ml
1/2

Cup

Sprouted Ragi

1/2

Cup

Boiled Rajma

1/2

Cup

Bell Peppers, Chopped In Small Pieces

1/2

Cup

Oats (The Quantity may Vary)

1

Pc

Onion, Chopped Finely

1

Pc

Tomato, Chopped Finely

1

tsp

Crushed Garlic

1/2

tsp

Basil, Dried

1/2

tsp

Parsley, Dried

1/2

tsp

Oregano

Salt to Taste

1/4

Cup

Oil
Instructions
Make Rajma filling. For this, soak and boil Rajma till tender.

In a pan, heat oil, saute onions, garlic and tomato.

Add boiled Rajma. Mix everything.

Add salt, dried basil, oregano and parsley.

Mash everything using a potato masher. Cook it for a while till the moisture goes away and the mix becomes slightly dry. Let it cool down.

Take sprouted Ragi in a bowl, add mashed and cooled Rajma, chopped peppers and mix everything.

Add oats, The quantity of oats may vary depending upon the moisture level in your mix.

Adjust seasoning as per your taste.

The dough should be tight so that can be formed into cutlets.

Shape cutlets.

Keep some oats in a plate and roll the cutlets in it.

Heat the skillet, put oil and shallow fry these oats wrapped Ragi cutlets.

Serve with love, mayonnaise optional. (I served with green chutney only)