Sweet Aromatic Saffron Rice recipe with easy-to-follow step-by-step photos. Also, the recipe uses jaggery powder thus avoiding refined sugar totally.
My humble attempt to present it in the shape of Veena (Sitar), Goddess Saraswati's musical instrument.
Basant Panchmi Special: Meethe Chawal (Sweet Rice)
 Basant Panchmi marks goodbye to winters and welcomes the vibrant Spring season.
The lovely festival of Basant Panchmi symbolizes liveliness.... the brilliance of nature....when flowers are in full bloom spreading joy and happiness.
This is the day to worship the Goddess of wisdom, intellect, and learning... Goddess Saraswati.
On the auspicious day of Vasant Panchmi, I pray to Goddess Saraswati that the desire for learning continues to simmer in all of us throughout our lives. May we keep enriching ourselves by learning something or the other, irrespective of our age.
Let us offer Meethe Chawal (sweet rice) to Maa Saraswati and seek her Blessings.
Preparation time: 1/2 hour
Cooking time: 1/2 hour
Serves: 2 to 3
Ingredients
For Rice
1/2 Cup Rice (Uncooked )Or 2 Cup Boiled Rice
3/4 Cup Sugar/Jaggery powder
1 Tbsp Clarified Butter (Ghee)
2 pieces Clove (Laung)
1/4" Cinnamon stick ( Dalchini )
1 Black Cardamom (Badi Elaichi)
2 or 3 tsp  Milk
3-4 Strands Saffron (Kesar)
A pinch Yellow color (optional)
For Garnishing
1 Tbsp Roasted and Slivered almonds, cashews (optional)
1 Tbsp Raisins, Chopped Pistachio ( optional)
1 Tbsp Desiccated coconut ( optional )
Method
To Boil Rice
Soak rice for an hour or so.
Take 4 cups of water in a vessel,  add clove, cardamom, and cinnamon stick, and put it to boil.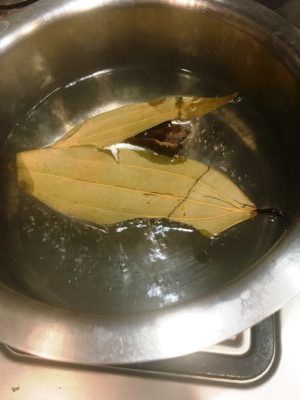 When the water starts boiling add soaked and drained rice.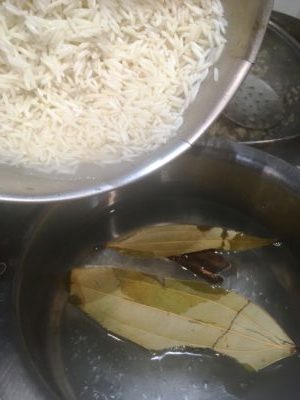 Simmer the gas and let the rice cook. After 8-10 minutes, when the rice gets boiled, strain it by putting it in a colander. Remove whole spices from the rice.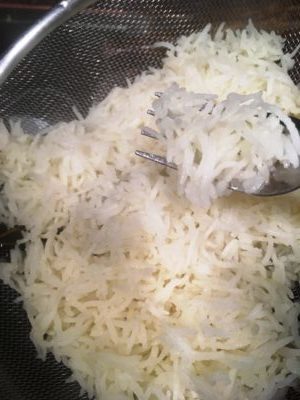 For Sweet Rice
Take milk in a cup, add saffron and muddle it to extract the beautiful yellow color of saffron. Keep it aside.
Take boiled rice in a pan.
Add jaggery powder, clarified butter, yellow colour and saffron milk mixture to the boiled rice. Toss very lightly, cover and leave for 5-7 minutes.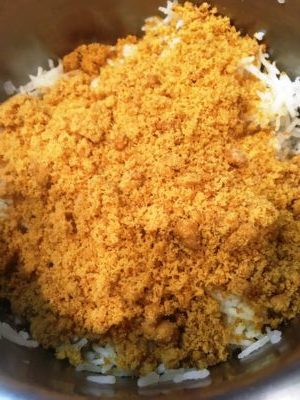 During this time, sugar will dissolve, and also saffron mixture will impart its lovely color to the rice and you will have lovely sweet rice but watery.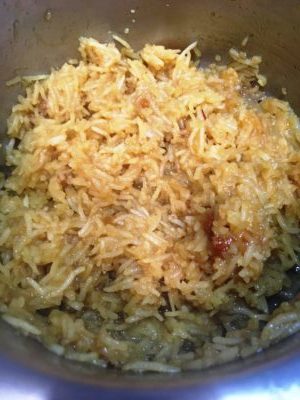 Cover and cook on sim gas for 10-15 minutes till the water evaporates and rice becomes dry.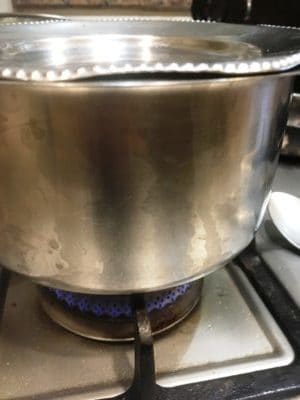 Garnish this with roasted slivered almonds, cashews, pistachio, etc., and desiccated coconut.  Offer it to Goddess Saraswati. Serve with pleasure.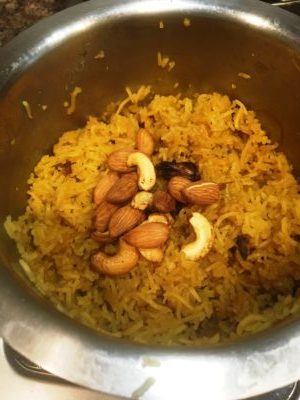 Notes
 If using boiled rice, then skip the steps to boil rice.
Add sugar etc to the boiled rice while the rice is hot.
In a Jiffy

 
Add sugar/jaggery powder, saffron milk, yellow color, and clarified butter to boiled rice. Cover and cook on sim gas till water evaporates and rice becomes dry.
.
Related Recipes  Samak Flour Halwa
If you have liked this post or any of my other recipes then please leave a comment below. Your feedback fuels my enthusiasm to post more good content. Also, join me on my Facebook page for more interesting tips and facts.