Mango Tarts recipe is a healthy recipe of a sumptuous dessert wherein tart shells are filled with mango cream. It is a very light and healthy dessert as there is no refined sugar or all-purpose flour.
Unlike regular tart shells,  these are made using wheat flour and jaggery powder and are light and crispy. just follow the procedure and you will have the best and healthiest tarts ever.
A perfect dessert for summers, good to look at, delicious to eat and above all, healthy for all. A healthy treat with the king of fruits, mangoes!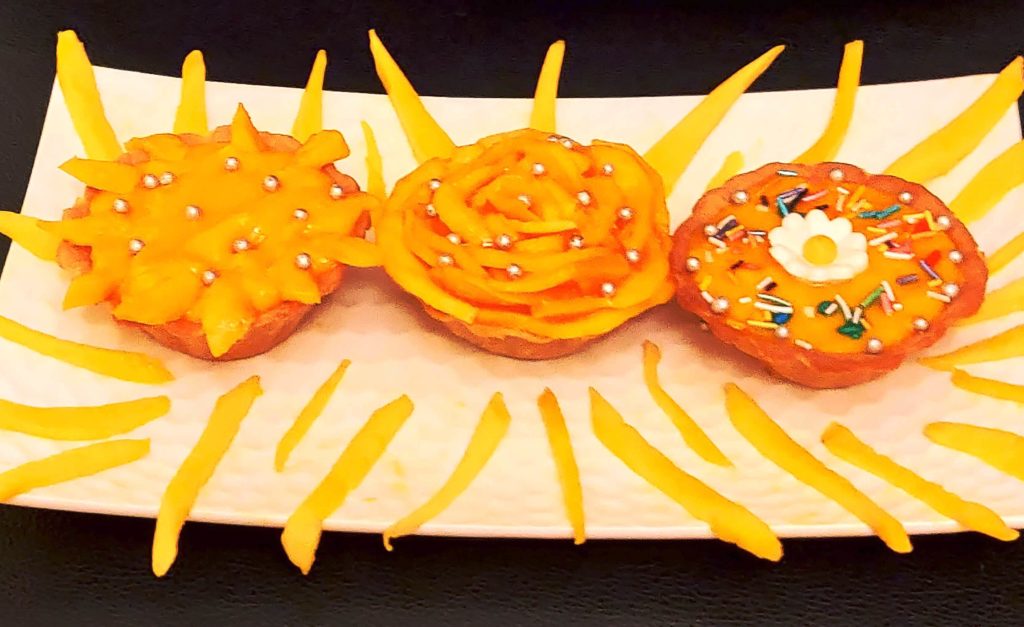 Back to blogging almost after a month. Last month was really hectic with a lot of things happening simultaneously. And then as my hubby was away on an office tour, I too had a vacation, though for a few days only, at my mom's place. It was only rest and enjoyment. As you always enjoy in a large group so did I.  With brothers, sisters-in-law, cousins, nephews and niece, we played games, went for outings and had our fill. It was non stop fun n frolic. Though I was missing blogging too in between but decided to give it rest too.
Can't believe that I am posting after a full one month. This recipe of Mango Tarts was ready along with pics but just couldn't manage to post. I was guilty all the while but was helpless. But anyway, holidays are over and are back to the normal routine. But again got busy with multifarious tasks after returning from Mom's place. Something or the other was continuously going on.
Mango Tarts.
Baking tart shells is really simple. Normally, tarts are made with all-purpose flour but as you know, I am replacing it with wheat flour wherever I can, so in this recipe too, I did the same. Also, another change was using jaggery powder instead of sugar. So, wheat flour plus jaggery powder, a healthy combination. And I am glad to share that the tarts came out really nice.
You can bake these tart shells in advance. They remain good for 8 to 10 days easily. And then at the time of serving or little earlier, fill these with the filling of your choice and enjoy.
How To Make Tart Shells
2 Methods To Make Tarts
For making tart shells, you require tart cases but you can make them easily in muffin moulds also. There are two methods of making tart shells. First is that you roll out the dough, cut roundels and then place them in the moulds.
Another method is that take little dough, place it in the mould and then with the help of the thumb and fingers, press it and cover the mould with it.
These tart shells can be made sweet or savoury. Here, I have made sweet ones.
Mango Recipes
Frozen Fruity Pizza, Mango Sorbet and Mango Monanza, Mango Parfait are some other fireless recipes joining the bandwagon of easy mango recipes.
Another easy recipe, though not fireless, is Mango Sago Pudding which requires only 10 minutes of yours.
And if you are fond of baking and want to incorporate mangoes in your cake then I have 3 different recipes for you and you can choose from them as per your liking:
 Step By Step Recipe
Chop mangoes and put them in the freezer for 4 to 5 hours.
Take flour and jaggery in a bowl and mix nicely.
Rub in butter so that the mixture looks like crumbs. Using cold water form a dough.
Flatten it, wrap in cling film and keep in the refrigerator for about 30 minutes.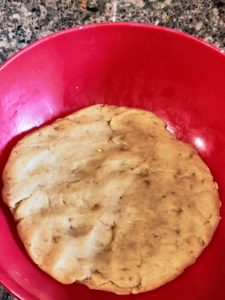 Line tart moulds using any of the two methods given below
Or,
Press the mould with one another mould so that the dough fits in properly.
Now bake blind these which means that fill them with kidney beans or prick very lightly, just to ensure that these do not puff up while baking.
Bake at 190 degrees C for 12 to 15 minutes or till edges turn golden brown.
Remove from the moulds and your tart shells are ready.
Put frozen mango pieces in the food processor and puree them. Add honey, if required, depending upon the sweetness of mangoes.
Fill this mango cream in tart shells. Decorate with thin slices of mangoes or silver balls. Serve with love.
Frequently Asked Questions
Q) How To Avoid Tarts From Puffing?
Whichever method you choose, but ensure that the shells do not puff up while baking. There are many methods to avoid this puffing.
First is that after 5 to 7 minutes of baking, when the shells puff up then you take them out press with another mould, thus suppressing the puff and bake again till done. Doing this the puff settles down without tearing.
The other method is to 'bake blind'. The term might confuse you but it simply means that put some weight in the shells so they don't puff up. Kidney beans serve the purpose very well. Fill the tart shells with kidney beans and then bake. The weight of the beans will prevent puffing up. Once baked, you can easily remove the beans and use them.
Lastly, pricking with a fork. But take care that you prick lightly only. This is because if the pricks are deeper or big then later your filling may spill out.
Q) Why can't I prick the shells instead of filling kidney beans?
This is because we need to fill the tarts with some filling once they are baked. If it has holes then it will be difficult. If you decide to prick, then do it lightly just enough that these do not puff up.
Q) Kidney beans used for blind baking can be used later for cooking?
Yes, after baking, you can fill the beans in your regular kitchen container and cook them whenever required.
Q) What else, can I fill in these tarts?
Mango Yogurt
Mango Ice cream
Fruit cream
Any other fruit
Let's Connect!
I hope you have liked this Mango Tarts recipe and will surely try it out for your loved ones.

Thank you for reading this post. If you have liked this recipe then do let me know by leaving a comment below. Your feedback fuels my enthusiasm. You may share this post with your dear ones by clicking on the little buttons below. You may follow me on  Facebook   Pinterest  Instagram  for latest recipe updates. Thank you!

 
Testimonials:
Mango Tarts Recipe
A healthy recipe made with wheat flour, jaggery powder and mango puree
Ingredients  
For Tart Shells
1

Cup

130g Whole Wheat Flour

1/4

Cup

Jaggery Powder

60

g

Butter

Chilled

4

Tbsp

Approx Chilled Water
For Mango Cream Filling
2

Cups

Chopped Mangoes

1

tsp

Honey

Optional
Instructions 
Preparation of Mango Cream
First of all, chop mangoes and throw them in the freezer. Yes, in the freezer, as we need frozen mangoes.
To Make Tart Shells
To make tarts, take wheat flour in a bowl.

Add jaggery powder and mix thoroughly by breaking lumps of jaggery if any.

Roughly cut cold butter and add it in the flour.

Rub the flour and butter together so that it resembles breadcrumbs. This is done so that fat is evenly distributed in the flour.

Now, add chilled water, very little at a time, and form a soft dough.

Wrap it in cling film and keep it in the refrigerator for at least 30 minutes. You can always keep it longer, say for a day or so. If in a hurry then keep in the freezer for 15 minutes.

Now the dough is ready for making shortcrust pastry, that is, tarts or pies.

Start preheating the oven. Preheat it for 10 minutes at 200 degrees C

Take the tart shell and grease it with oil or butter.

Now, divide the dough into equal portions.

Roll out one portion and line the tart shell. Roll it slightly bigger than the shell. You will be able to roll it easily without using oil or flour. Keep it of 1/4"thickness. Too thin will tear while pressing in the shell and if thick then it will not taste good. Keep it on the tart and start pressing it inside so that it takes the shape of the shell.

Or keep a little dough in the mould and press it all over inside the mould.

Trim off the extra dough and mix it in the remaining dough. Look at the pics below for a better understanding.

Line all the tart shells like this. Any additional dough can be easily kept in the refrigerator.

Either fill the shells with kidney beans or prick lightly with a fork.

Bake these shells for 15 to 20 minutes till the edges turn light brown.

Remove from the oven. When slightly cool, remove the tarts from the shells. Keep these on a wire rack to prevent getting soggy from underneath.
To Make Mango Cream
At the time of serving or little earlier, take out the frozen mangoes. Put them in the food processor and puree them. You will get a thick creamy mango pudding. Add little honey depending on the sweetness of mangoes.

Mango Cream is ready.
Assembly
Fill this mango cream pudding in tart shells.

Keep in the refrigerator for an hour or so.

Serve with love.
Notes
Chop small pieces of mangoes as this eases the blending process when put in the processor.
Take cold butter and cold water only for kneading.
Instead of food processor if you want to use the blender then keep the frozen mangoes on the kitchen counter for about 10 minutes and then puree it.
For filling, you can use mango yogurt or mango ice cream also.