Healthy Jowar Popcorn made from Jowar Kernels, is an excellent option if you are looking for a tasty but guilt-free snack.
These are made without using any oil or butter and gets ready very quickly.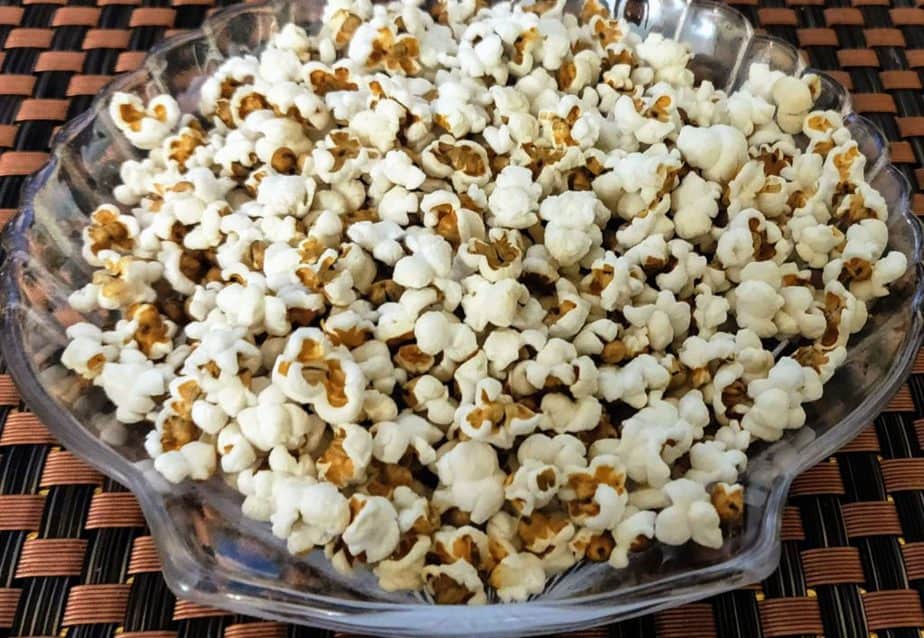 Popcorn is something everyone is aware of and making popcorn at home is common nowadays.
Ever thought of making Pop Jowar? Look at its benefits and its making and then decide your self whether you want Popcorn or Pop Jowar.
If you ask me, I had never thought that Jowar can be eaten in this form too. Then how did I get this idea? Actually, when I went to buy my stock of millets then there at the store they had kept these. They looked exactly like popcorn. But couldn't be popcorn as that was an exclusive millet store. When I tasted it, these were so light and delicious too. There only they told me how to make it and when I tried back home, I was mesmerized by the popping sound and the cutie little puffs.
They not only get ready in less than 10 minutes but disappear even faster!
Nowadays, because of the lockdown going on, I have my limited stock of Sorghum and is not easily available, so I am using it very miserly. Once things get back to normal, I am going to freak out on these Jowar Popcorns.
Movie With Jowar Puffs Popcorn
Seriously, try it! Next time you watch a movie on Netflix or Amazon Prime then instead of Popcorn, make a big batch of these Jowar Puffs along with Aam Panna. See, how enjoyable the movie will be with these guilt-free puffs.
A Little About Jowar or Sorghum
Like all other millets, Sorghum is too packed with nutrients and minerals.
But unlike other millets, Sorghum is closest to wheat in terms of taste and texture. It can be replaced for wheat in a much easier way than any other millet.
This millet is called Jowar in Hindi, Sorghum in English and Cholam in Tamil and Malayalam. You can read more about this millet here.
How to Start Eating Millets in an Interesting way
If you are trying to incorporate millets in your routine then I have some really interesting recipes which will make you not just have it as it is good for health but you will love to indulge in millets.
You can start your day with some healthy breakfasts like this Millet Energy Bar or Ragi Dosa
Have Millet Salad before meals or just as an evening snack.
In day to day meals, you can have Millet Bisi Bele Bhat or Jowar Litti Chokha or Millet Idli.
Millet snacks to munch are these Popcorns, Millet Kebab, Jowar Nan Khatai as well as Bajra Cookies.
And for dessert, you can choose to have Ragi Brownies or Ragi Banana Cake or Bajra Pudding
How To make 
Making Jowar popcorn is an easy peasy recipe that takes less than 10 minutes. I make these puffs with whole Jowar. No soaking is required but it's better to wash and dry it before roasting. This is because there is a lot of dirt in it and thus should be washed. Just dry it on a kitchen napkin for 15 minutes or so. Thereafter they are roasted in a wok where they pop beautifully and turn into Jowar Popcorns.
Why You Will Love This Recipe
Gluten-free
Fiber-rich
Zero Fat
Low Calorie
Guilt-free
Snacking
Easy To Make
Good in Taste
 

Step By Step Photos
Wash Jowar by changing water 3 to 4 times till you get clean water.
Drain all water and dry the Jowar by spreading on some kitchen napkin for 15 to 20 minutes.
Heat a heavy-bottomed wok.
When reasonably hot, put the dried Jowar kernels in it.
Tip: First, put just 4 or 5 kernels of Jowar, If they pop only then add handful of it or wait for some more time.
Keep stirring for 2 to 3 minutes on medium flame till they start popping.
Once they start popping, cover it as they pop and will splutter outside otherwise.
In between, remove the lid just a little and stir. The gas flame needs to be adjusted every now n then. If too high, the Jowar will burn, if too slow then they will not pop. So, keep on regulating it.
Once they stop popping, switch off the flame and Jowar Puffs also known as Jowar Dhani, are ready.
A lot of Jowar will remain unpopped. These can be ground into powder and can be added to Jowar flour or any other flour.
FAQs

 
Q) Is Jowar Puffs Healthy?
Of course YES! These are gluten-free, fiber-rich, low in calories, zero fat and full of nutrients. Unlike Popcorn, these Jowar puffs taste good even without any butter or oil.
Q) How To Eat Jowar Puffs
Eat Jowar Puffs as it is like popcorn.
Add salt and pepper to it.
Make a snack by adding roasted peanuts or other nuts.
Q) My Jowar kernels do not pop. What to do?
Jowar kernels pop at a high temperature. After heating the skillet, just put 4 to 5 kernels of Jowar.
If these do not pop then this means that it is not heated enough and you wait for some more time.
If they start popping this means that the skillet is heated enough and you put a handful of them to pop.
Q) Lot of Jowar kernels remain unpopped, What to do with these?
These can be ground into powder and can be added to Jowar flour or any other flour.
Testimonials
By Alka Gupta
Let's Connect!
Thank you for reading this post.I hope you have liked the easy recipe of healthy Jowar Popcorn.

Thank you for reading this post. If you have liked this recipe then do let me know by leaving a comment below. Your feedback fuels my enthusiasm. You may share this post with your dear ones by clicking on the little buttons below. You may follow me on  Facebook   Pinterest  Instagram for the latest recipe updates. Thank you!