Jump to Recipe
 Energy Bar recipe that uses only dry fruits and seeds, that too without any cooking or baking is easy to make, full of taste, and is nutrient-dense. This is a vegan as well as the gluten-free recipe.
If you are looking for a cooked version of it, then try MILLET & OATS ENERGY BAR
Unlike TIL CHIKKI WITH BERRIES, these are soft and chewy just like toffee.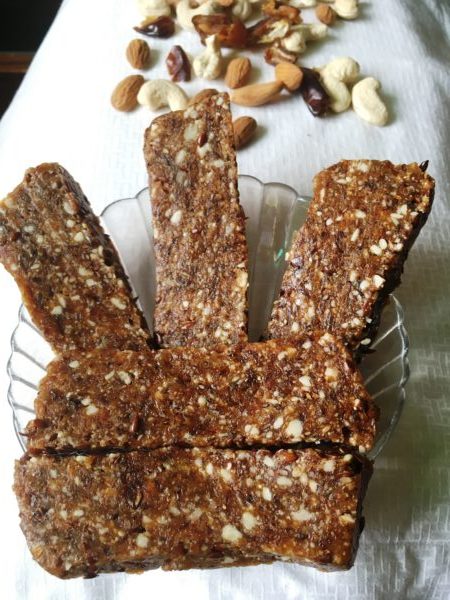 The name, Energy Bar, itself fills you with energy. They are known and sold under various names like Snack bars, Granola Bars, Protein bars, Health bars, Food bars etc. Some are soft whereas others are flaky or crunchy. Some are no-bake like this one whereas others are cooked and some are baked.
Nowadays, most Energy Bars are also made with Oats. In my MILLET ENERGY BARS, even I have included a substantial portion of Oats.
These soft and chewy, No-bake Energy Bars are full of nutrients…carbs, protein, vitamins, minerals, iron and thus give instant energy. These can be had at any time of the day:
In breakfast
With evening tea
While traveling
After gymming
To curb hunger pangs
In your kid's tiffin box
If you are looking for chocolate-flavored Energy Bar, then you must try these NO-BAKE CHOCOLATE BROWNIES
Why Make These Bars At Home
Store-bought energy bars are good but why not make these energy bars in your home kitchen and that too with ingredients you like more?
And especially when it is very simple to make. Just 10 to 15 minutes and you get wonderful, nutritious, artificial preservatives and additives-free, suiting to your own taste buds—- energy bars.
Did You Know? 
Well, recently I came across an interesting fact about Energy Bars and couldn't resist myself sharing it with you all. Maybe some of you are aware of it already. 
Actually, the name Energy Bar is relatively new, just a few decades back only, it came into existence and today its a household name. What I am trying to share is that these bars were actually meant for the astronauts which they carried with them under their helmets when they went into Space. This is because they were easy to carry and provided instant nutrition and energy. These were then produced by the Pillsbury Company and were known as 'Space Food Sticks'
Later, these were marketed as a fuel for athletes and thereafter, slowly and gradually, they gained popularity and thus became a household item. Read more about it here.
Why You Will Love This Recipe
Flexible & User-Friendly Energy Bar Recipe: This recipe is not only a flexible one but very user-friendly too. Neither the ingredients nor the quantities are fixed. You can make it the way you want, with what you like and with whatever available in your pantry.
You can alter the ingredients as per the weather. Like adding sesame seeds and poppy seeds in winters and replacing these with muskmelon or watermelon seeds in summers.

Tastes superb, just like candy. Trust me. So, Mommies, no more coaxing your children to have just 5 or 7 almonds daily (especially before going to school). Give them these energy bars and they will readily take it.

 An Excellent Use Of Dry Fruits: Many times we end up getting loads of dry fruits, especially at festivals like Diwali. In that case, making Energy Bars is an excellent way of using these nuts.
An added advantage of the Energy bar is that they are made without sugar. Yes, no sugar at all.
Power-packed 'dates' do the dual job of giving sweetness as well in binding the mixture.
If somehow, you do not like the taste of Dates, then you may try PEANUT AND JAGGERY LADDOO or SESAME SEEDS BAR WITH BERRIES

How To Make 
As there are many permutations and combinations to make Energy Bars, I am sharing here my way of making it. I keep it very simple…. only nuts, seeds, and dates. Plus mine are no-bake energy bars. The number of dates can be increased or decreased to suit your taste buds.
Energy Bars are best made in a food processor. Just put everything in the processor, blitz it for 3-4 minutes and that's it.
By now, the mixture would gather into a ball (sticks together because of dates). If not, take it out and make a ball of it using your hands.
Set it on a tray or mold.
Keep it in the refrigerator for an hour or so, so that it sets nicely. Now take it out and cut it in the desired shape.

Variations
With the same recipe, you can make Energy balls or Modak or 'laddoos' too.
In fact, last ' Ganesh Chaturthi', I gave these the shape of 'modak' and offered it to Lord Ganesha.
FAQs
Q) How can I make it without a food processor?
No food processor? No problem. Grind nuts and seeds, finely or coarsely, as you want, and add chopped dates to this.
Mix everything properly so that it binds together.
Now proceed as mentioned above.
Let's Connect
I hope you have found this post useful and have liked this No-Bake Energy Bars recipe. If yes, then share this with others too.

Thank you for reading this post. If you have liked this recipe then do let me know by leaving a comment below. Your feedback fuels my enthusiasm. You may share this post with your dear ones by clicking on the little buttons below. You may follow me on  Facebook Pinterest Instagram  for the latest recipe updates. Thank you!
Energy Bar Recipe
Make your own Energy Bar as per your liking and taste.
Ingredients  
My Cup measures 240 ml
1

Cup

(150 g) Almonds, plain or roasted (See Note 7)

1

Cup

(150 g) Cashewnuts, plain or roasted (See Note 8)

1/4

Cup

(40 g) Mixed seeds (Sesame, Poppy seeds, Melon seeds etc) (See Note 9)

2

Tbsp

Powdered Flax seeds

Optional (See Note 10)

1.5

Cups

(180 g) Dates, deseeded and chopped roughly (See Note 11)

1/4

Cup

(50 g) Raisins

4

Pieces

(40 g) Figs (Anjeer)
Instructions 
In Food Processor
Put all the ingredients in the food processor.

Blitz your processor on pulse mode 2 or 3 times so as to break the nuts in small pieces.

Now blitz the processor normally for 3-4 minutes till everything gets mixed up nicely.

By now, it should gather into a ball.

In case, it does not gather on its own, then take it out and form a dough/ball of it.

Spread it on a tray or tin.

Keep it in the refrigerator at least for an hour, so that it sets nicely.

Take it out, cut into desired shapes.

Store in an airtight container.

Serve as and when required, with love.
Without Food Processor
Grind nuts and seeds, finely or coarsely, as you desire.

Add chopped dates to the nuts-seeds mixture and bind properly.

Gather everything into a ball.

Proceed as above, from step number 5.
Notes
Adjust the quantity of dates according to your taste. If you don't want to add more dates, and it is difficult to bind the mixture then add 1 or 2 tsp of honey.
When done in the food processor, sometimes it yields the oil (natural), especially in summers. Don't worry and set it. Once set, you won't feel it. To avoid this, do not run food processor for long.
During summers, it is advisable to keep these in the refrigerator as they become loose otherwise.
If you want, you can add dried apricots, berries etc to it.
Add or omit, increase or decrease anything according to your taste.
Use whole almonds with skin. Do not peel off the skin. Can roast them if you like.
Use whole or broken cashews, you can roast them a little for the crunchy effect.
Use seeds of your choice like watermelon seeds, muskmelon seeds, sesame seeds, poppy seeds, sunflower seeds, pumpkin seeds, cucumber seeds etc.
Slightly roast Flax seeds( 1 tbsp) in a pan. let it cool and powder it in the grinder. Though they are excellent for health but add these only if you have a taste for them otherwise omit these.
Ensure that your dates are moist. In case, they are very dry then soak them in water for some time.
You may PIN it To Try Later
Originally published  2nd March 2017 12.26, updated  June 30, 2020