Make Modak at home easily and quickly that are full of tasteand which can be made even by novice cooks. Some of these recipes are fireless recipes whereas some require just 10 minutes of cooking.
Along with Modak recipes I am also sharing one other Prasad recipe which is offered to Bappa.
So, ready to please Ganpati Bappa with these sumptuous Modaks? If yes, let's see what all can be made and how.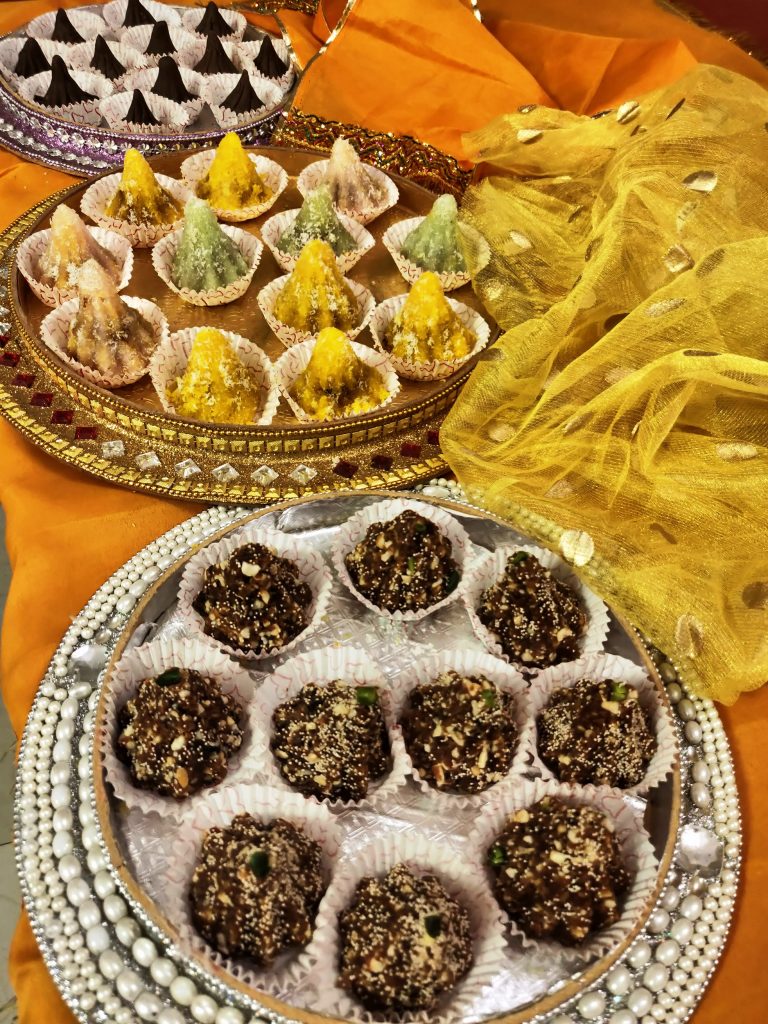 Ganesh Chaturthi Festival
It's true that prayers are not time-bound and can be offered anytime anywhere. In Hindu mythology, different Gods are worshipped on different days based on some significance attached to that date. For example, Janamashtami is associated with the birth of Lord Krishna. Similarly, Shivratri marks the celebrations of the wedding of God Shiva with Goddess Parvathi, Navratris are celebrated wherein Goddess Durga is Glorified. Likewise, each day of the week has a specific significance with specific deities.
Ganesh Chaturthi is associated with the birth of God Ganesha. It is observed on the fourth day of Bhadrapad (a Hindi month) and continues for 10 days. During this festival, clay idols of Lord Ganesha are installed (Sthapna) in homes and are then immersed in a water body (Visarjan) on the 10th day.
During these 10 days, a lot of chanting and prayers are held along with offering various types of eatables to God Ganesha.
Of all the food items, Modak is His favourite and is, therefore, a must to make these as Prasad.
Ganesh Visarjan At Our Place
Here, I would like to mention that though the arrival of Ganesha is fixed, that is on 4th day of Bhadrapad and departure too is on the 10th day but one can bid goodbye even after 1 day too. Like I do Ganesh Visarjan on the 3rd day. Also, instead of going to any nearby lake or river, we do it in a bucket filled with water. For this, we make sure to get eco-friendly clay idol only that too without any ornaments.
I remember, once, the vendor lied to us and sold an idol made with Plastic of Paris. After immersion, the idol did not dissolve in the water and was there as it is. We felt very sad but nothing could be done.
Thereafter, we take special care that the idols we bring are of clay only.
These clay idols get dissolved in water in just a few hours and then we water our plants with this water. So, if you plan to bring Ganesha to your home then do the immersion at your home only. This is just with a concern not to pollute our water bodies.
Modak Meaning
Modak refers to an Indian sweet popular in the states of Maharashtra, Goa and Konkan region. These are either fried or steamed and are stuffed with a filling of coconut and jaggery. Steamed Modaks are popularly known as Ukadiche.
Modak is supposed to be God Ganesha's favourite food and is therefore offered to Him during the festival of Ganesh Chaturthi.
Is Modak and laddoo Same?
Modak and Laddo, both are Ganesha's favourite. Though modak means laddoo only and are more or less the same, but still differ in the following aspects:
Laddo are simply round balls and can be easily formed by rolling in between palms, Whereas, Modak are prepared in a particular shape only and can be shaped by hands or using a mould available especially for this.
Also, generally, modak are stuffed whereas laddoo are not.
Modak can be fried or steamed but laddoo are never fried.
Traditional Modak
Traditionally, Modak is prepared with rice flour. Dumplings of Rice flour, stuffed with coconut-jaggery filling are steamed. But these require a lot of time, skill as well as patience.
Therefore, we have come up with some easy Modak recipes which you can prepare easily. I am sharing here 4 types of Modak recipes that I normally prepare during Ganesh Chaturthi festival. As Ganpati ji is at our place for 3 days only so these are the Modaks I prepare to offer Him.
In the morning, I offer Modak as Prasad and in the evenings, I offer another Dry Prasad that I will share with you.
Coconut Modak With Condensed Milk (Fireless Recipe)
Coconut Petha Modak (Fireless recipe)
Chocolate Modak
Dry Fruits Modak (Fireless Recipe)
1. Coconut Modak With Condensed Milk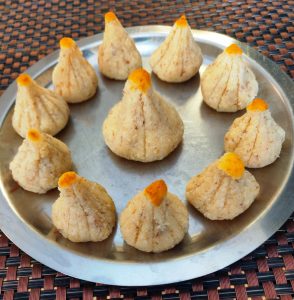 This is a fireless recipe and believe me, this Modak gets ready in just 10 minutes. This recipe tastes excellent and is really good when you are pressed of time. All you need is desiccated coconut and condensed milk. No oil, no ghee, no cooking, no sugar is required.
Now, you can use store-bought condensed milk or if looking for a healthy option then try this homemade condensed milk with jaggery or milk powder.
For making this coconut modak, take equal quantities of desiccated coconut and condensed milk in grams. Like, 100 g each. Or, if you want cup measurements, then take half cup condensed milk for every one cup of desiccated coconut. You can use any cup/katori for measuring this. Just use the same cup for measuring both the ingredients. Dry fruits are optional and you can use as per your liking.
Ingredients
100 g (1 Cup) Desiccated Coconut
100 g (1/2) Cup Condensed Milk
1/4 Cup Dry Fruits (Finely Chopped)
1/2 tsp Saffron or Turmeric dissolved in 1 tsp water
Method
Take desiccated coconut, chopped dry fruits and condensed milk in a bowl.
Mix everything. It will be like a soft dough. If not then add a teaspoon more of condensed milk.
Form Modak using a modak mould or make it without mould.
For this pinch a ball size dough, make it round between your palms and then give it the shape of Modak. Use a knife to give impressions of lines all around.
Once done, dissolve saffron in milk or water and dab a dot of it on the top of every modak. This is optional but gives a nice holy look to the modaks.
Offer these Coconut Modak to Lord Ganesha.
2.  Coconut Modak Without Condensed Milk
Another easy and favourite recipe of mine. This too is a fireless recipe. These Coconut Modak are colourful too as we use Mocktail syrups in it.
For making these Modak, we, mix desiccated coconut, grated dry petha and some mocktail syrups. Again, no oil, no ghee, no sugar and no cooking involved.
You can view the detailed recipe of Petha Coconut Modak.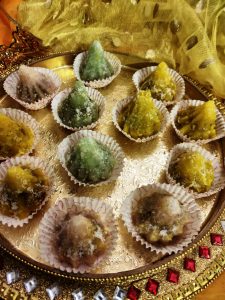 This again is a fireless and very easy recipe. The best thing is that there is no refined sugar. Instead, Dates are used for sweetness. A very rich and healthy Modak which can be had by all including diabetics.
I normally make Energy Bar with this recipe, but you can mould it in the shape of Modak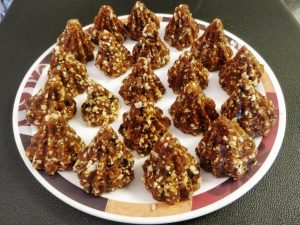 Like all babies, Gannu Baby too loves this chocolate Modak. I make this Chocolate Modak using homemade Mawa, Boora Sugar and Cocoa Powder. Again, you can use store-bought Mawa instead of making it at home.
You can view the detailed recipe of Chocolate Modak. Using the same recipe, I make edible Diya for Diwali too. The same recipe can be given the shape of Modak.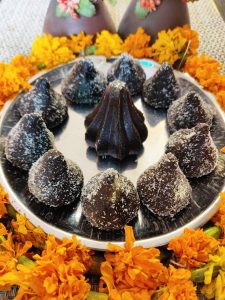 5. Dry Prasad
After performing Ganesh Aarti, along with Modak, there is also a ritual to offer a dry Prasad to the devotees. It is known as Panchkhadya or Khirapat.
But what I am sharing here is neither Panchkhadya nor Khirapat. Though similar to these but is very easy to make and is fireless too. A few years back, my Gujarati friend, Vardha, shared this easy recipe with me. Since then, I make it during Ganesh Utsav and offer it to Ganeshji in the evening Aarti. Though you can serve it using a spoon too but I prefer making small packets of these as it is then convenient to distribute.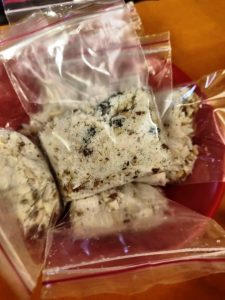 In this recipe, we mix desiccated coconut, powdered sugar and lots of nuts. This year, I even mixed some seeds in it and that too tasted good. No cooking, no ghee, no oil is required for preparing this dry Prasad. And it tastes too good. Instead of powdered sugar, I use Boora sugar which is basically powdered cane sugar. Quantity of nuts and seeds depends entirely on you and is not at all fixed.
Powdered sugar is taken just half of the desiccated coconut. Sharing this as when making for Prasad then you can't taste it and thus measurements are of great help.
Ingredients
1/2 Cup Desiccated Coconut
1/4 Cup Boora Sugar (Powdered cane sugar)
1/4 Cup Nuts and Seeds
1/4 tsp Cardamom Powder (Optional)
Method
Mix all the ingredients in a bowl and its ready.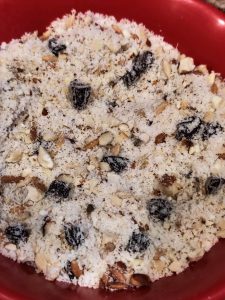 Let's Connect!
I hope you have liked these easy Modak recipes and will surely try it to offer these to God Ganesha.
Thank you for reading this post. If you have liked this recipe then do let me know by leaving a comment below. Your feedback fuels my enthusiasm. You may share this post with your dear ones by clicking on the little buttons below. You may follow me on  FacebookPinterestInstagram   Quora too. for latest recipe updates. Thank you!