Make Chocolate Balls easily at home using very few, easily available ingredients and without any mold. These are made in a healthy way by rolling in nuts and seeds and various other tempting ingredients. Make these for Christmas or just like that, it easily fits in everywhere.
A very easy and forgiving recipe, so a must-try!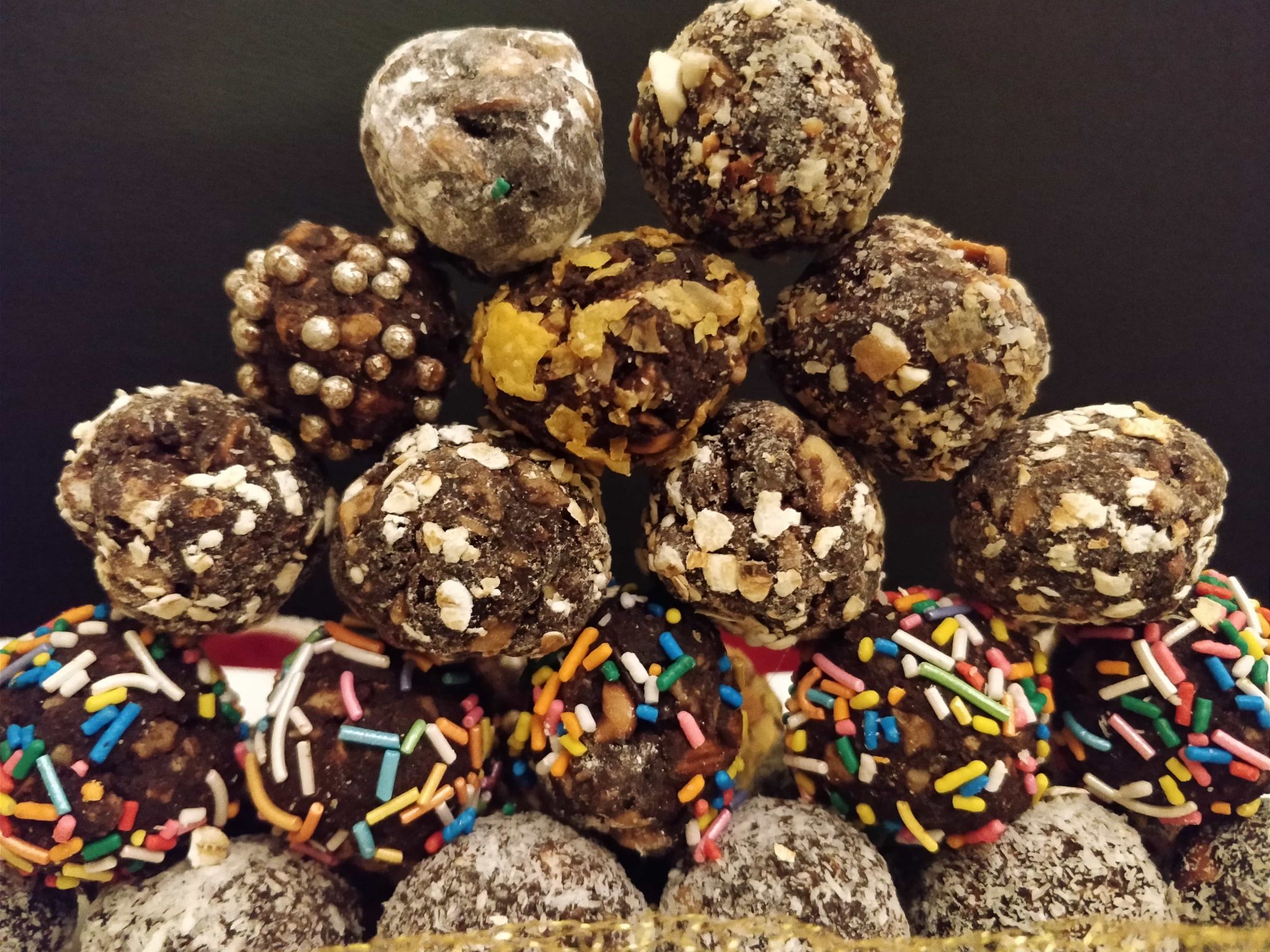 Just a look at the pic above will convince you how chocolate truffles can be made healthily too. Other than sugar sprinklers, I have also rolled them in nuts, dried rose petals, corn flakes, desiccated coconut, seeds etc. If dark chocolate is not easily available then you can also make Chocolate truffles using Oreo biscuits. I have made them in the shape of Oreo Rolls as well as truffles. And that's again a very easy and no-cook recipe. So, do check that out too! Also check: Cake Pops: The Ultimate Show Stopper
What Are Chocolate Truffles?
In simple words, chocolate truffles are nothing but chocolate balls. These are soft to bite and can be made in a variety of ways. In this, chocolate ganache, which is nothing but a mix of melted chocolate and cream, is rolled into balls and then coated with various toppings like cocoa powder, icing sugar, nuts etc.
Chocolate truffles are of various kinds like American Chocolate truffles, swiss Chocolate Truffles, French Chocolate truffles etc. You may read more about this here.
How To Make 
We can make chocolate balls as per our liking, adding what we like the most. You can mix any number of things like nuts, biscuits, desiccated coconut, cornflakes, dried fruits, etc, flavour with cinnamon, rum/brandy, and brown sugar. Feel free to adjust the quantity of nuts and biscuits as per your choice.
Then a mix of cream and chocolate is added to it. These chocolate truffles remain soft only because of the presence of cream in it. That's it. This mix is then formed into balls and coated with confetti etc. while forming balls your hands may get little chocolate but that should not be a problem, I think.
You can make these look beautiful by rolling them in a variety of things.
 Christmas Treats
When Christmas is around the corner, along with Christmas cake n chocolates n cookies n Christmas tree bread in the air, yummy chocolate truffles too join them in spreading happiness…
The addition of rum and cinnamon to chocolate truffles make them apt for the Christmas season. I add either rum/brandy or substitute it with honey depending upon for whom I am making these truffles. If I am making these for children then I avoid alcohol otherwise add rum to it. So, you are free to choose any of the two.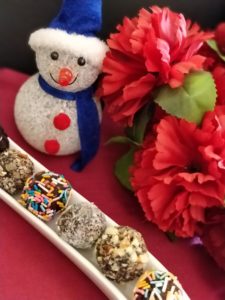 Step By Step Recipe
Crush biscuits using a rolling pin.
Roast nuts and crush them.
Chop chocolate into small pieces.
In a pan, heat cream. When it starts bubbling around the edges, switch off the flame and add broken chocolate pieces. Alternatively, you can heat the cream in the microwave for 1 minute and then add chocolate pieces to it.
In a bowl, take crushed biscuits, chopped nuts, raisins, brandy (or rum or honey),  brown sugar, almond essence and cinnamon powder. and mix nicely.
Mix nicely and add melted cream chocolate.
Mix everything and keep in the refrigerator for 15 to 20 minutes.
After 20 minutes, take out and form balls.
Roll these balls in any of the following.
Serve with love or gift these to your loved ones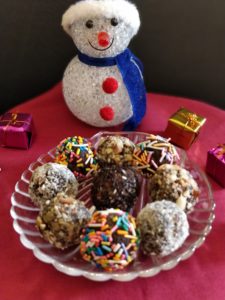 Variations
Use white chocolate instead of dark chocolate.
FAQs
Q) My mix is very sticky and I am not able to form balls?
Keep it in the refrigerator for some more time and you will be able to form balls easily.
Q) What is the Difference Between Chocolate, truffles and Chocolate Truffles?
All these three terms have different meanings and thus this is an interesting read. This has nothing to do with the recipe but sometimes understanding the terms makes a huge difference.
Chocolate is made from roasted and ground cacao seeds. It can be in various shapes and forms, be it melted or paste or in blocks.
Truffle is a type of fungi that grows underground.
Chocolate Truffle is a type of chocolate confectionery primarily made with chocolate and cream and the addition of other ingredients is variable and optional. these are either round or oval in shape. Thus, there are no truffles in chocolate truffles. Isn't it interesting? Then why are these called so?
This is because of their resemblance to the truffle mushroom. Thus, they only look similar but tastes totally different. Truffle is a fungus, the Chocolate truffle is a sweet dessert.
Some Other Chocolate Recipes
Let's Connect
I hope you have liked this recipe for How to Make Chocolate Balls and will surely try it out for your loved ones.
Thank you for reading this post. If you have liked this recipe then do let me know by leaving a comment below. Your feedback fuels my enthusiasm. You may share this post with your dear ones by clicking on the little buttons below. You may follow me on  Facebook   Pinterest  Instagram for the latest recipe updates. Thank you!

 
How To Make Chocolate Balls

An easy and forgiving recipe to make tempting chocolate balls.

Ingredients  

6

Piece

Marie Biscuits

1/4

Cup

Mixed Nuts

Roasted and chopped(almonds, cashews, raisins, walnuts etc (See Note 2 & 3)

1

Tbsp

Brandy/Rum/Honey

2

Tbsp

Brown Sugar

See Note 4

Few Drops Almond Essence

1/2

Tbsp

Cinnamon Powder

2

Tbsp

30g Cream (See Note 5)

60

g

Dark Chocolate

See Note 6

Instructions 

Crush biscuits using a rolling pin.

Roast nuts and crush them.

Add raisins, dates etc.

Break the dark chocolate into small pieces. It is broken or crushed so that it melts easily.

Heat cream in a pan on medium flame.

When starts bubbling around the edges, switch off the flame, add broken dark chocolate, now without mixing, just cover it. The heat of the cream is enough to melt the chocolate.

Till the chocolate gets melted, you do the other preparations.

In a bowl, take crushed biscuits, chopped nuts, brandy (or rum or honey), brown sugar, almond essence and cinnamon powder and mix nicely.

By now, chocolate must have melted, stir until smooth.

Add this chocolate to the dry mix.

Mix properly and keep this in the refrigerator for 15 to 20 minutes or till firm

Do not try to form balls now as it will be very moist at this stage.

After some time in the refrigerator, chocolate will set partially.

Then form balls.

Now coat these balls with any of the following:

Mix of cocoa+castor sugar, Or

Finely chopped nutsOats/CornflakesDried Rose Petals, Or

Serve with love or gift to your loved ones.

Notes

You can take leftover biscuits also, provided they are not salty.
Roasted nuts taste better, however, you can take plain nuts also.
Add whatever variety of nuts you prefer (or available in your pantry while making these) like almonds, cashews, walnuts, peanuts, raisins, dates, figs, dried apricots, prunes etc.
You can omit brown sugar, especially if the biscuits are sweet.
You can take normal dairy cream or heavy whipping cream, whichever is easily available. I used Amul's tetra pack.
Take dark chocolate compound or dark chocolate, any of the two.
Testimonials