Chocolate Self Saucing Pudding: Cake Floating on the Sauce: An  Unusual Dessert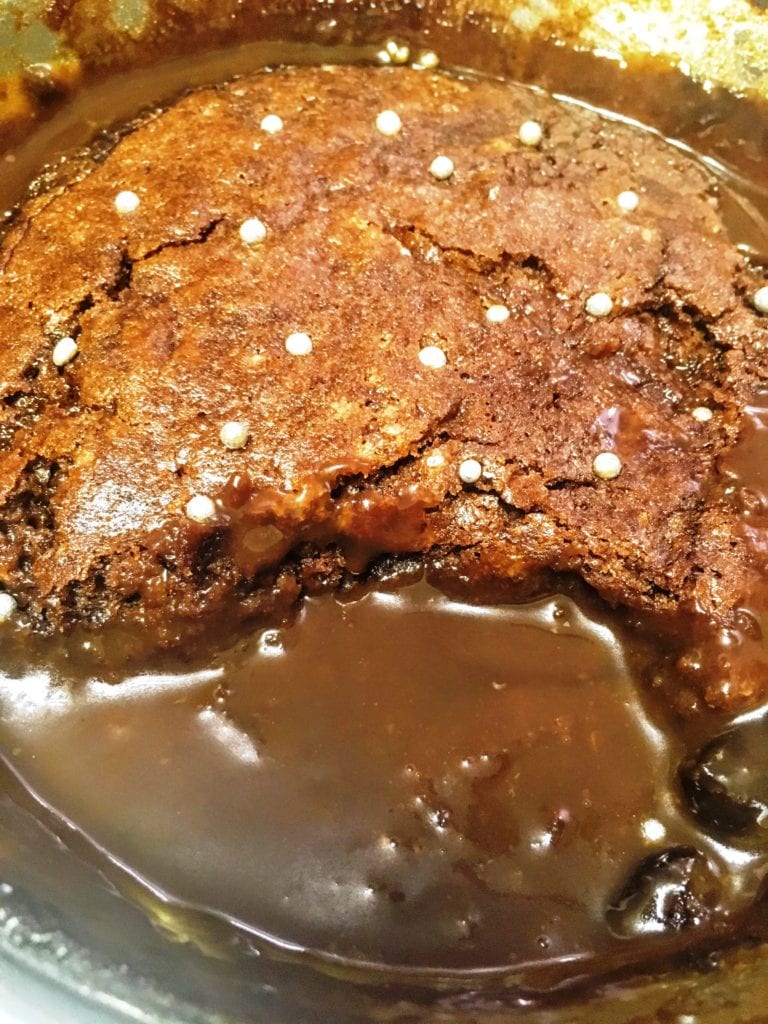 Long back, I read this recipe of chocolate self-saucing pudding in a very famous cooking magazine. 
Found the name itself really interesting but was confused as to how a part of it would become cake and the other part would be sauce.....which means both cake and sauce together at one go and in one recipe only.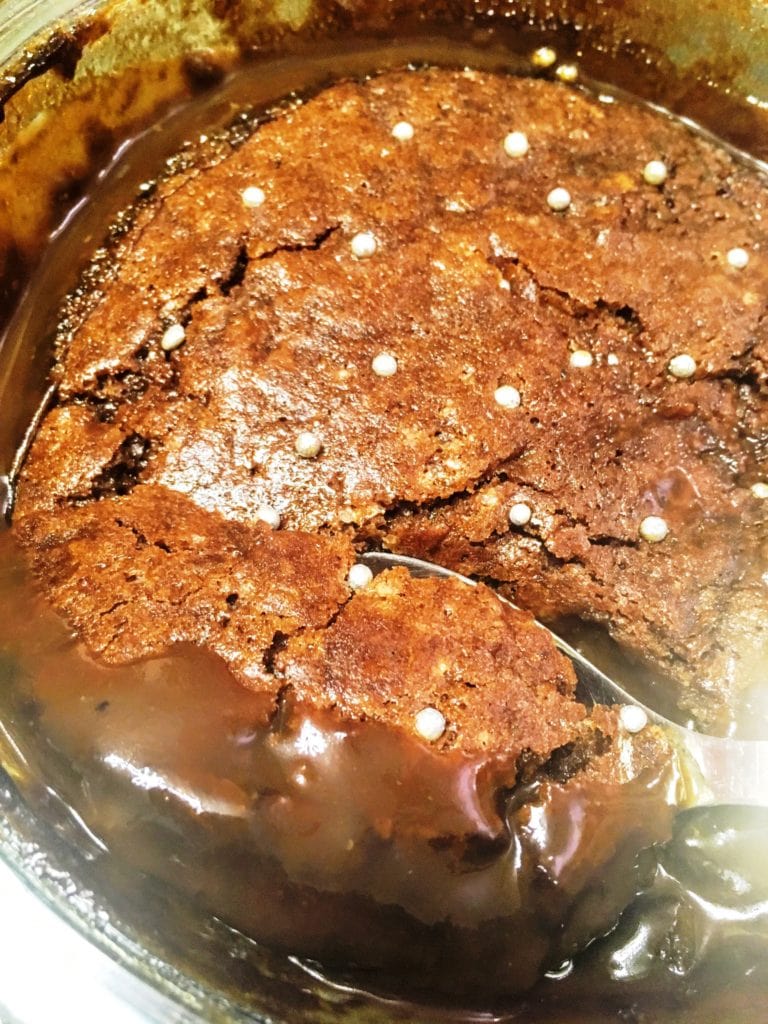 Though I was very sceptical of the outcome but it appealed to me so much that I couldn't resist myself from trying it.
And yes....you guessed it right. The results were awesome. Liked by everybody. Especially kids went crazy.
Since then I have made it so many times and every time a big hit.
It is a no-fail recipe. The only time it didn't come out good was when I didn't have all the ingredients plus used my estimation of the remaining ones. 
So an important lesson learnt that day. Always follow the recipe for baking cakes.
The beauty of this pudding is that the cake will rise to the top and the custard sauce will be at the bottom.
It is a very unusual dessert which can be served hot or cold.
It can be made in advance and microwaved later.
Serve it with vanilla ice cream and see the magic....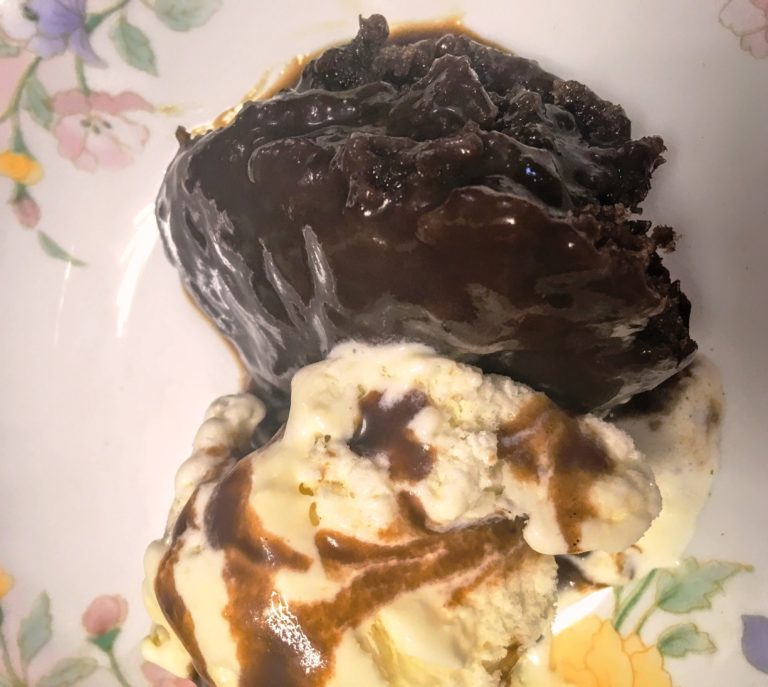 Let's see how to make this unusual dessert... Chocolate Self-saucing Pudding...
Preparation time: 20 minutes
Baking time: 45 minutes
Serves: 6 to 8 people
Ingredients
A. For the Cake
1/2 Cup(50 gms)  All Purpose Flour (Maida)
1/2 Cup(60 gms)  Wheat Flour (Atta)
1.5 Tsp Baking Powder
1/2 Cup (100 ml) Vegetable Oil
3/4 Cup(140 gms) Sugar (Granulated)
1 Cup (130 ml) Milk, at room temperature 
1 Tsp Vanilla Extract
1/4 Cup(60 gms) Dark Chocolate Melted
B. For the Sauce
1/2 Cup(100 gms) Brown Sugar
1/2 Cup(100 gms) Sugar Powdered
1/4 Cup + 1 Tsp (25 gms) Cocoa Powder 
2 Cups ( 400 ml ) Boiling Water
1 Tsp Vanilla Extract
Method
For the Cake
Grease an ovenproof dish, preferably deep and round, of 8" and, and keep it aside.
Take oil and sugar in a bowl and beat it for 4-5 minutes using a spoon or a wire whisk, till the colour changes a little.
Sift flours and baking powder at least 2 times.
Add flour mix to the oil-sugar mix in 2-3 batches.
Add milk and mix everything nicely but gently.
It should be of flowing consistency. If required, add little more milk, 1 tsp at a time.
Add melted dark chocolate and mix well so that everything gets incorporated well.
Now transfer this batter to the greased dish.
Pre-heat oven at 180 degrees Celsius (356 degrees Fahrenheit) for 15 minutes. In the meantime, do the following preparations...
For the Sauce
1. In a bowl, mix brown sugar, powdered sugar and cocoa powder properly.
2. Sprinkle this mixture evenly on the unbaked cake batter, which is there in greased dish.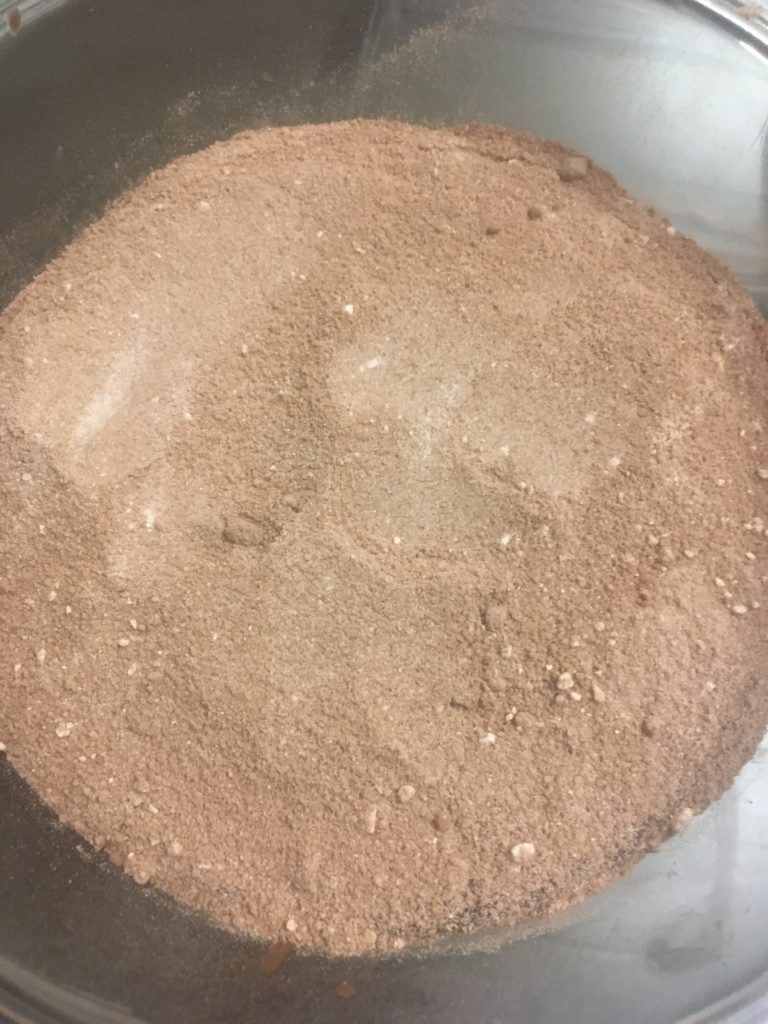 3. Now comes the most unusual part, pour the boiling water to which vanilla extract has been added on the above mix.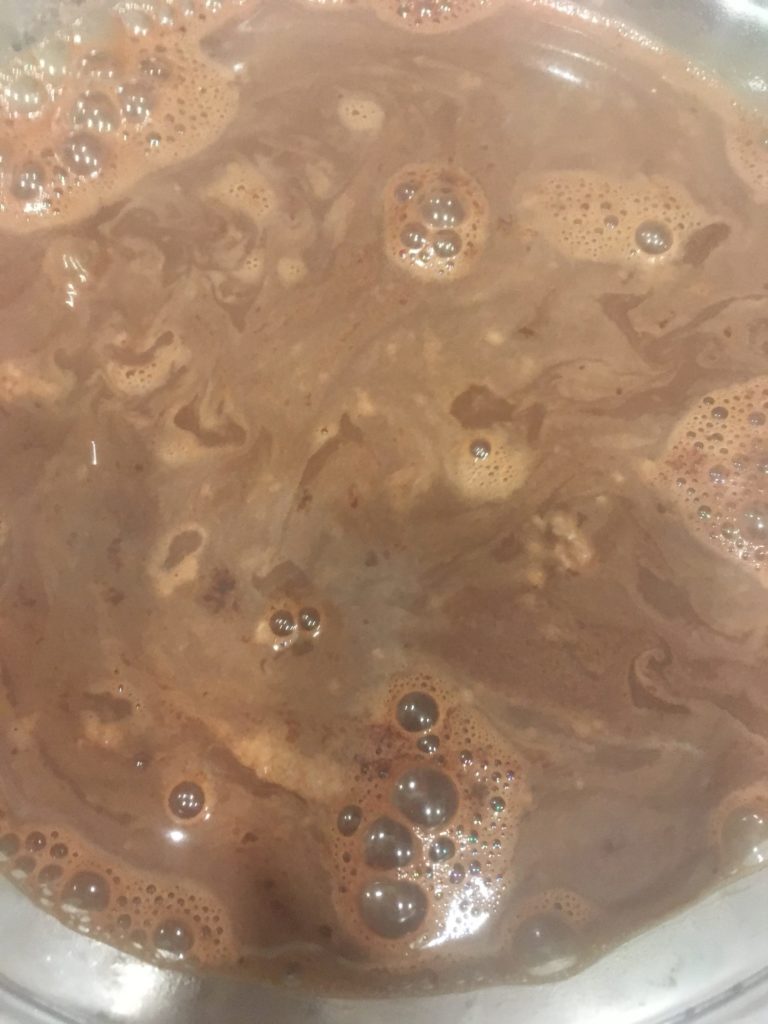 4. Without stirring, put the dish in the oven for baking.
5. Bake at 180 degrees Celsius (350 degrees Fahrenheit) for 45 minutes.
6. Let it cool for 15 minutes or so.
7. Serve with Vanilla ice cream and loads of love...
Or
8. Cool for 1 hour and refrigerate.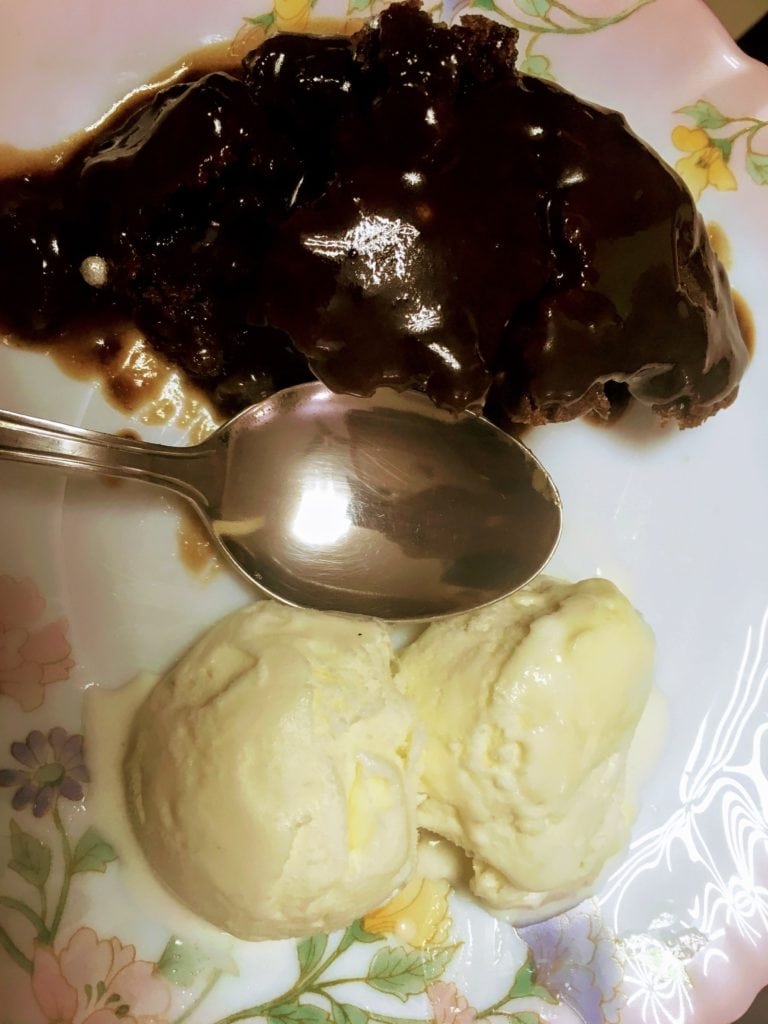 Notes
Please use standard measuring cups and spoons available for baking. Tbsp means tablespoon and tsp mean teaspoon.
After adding boiling water immediately put it in the oven.
After baking, clean the sides of the bowl with a wet napkin. (I didn't do it as was busy clicking pics)
Don't forget to drizzle some sauce along with the cake pieces while serving.
Take a deep bowl for baking as water would also be added.
You can also try this with only all-purpose flour, that is taking 1 Cup ( 110 gms ) all-purpose flour.
Related Recipes   Apple Crumble       Mango Sago Pudding    Fruit Cream      Indian Cheesecake/Bhapa Doi
If you have liked this recipe or any of my other recipes then do not forget to leave a comment below and also share it further.  Your feedback fuels my enthusiasm to post more good content. Also, join me on my Facebook page for more interesting tips and facts.
Thanks,
Samira
Happy Baking...