Stuffed tomato recipe, where tomatoes are stuffed with cooked chana dal and are then baked. Since these have only tomatoes, lentils and oil, therefore, these are vegetarian as well as vegan also.
This is a Jain recipe as there is neither onion nor garlic.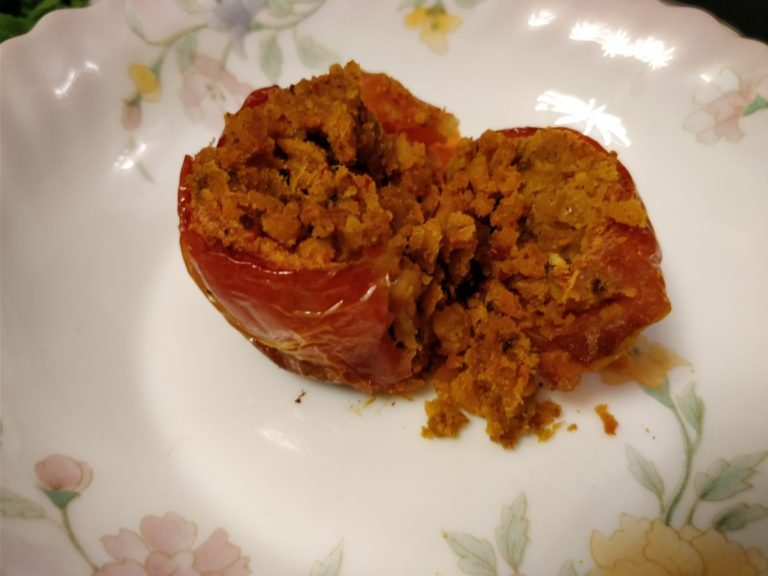 Winters, in terms of food, is special for us in many ways. My mother-in-law, who was an excellent cook, made special, very different, and exquisite dishes according to the weather. Like in winters, some of her specialties were Aloo Matar ka achaar (Potato-peas pickle), carrot kheer, and Chane ki dal ke Tamatar.
Yes, friends, these Indian-style stuffed tomatoes are totally different from the ones stuffed with cottage cheese or potatoes.
My husband is crazy for these stuffed tomatoes. With the onset of winters, he starts demanding these tomatoes. He loves having these even in breakfast, forget the meals. And now even my younger son, Siddharth too is in love with these tomatoes.
How To Make
These tomatoes are undoubtedly a delicacy on their own. But making these stuffed tomatoes is a little lengthy process. This is because boiled and ground lentils are cooked on a slow flame for about an hour or so, till absolutely dry and powder-like.  But once you taste these all the efforts seem worthwhile.
Also, these are best made with 'desi tomatoes' as they are tangy and sour. Whenever I make these, I make them in bulk so that they last for at least 2 to 3 days.
In Air Fryer
Earlier we used to make these tomatoes in a pan only but now have shifted to the air fryer. I cook these in my Phillips air fryer and when done then cook for a minute or two in a pan to get that charred look which unfortunately is missing in the air fryer. Though this is not necessary but as they say habits die hard and unless we get that look on tomatoes, it seems something is missing.
Also, cooking in the air fryer is hassle-free and takes very little time as compared to cooking on the gas stove. Instead of an air fryer, you can bake these in otg also.
Health Benefits
 Both tomatoes and chana dal come with a host of health benefits.
Tomatoes are rich in Vitamin C and are known to be a good source of lycopene, the phytochemical which makes them red in color and significant antioxidant properties, which get enhanced with cooking.
The chana dal is fiber-rich and a good source of zinc, folate, calcium, and protein.
It is helpful in weight loss, helps lowering cholesterol, and has a very low hypoglycemic index.
Serving Suggestions
In Meals, of course!
You can have these in breakfast also just like grilled tomatoes. Since these are stuffed with lentils therefore these are filling also.
Step By Step Recipe
Pressure cook lentils for 2 whistles with just enough water.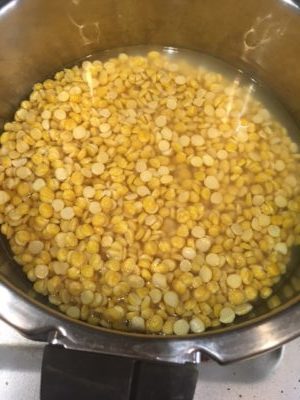 Coarsely mash the boiled lentils.
Take medium-sized, firm tomatoes, preferably Desi tomatoes.
Remove the cap from tomatoes.
Scoop out the pulp and juices from the tomatoes, better done with a peeler.
Keep the scooped out tomatoes, pulp, and juices inside the tomatoes and tomato caps separately.
Take oil (or ghee) in a thick-bottomed wok.
When oil gets heated, put tomato juices and pulp.
Add salt. red chilli powder and garam masala.
Stirring continuously, cook on high flame for about 5 minutes and then simmer the flame.
After about an hour and a half...
Let it cool down. Then fill this filling in the hollowed tomatoes.
Fix the cap using a toothpick or tying a thread around. Brush oil on these tomatoes.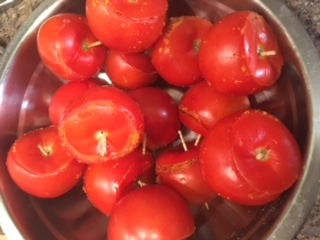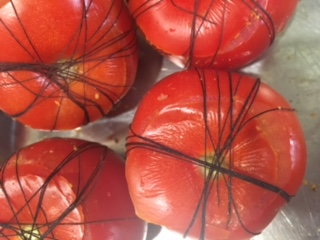 Preheat the air fryer for 5 minutes and place tomatoes in it.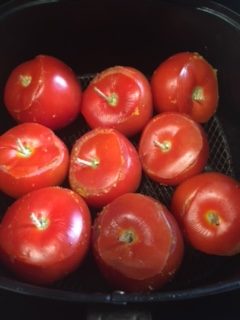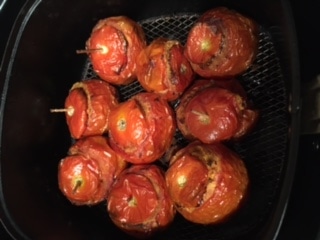 Serve with love...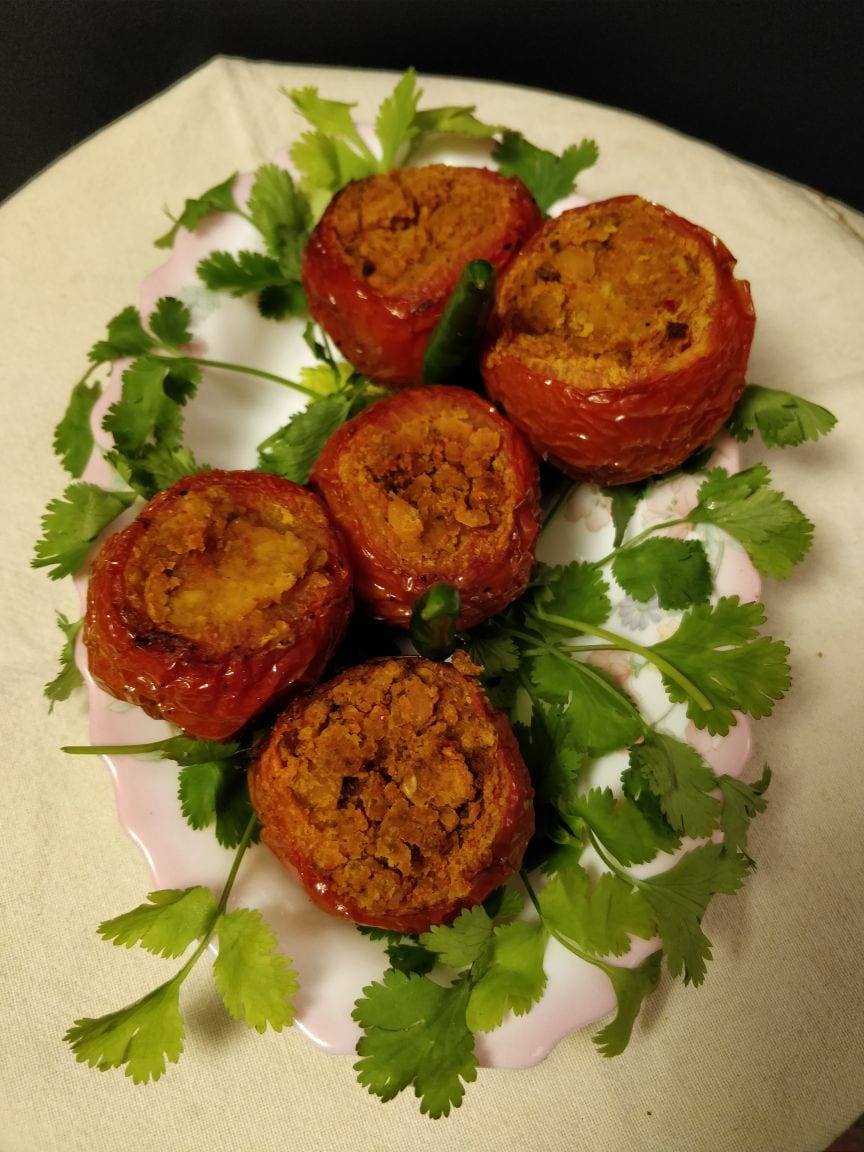 FAQs
Q) I do not have an air fryer. Can I cook them on a gas stove?
Yes, you can make these directly in a pan or air fryer or Otg.
If making in a pan, ensure that you do not cover it. As covering will make these soggy and the skin would peel off. So, cook them in an open pan, tossing them in between so that these are cooked from all sides.
Q) Which type of tomatoes are best for this recipe?
These are best made with 'desi tomatoes' as they are tangy and sour.
Q) What is the shelf life of these tomatoes?
Whenever I make these, I make them in bulk so that they last for at least 2 to 3 days.
LET'S CONNECT
I hope you have liked this Stuffed tomato recipe and will surely try it out for your loved ones. I will be happy if you share your creations on Instagram and tag me #samirasrecipediary there.

Thank you for reading this post. If you have liked this recipe then do let me know by leaving a comment below. Your feedback fuels my enthusiasm. You may share this post with your dear ones by clicking on the little buttons below. You may follow me on  Facebook  Pinterest too. for latest recipe updates. Thank you!
Stuffed Tomato Recipe
Ingredients
1

kg

Tomatoes

200

g

Split Bengal Gram (Chana Dal)

Salt to taste

2

tsp

Red Chilli Powder

2

tsp

Garam Masala Powder
Instructions
Soak split Bengal gram for about half an hour.

Take medium-sized desi tomatoes. Ensure that these are tight and firm and not soft.

Wash these thoroughly and wipe with a dry cloth.

Remove the cap of the tomatoes and scoop out the pulp and the juices inside it. It is best done with a peeler.

Pressure cook the lentils. For this add very little water, just that lentils are immersed in it. Cook for 2 whistles. When the pressure settles down, mash the lentils coarsely with ladle only or with the hand blender.

Put a wide wok on the gas stove. Add 2 tablespoons oil (or ghee), scooped out tomato juices and pulp and the grounded lentils. Add salt, red chilli powder and garam masala powder. It will be very liquidy at this stage.

Cook on high flame for about 5 minutes, stirring continuously. Now, simmer the gas stove and let it get dry. Keep stirring in between, scraping the sides of the wok. As the mixture gets dry, stirring becomes tougher and requires lot of muscle power. It will take almost an hour to become dry and completely roasted. If sticks too much, then add little oil. It is just like making Moong Dal Halwa.

Once completely dry, switch off the flame.

When cools down, fill this filling in scooped out tomatoes. Put the cap back and seal with a toothpick or by tying it with a thread all over. If making in pan then it is better to tie a thread.

Preheat air fryer to 180 degrees for 5 to 7 minutes.

Brush oil on the tomatoes and keep in the preheated air fryer. Oil is brushed so that the tomatoes don't get too dry.

Cook for about 10 minutes till the skin gets soft.

Transfer these to a pan and cook for 5 minutes or so for that charred look. Though this is optional.

Serve with love, chapati optional.

You can store these in an airtight container in the refrigerator for 3 to 4 days easily.
Try out these tomatoes. Yes, time consuming and lengthy process but the end result is simply beautiful.
Related Recipes   Potatoes Peas Pickle
If you have liked this recipe or any of my other recipes then please leave a comment below with your experience and suggestions, if any. Your feedback fuels my enthusiasm to post more good content. Also, join me on my Facebook page for more interesting tips and facts.
Thanks,
Samira
PS: This post has embedded affiliate marketing links which enable me to earn a small commission if a purchase is made. The commission is used by me for maintaining and running this site without any extra cost to the buyer.