This Orange Cake recipe, bursting with the flavors of Oranges, made with healthy ingredients is a perfect teatime cake and is surely a delight to have. 
The best part is that this recipe is Vegan!
I make the same cake in chocolate flavor too. And believe me, every time I have to make it, the choice is difficult!
This eggless Orange Cake recipe is perhaps one of my best bakes. It was a trial that was a super-duper hit. I am sure once you try it out you will bake it every time oranges are there. A recipe not to be missed!
Everything is fantastic about this cake except one. What's that? And that is that you can try this particular recipe only when fresh oranges are in the season. No fresh oranges? Then please do not try this recipe. You will agree with me when you go ahead with the recipe.
Except for the color, everything is Orangish about this cake. Why so? This is because it is made with wheat flour and brown sugar. And also, that I didn't add any artificial color to it.
If you love oranges, then Orange Babka Bread is another must-try recipe!
Easy Recipe
Apart from the taste, this Orange Blueberry Cake recipe also happens to be one of the easiest recipes. I have followed my Vegan Chocolate Muffins recipe for this cake.
Simply swapped water with orange juice and chocolate chips with dried blueberries, and of course, vanilla essence got replaced with Orange zest. Rest everything remains the same. And to make it truly healthier, replaced white sugar with brown sugar. Now it sounds like too many changes, no?
How To Make 
No Essence: It feels so wonderful to have so many varieties of foods and veggies. With such aromatic fruits around us, like oranges, do we need any artificial flavoring? It is for this reason that I avoided vanilla as well as orange essence in this cake. In fact, I decided to try it as a vegan version because I didn't want to dilute the orange flavor with milk or curd or anything else. And I am happy with what I decided. Actually, this is not the first time I avoided vanilla essence. In fact, I have made Strawberry muffins as well as Rasmalai cake without any vanilla essence.
Fresh Orange Juice: I have used fresh orange juice here. Take care to remove the seeds. If you use canned juice then adjust the quantity of sugar. You will need much less sugar in that case.
Orange Zest: Along with the fresh juice, the most important thing in this cake is orange zest. This is what replaces the essence and gives natural fragrance as well as aroma to the cake.
Also, I have used my bundt pan of 7'' for baking this cake. My first bake in my bundt pan. You can use the same or cake tin of any other shape. This recipe is good for a 6" cake pan, round or rectangular.
 

Step by Step Recipe
Grate Orange to get the zest.
Peel orange segments and separate them.
Take wheat flour, baking soda, and salt in a bowl.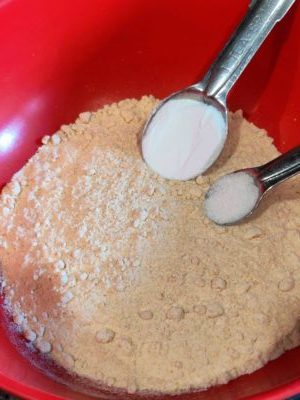 Add brown sugar and whisk well. 
Tip: If using jaggery powder then mix it in the mixie along with orange juice. This is done so that it is dissolved fully.
Mix in dried blueberries and peeled and separated orange segments.
Tip: Instead of blueberries, you can use tutti frutti or nuts or chocolate chips too.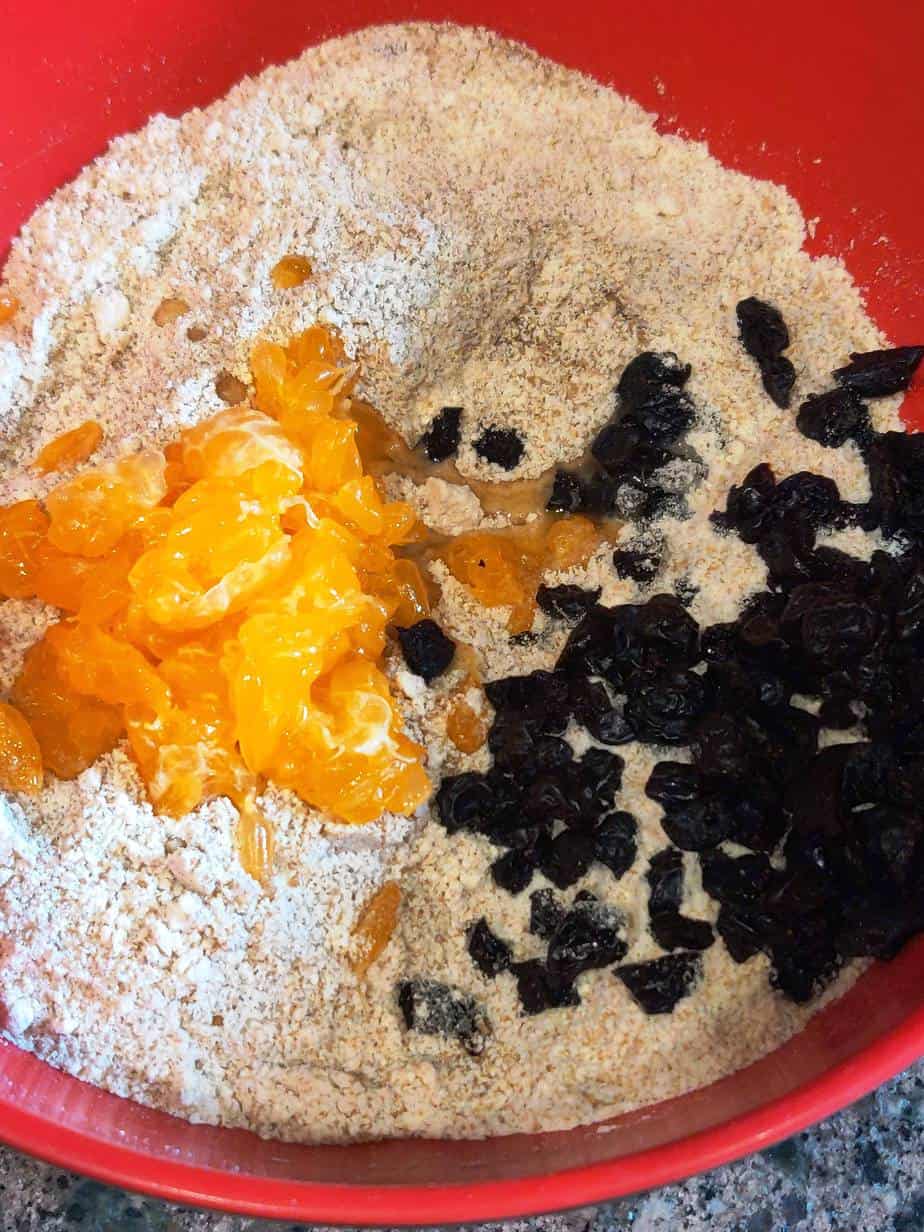 Make a well in the center and add oil, orange zest and fresh orange juice, and lemon juice
Mix everything using the cut and fold method.
Keep the consistency of the batter thick only. But if too thick then add a little more orange juice. Leave the batter for 10 to 15 minutes. In the meantime do other preparations.
Start preheating the oven. Preheat it for 15 minutes at 180 degrees C.
Grease a cake pan. I have used Bundt pan, 7'', here. Arrange certain berries and orange pieces as the base is going to be the top of this cake.
Tip: If you are using an ordinary cake pan then put these after pouring the batter.
Put the batter in the greased pan.
Bake the cake for 40 minutes or till the skewer inserted comes out clean
Take out the cake tin and wait for 5 to 7 minutes.
Loosen the sides with a knife and invert it on a wire rack. Let it cool completely before slicing.
Serve with love, tea optional.
Variation
In place of blueberries, you can use cranberries or tutti frutti, or raisins.
Chocolate Orange Cake
   For making Orange chocolate cake, replace blueberries with choco chips and bake. Once the cake is baked, let it cool down completely. Now drizzle chocolate ganache at different angles.
For Ganache, take equal quantities of cream and cooking chocolate. Like 2 tablespoons of each are sufficient for this particular pattern. Arrange orange zest and you are ready to serve it.
FAQs 
Q) How to Take out Orange Zest?
The aroma of fresh orange zest beats all the artificial essence/extracts.
To take out orange zest, wash the orange, wipe it and grate it.
Grate only the green/yellow skin and not the pith, which is the white part.
This is because pith is very bitter in taste and will spoil the taste of your cake.
Q) Can I replace fresh orange juice with canned juice?
You can but make sure that you use brown sugar or jaggery sparingly then as the store-bought juices are loaded with sugar.
Q) Instead of a bundt pan, can I bake this cake in a regular round cake pan?
Yes, use any 6" cake pan. If you are using an ordinary cake pan then put Orange segments, blueberries etc on the top after pouring the batter.
Some other Fruit-based Cakes/Muffins which you may like are:
Let's Connect
I hope you have liked this Eggless  Orange Cake recipe and will surely try it out for your loved ones. I will be happy if you share your creations on Instagram and tag me #samirasrecipediary there.

Thank you for reading this post. If you have liked this recipe then do let me know by leaving a comment below. Your feedback fuels my enthusiasm. You may share this post with your dear ones by clicking on the little buttons below. You may follow me on  Facebook   Pinterest too. for the latest recipe updates. Thank you!
Eggless Orange Cake Recipe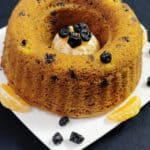 You can PIN this recipe to save and try later!
Testimonials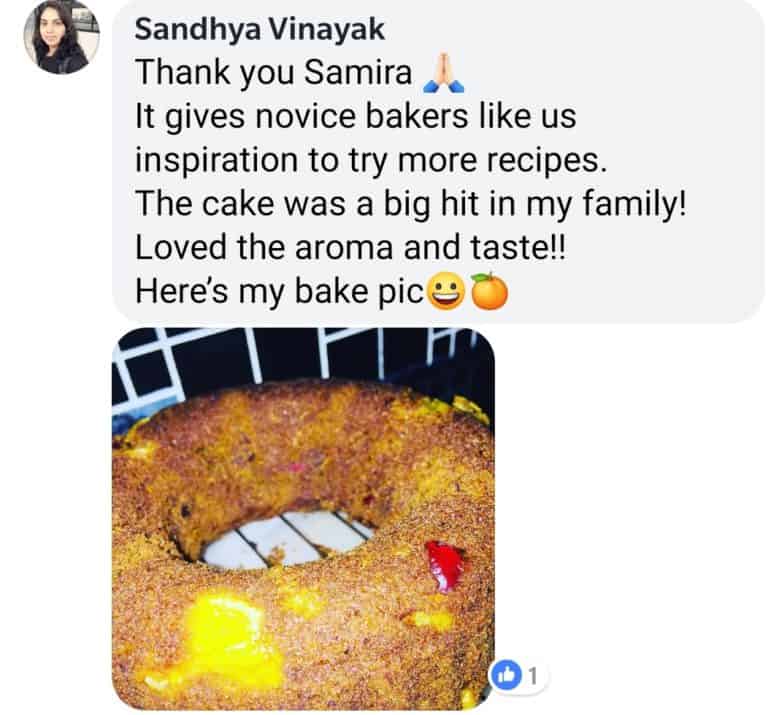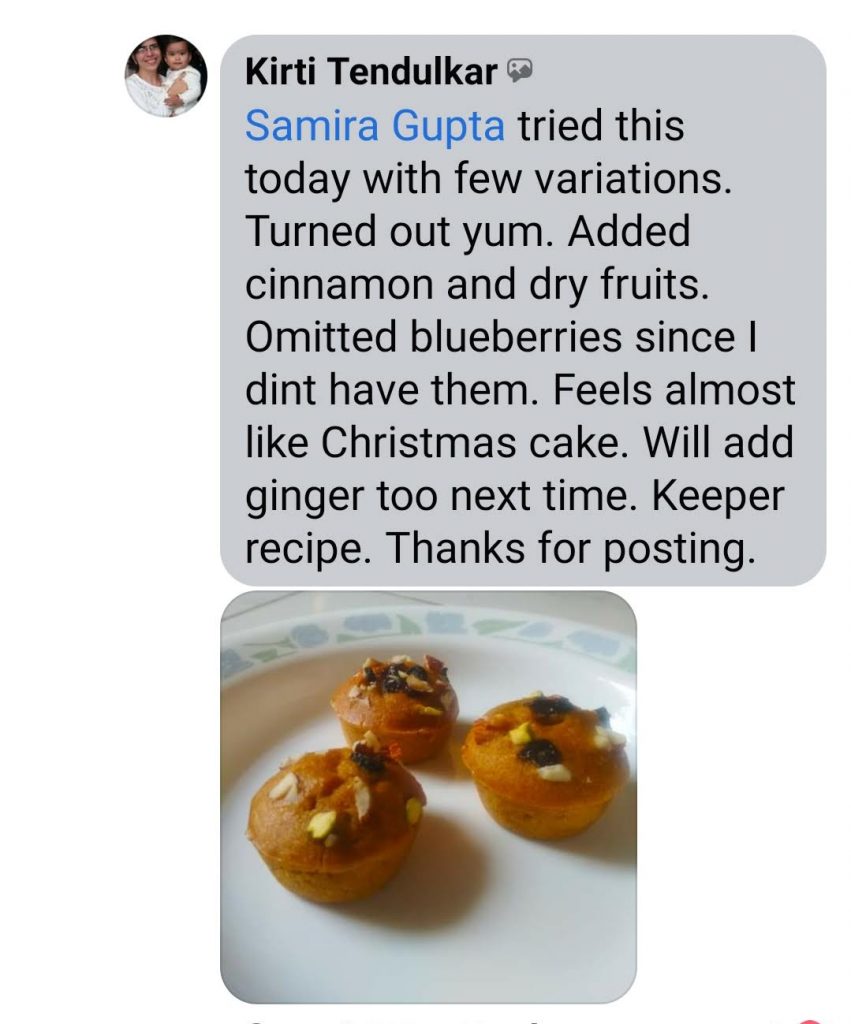 Happy Baking..