Vanilla Panna Cotta with Strawberry Sauce (Without Gelatin)... silky smooth, melt in the mouth, glamorous red and white combo, exotic, sumptuous, simply a dessert to die for. And above all a very simple and quick dessert. Takes 10 minutes to prepare and just 15 minutes for setting it. That's it! Yes, in less than half an hour this heavenly delicious dessert gets ready.
I have made Panna cotta here with agar & dairy cream and served it with homemade Strawberry Coulis.
This vanilla panna cotta is made with agar. Agar is simple to use but you need to know certain things about it. But now as I handle agar really well, making pannacotta is a breeze.
Related Links
Vanilla Panna Cotta With Strawberry Sauce
Being strongly in love with almost all western desserts, Panna Cotta is one of my favorite desserts. The above styling of Panna Cotta always fascinated me. Little did I realize that I myself would be making it one day and when I tried Pannacotta for the first time, I had to give it this shape only 🙂 Actually, I thought of it as some very difficult to make dessert. Also, since I do not use gelatin in my cooking/baking, pannacotta at home was a straight no-no. Till a few years back, agar also frightened me for various reasons. Agar is simple to use but you need to know certain things about it. But now as I handle agar really well, making pannacotta is a breeze.
What is Pannacotta?
For me, Pannacotta is an extremely delicious dessert. Jokes apart, actually, Panna Cotta is an Italian dessert meaning cooked cream.
Panna cotta is made from cream only but we can make it with a mix of cream and milk also. Different people mix it in different ratios. I prefer taking half each.
For making Panna Cotta, the cream is cooked on slow heat for about 5 minutes or till bubbling around the edges. It is then thickened with some setting agents like gelatin or agar which is nothing but vegetarian gelatin. I tried Panna cotta with cornflour also and that too came perfect. Soon, I will share the recipe of Panna cotta with cornflour but as of now, I am sharing the one made with agar or china grass.
Panna Cotta is made in various flavours like vanilla, coffee, chocolate, cardamom, strawberry etc. It is served with fruit coulis or even caramel syrup.
Panna Cotta With Dairy Cream Or Heavy Whipping Cream?
Also, I tried making Panna cotta with normal dairy cream as well with heavy whipping cream. Both were perfect. Thus, you can very well make it with Amul or Nestle cream also.
Do you know why heavy cream is preferred for making Pannacotta?
This is because due to high-fat content (36%) in heavy cream it doesn't curdle. Whereas, there are chances of curdling in normal cream. So try to use heavy cream. If the heavy cream is not available then use dairy cream but keep the flame low to medium and do not overcook it.
How To Set Panna Cotta?
Another nice thing about Panna Cotta is that you can set it in glasses/ramekins and serve individually or in a big bowl and cut into slices. If in glasses, it sets just in 15 minutes, that too at room temperature only. If in a bowl then it takes a little longer time. More the quantity in the bowl, the more time it takes. If it is more in quantity, like the one shown below then it is better to sit in the refrigerator at least for 4 to 6 hours or overnight.
There are endless possibilities of serving Panna Cotta. Set pannacotta first then top it up with fruit coulis or vice versa.
Colourful Panna Cotta For Holi
As the festival of colours Holi is nearby, I even tried a colourful Panna cotta using various mocktail syrups like Blue Curacao, Khus syrup etc. It's really fun doing it like this. It's like Italian Pannacotta falling in love with Indian colours and playing Holi 🙂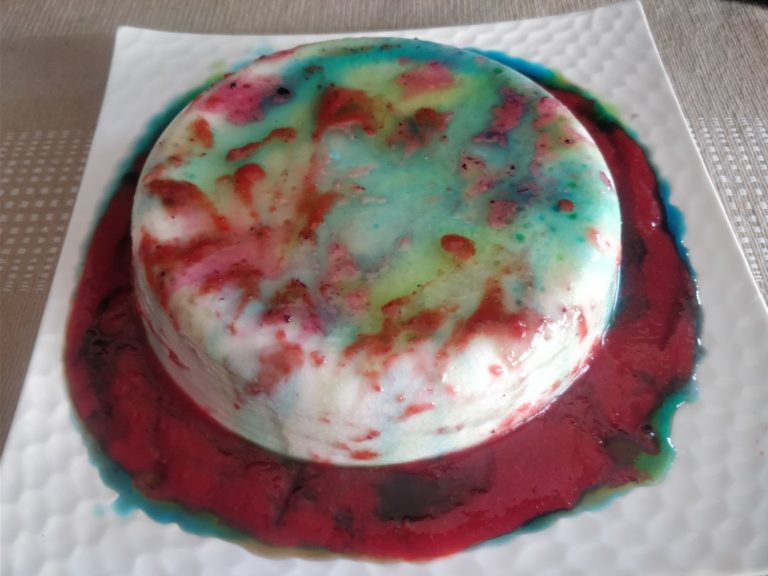 The above Panna Cotta, since quite big in size, was left overnight in the refrigerator and in the morning it came out of the bowl very easily.
Can I Make Panna Cotta Ahead?
You can make this pudding in advance, 2 to 3 days prior to your party.
Before we proceed towards the recipe, a few words about agar.
Few Points Regarding Agar
Agar is also known as agar-agar or china grass or kanten.
Unlike gelatin, Agar is a vegetarian product and is also known as ' vegetarian gelatin'
Agar is derived from algae and is used to gel many food products, such as puddings, desserts, jelly candy, soups, sauces, and more.
Being plant-based, agar is 80% fibre without any fat or protein.
It comes in different forms, namely, strands, grass, powder, etc.
Agar is stronger than gelatin. Unlike gelatin, agar sets beautifully at room temperature also. Thus refrigeration is not required.
Since it has a high melting point, therefore, it is first added to a liquid and then needs to be boiled for 2 to 3 minutes to activate it. If added without boiling then the jelly or pannacotta will not set.
Sets at room temperature. But return to its liquid state when reheated
The correct proportion of agar is very important. If added less, the pudding will not set. If added more then the pudding will be hard. 
You can read more about agar here.
Important: Ensure that the agar you are using is of good quality and also not expired. I used this brand of Agar. I liked it as it comes in small packets of 10 g and thus gets used up in one or two time only. You can buy this from here.
How To Use Agar?
Instead of adding agar directly to the cream-milk mix, I soaked it separately in water first then boiled for a few minutes to ensure that it is dissolved properly and is activated fully.
Now, let's see the recipe of vanilla panna cotta in detail...
Preparation Time: Nil
Cooking Time: 10 minutes
Passive Time: 2 to 3 hours
Serves: 4 to 6
Ingredients
My 1 Cup measures 240 ml
Method
Take 1/4 cup water in a small pan and sprinkle agar powder on it. Leave it for 5 minutes.
Arrange ramekins in the muffins tray in a tilted position. No need to grease them. If setting the pannacotta in a bowl, then grease it lightly. Greasing helps the pannacotta to slide out of it once set. (See Note 2)
After 5 minutes, put the pan on the gas stove and heat the agar mix at medium speed for 3 to 4 minutes, stirring in between. Soon, it will be transparent. Just give it a final boil and switch off the flame. Ensure that it is dissolved completely and there are no tiny granules left undissolved.
At the same time, heat cream, milk, and sugar at low flame for 3 to 4 minutes till the mixture starts bubbling around the edges and the sugar is dissolved completely. You may rub little mix between your fingers to ensure that sugar is fully dissolved.
Add hot agar solution to the hot cream mix, using both the hands. Adding from one hand and stirring from the other. (See Note 3)
Heat this mixture on a medium flame for a minute and pour into the greased bowl or in the tilted ramekins. I made in both but you may opt for any one option or go ahead with both.
You may now keep these in the refrigerator otherwise these will set within half an hour at room temperature only. I kept the bowl in the refrigerator immediately after pouring the mixture into it. And since it is difficult to put the tilted ramekins along with the muffins tray in the refrigerator so, I left these on the kitchen counter only. Once set, after 15-20 minutes, I removed the ramekins from the muffin tray and put in the upright position only in the refrigerator for chilling.
After about 2 hours, take the bowl out, run a knife around the edges. Put a plate on it and invert it. The pannacotta will slide on the plate. If, by chance, it doesn't, then put the bowl in warm water for 30 seconds or so and then invert it.
Fill the empty space in the ramekins with strawberry coulis. Similarly, spread strawberry coulis on and around the pannacotta set in the bowl.
Check the recipe of strawberry coulis/sauce here.
Serve with love.
Notes
Heavy whipping cream is preferred. But if you are using Amul/Nestle cream then take care that it is not overcooked as then there are chances of its curdling.
You may not tilt the ramekins and just fill these up to three-fourth with pannacotta mix.
In case, agar solution sets before you pour it into the cream then do not panic. Heat it again and soon it will be liquidy.
Detailed Recipe Of Vanilla Panna Cotta With Step by Step Pics
Take water in a bowl and put agar powder on it. Let it stand for 5 to 10 minutes.
Arrange ramekins in the muffins tray in tilted position. No need to grease them. If setting the pannacotta in a bowl, then grease it lightly.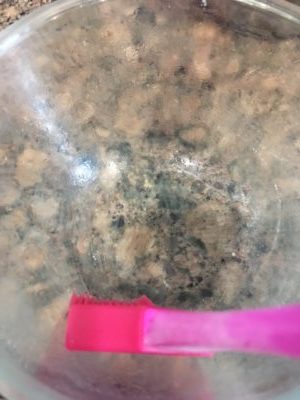 Heat agar mix for 3 to 4 minutes till transparent and dissolved fully.
Heat cream, milk and sugar at medium speed for 3 to 4 minutes till the mix starts bubbling around the edges and the sugar is fully dissolved. Add vanilla essence.
Add hot agar solution to the hot cream mix, stirring continuously.
Cook for a minute only on medium gas. Switch off the flame.
Pour it into ramekins or the bowl or in both.
After 15 minutes in the ramekins.
Chill in the refrigerator for a few hours.
Run a knife around the edges and invert it onto a plate.
Serve with strawberry coulis and lots of love.
Thank you for reading this post. I hope you have liked this easy recipe of making Vanilla Panna Cotta With Strawberry Coulis. If you try this recipe then do share your feedback. Your feedback fuels my enthusiasm to post more good content.
Also, if you like this post then feel free to comment in the comment section below. You could share it in your social media circle by clicking little buttons below.
You may join my Facebook page for more interesting tips and facts.
Thanks,
Samira
P.S. This post contains affiliate links. I may earn a small commission through this, without putting any extra cost to you,  which is needed to cover the costs of running this blog.
Now, it's time for...
"Food For Soul"
         The sign of a beautiful person is that they always see the beauty in others.