This healthy Sprouts Salad recipe is the ultimate source of protein for vegetarians as well as vegans. A storehouse of proteins and antioxidants. Good for weight watchers, for diabetics, and for heart patients too. It is recommended to have sprouts daily for the overall health of the body.
The addition of fruits takes this mixed sprouts salad to an altogether different level.
Sharing with you an easy Sprouts salad recipe that is not just healthy but appetizing too. Healthy, nutritious, colourful, sumptuous, filling, oil/butter-less, easy n quick to make...all these attributes fit perfectly to this salad.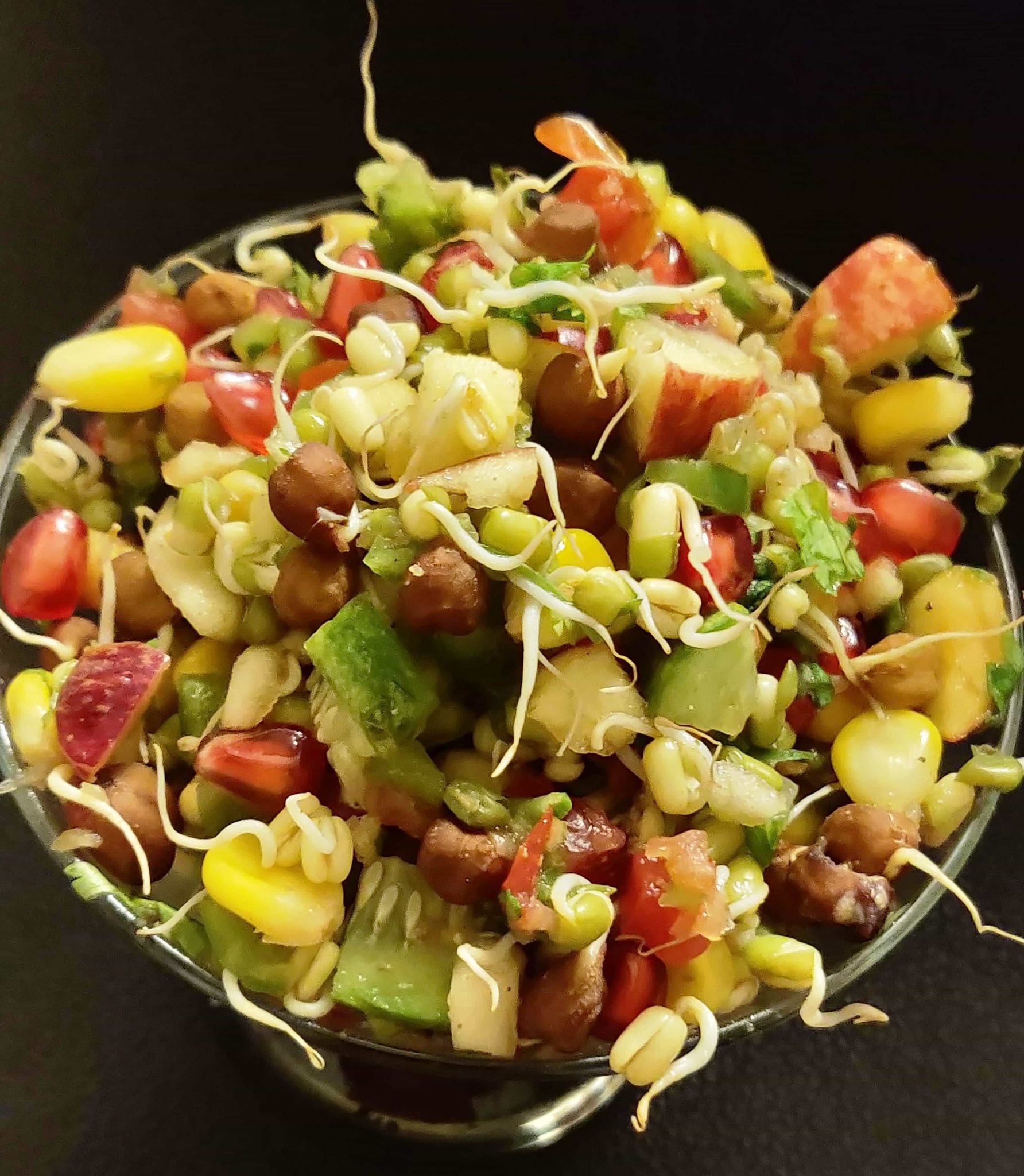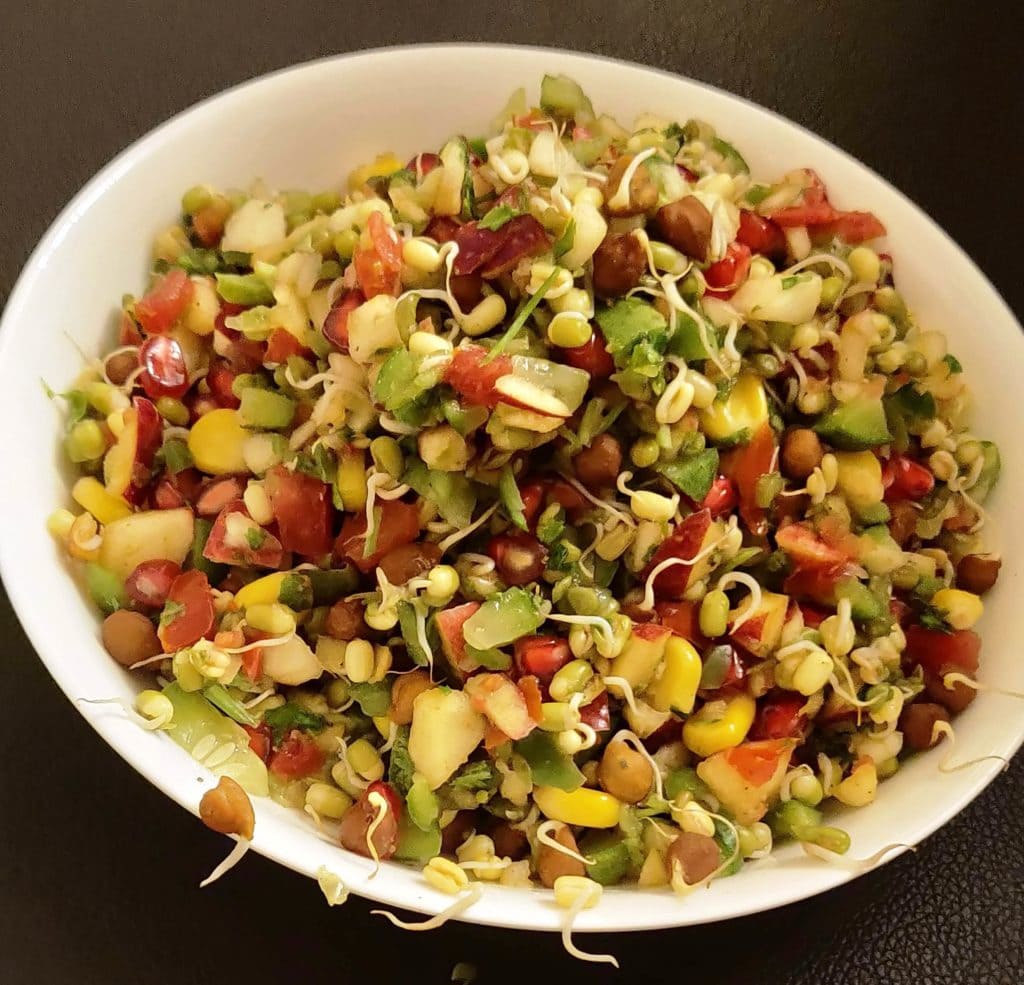 Ever since I have adopted this recipe of sprouts they are a favorite of all of us.  What's the difference? Well, wait for a while and you will come to know.
What Are Sprouts?
We all know that sprouts are good for health. But what actually sprouts are? How are they good for us? Why can't we have the whole grain just after soaking in water for few hours? Why sprout them? Soaking makes the grain more digestible, no doubt but sprouting does much more than that.
Sprouts are germinated grains. They are low in calories and full of nutrients. That is why they are excellent for weight watchers. To know about all these refer to my post 'how to make sprouts and why?
Making sprouts at home is a little lengthy process but worth it. It is always advised to have homemade sprouts then to buy it from the market. Once you have the sprouts ready then making sprouts salad is just a few minutes game.
You can also Mixed Millets Salad which is an excellent way to include millets in your diet.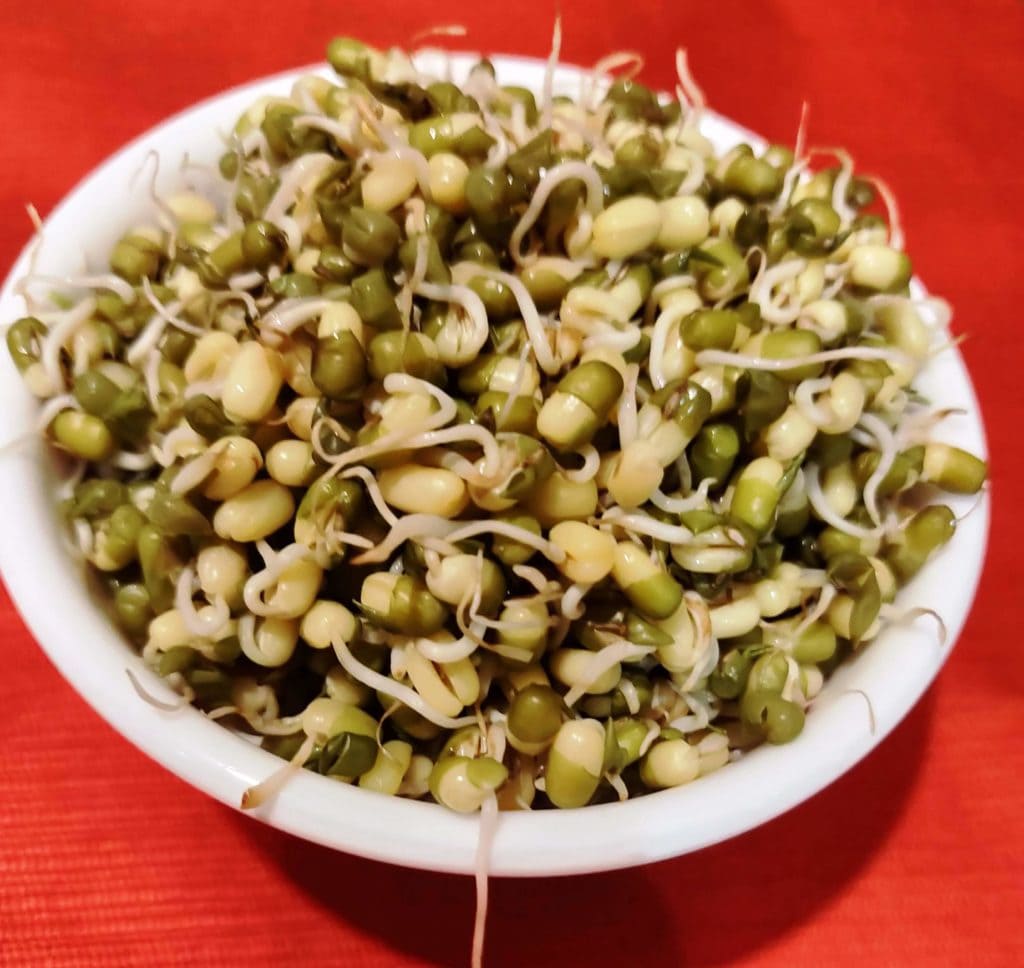 A Little About This Recipe
Now coming back to our sprouts salad. This is a very simple salad in which I have added mung bean sprouts as well as Kala chana sprouts and veggies like cucumber, tomato, etc and finally seasoned with salt, chaat masala, and lemon juice.
Till a few years back I used to make sprouts salad with veggies only until one day I ate this salad at my sister-in-laws' place. The same salad at her place tasted too good.
What was the difference? The difference in spices? No, in fact, she had put salt and lemon juice only. Then why did it taste so good that you could eat even a full bowl? Well, the difference was that she had put apples in it. The sweetness of apples blended well with the sprouts and veggies. She said that whenever possible she adds pomegranate also. The difference was miraculous.
Trust me, the addition of apples/pears and pomegranate take this salad to an altogether different level. Since then, I have never made this salad without apples. Even if I forget then my dear hubby would ask immediately, didn't you add apples? Try this version you will love it.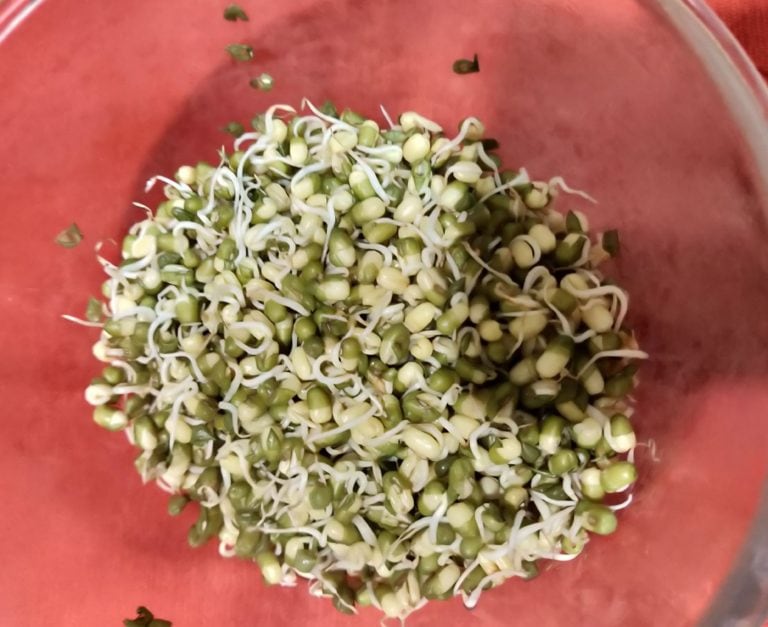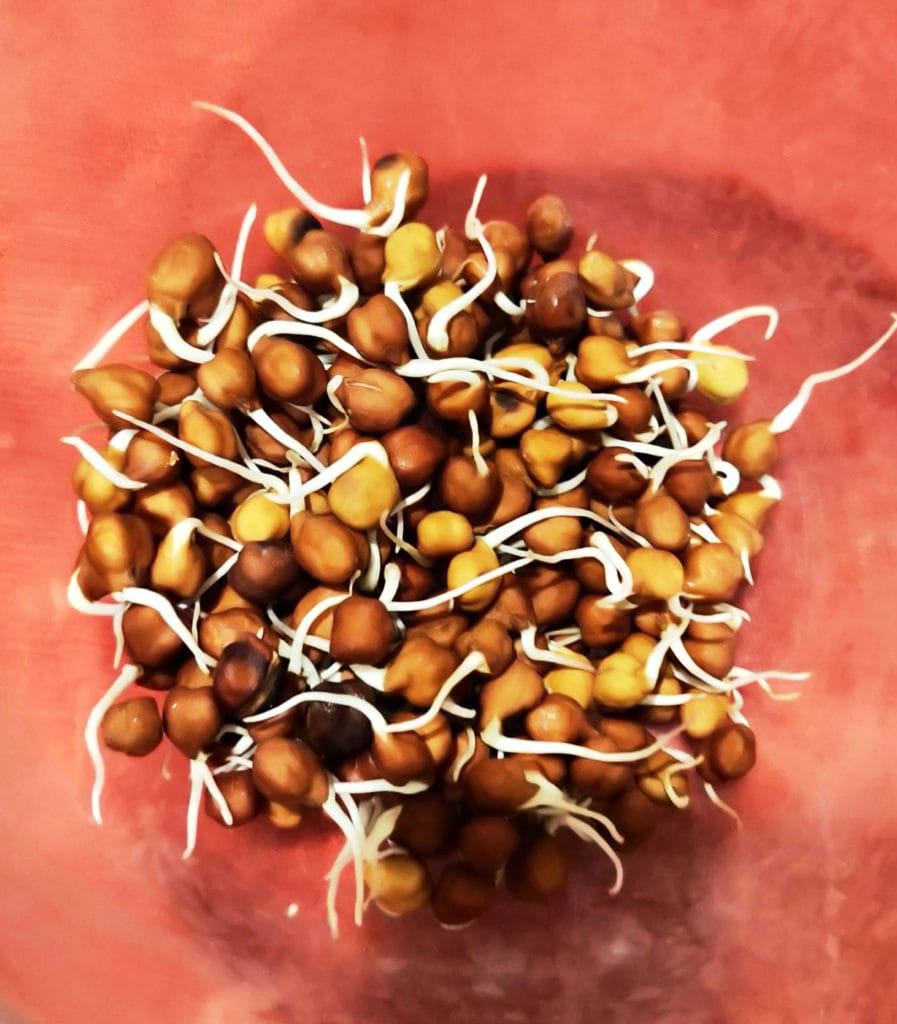 Tips For The Perfect Outcome
Here, instead of making it only a green gram sprouts salad, I have also added black gram sprouts to it,  but that is completely optional. You may add sprouted chickpeas or sprouted Ragi too.
Chop veggies/fruits in proportion to your main salad ingredient. Like here, since the sprouts are small in size so have I kept the veggies and apple as well.
I have added capsicum as it gives a very nice crunchy taste to the salad. You can even add red and yellow bell peppers.
Also, I have not added onions as firstly, I am not a big fan of onions and secondly, we don't like it with fruits.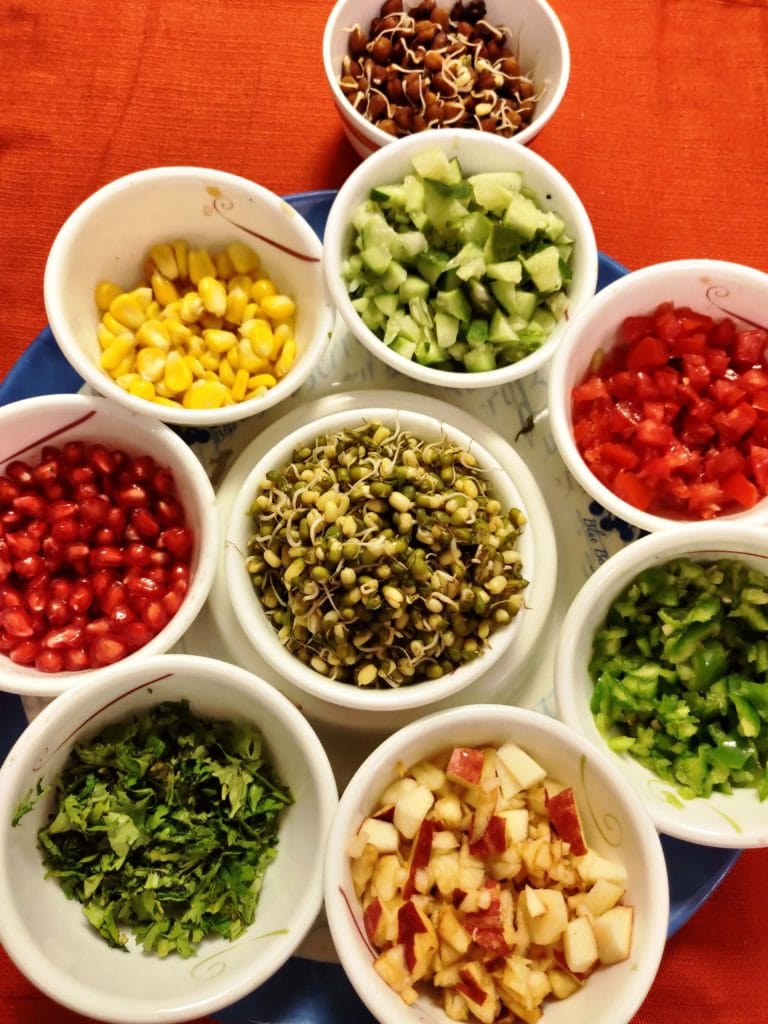 To make this salad, mix all the ingredients, add salt, chaat masala, and lemon juice. Toss nicely.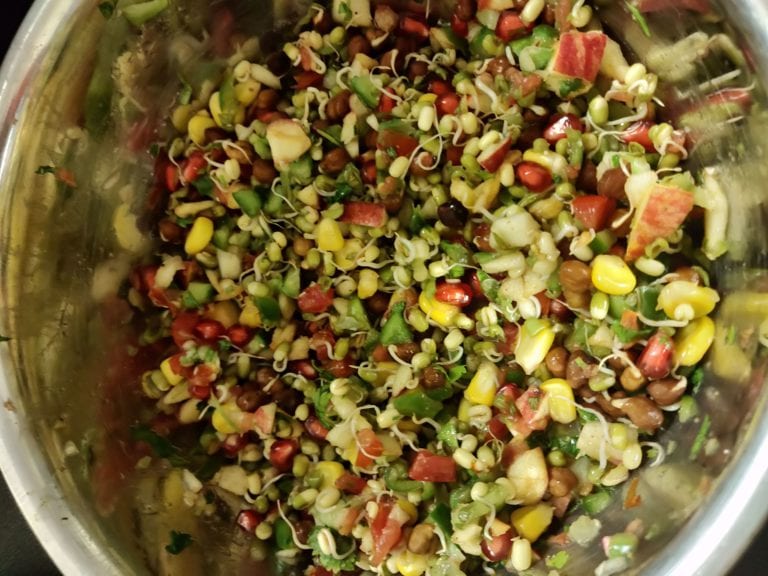 More than the recipe, I would say the method of making sprout salad. Nothing is fixed in this salad. Feel free to add whatever is there in your pantry/refrigerator. But ensure to add apples or pears.
FAQs 
Q) What is the best time to have sprouts?
Sprouts are excellent to have in breakfast or lunch or as an evening snack.  These should be avoided at night time.
Q Can we eat raw sprouts?
Sprouts can be eaten raw or cooked. But as per studies, raw sprouts contain bacteria and are thus prone to food poisoning. Other than this, raw sprouts are too hard to eat.
Q) How to cook sprouts?
When comes to cooking then you can cook them fully or partially. If you want to have fully cooked and very soft sprouts then best is to pressure cook them for a whistle.
However, for partial cooking, keep them in a microwave oven for a minute or so. Or keep some water in a pan and put to a boil. when the water starts boiling keep a steel strainer on it and add the sprouts in the strainer. Cover the strainer with a plate. Sprouts will be cooked in the steam coming from the boiling water.
You may choose whichever method suits you the best.
I usually cook them in the microwave only as it is simpler to do so for a small quantity. For cooking in the microwave, take sprouts in a bowl, sprinkle water if too dry, and now put it in the microwave for 1 or 2 minutes depending upon how soft you would like to have.
Q) Does sprouts salad helps in weight loss?
A) Yes, as They are low in calories and full of nutrients.
Some other Salad Recipes: 
Let's Connect!
Thank you for reading this post. If you have liked this Sprouts Salad recipe then do let me know by leaving a comment below as your feedback fuels my enthusiasm. You may share this post with your dear ones by clicking on the little buttons below. You may follow me on Facebook   Pinterest   Instagram (#samirasrecipediary) too. for latest recipe updates. Thank you
Sprouts Salad Recipe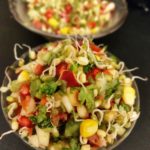 Stay Healthy…Stay Happy