This Dilbahar Shahi Tukda recipe is a guilt-free and healthy one made with toasted bread and served with custard and chocolate sauce.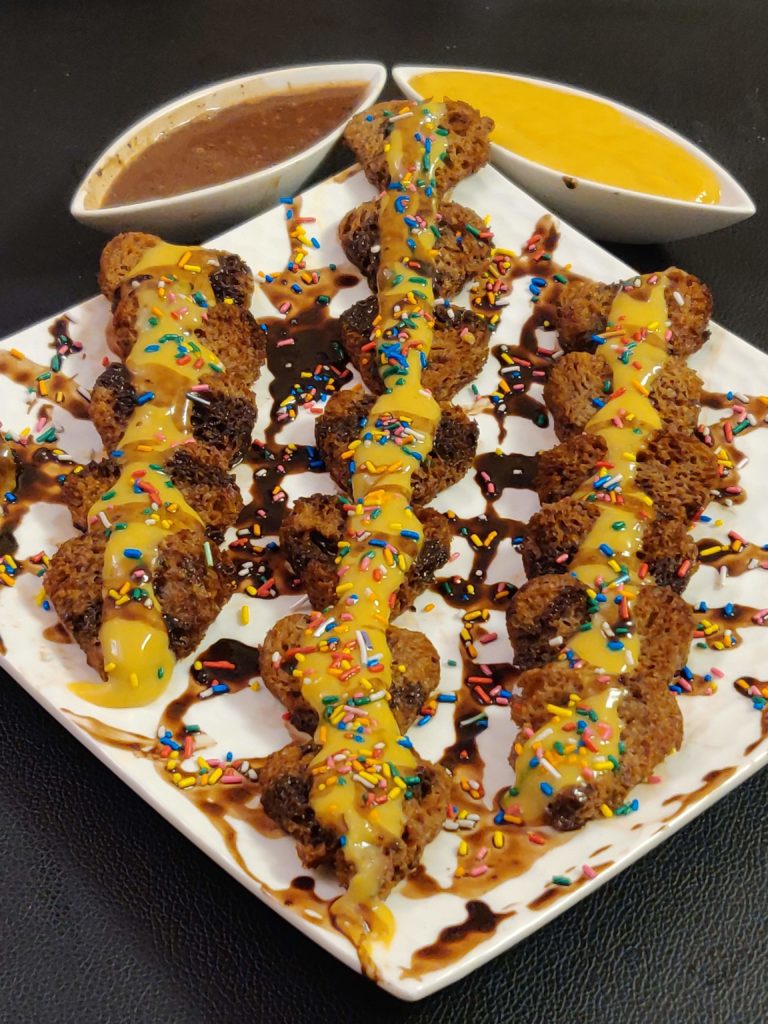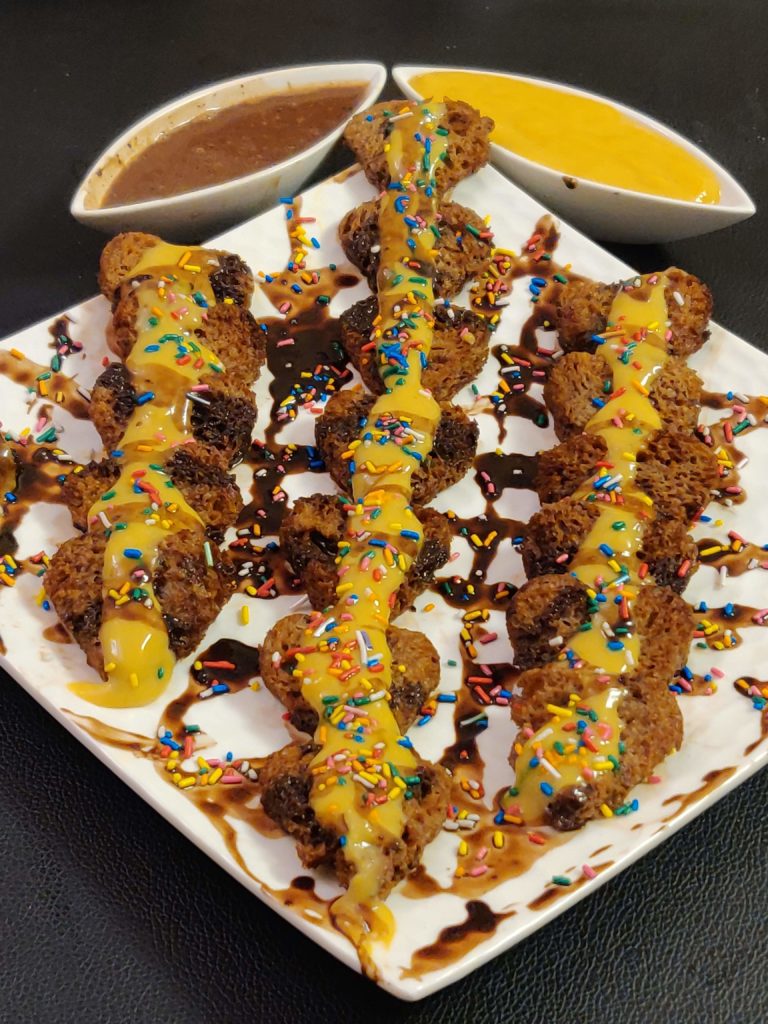 Shahi Tukda is a famous traditional sweet having its roots in Mughlai cuisine. It's a popular sweet dish especially in the month of Ramadan and on Id.
Traditionally, deep-fried bread pieces are soaked in milk and then topped with thickened milk and lots of nuts. A very rich dish in itself as per its name.
Such a common recipe, made in almost all the families then why am I posting it? This is because...no, no, no. I will not disclose it here. First, go through it and then let me know whether what I am saying, appeals to you or not.
My husband loves Shahi Tukda but both my sons do not have much liking for milk-based sweets. So, therefore thought of making it with a twist. Let's see what that twist is.
How This Recipe is Different?
With times we have made changes in our eating habits too and thus this healthy version of Shahi Tukda with a twist. Bread, when fried absorbs a lot of oil. Therefore, instead of deep-frying the bread, I have air-fried it. Thus, no excess oil in it.
Not only it is a healthy version but also altered to suit the taste buds of kids. Instead of regular nuts, rose essence, etc I have made it in chocolate flavour.
So, doesn't it sounds interesting? And lastly, I have cut it in heart shape making it more attractive to kids. You can use cookie cutters in various shapes and cut accordingly.
Thus, it varies in many ways from the regular Shahi Tukda:
No Triangle Shape but attractive heart shape.
Not Deep Fried but Air fried/Toasted.
No Sugar Syrup but Jaggery Syrup.
Neither Thickened Milk or Condensed Milk but custard sauce.
No Dry fruits but colourful sprinkles.
So, how do you like the twist?
Related Recipes which you may like are:
Step By Step Recipe
Cut bread in various shapes using a cookie cutter. I used heart shape.

Brush clarified butter on both sides.
Toast in the air fryer at 180 degrees for 5 minutes or till golden brown.

Heat jaggery with water and boil it for 2 or 3 minutes till thickens slightly.
Let it cool down slightly. Now, dip toasted bread hearts in this syrup and arrange on a platter.

Make Custard sauce. Dissolve custard powder in 2 tbsp milk. Ensure that there are no lumps.
Heat the rest of the milk with jaggery powder. When jaggery dissolves and milk is heated well, add the dissolved custard powder and vanilla essence.
Cook the custard for 2 to 3 minutes, stirring continuously, till it gets slightly thick.
Pour this custard over the bread hearts.
Drizzle chocolate sauce and sprinkle sugar sprinkles. To check the recipe for chocolate sauce, click here. You may use Strawberry sauce too.
Serve with love.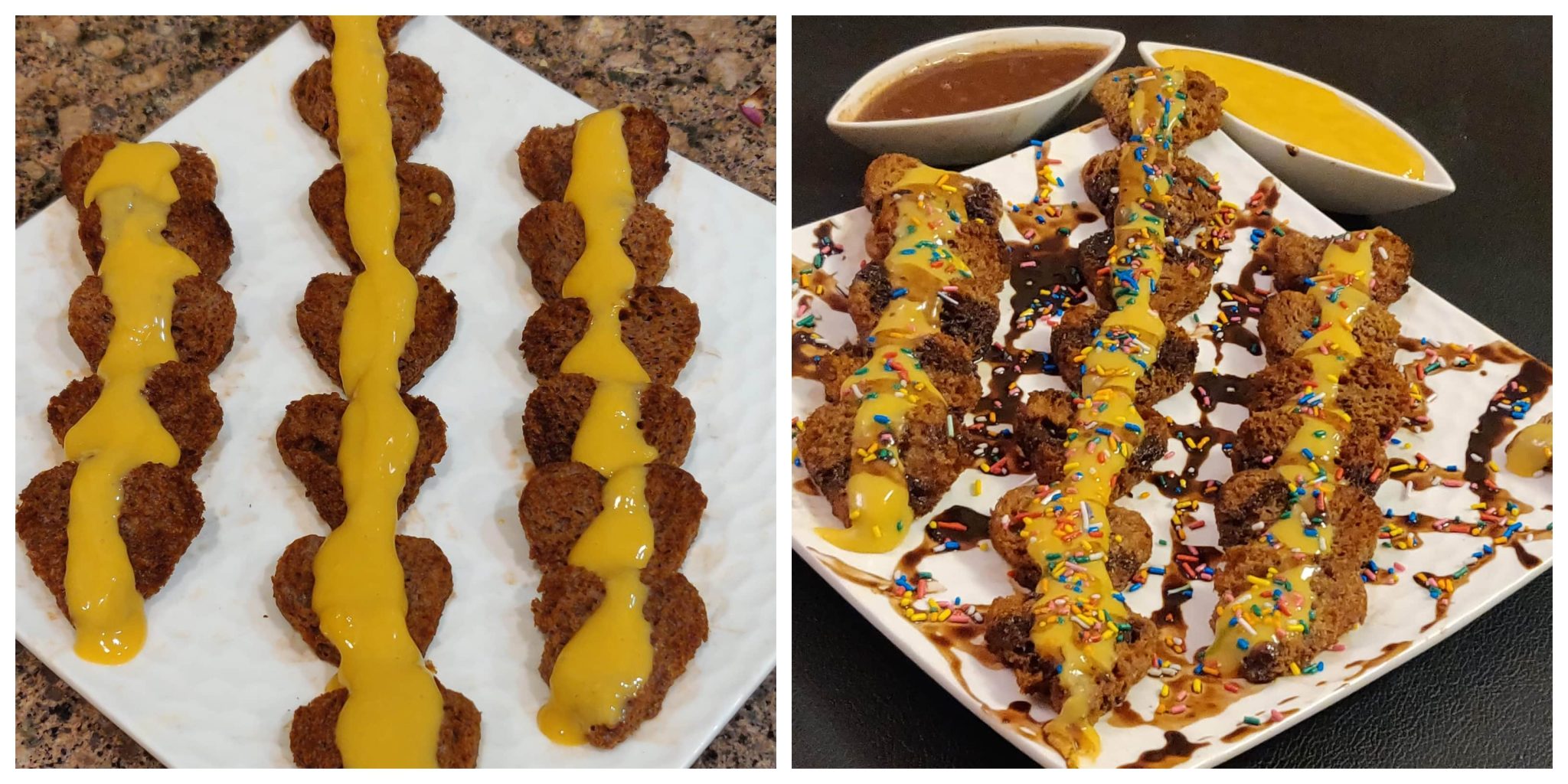 Frequently Asked Questions
Q) I do not have an air fryer. Then how to make this recipe?
No worries! Then first toast the bread in a toaster and then cut it into desired shapes, heart or any other. You can even deep fry the bread pieces.
Q) What can I use instead of custard sauce? 
You can use condensed milk or thickened milk (Rabri) instead of custard.
LET'S CONNECT
I hope you have liked this Shahi Tukda recipe and will surely try it out for your loved ones. I will be happy if you share your creations on Instagram and tag me #samirasrecipediary there.
Thank you for reading this post. If you have liked this recipe then do let me know by leaving a comment below. Your feedback fuels my enthusiasm. You may share this post with your dear ones by clicking on the little buttons below. You may follow me on  Facebook   Pinterest too. for the latest recipe updates. Thank you!
Dilbahar Shahi Tukda Recipe With A Healthy Twist