Amazing uses of lemon Peels will give you some practical and easy ideas which you can follow on a day to day basis.
Lemons add flavour and are good, no doubt, but its peels are no less. Peels are in fact, as good and useful as the lemons.
So,
"When life gives you Lemons,
Don't throw away the Peels"
Related Posts 
Why not Throw Lemon Peels?
You must be wondering as to why not throw the peels. But actually, lemon peels are wonderous. 
Lemon peels are full of nutrients. If ingested, they provide you heaps of calcium, minerals and fibre. And if applied locally then these are the best for cleaning, be it skin or utensils. Their refreshing aroma is great for treating bad odours.
For the past few years, I can say that I have become wiser so as not to throw even a single peel of a lemon. Frankly speaking, now I look forward to having these peels.
Not only lemon peels, but peels of many other fruits and veggies can also be used beautifully. Like I use spinach stalks for making SPINACH SOUP. Similarly, you can make candied fruits (TUTTI FRUITI) with watermelon rind. 
Some of the ways I use lemon Peels are as under:
Lemon peels can be used for multiple uses. Starting from flavouring your food to cleaning your kitchen appliances to cleaning your skin and hair. All the uses, that I have listed below are those which you can easily follow without making any extra effort.
I am sure, after going through these uses of lemon peels, you too will look forward to peels more than the lemon itself.
1. Garnish/flavour :
Grate lemon rind in your vanilla cake, custard, puddings and mocktails and enjoy the aroma of lemons. Take care to grate only the peel and not the pith (white portion under the peel)
Must read: Lemon Lassi, a refreshing Lassi made with lemon and lemon zest.
2. Clean Pressure Cooker :
Just put one cup water,  1 or 2 lemon peels and 1/4 tsp dishwashing powder in your tarnished pressure cooker. Give it a whistle and voila, you get a sparkling clean pressure cooker.
Or, when you boil potatoes then put 1 or 2 lemon peels along with potatoes and water. The pressure cooker will remain clean only and will not get tarnished.
3. Deodorise Dishwasher :
I bet you are going to love this one. Next time when you run your dishwasher, just put 1 or 2 or 3 lemon peels in it along with the dishes. Wow... what lovely fragrance after the wash. Do it every now n then and your dishwasher is always smelling good... no stink at all. Please take care that you put lemon peels in a place from where you can remove them easily like a spoon holder is the best place for this purpose.
4. Clean Gas stove :
Sprinkle some baking soda on your gas stove, rub it with lemon peels and get rid of all the stains and burnt patches.
5. Clean Iron Griddle (Tawa) and Wok (Kadhai) :
Put few lemon peels along with some water in your Iron griddle/wok.  Water is a must. Keep the lemons as shown in the pic, white side down. Press it lightly. Leave it overnight. In the morning, rub lightly with those peels and with a scrubber and enjoy having as good as a brand new griddle/wok. Alternatively, you can put the griddle along with water and peels on the gas stove and boil it for few minutes.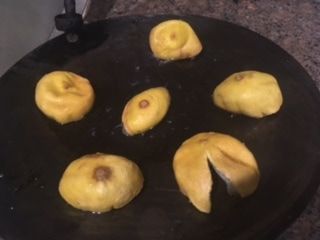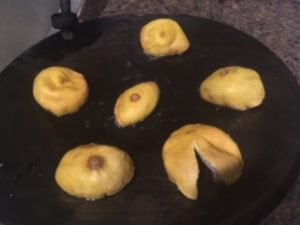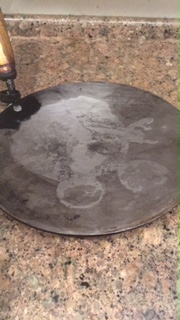 6. Clean Microwave oven/ OTG :
Put 2 to 4 lemon peels in a cup of water and run your microwave/OTG for 4-5 minutes. Vapours from the lemon will loosen the grime/grease deposited on the sides/roof of the apparatus and you can clean it easily with a scrubber and a damp cloth.
      7. Brighten your face, elbows knees :
Rub lemon peel on your face, elbows etc to cleanse and lighten the skin and thereby brightening it. It also helps in softening the elbows by removing the dead skin.
      8.Face Scrubber :
Dry lemon peels thoroughly. Grind it finely. Mix honey, oats powder, turmeric, cinnamon in it and use it as a face scrub.
     9. Pickle :
Yes, you can make pickle also of these peels. Tear them into pieces. Add salt, rock salt, sugar, chilli powder, carom seeds (ajwain), Garam masala( whole spices powder). Shake properly. Keep it in sunlight for 20-25 days. If too dry, add little lemon juice to it. Keep shaking the jar every now n then.
There are many other ways, these wondrous lemon peels can be used. Please share your ways of using these.
10. Detox Water
Detox water is great for sipping throughout the day because of its multiple benefits. You can use lemon peels instead of lemon slices in this water as peels too have lot of juice as well as flavour. For the full recipe of making DETOX WATER, read here.
Store the Lemon Peels For Later Use
You may not require lemon juice and its peel at the same time. In that case, store the peels in an airtight container in the refrigerator and use them as and when required.
Reader's Suggestions
Some tips shared by our esteemed readers. Sharing those tips with you all...
By Priya Vijayakrishnan: I do the same for my iron Kadai as well. Boil the lemon rinds with water in the kadai. Removes the grease as well as gives a good look 🙂
By Supriya Patel: For removing stains from copper/brass utensils.
By Neha Varerkar and Ranjini Iyer: Whenever you use a pressure cooker for making rice/ lentils/ veggies, first put one or two peels in the base then put veggies etc. And after cooking, the cooker comes out shining clean.
By Swati Gupta Agarwal and Neha Gupta Garg: Helps in losing weight. Boil the lemon peels with water and strain the water in a Jar for storage and now it's ready to drink ..
By Garima Uppadhyay:   It acts as a great source of Anti Dandruff. Rub lemon peel all over your scalp, mostly the areas where dandruff exists.
Repeat the process for a few days until the problem is resolved.
By Rachna Goyal: It helps to whiten and clean our teeth too.
By Munira Kamal: Yes I do the same for tawa and other greased utensils. I store some dry lemons too and add in my boiling rice. Rice doesn't become sticky. Add them to my cakes too.
Thank you so much, readers. Keep sharing...
I hope you have liked these amazing uses of lemon peels and will surely try it out now onwards. 
Thank you for reading this post. If you have liked this recipe then do let me know by leaving a comment below. Your feedback fuels my enthusiasm. You may share this post with your dear ones by clicking on the little buttons below. You may follow me on   Facebook   Pinterest  too. for latest recipe updates. Thank you!
Samira