Coconut Laddoo Without Condensed Milk
Jump to Recipe
These coconut laddoos are one of the easiest, simplest and no cook laddoos.

 

They get ready in a jiffy.

They are appealing in looks, colourful and tasty at the same time.

Make it for festivals or for guests or just to satisfy your own sweet tooth.

Since it is a no-cook recipe, it is perfect for our mini chefs.
The recipe remains the same but I shape it according to the occasion and they come perfect.
Like for Ganesh Chaturthi, out of different types of laddoos (modak), I prepare this one too.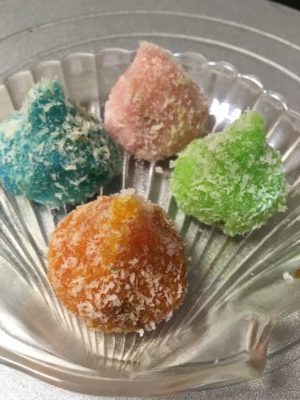 Make these for Navratri fasts.
You can make these on Holi, Diwali or any other festival. 
Even good for Independence Day celebrations because of their different colours.
More than anything else, your darlings will love making these.
For this, you will need dry petha, available at sweet shops. This petha, though sweet only, but is dry and is not drenched in sugar syrup. 
You just mix dried petha with desiccated coconut. No fixed ratio, you mix desiccated coconut as much as is needed to bind it into a dough-like consistency. Normally, desiccated coconut is double than the petha if measured in cups. If you go by weight then take equal quantities of both.
Mix the two ingredients and the laddoos are ready. As both can be eaten raw so when mixed together, no cooking is required.
For making it colorful you can add drops of edible colours or mocktail syrups.
Like, I have added Rose syrup for red colour, Khus syrup for green colour.
You can add Thandai syrup or saffron milk for yellow colour, Blue Curacao (non-alcoholic) for blue colour.
For orange color, I combined yellow mix with a dash of rose syrup, that is red, and I had a perfect orange colour.
Let's get started.
But before that just a minute… let's talk about social media. If you like this recipe then do join me on my Facebook page to know about my latest recipes. Also, you can Pin it for later if not willing to try later on. And last but not the least, if you try it out then share your feedback through comments or on Instagram by using hashtag #samirasrecipediary. Your feedback fuels my enthusiasm to post more good content.
Related Recipes which you may like to try:
Your one comment can make my day so please be generous with your comments.
Detailed Recipe Of Coconut Laddoos With some pics
Gather all the ingredients.
Grate Petha. Add desiccated coconut and mix properly. See that you can bind this into laddoos.
Divide the mix into 4 or 5 portions as desired. Add different syrups.
Mix each portion properly.
Form Laddoos, filling rose petal jam in the centre. You can make without filling too.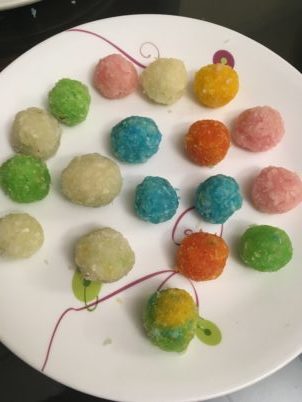 Roll in desiccated coconut.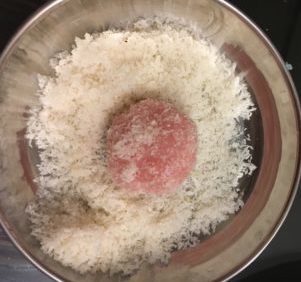 Chill in refrigerator.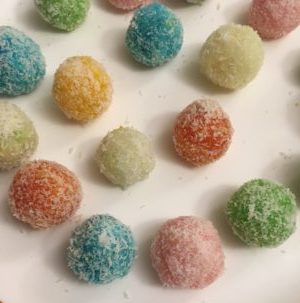 Serve with love...
If you like this recipe, join me on my Facebook page.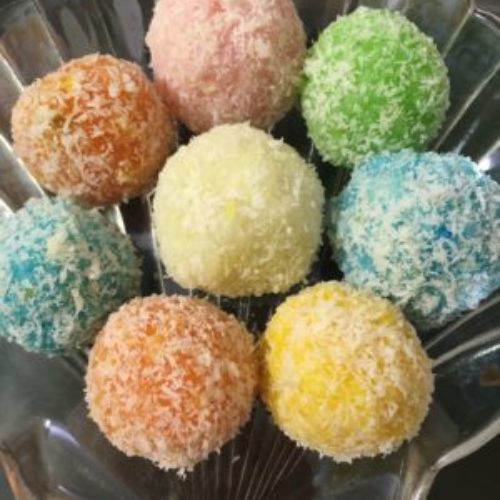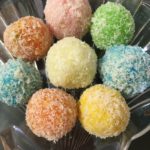 Coconut Laddoo Without Condensed Milk
These colourful and tasty Petha Coconut Laddoo with Magic Centre are the easiest, simplest, no-cook yet yummiest laddoos. Gets ready in a jiffy. 
Ingredients
1/2

Cup

My Cup Measures 250 ml

1/2

Cup

Dried Petha

Grated

1

Cup

+ 1/4 Cup Desiccated Coconut

1/2

tsp

Khus syrup

1/2

tsp

Saffron milk

1/2

Blue Curacao Syrup

1/2

tsp

Rose Syrup

1

Tbsp

Rose Petal Jam

(Gulkand)
Instructions
Mix grated petha and (1 Cup) desiccated coconut. See that you are able to bind this into a ball.If too wet, add little more desiccated coconut.

Divide it into three or more parts.

Add Rose syrup in one, khus in other, saffron milk in the third part, blue curacao syrup in the fourth and leave one part white only.

Mix separate syrups in each part.

Take little portion from any one part, flatten it and fill little gulkand ( rose petal jam ) and form laddoos (balls).

Roll in  (1/4 cup) desiccated coconut. Store and enjoy.
Stay Fit...Stay Healthy...
Samira