Papdi Pizza for easy tea time snacks, is an Indo-western fusion dish where Italian Pizza is made on Indian papdi. Call it Italian Sev Puri or Indian version of Italian Pizza.
It gets ready in a jiffy where Papdi is used as the Pizza base on which Pizza sauce, veggies and cheese are laid and baked.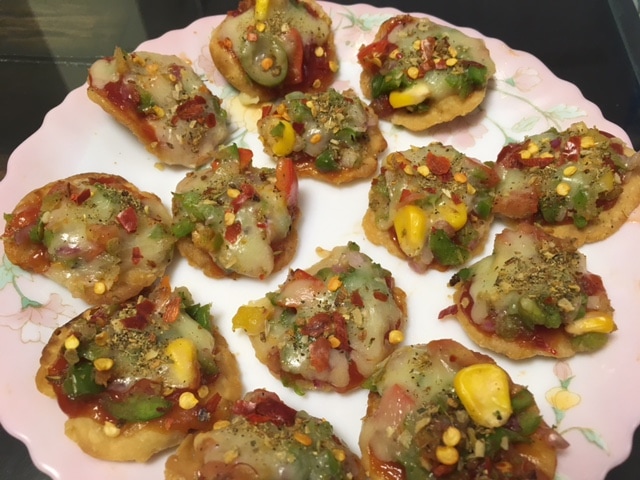 Papdi pizza is a wonderful starter for parties and a very good evening snack too. So, whether you have a kitty party at home or a high tea party this fusion finger food will be loved by all your guests, Indian or foreigners.
I made it for the first time long back. I think I read this recipe in some magazine and gave it a try. It was a big hit. I liked it too, more because its hassle free and really easy to make. Since then, I have made it a number of times and every time my guests have enjoyed it.
Recipe for novice cooks too
This recipe is also good for allthose who are still learning to cook or are not interested in cooking.
A few years back, my friend Reena's daughters decided to throw a surprise birthday party for her. Still learning to cook at that time, they arranged eatables from outside besides Frankies and Papdi pizza. So, even novice cooks can make it.Also good for people who don't like to do the cooking but still want something yummy.
Ingredients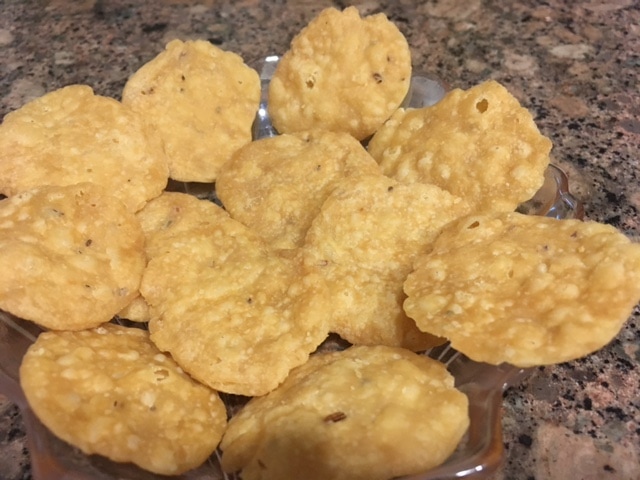 Papdi: This is the main ingredient for this recipe. You can make it on your own or go for readymade. I used store-bought ones. For those of you who have some confusion as to what it is exactly, so, it is the same Papdi that we use in Dahi Bhalla Chaat too.
You can replace Papdi with readymade Canapes too.
Pizza Sauce: All of us are well aware of this delicious sauce. Again, you can use readymade or homemade Pizza sauce. I used homemade.
Cheese: Yes, another important ingredient. Go for any Pizza cheese.
Veggies: You may use whatever veggies you wish to like onion, corns pepper, jalapenoes etc. You can even make it just with onion and capsicum.
Seasonings: Some oregano, chili flakes. You can avoid salt or use it very little as cheese is already salty.
How to Make
It is made exactly like pizza. The only difference is that we use Papdi instead of Pizza base.
So, first of all start preheating oven at 180 degrees C.
Take Papdi. Apply pizza sauce on it, put some finely chopped veggies, sprinkle cheese.
Keep it on the steel rack on the middle rack in the oven in and bake for 2 minutes in a preheated oven.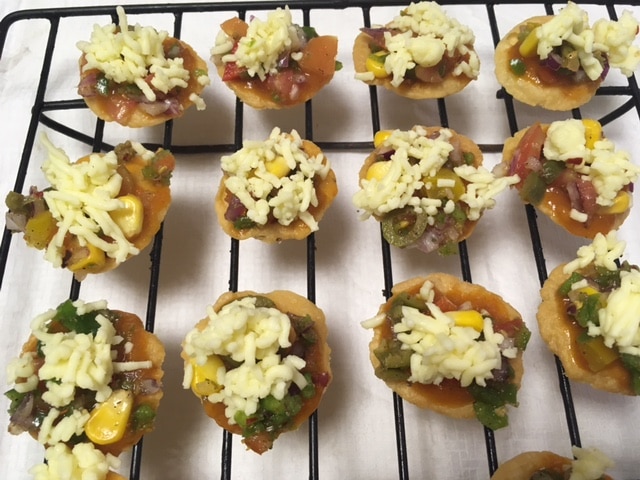 Yes, it takes hardly 2 minutes, as Papdi is already cooked and we just have to melt the cheese.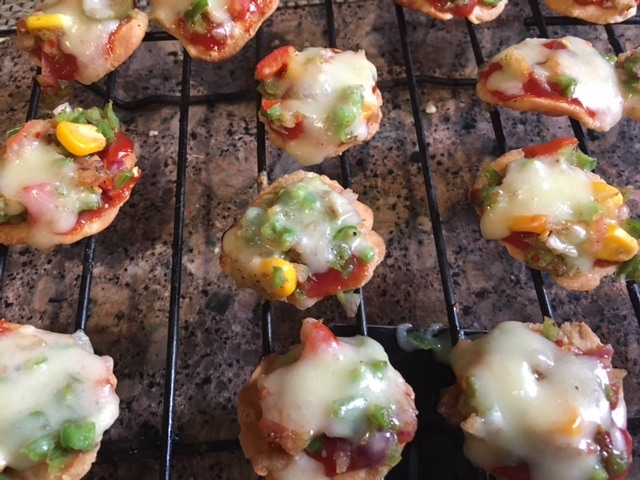 FAQs
Q) Can I make it ahead?
You can do all the preparations ahead of time and then bake at the time of serving only. For this,
Chop veggies, add salt, seasoning and pizza sauce and keep in the refrigerator in an airtight container.

Grate cheese, add a little salt to it, so that it does not stick, and keep in the refrigerator. 

At the time of serving, put veggies mix on Papdi, top with cheese and bake.
Q) What can I use instead of Papdi?
You can also use canapes in place of Papdi.
Q) How is it different from Pizza?
Pizza is a main course food whereas it is a finger food to go with your evening tea.
Pizza is a complete meal whereas it is a snack.
Pizza takes minimum 15  minutes to get ready, whereas it is ready in just 2 to 3 minutes.
Q) Is preheating of oven necessary?
No. But if the oven is preheated, it will take just 2 minutes otherwise it will take longer. So, while you start making this, let the oven get preheated simultaneosly and your job will be done quickly.
Related Recipes 
Some other easy tea time snacks that you would love to try are:
Let's Connect!
I hope you have liked this Easy tea time snack recipe of Papdi Pizza and will surely try it out for your loved ones. When you try it do share your pics on Instagram and do not forget to tag me @samirasrecipediary. I would love to see your pictures
Thank you for reading this post. If you have liked this recipe then do let me know by leaving a comment below. Your feedback fuels my enthusiasm. You may share this post with your dear ones by clicking on the little buttons below. You may follow me on  Facebook   Pinterest for latest recipe updates. Thank you!
Papdi Pizza Easy Tea Time Snacks
An Indo-western fusion dish where Italian Pizza is made on Indian Papdi.
12 pieces Papdi (dough wafers)
2 to 3 Tbsp Pizza Sauce
1/4 Cup Finely Chopped Veggies
1 Tbsp Corn Kernels (boiled)
3 to 4 Tbsp Pizza cheese (grated)
1/4 tsp or as per taste Salt
1/2 tsp + 1 tsp Seasoning (chilli flakes, oregano)
Preheat oven to 200 degrees Celsius for 10 minutes.
Chop veggies- onion, capsicum, bell peppers,  jalapeños, etc.
Add boiled corn kernels to the chopped veggies.
Mix salt and seasoning ( 1/2 tsp) in the chopped veggies.
Spread pizza sauce on each papdi. Can use tomato ketchup also.
Place some veggies on sauce on the papdi.
Put grated cheese on top.
Bake in the oven for 2 to 3 minutes or till cheese melts.
Garnish with seasoning ( 1 tsp )
Serve with love, mocktails optional.
Ready to go into Oven
You can use veggies as per your choice, like in a pizza.
Papdi is already cooked. Only cheese needs to get melt. It gets ready very quickly, so keep an eye on the OTG, gets ready in just 2 to 3 minutes.
Chop veggies very finely, as they need to be kept on papdi, which is small in size.
Veggies for this purpose are the best cut in the food processor. But of course, you can cut with a knife or in some chopper too.
You can use store bought papdi or can make these at home.