Jump to Recipe
No Cheese Bread Pizza? Yes, you read it correct! This Bread Pizza is without any cheese but nowhere you will miss the cheese. A very easy, healthy but still delicious recipe.
This Healthy Bread Pizza is perfect for having in Breakfast or as an anytime snack. Perfect, because it has loads of veggies, wheat flour and milk into it. Absolutely no junk. Neither mayonnaise nor pizza sauce is used in this recipe.
I have been making this bread pizza for many years now, ever since my sons were kids.  My children simply love this Bread Pizza. And so do I as it is really very simple to make and gets ready in a jiffy.
There is no cheese in it but nowhere you will feel so.
How To Make 
In this bread pizza, in a way you can say, the veggies are in the white sauce but without preparing the sauce first.
There is no cheese, veggies get coated with flour, so when milk is added it turns into a sauce-like consistency.
I have made it on white bread but you can go for multigrain or wheat bread as well.
So, agree with me or still have some doubts?
Well, all your doubts will melt away once you go through the recipe.
 

Step By Step Recipe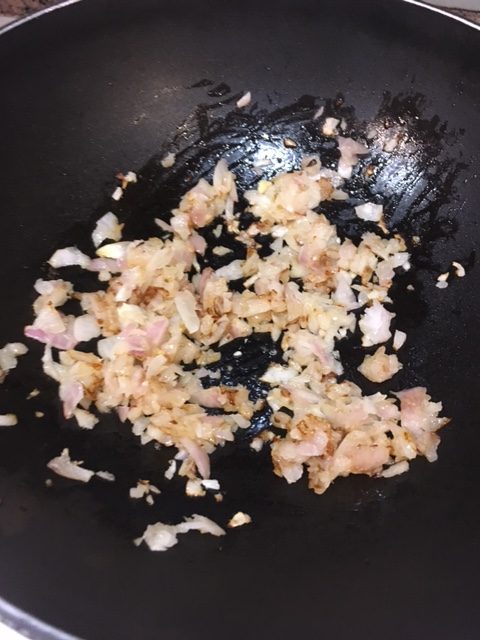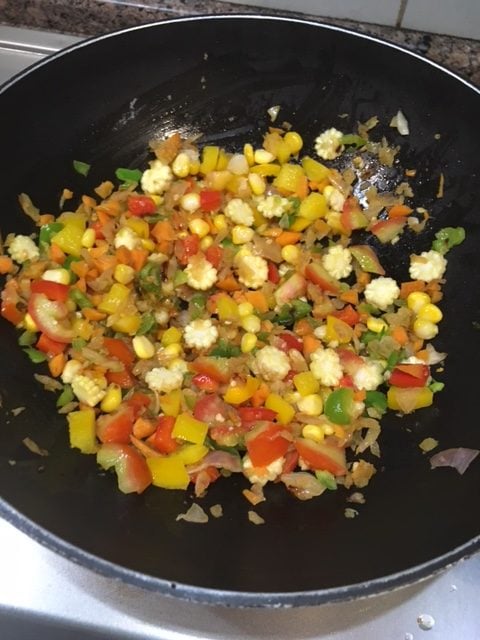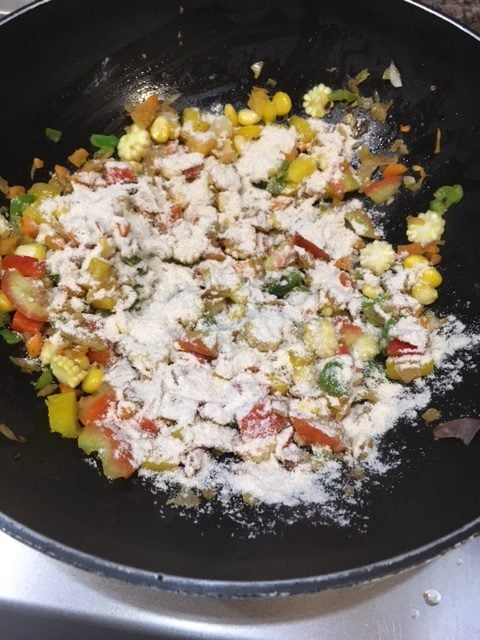 Toss for a minute, so that the rawness of the flour goes away.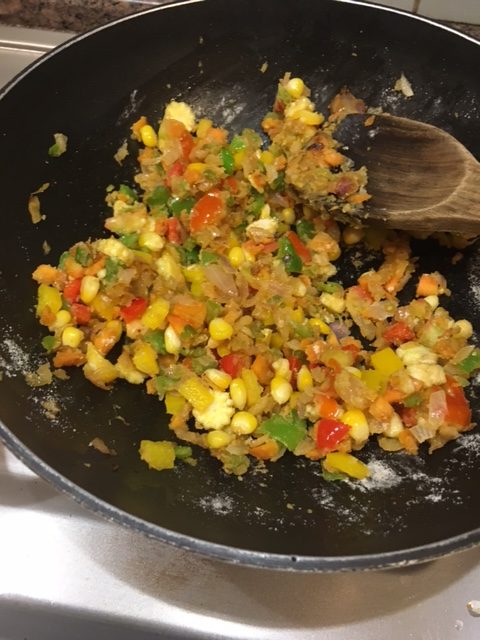 Add milk, stirring continuously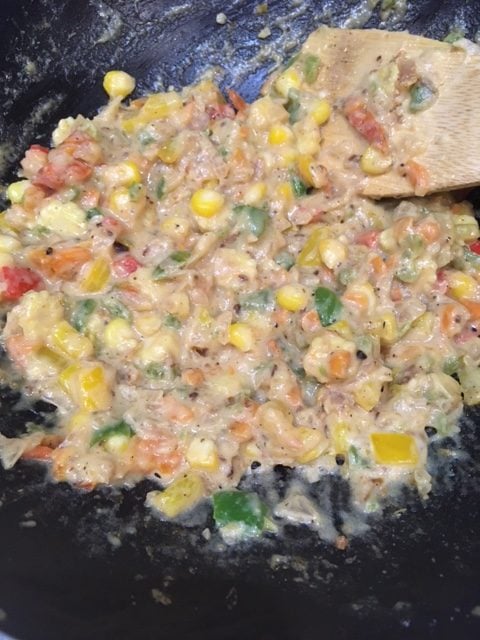 Add salt, seasonings and pizza sauce...
Spread it on bread slices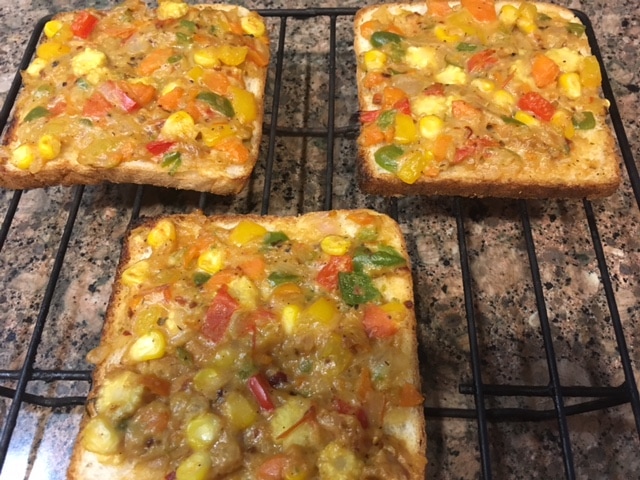 Bake at 180 for 3 to 4 minutes...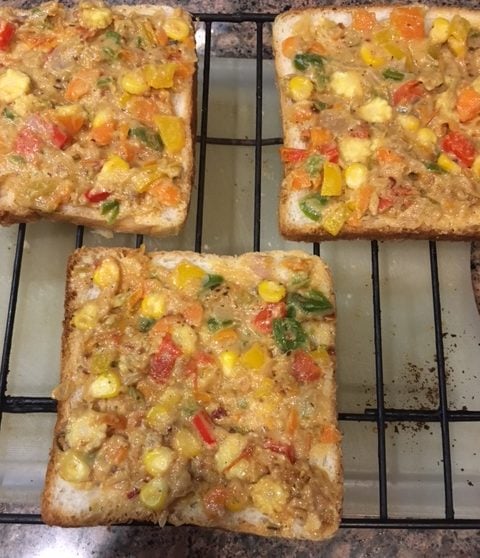 FAQs
Q) Instead of bread, can I put this mix on the pizza base for making Pizza?
Of course, you can!
Q) How to make this in an air fryer?
Preheat the air fryer at 180 degrees C for 3 minutes
Keep the bread pizza in the basket.
Bake for 5 to 7 minutes till cheese melts.
Q) Can I make it on Tawa?
Yes!
Preheat Tawa on a medium flame for 2 to 3 minutes.
Reduce the flame, grease it lightly.
Keep the bread pizza and cover it with a lid (better, if transparent)
Cook for 4 to 5 minutes till the base gets golden brown.
Q) I don't have to apply pizza sauce before keeping the vegetable mix?
There is no need of pizza sauce. However, if you want, you can apply a thin layer of it.
Related Recipes:
Let's Connect!
I hope you have liked easy recipe of healthy Bread pizza. I am sure you will definitely try it out for your loved ones. I would love to have your views regarding this.

Thank you for reading this post. If you have liked this recipe then do let me know by leaving a comment below. Your feedback fuels my enthusiasm. You may share this post with your dear ones by clicking on the little buttons below. You may follow me on   Facebook   Pinterest  Instagram(#samirasrecipediary) too. for latest recipe updates. Thank you!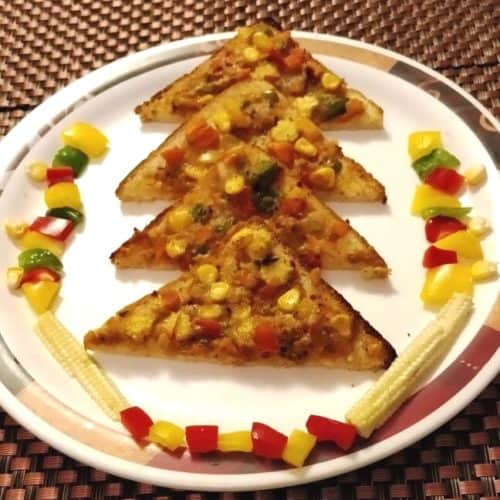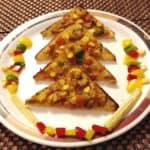 Bread Pizza Without Cheese
An easy, quick and healthy recipe of Bread Pizza without using any cheese.
Ingredients
6  

Bread Slices

1/4

Cup

Onions, Chopped

3/4

Cup

Mixed Vegetables (Capsicum, Carrot, Bell Peppers, Corns etc)

1

Tablespoon

Whole Wheat Flour (Atta)

3/4

Cup

Milk, at room temperature

1

teaspoon

 Oil

Salt to taste

1

teaspoon

Oregano

1

teaspoon

Chilli Flakes

1

Tablespoon

Pizza Sauce/Tomato Ketchup, Optional
Instructions
Take oil in a pan. Heat it, add onions and saute these for 2 to 3 minutes.

Add mixed veggies.

Saute on high flame for 3 to 4 minutes, tossing continuously.

Add flour, sprinkling over all the veggies.

Mix it nicely. Toss for a minute or so.

Veggies will be lightly coated with this flour.Keep tossing for few more seconds so that flour is cooked little and does not remain raw.

Now add milk stirring continuously.

Keep stirring till it gets a sauce like consistency. It will look like veggies in the white sauce.

Add salt, seasoning and pizza sauce.

Switch off the flame.

Spread this mix on bread slices and bake at 180 degrees for 3 to 4 minutes or till bread slices get golden brown.

Serve with love.
Recipe Notes
Use seasonal veggies and as per your preference.
The quantity of milk may vary from 1/2 cup to 1 cup.
In case, the sauce gets too thick then add little more milk and it will be fine.