Mind Boggling Aromatic Paan Shots- Made with Readymade Paan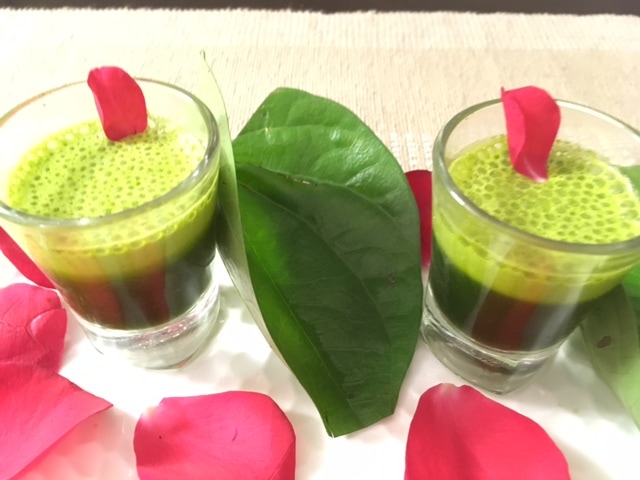 Paan needs no introduction.
A very refreshing betel leaf mouth freshener.
As you all know it is a very common practice in our culture to serve Paan after meals.
Paan after sumptuous meals is considered a delicacy also.... a sign of being a perfect host.
If had in moderation, Paan aids in digestion also and promotes oral health.
Paan is available in many varieties like plain, Banarsi, meetha. With time many more flavours have been added to it like chocolate paan, Rasmalai paan etc.
But my favourite is Meetha paan only though hubby likes Saada (Plain).
In fact, Meetha Paan is no less than a dessert, filled with rose petal jam (gulkand), cardamom, fennel seeds,  coconut flakes, glazed cherries etc.
But there are people who don't like chewing Paan for various reasons though like its flavour.
As Meetha Paan is slightly bigger in size, some even find it difficult to put it in the mouth in one go.
I know somebody, who eats Meetha Paan with a spoon.
So today, let's not eat Paan but drink Paan for a change.
Yes, Paan Shots... made with a fresh readymade Paan....truly amazing drink.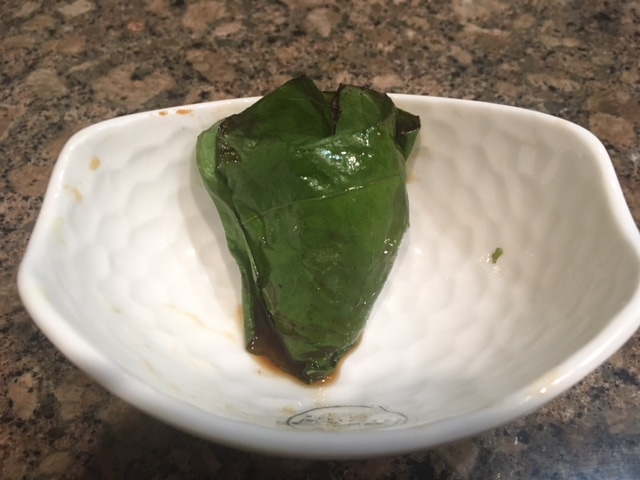 Many years back (around 7), my sister in law Reena Aggarwal told me about this recipe.
Sounded very interesting to me as it was the first time I had heard about something like this.
I immediately tried it and needless to say that it was a super hit.
Since then, almost all the parties at my home have this in the end and  I win loads of applause from my guests.
This paan Shot is very authentic in taste.
As if you are drinking a real paan.
For this reason, I prefer it as it is without ice cream.
Try it.... I am sure you will love it.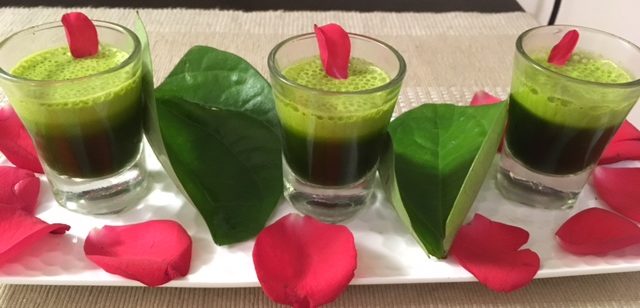 Preparation Time: 5 minutes
Cooking Time: Nil
Serves: 5-6 Shot Glasses
Ingredients
1 Pc  Meetha Paan (bought from the Paan shop)
1 Pc Mint candy (or mint essence)
3/4 Cup Chilled Water
2-3  Ice cubes
1-2 Drops Green Food Colour (optional)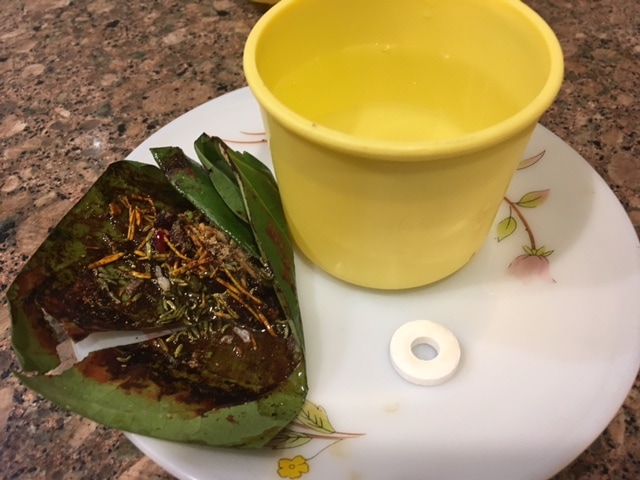 Method
Put Meetha Paan in the blender and blend it as fine as possible.
Add water, mint, ice cubes and green colour and churn again.
Pass the mixture through a strainer.
Serve as it is or Chill in Refrigerator.
In case you keep it in the refrigerator then run it in the blender for a second or two before serving.
Notes
Please bring readymade paan and not just the betel leaf.
For mint, I used Polo mouth freshener (as suggested by my dear sister in law)
If you like to chew a little bit of Paan then skip straining.
Again adding colour is also optional.
Its colour darkens because of the presence of lime and Catechu (Katthha).
If too dark the colour, you may add 2-3 tsp cold milk to it.
If possible ask your Paan Vendor to make Meetha Paan using Desi/ Maghai Betel leaf. Don't worry, he will understand.
Paan Shots Without Readymade Paan
In case, there is no paan shop in your area, then make it with betel leaves.
Ingredients
3-4  Betel Leaves
2 Tbsp Rose Petal Jam (Gulkand)
1 Tsp Fennel Seeds ( Saunf)
1/4 Tsp Green Cardamom Powder
1/4 Tsp Liquorice Powder (Mulethi)
1 Tsp Tutti Fruiti
1/2 Desiccated Coconut
2 Pc Mint Candy/ 1/4 tsp Mint Essence
4-5 Drops Green Food Colour
1 Cup Chilled Water
3-4 Ice cubes
Method
Roughly tear/chop betel leaves.
Put all the ingredients along with chopped betel leaves in the blender.
Run the blender for 2-3 minutes or till everything gets nicely blended.
Strain it.
Serve immediately or Chill in refrigerator for later use.
In case you keep it in the refrigerator then run it in the blender for a second or two before serving.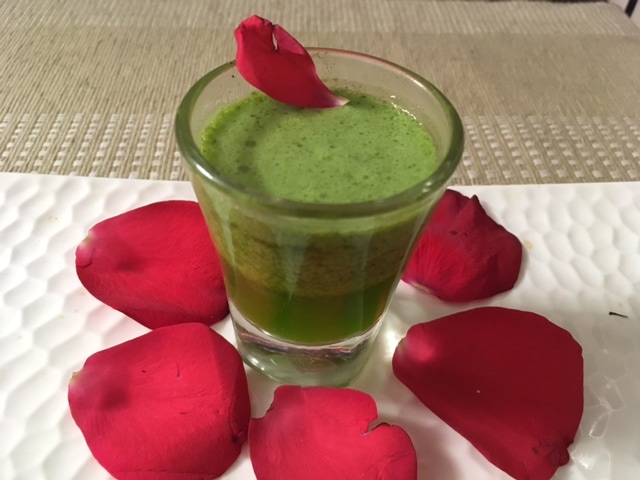 Notes
If made with betel leaves, it retains its colour and doesn't get darkened.
If you like to chew a little bit of Paan then skip straining.
 As you can see, I did not strain this one.
Related Recipes  Amla Beet Mouth freshener  Strawberry Virgin Mojito
Please share your comments and feedback.
You can leave your comments here in the comments section below.
If you like this recipe, please follow me on my facebook page for more tips and tricks.
Thanks
Samira