Cappuccino Coffee Recipe without coffee-maker or using any muscle power, that too in just a few minutes is going to be your favorite recipe once you go through this post.
A hot frothy cup of coffee in winters and a glass of frothy cold coffee in summers is enough to set you for the day especially if you are a coffee lover like me.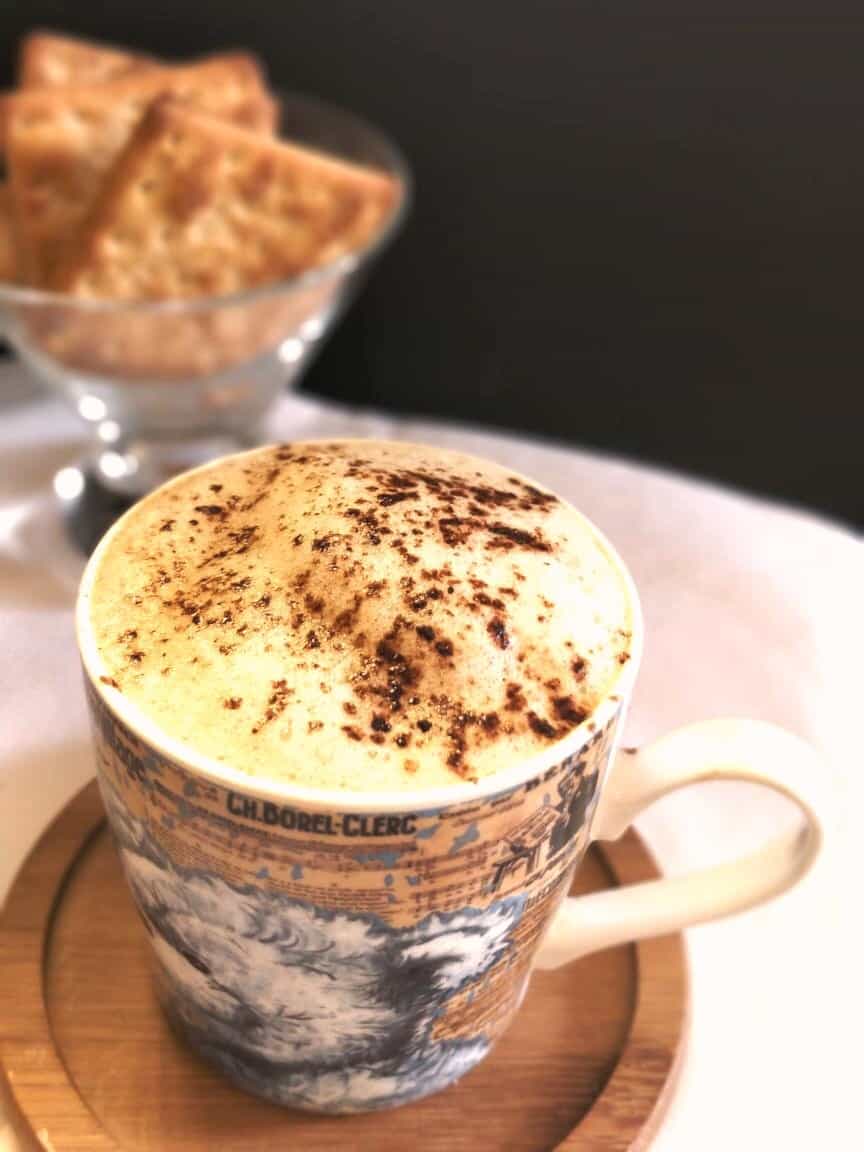 And, how about having a creamy-frothy- foamy Cappuccino getting ready in a couple of minutes that too without using any muscle power to beat for hours or spending on the fancy coffee maker? And that too with toned milk? How? Let's see…
Also, if you love coffee then you will also love this Eggless Tiramisu as well as Dalgona Coffee Cake recipes too.
Remember?  Beating the coffee powder in a glass with a spoon, minimum of 15 to 20 minutes (or more) till it changed color and turned almost white?  Looking for someone who could do this job for you…How tiring and boring it used to be.
But not anymore. Now, to make a rich, creamy, frothy n foamy cappuccino coffee you need only a mixer grinder which I am sure, is already there in your kitchen. The Colour of the coffee still changes to white but in seconds and that too in the mixie jar. I will share the method in detail with you but before that want to share something with you. Please spare a few minutes and read the following.
My Story Of Making Frothy Cappuccino Coffee At Home
(Long But Interesting) 
Reading a recipe, trying it out, and not getting satisfactory results is common. But what to say, when the dish is being made right in front of you, you have the full proof recipe, you have somebody to answer all your queries but still… when you try it yourself the outcome is not great.
Exactly this happened to me (and many others) when I tried this exotic cappuccino recipe in my kitchen.
Thanksgiving
This recipe is from my dear sister-in-law, Vandana Gupta. Every time I go to her place, this coffee is something must-have. Frothy espresso coffee, that too without any beating for long. She beats the coffee powder in the mixie jar and within seconds, frothy coffee gets ready. Calling it 'Vandana's Special' won't be a folly. She herself makes it and that too me being there chatting with her.
Long back, she freely shared her recipe for coffee with me. She also gave the tip as to when the coffee mix should be added to the milk, something very important.
My Failed Attempts
When I made it in my kitchen, the results varied. Sometimes it was excellent whereas at times it was not so good (especially in front of guests). I couldn't understand the reason and bugged her again. Then on discussion, another thing came up which was the quantity of water. Perhaps, I was using much more water than required. I rectified that also but the results were even then erratic.
Curiosity to Crack the Recipe
Now I was getting really upset. It seemed to be some kind of magic that took place only in Vandana's kitchen. I inquired if she was using full cream milk but no, she used toned milk only. I confirmed as to how long should I run the mixer. As I thought probably I mixed it either shortly (foam not setting up) or for too long (killing the foam). But that was not relevant at all. So, where was the loop? What was I missing?  She explained to me again n again, tried to resolve my queries but in vain.
Unveiling The Mystery
And when you trust somebody then there is no question of any doubt also. Frustrated with my not-so-good coffee, once when I visited her place, I offered to make coffee myself, hoping to unveil the mystery. And yes, of course under her guidance, not only I  made the classic frothy espresso coffee using the mixie jar only but also understood my loop point. The point was the size of the jar.  So, when I used the right-sized jar then it came out fine otherwise not.
Now, the coffee magic is created in my kitchen also, not at times but each and every time. So, I decided to share it with you all. Thanks for patiently reading my long mystery story.
How To Make

 
Homemade cappuccino is actually a very simple recipe.
You proceed with your usual recipe of coffee but instead of beating coffee powder manually, you do this in a mixie jar.
This not only saves time but actually gives much better results.
When you run the mixer just for 10 to 12 seconds, you will yourself see the coffee-sugar-water mix getting frothy and getting more than double in volume.
This frothy mix when added to the boiling milk, makes the whole thing creamy, frothy, and foamy.
 Tips For The Perfect Cafe-style Outcome
Take a very little quantity of water,  1/4 cup for 2 cups coffee.
Add the coffee-water-sugar mix in the milk when the milk gets boiled fully and is rising upwards in the vessel.
Beat the coffee-water sugar in the right-sized mixie jar. And since blenders are usually large therefore use grinders that are small in size.
Step By Step Recipe
Put the milk to a boil.
Take water, coffee powder, and sugar in the mixie jar.
Run it for 10 to 12 seconds. This is what it will look like.
When boiling milk almost touches the rim, pour this coffee mix into it.
Simmer for few seconds. When the boil comes, switch off the gas.
Creamy frothy coffee is ready to be served.
Sprinkle a little hot chocolate powder on top.
Serve with love, crackers optional.
Must Read: How To Make Cold Coffee Frothy
FAQs
Q) Can I make it without sugar?
Yes. Simply, omit the sugar and proceed as it is with the recipe. (Check testimonials below.)
Q) My mixer grinder is not working. Can't I make this coffee then?
No worries, you still can! Instead of a grinder or blender jar, take the coffee-water mix in a jar that has a lid. Shake the jar vigorously and you will have a frothy mix that can be added to boiling milk.
Q) Espresso Vs Cappuccino
Yes, these two types of coffee are totally different from each other. Which one do you like? If you ask me, then of course, I love Cappuccino and just can't have Espresso. Read below and you will come to know the reason of my like and dislike.
Let's take a quick look at how Espresso and Cappuccino are different from each other. Yes, they both are famous forms of coffee originating from Italy, the land of Pasta and Pizzas and the similarity ends here. Besides this, they differ in taste, smell, and looks too.
Espresso is pure coffee with dark or light brown color. Whereas Cappuccino is layered with frothy milk or cream.
Espresso is served in small and short glasses whereas Cappuccino is served in huge cups.
Espresso is a type of black coffee and is slightly bitter in taste. You need to have a taste of Espresso otherwise you cant have it. Whereas Cappuccino is creamier and has a mild flavor of the coffee.
Read more about the differences here.
Let's Connect
I hope you have liked this method as well as the recipe of Cappuccino recipe and will surely try it out for your loved ones.
Thank you for reading this post. If you have liked this recipe then do let me know by leaving a comment below. Your feedback fuels my enthusiasm. You may share this post with your dear ones by clicking on the little buttons below. You may follow me on  Facebook   Pinterest  Instagram for the latest recipe updates. Thank you!
Cappuccino Coffee recipe
Gets ready in a jiffy without beating for hours or buying a coffee maker.
Ingredients  
3

Cup

Milk

1/2

Cup

Water

2

tsp

Or As Per Taste Instant Coffee Powder

4

tsp

Sugar

Chocolate Powder To Sprinkle On Top
Instructions 
Put milk to boil in a big vessel.

Take water, coffee powder and sugar in the small mixie jar.Run the mixer for 10 to 12 seconds on medium speed.

Now you will have foamy liquid in the grinder.

When the milk boils, starts rising upwards and is nearing the rim of the vessel, only then add the coffee-water mix to it.

Simmer it for a minute or so, and when the boil comes again, your frothy espresso coffee is ready.

Pour it into coffee mugs and sprinkle some chocolate powder.

Serve with love, crackers optional.
Notes
Use the quantity of sugar and coffee powder according to your taste buds.
It foams up a lot. So, take less milk only. Like, I have taken 3 Cups milk plus 1/2 cup water for 4 cups of coffee.
You may use toned milk or full cream milk, whichever you prefer. I use toned milk, that too which is kept in the refrigerator and having removed the cream layer. So basically, double toned only.
Remember to add little water only, about 1/4 cup water for 2 cups of coffee.
Add sugar along with coffee only. Do not add it directly to milk.
You can make it without sugar also.
Add coffee-sugar-water mix into the milk, only when the boiling milk is near the rim of the vessel.
Take the small size jar of mixie only. Take large size jar (blender) only when making more than 6 cups coffee.
You may PIN this Cappuccino Recipe and save to try later:
Testimonials
By Meenakshi Verma
By Satinder Wadhwa