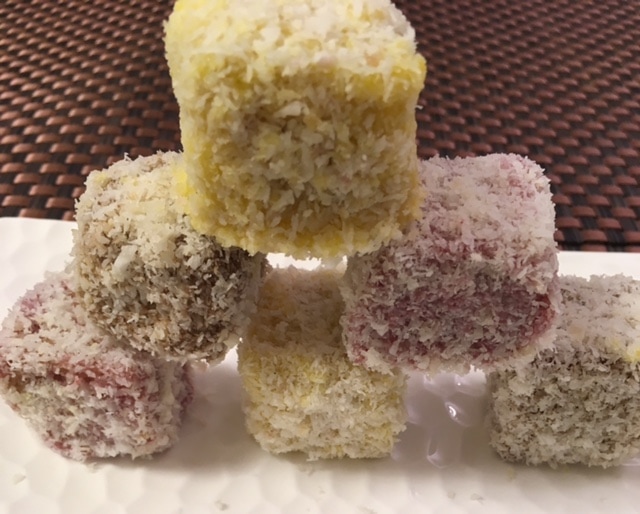 Jump to Recipe

Lamingtons... a very popular dessert in Australia. Aussies call it Lamingtons but we like to call these Coconut Cake Delights.
Hold on... this cake is not made of coconut. Then? Wait for some more time till the mystery unfolds.
A wonderful dessert, very easy to make.
The credit for this recipe goes to Barry C. Parsons. To be honest, I didn't know about Lamingtons until I saw Lamingtons made by him. Though I  followed the method described by him on his website Rock Recipes.com for making these but followed my own recipe for the cake. I used eggless wheat cake for making these Lamingtons.
If you want you can check the cake recipe here, omitting tooti frooti from the recipe.
Also, instead of jello, I used simple fruit sauces for dipping cake pieces.
You can use any cake, eggless or with eggs, homemade or store bought. What is needed is a vanilla sponge cake.
If you do not want to bake the cake yourself, no worries just go and grab one from the local bakery.
The cake is cut into square pieces. Then it is dipped in any coulis of your choice and finally rolled in shredded coconut.
While having a bite of these we were confused as to if it was a cake or some coconut sweet or what?
I made it in 3 flavours, strawberry, mango and chocolate.
Strawberries, yes, as I preserved these when in season and I still have these in my freezer. How to store Strawberries? Check here.
You can make your own cake or use a store-bought cake.  Whichever cake you use, cut it into square pieces.
Now comes a very important tip. And the tip is that before dipping cake pieces in fruit sauce/jam, you must put it in the freezer for some time. This is to ensure that the cake piece doesn't crumble while dipping in the sauce. If they are slightly frozen, it becomes easy to dip these in sauce and then roll in coconut.
Don't worry, they will soon become soft and spongy once out of the freezer.
I made all the 3 flavours together as I had to gift these.
You can make anyone or more as per your convenience.
Also, I have made these bite-sized, though actually, they should be slightly bigger in size.
Another important thing is the rolling part. Desiccated/shredded coconut gets moist very soon while rolling cake pieces because of the sauce and you might end up wasting a lot of it, as it looks good only when dry. For this, I have tried to explain my method through pics below. Please go through it once before you start making.
So, let's see the recipe of Lamingtons in detail.
But before that just a minute… let's talk about social media. If you like this recipe then do join me on my Facebook page to know about my latest recipes. Also, you can Pin it for later if not willing to try later on. And last but not the least, if you try it out then share your feedback through comments or on Instagram by using hashtag #samirasrecipediary. Your feedback fuels my enthusiasm to post more good content.
Your one comment can make my day so please be generous with your comments.
Related Recipes  Instant Coconut Laddoos  
Basic Eggless Sponge Cake In Pressure Cooker
Detailed Recipe Of Lamingtons With Step By Step Pics
Take a Vanilla sponge cake. Cut it into square pieces.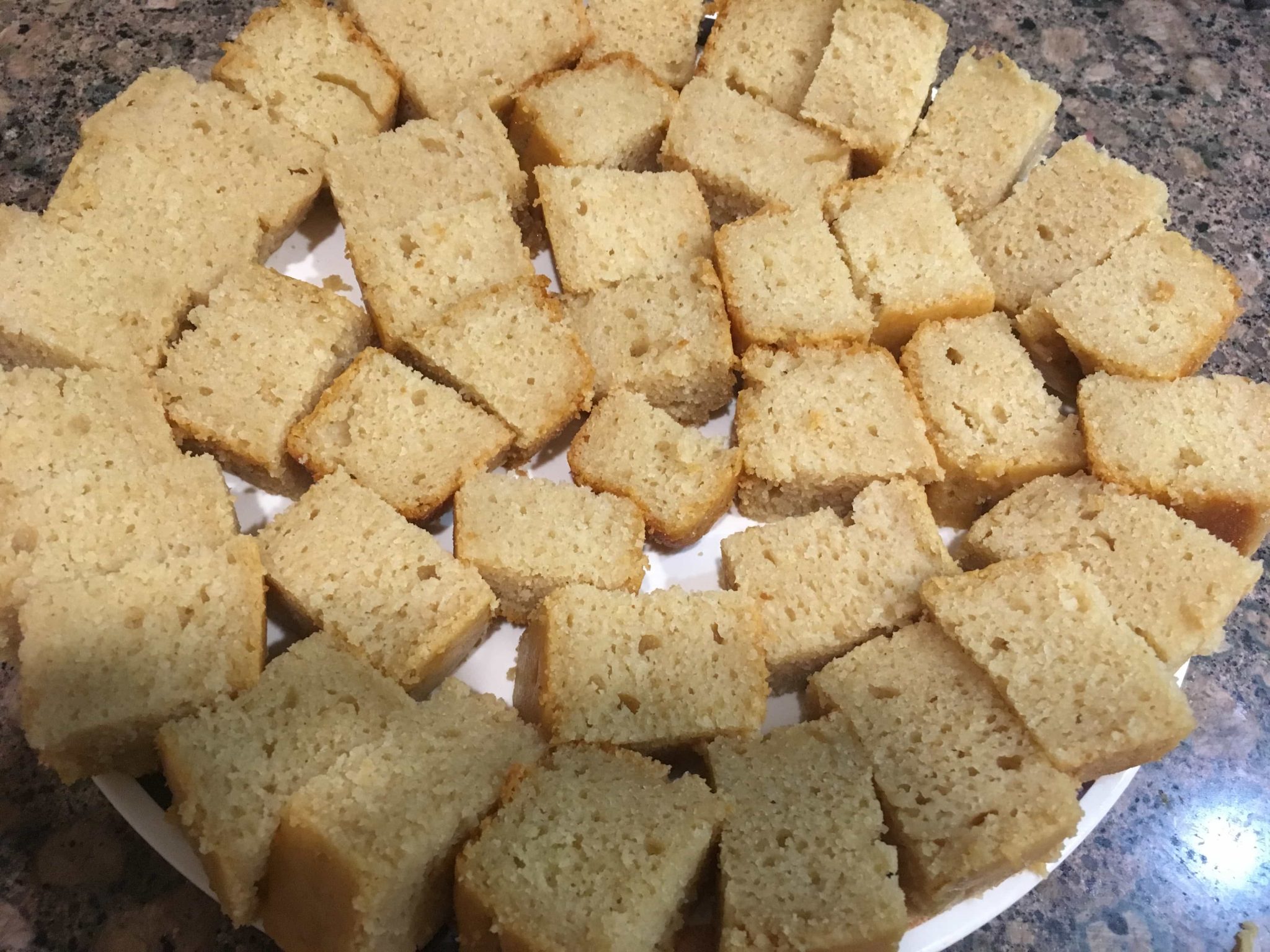 Keep these pieces in the freezer for 2 to 3 hours.
Prepare sauces.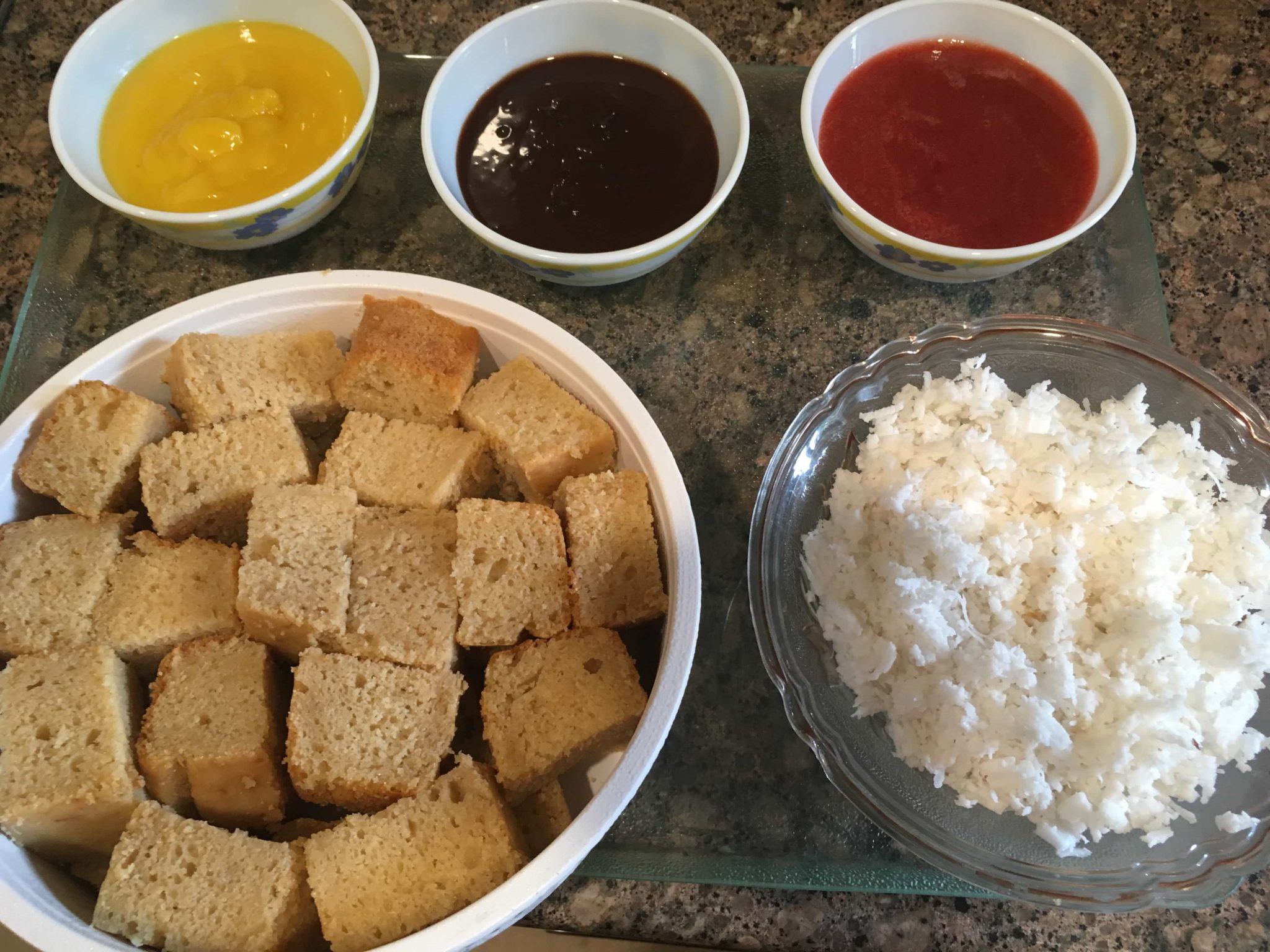 Dip the cake pieces in the sauce of your choice and keep these aside.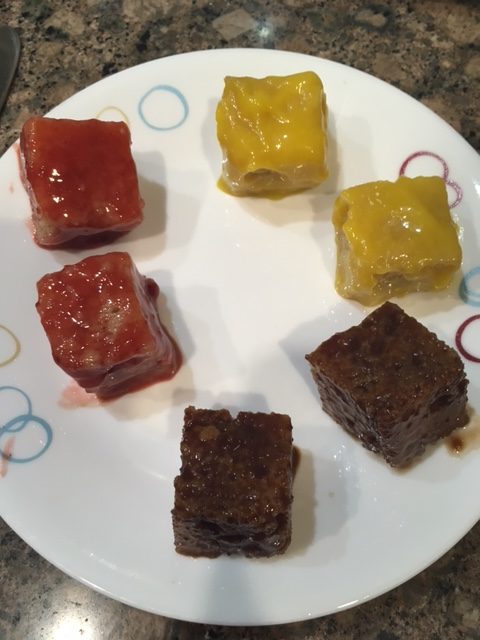 Take desiccated coconut in a plate. Take little at a time.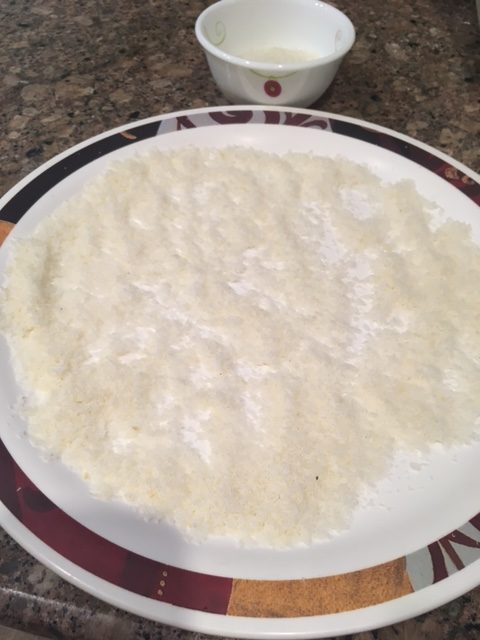 Put them in desiccated coconut, put some desiccated coconut all around and roll gently.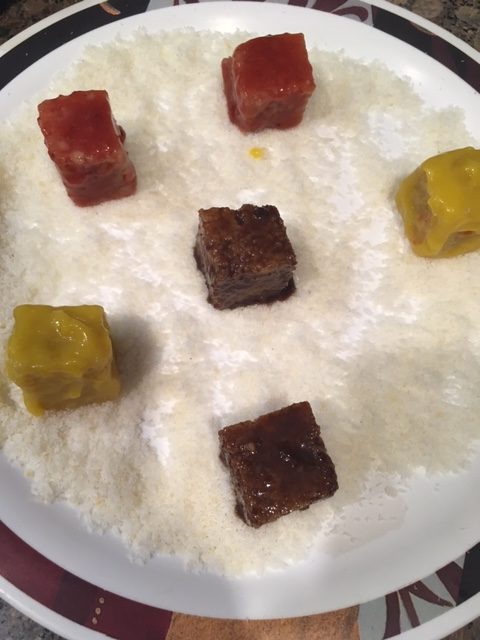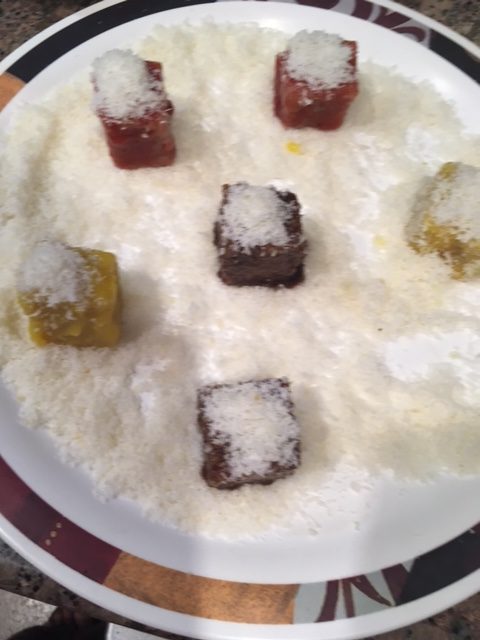 Put the coconut coated lamingtons on parchment paper in a plate/tray.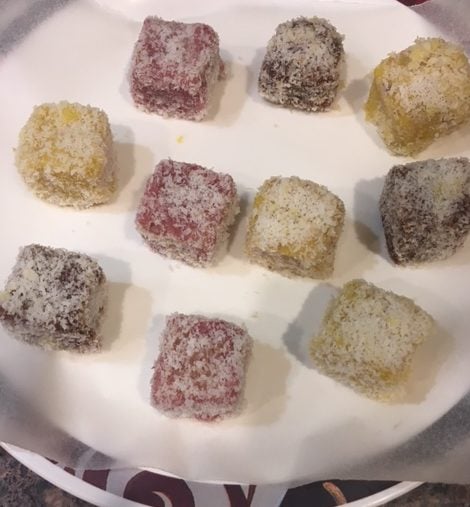 Keep these in the refrigerator for some time.
Serve with love.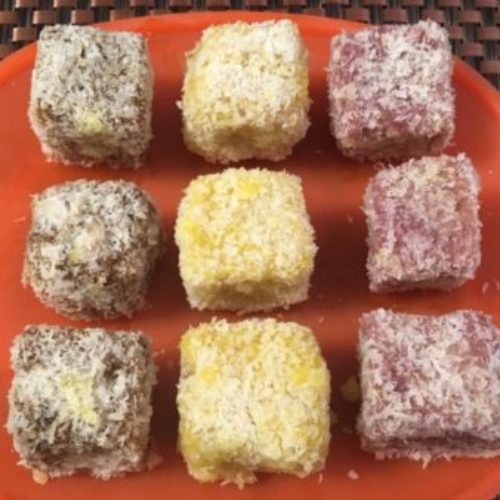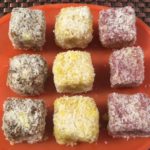 Lamingtons
Call it Lamingtons or Coconut Cake Squares, these are pretty awesome. You can bake your own cake or get it from the store.
Ingredients
1  

Vanilla Sponge Cake

preferably square shaped

1/4

Cup

Strawberry Sauce1

1/4

Cup

Mango Sauce

1/4

Cup

Chocolate Sauce

1 Cup

Shredded/Desiccated Coconut
Instructions
Cut vanilla sponge cake into square pieces. Put these pieces in the freezer for a few hours, around 2 to 3 hours so that they harden up then.

In the meantime prepare the sauces, chocolate sauce, mango sauce and strawberry sauce. Let the sauces be at room temperature. If using store bought sauces then omit this step.

Now take out cake pieces from the freezer.

Dip the pieces in sauce and roll it in desiccated/shredded coconut.

Put these on parchment paper.

Make all the lamingtons like this, dipping in the sauce of your preference.

Keep these in the refrigerator for some time as they taste superb when chilled. Serve with love.
Recipe Notes
Notes
If you are baking your own cake for making lamingtons then bake in a square baking tin, preferably,  as it will be easy to cut squares from it. If round in shape, then you will end up wasting a lot of it.
As mentioned earlier do not forget to put the cake pieces in the freezer for a few hours. Otherwise, they may crumble while being dipped in the sauce.
You can roll these in shredded or desiccated coconut as per your choice.
You can use ready-made sauces also but I used homemade.
For mango sauce, just puree mango pieces with some sugar. Add a little milk, if too thick. Give it a boil and that's it.
For the other two sauces, you may read here... chocolate sauce, strawberry coulis.
One tip, dip 5-6 pieces in sauce first, keep them separately then start rolling in coconut.
I am sure you will try out these easy recipe for your loved ones.
Happy Baking….
Samira