Filled with the aroma of whole spices, Kala Chana soup is perfect for chilly days. As it is rich in Vitamin C, it is very good for treating cold and cough also.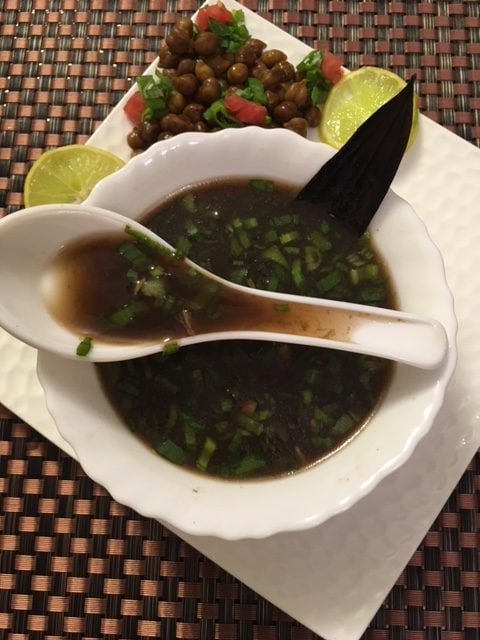 We are fond of clear soups and this Black gram soup is one such soup. Whenever I boil  Kala Chana, it has become somewhat mandatory to make this soup also.
Related recipes  
Benefits Of Kala Chana
Black Bengal gram comes in the category of superfoods. Two to three tablespoons of these legumes are equivalent to one portion of the daily recommended five portions of fruits and vegetables.
Because of its nutrients, its benefits are also innumerable.
Good source of Protein, Dietary Fibre, Vitamin C, Iron and Calcium.
Aids in weight loss.
Lowers cholesterol and blood sugar levels.
Good for the heart, digestive system, skin and hair.
Prevents osteoporosis.
Reduces hot flushes after menopause.
Its low Glycemic Index makes it a healthy choice for diabetic patients.
It raises your energy levels instantly.
Being rich in calcium it is very good for bones.
The list goes on and on. To read the benefits of Black Bengal Gram in detail, click here.
How I Started Making This Soup?
A few years back when my husband fractured his ankle then we were advised to give him chicken soup and a lot of black Chana. Being a vegetarian myself, chicken soup was made by a very dear neighbour cum friend of mine but I prepared this black beauty soup twice to thrice in a week. Actually when you consume Kala Chana then what to do with its water? Also, one cannot eat much of kala chana at a time but you can easily drink its soup. It is at that time I started preparing this soup. But was liked so much by everyone that even now I make it very regularly, especially in winters.
How To Make Kala Chana Soup
Making Kala Chana soup is very easy. It is made with the water in which these legumes are boiled.
So, whenever you boil kala chana, you can make this soup, no additional effort required.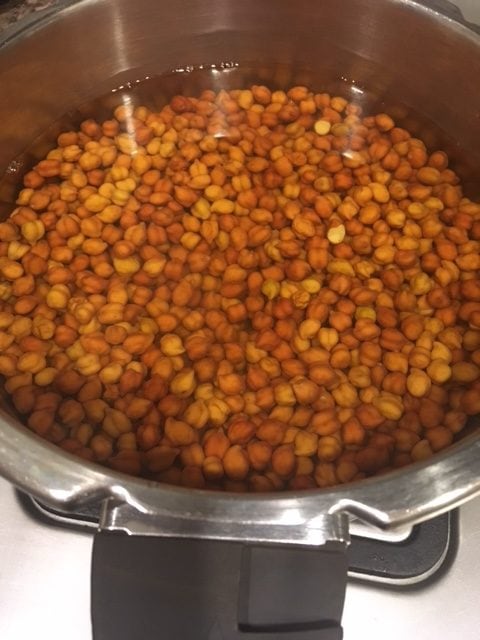 After boiling Kala Chana, use the lentils the way you want but reserve the water in which these are boiled. This water is super nutritious.
It is this water which is turned into the soup after flavouring it with whole spices.
Once you have the boiled water then it just takes 5 to 7 minutes to get ready.
At the time of serving, add lemon juice and spring onion greens which gives a fantastic crunch to this soup.
Use the boiled Kala Chana for making Salad.
1 cup (250 g) of Kala Chana gives about 4 to 5 servings of soup. This is just a rough approximation. You can add water to it as per your liking.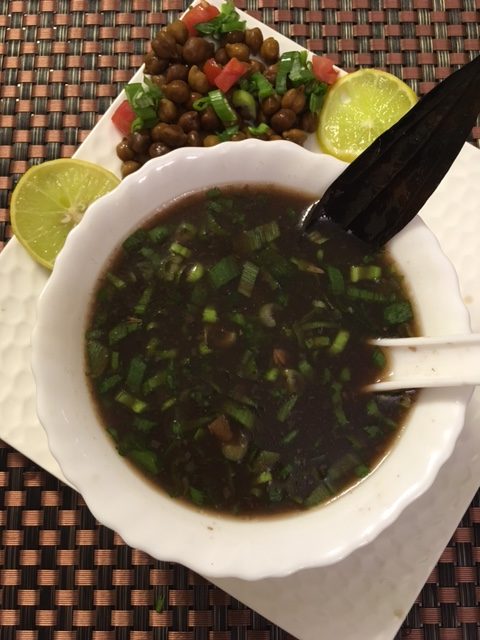 Tip
I also like to add some finely chopped spring onion leaves to it which gives a very good crunchy tinge to this soup.
Recipe Card Of Kala Chana Soup
Black Gram Soup
A spicy, protein-rich soup to warm up you in chilly days. Being rich in vitamin C, this soup is also an excellent remedy for cold and cough.
1 Cup 250 g  Kala Chana (Bengal Gram)
Salt to taste
1/2 tsp  Oil
1/2 tsp Cumin Seeds
1 pc Bayleaf
1/4 "  Cinnamon stick
2 Peppercorns
2 Cloves Garlic (crushed)
1 tsp Grated/minced Ginger
1 Tbsp Spring Onion (finely chopped)
1/4 Cup Spring Onion Greens (finely chopped (for garnishing))
1 Tbsp or as per taste Lemon Juice
Soak Kala Chana for at least 4 to 6 hours or overnight.

Boil these in a pressure cooker in approximately 4 cups water.

After boiling, drain the liquid. Use boiled Kala Chana for making salad or veggie.

Add more water to this to make it 4 or 5 cups.
Heat oil in a vessel, crackle cumin seeds, saute garlic and onion until light brown.
Add bay leaf, cinnamon, peppercorns and minced or grated ginger.

Cook for 15 to 20 seconds. Add the water in which Kala Chana were boiled.

Take 1 tablespoon of boiled kala chana, crush it with a spoon or in mixie and add this to the soup.

Add salt as per taste. Boil for 4 to 5 minutes so that flavours infuse into the water properly.

At the time of serving, add lemon juice and onion greens.
Serve with love.
Garlic and onion are optional. Many times, I make this soup just with the whole spices without adding onion/garlic.
Alternatively, whole spices and salt can be added at the time of boiling only. Then add this water to sauteed ginger garlic and onion, give 2 or 3 boils and its ready.
Do not skip lemon juice by any chance. It gives excellent flavour to this soup.
Adding crushed kala chana to the soup is optional.
Try making this soup whenever you boil kala chana for salad etc.
I hope you have liked this recipe of Kala Chana Soup and will surely give it a try.
If you like this recipe then do not forget to share your feedback in the comments below. Your feedback fuels my enthusiasm to post more good content.
Let's connect on        Facebook          Pinterest     Instagram (#samirasrecipediary) too.
Stay Fit… Stay Healthy…
Happy Feedbacks!