Making French fries in the air fryer is easy, hassle-free and gives perfect crispy fries, that too guilt-free.
If you were avoiding French fries because they were deep-fried and are full of calories then this post is for you. If you were avoiding French fries as it involved a very lengthy process of soaking, frying and refrying then this post is for you.
Unlike deep-fried ones, these are neither soaked nor tossed in cornflour. Just chop and air fry.
Check my other Air fryer recipes here.
Right from kiddos to elderlies everyone loves these potato fries. I have yet to meet a person who doesn't like french fries. It is one dish where you can't stop having little. Once you start having it you want more n more. But still, you force yourself to restrict eating it. The reason? of course oil.
Though an all-time favourite but it is true that it tops the list of junk food. The otherwise healthy potato turns spoilt brat as soon as it jumps into the oil. Once fried they absorb a lot of oil and are thus unhealthy. Definitely, you don't want to eat this calorie-rich food and thus you give up eating it.
How nice it would have been if they were not fried? I think we all wish the same and yearn to have french fries, the healthy way.
Why I Avoided Making French Fries?
Apart from the fact that the French fries are fried, earlier I didn't like to make these as making fries is a lengthy process by soaking the cut potatoes in salted water to remove starch otherwise they would get soggy. Then, they need to be dusted with cornflour so that gets crispy. It really used to be a hell of a job.
Is Potato Unhealthy?
Potato, in itself, is a healthy vegetable. It offers a variety of vitamins and minerals and is, in fact, good for us. It is rich in Vitamin B6, Vitamin C, Iron, and potassium. But the problem occurs when they jump into the oil and become French fries. This frying shoots up not only calories but also increases its fat and sodium content.
What about if we can do away with this deep frying part without compromising on the taste and crispiness? The air fryer does exactly that. So, if you were avoiding French fries just because they are fried then go ahead and take your share. You can read more about the benefits of potatoes here.
Air Fryer Made it Easy
But with Airfryer things have changed totally. It is so easy now to make French fries. Just peel-cut-toss-air fry. Yes, only these 4 steps and you have a bowl full of crispy fries which do not get soft or soggy even after a while.  French fries in air fryer means:
No Soaking in salted water
No Dusting in cornflour
No oil
Not unhealthy
Not soggy
Also, the texture of air-fried french fries is very similar to that of fried ones. They are not dried out likes the ones which are made in Otg. They look very much like deep-fried French fries only.
You can season your french fries as per your liking. Though we prefer the simple salted ones but you can flavour these with herbs like rosemary, thyme etc or garlic powder or fenugreek leaves etc.
So now you can have french fries without carrying any guilt. But of course, as they say, excess of anything is bad and is true for these also. Have your healthy french fries but in control.
Whether to soak cut potatoes or not?
Soaking is not necessary. After reading here that we can straight away air fry the potatoes after chopping, I gave it a try and the results were pretty good. In fact, I have tried both methods and the difference is negligible. So, if you want to chop potatoes in advance, for whatever reason, then soak them in salted water otherwise put them in air fryer straight away after chopping. If you soak the cut potatoes in water then lightly pat them in a dry towel and then air fry. However, this is true only when you air fry your french fries. If you plan to deep fry then soaking is a must.
So, now let's see the method of making French fries in the air fryer in detail. I have kept the method very simple here with the seasoning of just salt and pepper. You can add various herbs or flavourings as per your choice. I use the Phillips Air Fryer for cooking.
Tips For Perfect Outcome
Take care that there is no water in the potatoes. If there is then pat dry with a kitchen towel or napkin. If you soak cut potatoes then let the water drain out completely, pat dry and then drizzle oil.
Toss them in oil.
Cut thin strips of potatoes. If they are too thick then they will take long time in air frying and also will not be crisp
Step By Step Recipe
Take potatoes sticks in a bowl. Drizzle oil and salt.Toss
Put these in the air fryer basket.
Toss after 5 minutes. Repeat tossing once or twice more.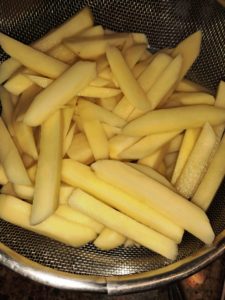 When done as per your liking then take out. Serve with love, tomato ketchup optional.
FAQs
Q) Can I make Potato wedges with this recipe?
Yes. Cut the potatoes in the shape of wedges and season with herbs.
LET'S CONNECT
I hope you have liked this method of making French Fries in air fryer and will surely try it out for your loved ones. I will be happy if you share your creations on Instagram and tag me #samirasrecipediary there.

Thank you for reading this post. If you have liked this recipe then do let me know by leaving a comment below. Your feedback fuels my enthusiasm. You may share this post with your dear ones by clicking on the little buttons below. You may follow me on  Facebook  Pinteresttoo. for latest recipe updates. Thank you!
French Fries in Air Fryer
Ingredients
4 Pc

(250 g)

Medium Sized Potatoes

1/2

Teaspoon

Olive Oil

Salt to taste

Pepper to taste
Instructions
Wash potatoes, pat dry. Peel them and cut into sticks. I used my french fries cutter. In case you do not have this cutter then first cut thick slices and then cut the slices into sticks. Try to keep the sticks of more or less same thickness as this aids in even browning of the sticks. If you are making these in large quantity then keep the cut sticks in a bowl of water to avoid discolouration of potatoes.

Drain the water,  or simply put the potatoes in a strainer for 5 minutes, and then dry these between a towel or napkin.

Preheat air fryer for 5 minutes at 180 degree.

Ensure that the cut potato fingers are completely dried.

Take all the sticks in a bowl. Drizzle oil, salt and pepper. If you wish to add onion/garlic powder or other herbs then do it now only.

Toss it nicely.

Put these potato sticks in the basket of the air fryer. Run it for 20 minutes. In between, take out the basket and shake the fries for even browning. Do this 2 or 3 times.

If you want more crisp fries then run the air fryer for some more time.

Serve your golden crispy french fries with lots of smiles and love, tomato ketchup optional.
Potato Wedges:
Cut the potatoes in the shape of wedges and season with herbs.

And I repeat, the method given here is apt only for air fryer. Do not follow this if you plan to deep fry your potato sticks.
Recipe Notes
Take care that there is no water in the potatoes. If there is then pat dry with a kitchen towel or napkin.
If you soak cut potatoes then let the water drain out completely, pat dry and then drizzle oil.
You can use any oil, not necessary to use olive oil only.
Add herbs like thyme, rosemary, parsley etc.