Healthy Vegetarian Coleslaw Sandwich recipe, made with hung curd and veggies, is easy and is perfect to have in breakfast or any time of the day or to pack in lunch-box.
This recipe is a very different and healthy one as these are made from diet coleslaw without using any mayonnaise.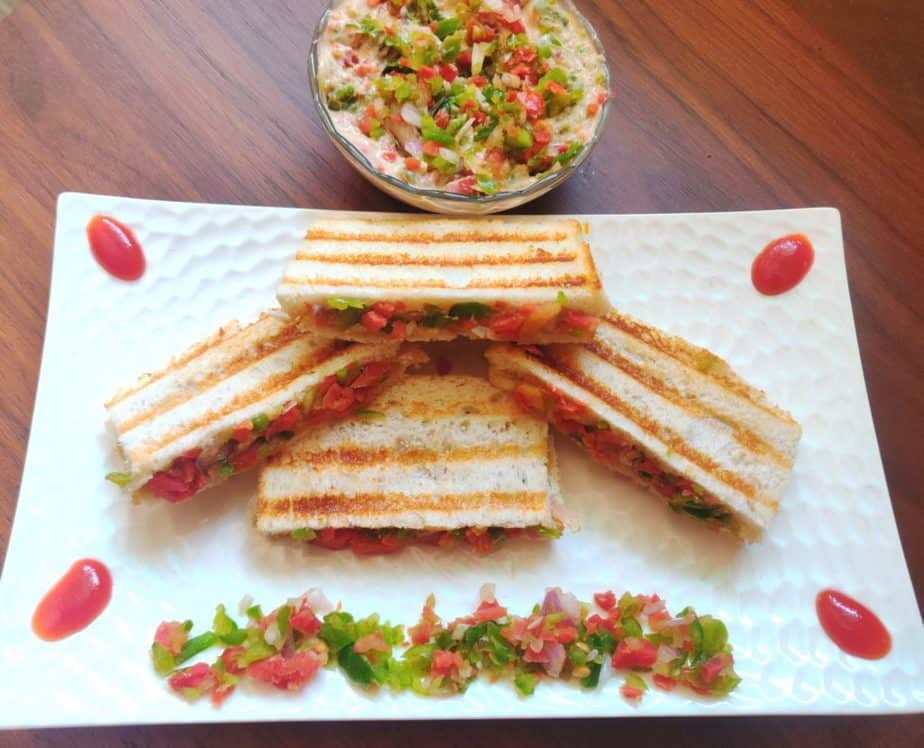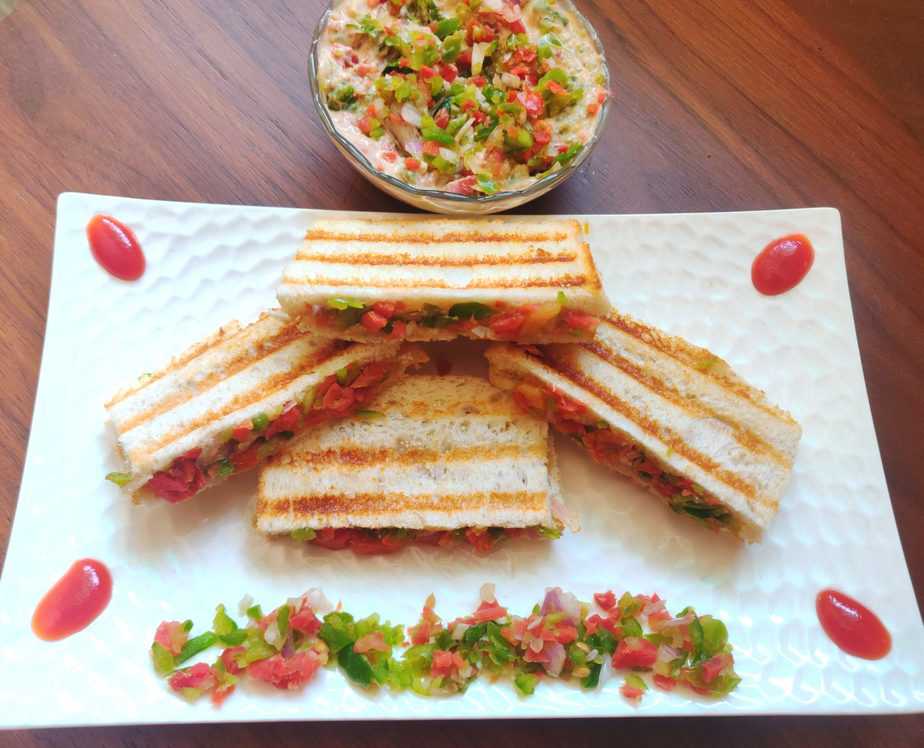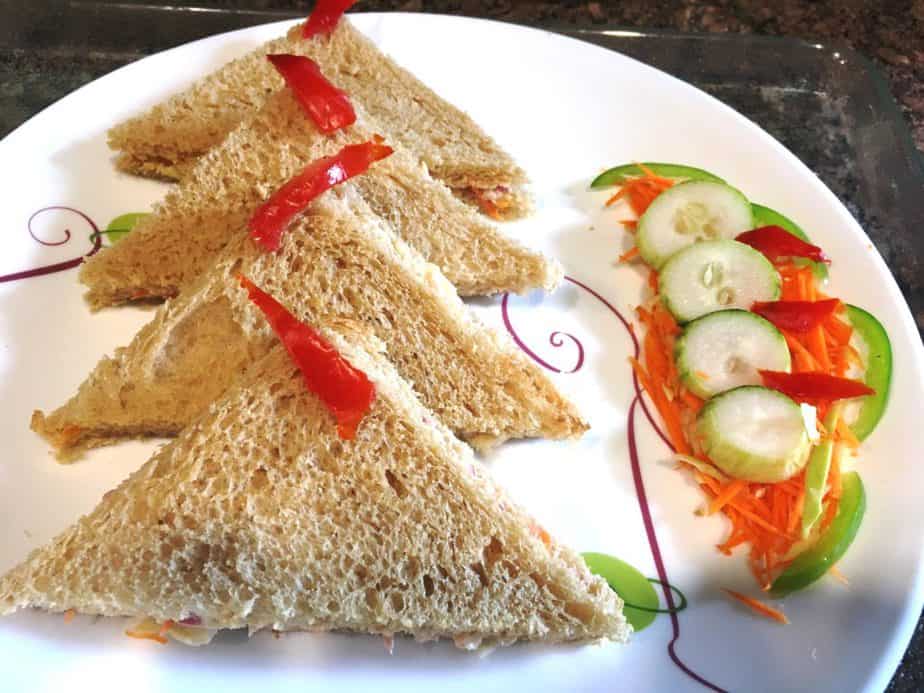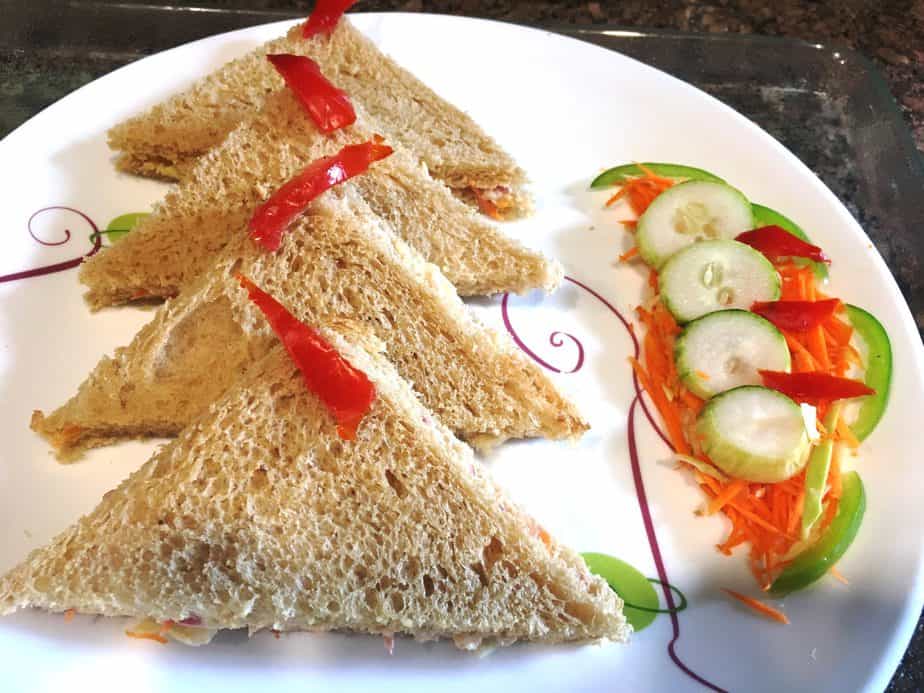 When it comes to finger food whether at home or outside, sandwiches top the list. And with the variety of sandwiches available in terms of bread as well as fillings, these are preferred by all. You can make it as healthy or as indulgent as you want. 
While shopping or coming back from work, sandwiches are one thing that you can get easily on any roadside cafe. If going for a trip, then a sandwich is the first thing that comes to mind to carry especially if kids are there. 
And coleslaw sandwiches are everyone's favorite. These are easy and quick to put up.
What does Coleslaw Mean?
Coleslaw salad simply means cold cabbage salad.
As per culinarylore.com, The term coleslaw came from the Dutch term ''koolsla'', meaning cabbage salad. ''kool'' is the Dutch word for cabbage and '' sla'' is a Dutch abbreviation of the word salade.
In the late seventeenth and early eighteenth centuries, Dutch settlers flooded into New York, so much so that the city was originally called New Amsterdam. They brought with them their recipe for chilled cabbage salad, which today is a mixture of shredded vegetables with mayonnaise, salad dressing, sour cream or buttermilk with vinegar, sugar and other seasonings added.
Thus coleslaw in simple terms means cold raw cabbage, carrot, and onion cut into thin long strips and covered in a thick cold sauce.
Veg Coleslaw Sandwich without Mayonnaise
Normally, coleslaw is made in mayonnaise. That is quick to make where juliennes of veggies are mixed in the mayonnaise and are sandwiched between bread slices.
However, there is also a healthy version to it and that is hung curd.
So keep hung curd ready in your refrigerator and you can make coleslaw salad/ sandwich, dahi kabab, cream cheese, mango yogurt, strawberry yogurt, Cheesy fruity canapes, sour cream etc.
Hung curd is a boon, especially in summers. To learn to make hung curd, click here.
How To Make
Making coleslaw sandwiches without mayonnaise is really easy and simple. For making this, take hung curd. 
During this time, you chop veggies.  If you want to have cafe-style coleslaw sandwiches then cut the veggies in juliennes. 
Or, if you are like me and want to rush up things then a food processor is the answer. Do it either way whichever way you are comfortable.
After this cut the edges of the bread. Now, do not parcel these trimmings to the bin. Keep it aside. I will later tell you what all you can do with these other than making bread crumbs.
Take the curd in a bowl. Again, do not throw away the whey collected in the bowl beneath the strainer. Wait for few minutes to see the many amazing things you can do with this water.
Mix salt, tomato ketchup. little soy sauce (though optional), and some Italian seasoning to the curd and whisk it little so that it becomes creamy. Now, add chopped veggies. Your coleslaw salad is ready.
Sandwich it between the bread of your choice. Have it plain or grill it. 
Serving Suggestions
Coleslaw is a healthy snack to munch on in the evening or have it in breakfast.

It can even be packed in your child's lunch box. Just wrap it in cling film and pack in his/ her lunch box.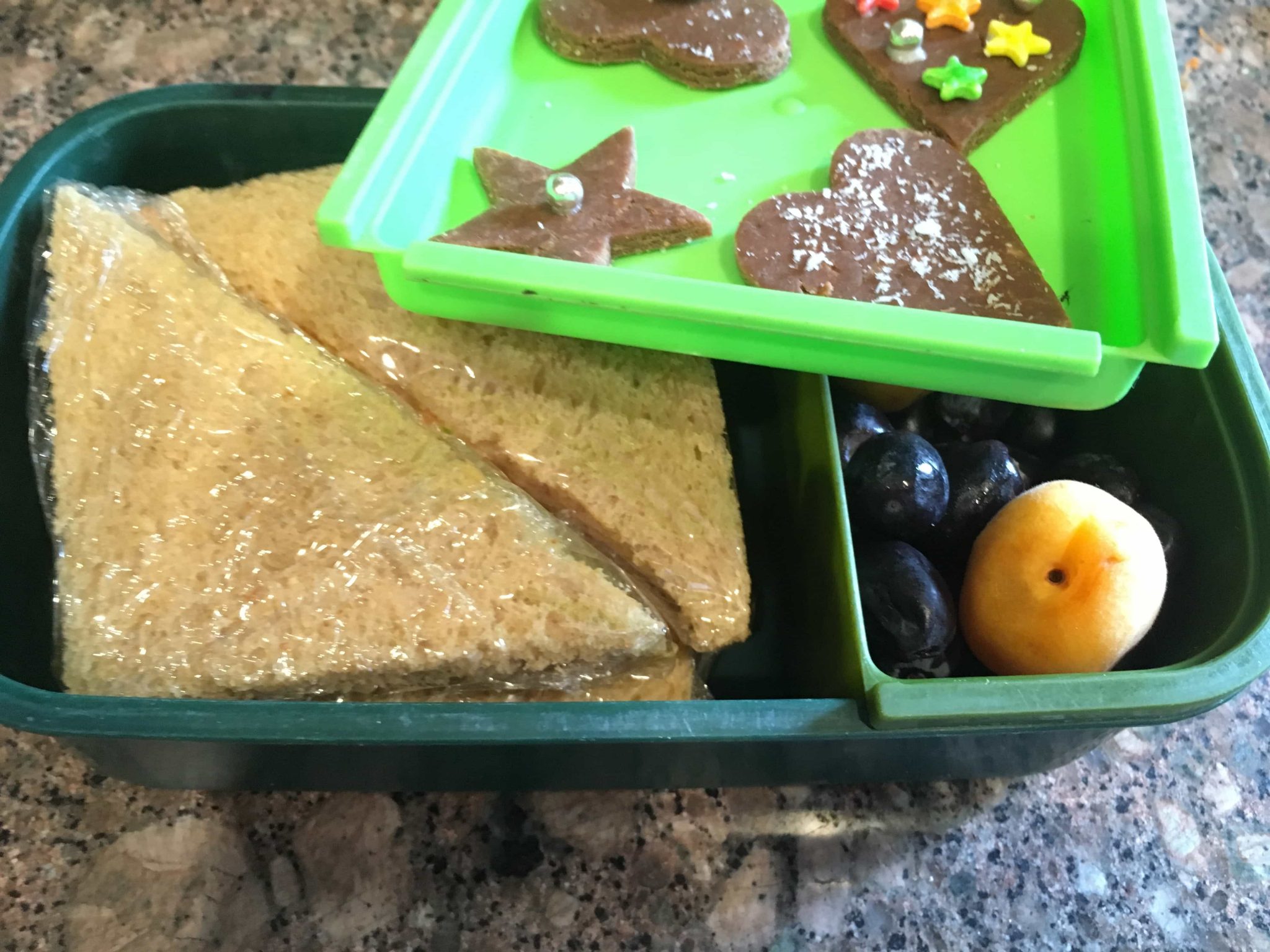 Why You Will Love This Recipe
Without mayonnaise
Fiber-rich
Easy and quick to make
Tastes good 
Healthy
Uses curd which is otherwise good for the digestive system
Can be had plain or grilled
Easy to carry  in lunch-box
Step By Step Recipe
Take hung curd in a bowl and smoothen it with a spoon, removing lumps if any. To know, how to make hung curd click here.
Mix in tomato ketchup, vinegar, soya sauce (optional), seasoning in it.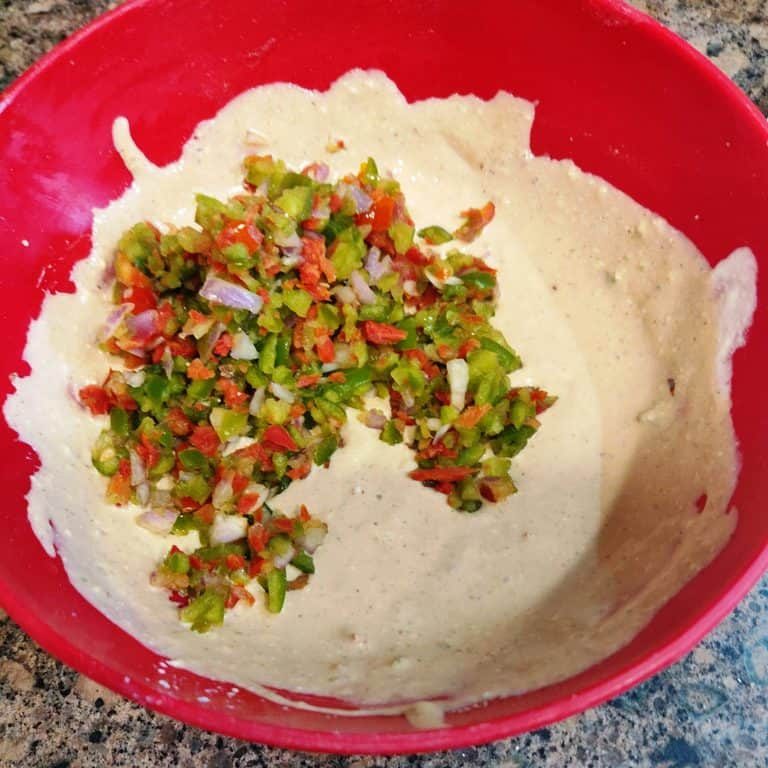 Spread this mixture on a slice of brown bread.
Cover with another slice.

Now have it as it is or grill it in a sandwich maker.

Serve with love, juice optional.
Variation
Use Mayonnaise instead of hung curd.
Monaco Magic
Instead of shredding and grating, chop these veggies very finely. Better do it in a food processor.
Now mix these chopped veggies with hung curd, tomato ketchup, vinegar and seasoning.
Spread this mix on Monaco biscuits or Graham Crackers.
Garnish with a little drop of tomato ketchup / a sprig of mint / Mixed herbs / Chilli Flakes.
Serve with love.
Frequently Asked Questions
Q) Why do we use Hung Curd instead of Mayonnaise?
Hung curd is a healthy alternative to mayonnaise.
Mayonnaise tastes superb but is full of fat and is thus unhealthy. On the other hand, hung curd is very nutritious and good for the digestive system too. And the advantage is that hung curd is very creamy and thus is perfect for mixing veggies to make a spread out of it. Try it, you will not miss mayonnaise at all. 
Q) If I do not have hung curd ready then?
Hung curd takes an hour or so to get ready but if you do not have that much time then keep the curd in a strainer and do your other preparations which will take about 10 to 15 minutes. During that time too, excess water will drip from the curd and you will be left with thick curd.
Q) What veggies go well in this sandwich?
Take veggies of your choice, like carrot, cabbage, capsicum, mushroom, onion etc. There is no set rule, use whatever veggies you have or for which you have a craving.
Some onion lovers, make it just with onions too. When it comes to chopping the veggies, then again it's your choice.
Q) How to chop Veggies for a coleslaw sandwich in food processor?
I dice all the veggies and put them together in the food processor. And then comes the trick!
Firstly, do not try to cut each vegetable separately. Put everything together.
And secondly, do not run the food processor. Instead, use the 'pulse' mode. Do it 3 to 4 times and your veggies are done. 
A lot of juices are released in the process, so squeeze out the water and use the veggies. Keep this water in the refrigerator. You can use this water while kneading flour or making soup etc.
Q) Coleslaw Sandwich: Plain or Grilled?
Coleslaw Sandwiches taste great both ways. You can have these plain or grilled, as per your preference. Tastes good either way, but definitely, the grilled ones get more votes.
If having these at home then go for grilled ones. But, if packing these to be eaten later, then plain ones are better.
Q) Which bread is preferred for making these sandwiches?
Use any bread, be it white bread or brown bread or multigrain bread.
Q) How can I use bread Trimmings?
This is the best use of leftover trimmings of bread. Normally, we dry these trimmings and make bread crumbs. But try this and you will just love it. Store the trimmings in a ziplock bag in the refrigerator. Don't worry, expiry date of bread is there but when it goes in the refrigerator this life is increased considerably.
Now, preheat air fryer for 3 minutes at 180 degrees. Put these trimmings. Air fry for 3 to 4 minutes depending on the quantity. You can even toss once in between. And voila, your super crunchy breadsticks are ready. Serve them with soup or just like that.
Q) How can I use whey (water drained while making hung Curd)?
This water is very nutritious and can be used in various ways. Click here to know how you can use it.
Related recipes:
Let's Connect!
I hope you have liked this Veg Coleslaw Sandwich Recipe and will surely try it out for your loved ones. When you try it do share your pics on Instagram and do not forget to tag me @samirasrecipediary. I would love to see your pictures.

Thank you for reading this post. If you have liked this recipe then do let me know by leaving a comment below. Your feedback fuels my enthusiasm. You may share this post with your dear ones by clicking on the little buttons below. You may follow me on       Facebook   Pinterest   for latest recipe updates. Thank you!
Coleslaw Sandwich Recipe
4 Slices Brown Bread
2 Tbsp Hung Curd
2 Tbsp Cabbage (Grated)
1 Tbsp Carrot (Shredded)
1 Tbsp Onion (Shredded)
1 tsp Tomato ketchup
1 tsp Vinegar (Optional)
Salt to taste
Pepper to taste
Take hung curd in a bowl and smoothen it with a spoon, removing lumps if any.

Mix shredded veggies, tomato ketchup, vinegar and seasoning in it.

Spread this mixture on a slice of brown bread.

Cover with another slice.

Now have it as it is or grill it in a sandwich maker.

Serve with love, juice optional.