This Fruit Pizza is simply a pie crust that is decked up with homemade cream cheese and loads of fresh fruits. A healthy recipe that can be served as a dessert or as an evening snack.
Pie crust is made with wheat flour and without using any refined sugar.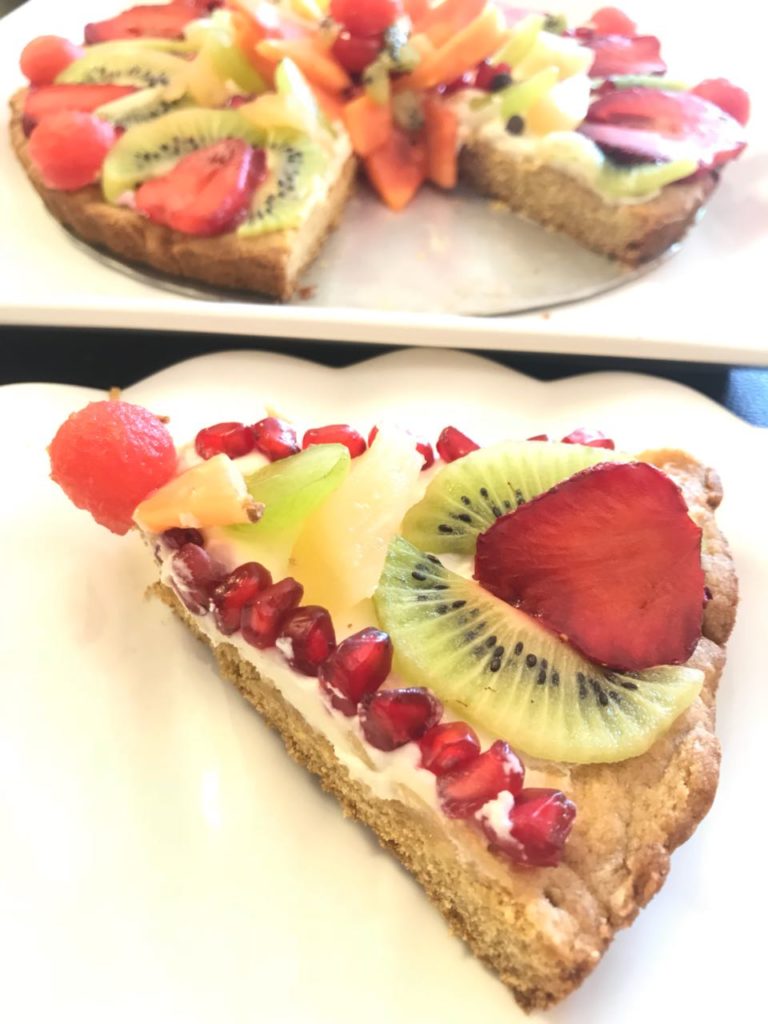 Today I'm sharing with you another very simple but totally healthy and very tasty recipe for Fruit Pizza.
Last year on my trip to Agra, I had this Fruit Pizza for the first time. We all just loved it and then only I made up my mind to try it out in my kitchen too. And finally, I tried it recently and it was a hit. It was appreciated by all and vanished in no time.
For making this Fruit Pizza, though I googled the recipe but eventually I landed up combining two of my earlier recipes. It is a fusion of my Bourbon Biscuits (without cocoa powder) and Creamy Cheesy canapes.
The base is made of wheat flour and for the icing, instead of whipped cream, I used homemade cream cheese which is nothing but a mix of cottage cheese and hung curd. The recipe uses no white sugar and is thus very healthy. The only indulgence is butter, and that too not in very large quantity.
It gets ready just in half an hour and then another 15 minutes to cool it down. The ingredients used are also easily available in your pantry all the time. Just bring fruits of your choice and make them.
How To Make
For the crust, you combine flour, brown sugar, baking soda, butter, and milk. That's it. Just mix everything and spread it on the baking tray and bake it. Adjust the thickness of the crust as per your liking. Though very thin crust is not advisable.
Till the crust gets baked, prepare the icing. For the icing, make a paste of cottage cheese in the blender. Use a little bit of hung curd, as it is very stiff. Add sweetener of your choice. Like I added honey. You may add a little bit of whipped cream but can always avoid it. You can prepare this icing in advance also. Remains good for 2 to 3 days in the refrigerator.
You can use any and all the fruits though pulpy fruits are preferred than the watery ones. But no restriction as such.
You can prepare this fruit pizza, a day in advance also if preparing it for a get-together. Just secure it with cling film and keep it in the refrigerator.
So, as you can see it has all the healthy ingredients except butter. And as we have a huge variety of fruits in summers then this is the ideal dessert.
Also, if your children don't eat fruits, then serve them this fruit pizza, they will surely love it. Be creative, arrange fruits in whatever way you like. I have made it healthy now you make it as beautiful as you can…
Step By Step Recipe
Brush oil in an 8″ pie dish.
Preheat oven at 150 degrees for 15 minutes.
Take flour and Baking Soda.
Mix in brown sugar and honey.
Rub in cold butter and oil.
Add milk, little at a time.
Gather into a ball.
Either refrigerate it after wrapping in clingfilm.
Or, tear small balls and keep it all over the greased baking tray.
Press each piece forming a pizza base.
Prick all over using a fork.
Bake in the preheated oven.
In the meantime, prepare the icing. Take cottage cheese in the blender.
Add honey and vanilla essence.
Once baked, keep the pizza base on a wire rack and let it cool completely.
Spread icing on the pizza base.
Serve with loads of love.
Serving Suggestions
Serve it as a dessert or as an evening snack and it is sure to win hearts. So now when you have pizza for dinner, then end it up with pizza in dessert too.
Related Recipes
Let's Connect!
Thank you for reading this post. If you have liked this recipe then do let me know by leaving a comment below. Your feedback fuels my enthusiasm. You may share this post with your dear ones by clicking on the little buttons below. You may follow me on  Facebook   Pinterest  Instagram for the latest recipe updates. Thank you!
Baked Fruit Pizza
Sweet Pie covered with homemade creamcheese and topped with fruits.
Ingredients  
For The Base
1

Cup

130 g Wheat flour

1/2

teaspoon

Baking Soda

1/4

Cup

Brown Sugar

40

g

Butter

If using salted butter then it is fine. Otherwise add a pinch of salt also

2

teaspoon

Oil

1

tablespoon

Honey

1/4

Cup

Milk
For The Icing
100

g

Cottage Cheese

2

Tablespoon

Hung Curd

1

Tablespoon

Heavy Cream

Optional

1/2

teaspoon

Vanilla Essence

2

Tablespoon

Honey
For Topping
1

Cup

Fruits

chopped (Mango, kiwi, grapes, berries, etc)
Instructions 
For The Base
Take wheat flour and baking soda in a bowl and mix the two.

Add brown sugar and honey. Mix nicely.

Add cold butter and oil and rub the two till the flour resemble crumbs.

Add milk, little at a time, and without kneading just gather the dough into a big ball.

Grease the baking tray. I used an 8" pie dish for this. You can also take any plate or cake tin. Or make in 2 or 3 smaller trays. In that case, keep the remaining dough in the refrigerator till the first one is getting baked.

No need to refrigerate the dough. Just tear it into small pieces and keep all over the all over the baking tray. This is done as it is not easy to roll therefore it is done like this.

Press each piece forming a pizza base. Do not bother about being neat. Just press all the pieces so that they are joined properly and look like a base. Just see that the thickness is equal from all sides.

Press each piece forming a pizza base. . This is done so that it doesn't puff up while baking.

Bake in the preheated oven at 150 degrees C for 10 to 12 minutes. This crust is neither very crisp nor soft. Appropriate like a cookie. If you want a crisp crust then bake for some more time.

Once baked, take out the base. After 5 to 7 minutes, run a knife around it and invert it on a wire rack. Let it cool completely.
For The Icing
Till the base is getting baked, prepare cream cheese. For this, put cottage cheese and hung curd in the blender and make a smooth paste.

Add vanilla essence and honey.

Add whipped cream, though optional.

Chop Fruits. Prefer pulpy fruits like mango, papaya, kiwi, berries etc.
Assembly
Once cool, spread cream cheese.

Arrange fruits.

Serve with love. Cover the remaining (if any) with cling film and keep in the refrigerator.
Notes
If you are using salted butter then no need to add salt. Otherwise, add a pinch of salt. I used Amul butter so didn't add salt.
Do not knead the dough, just gather it into a ball. Kneading will develop gluten which will make the base chewy.
Add milk a little at a time. The quantity of milk used may vary depending upon the flour.
After gathering the dough you can straight away bake it. However, if not possible then wrap it in cling film and keep it in the refrigerator. The cookie dough is kept in the refrigerator so that cookies do not spread out much while baking. But since for making pizza base, we need to spread the dough so refrigeration is not necessary.
If you want the base to be crispy then bake it for 3 to 4 minutes more.
Whether cottage cheese or hung curd, ensure there is no water in it. Otherwise, cream cheese will be runny.
You may brush glaze over the fruits. You require fruit glaze if you are using fruits like apples, pears, bananas, etc. However, I didn't use it.
To make the glaze, take 2 to 3 tablespoons of any fruit juice. Add 1 teaspoon cornflour to it and heat it. When cool, brush fruits with this.