This Indian-style baked Falafel recipe gives you the perfect Falafel that is crispy from outside with a soft center. Make it in air fryer.,  
Vegan & gluten-free Falafel recipe in Air-Fryer is a wonderful way to retain all the nutrients of chickpeas that are otherwise lost in deep frying. It shows how even oil-free recipes can also be full of taste and lip-smacking. 
 HUMMUS and Falafel sandwiched in PITA BREAD makes a perfect meal.
When I tried Falafels in my Phillips air fryer, they came out superb, keeping all the nutrients intact. Also, making falafel in the air fryer is not only guilt-free but is also a breeze. Just gather all the ingredients, make balls and then the air fryer will do its job of making them crispy.
Airfryer is a very handy and useful appliance. I love using it. Ever since I have got my Philips air fryer, I have been looking for all that can be air-fried. Potatoes for Dum Alloo or for chaat, paneer for Matar Paneer/Pulao, nuts n onions for Biryani, frozen items, masala peanuts, breadsticks, cutlets/kebabs are some of the items I have been successfully doing in the air fryer. Day by day my usage of the air fryer is being increased. And the latest I made falafel in the air fryer. If you want to know about the pros and cons of air fryer and some other air fryer recipes then read my post Is Air Fryer Worth It?
What is Falafel? What is Falafel Made of?
Falafel is a famous Middle Eastern street food made of chickpeas. In simple words, Falafels are chickpeas fritters served either as a snack with dips like Tahini or Hummus.
Also, you can make Falafel wraps or burgers by tucking it in the pockets of pita bread. 
Is Falafel Healthy?
Falafels are healthy but if baked, only then. Chickpeas are low in fat without any cholesterol but unfortunately, falafel, being fried, absorbs a lot of fat and thus the nutrients are overpowered by fat. So, if we can avoid fat then nothing like it. Thus, baked falafel is healthy.
Especially for vegetarians, these are a boon as chickpeas are loaded with proteins and are super healthy food in themselves.
It is rich in protein, carbohydrates, fiber, and nutrients like calcium, iron, magnesium, potassium, vitamin C, etc.
 

Tips For Perfect Outcome
First of all, the chickpeas should be properly soaked. Soak till they become double in size. Like 1 cup chickpeas when soaked easily become 2 cups. Soak overnight or for 4 to 5 hours. Shall I give you a tip? If you do not have much time then soak these in a casserole in lukewarm water, your job will be done in almost half the time.
Secondly, while grinding, keep it coarse and do not make a paste out of it.
Do not use any water while grinding. As onions will also release some water while grinding.
I prefer grinding it in my food processor. I add everything... soaked chickpeas, cilantro, parsley, and spices in the food processor and then grind it.
If you grind it in a grinder then keep a watch that they are not overdone. Also, do not add parsley, onion, etc while grinding in the grinder. Just grind the chickpeas coarsely and then add all other things.
Add little chickpeas flour (besan) for binding.  Chickpeas flour makes it gluten-free and healthy too. You can add oatmeal or all-purpose flour also instead of chickpeas flour.
Keep the mixture in the refrigerator for at least half an hour. During this time starch will seep out and will facilitate the process of making balls. 
After half an hour, take out the mix, make balls and cook as you wish... air fryer or oven or deep fry or pan fry.
'This recipe is more or less adapted from here and it makes scrumptious Falafels.
Step By Step Recipe
Soak chickpeas for at least 4 to 5 hours.
Do you know WHY SOAKING CHICKPEAS IS IMPORTANT? 
Roughly chop parsley, cilantro, onion, and garlic.
(You may skip parsley completely and use only green coriander and thus give this recipe an Indian touch)
Put soaked and drained chickpeas, chopped onion, garlic, parsley, cilantro and salt, pepper in the food processor.
Add chickpeas flour.
Mix everything and keep this mix in the refrigerator at least for half an hour (you may keep it for more time also)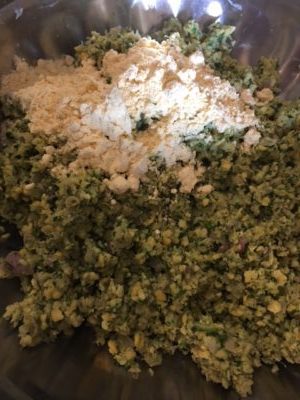 After half an hour, take out the mix from the refrigerator.
Start preheating the air fryer. I use my Philips air fryer.
During this time make balls.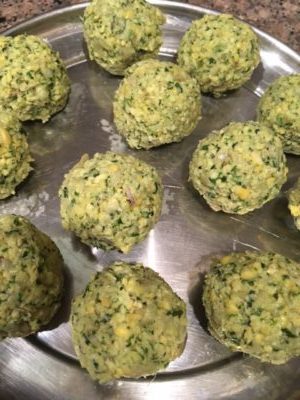 Put the balls in the air fryer basket. Brush oil on these if you like (I didn't).
Air fry for about 15 minutes.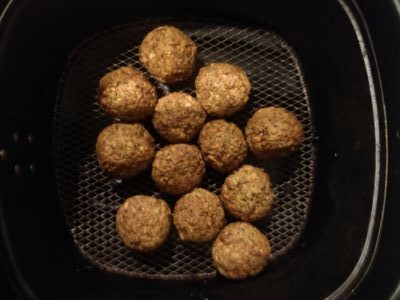 Or, tuck them in pockets of air fryer, apply hummus and lettuce, etc, and serve. (I served without any salad as I didn't have any that day))
FAQs 
Q) I do not have an air fryer? Can I bake these in the Otg?
No problem. In the absence of an air fryer, cook these in an Appe pan or in the oven or pan-fry them. Preheat oven to 180 degrees C for 10 minutes, brush oil on the baking tray and lay falafels on it.
Q) Can I deep fry these falafel balls?
Sure, why not? If you want to deep fry these falafels then add a little more chickpeas flour so that they bind properly. Add one falafel in hot oil. If it breaks or falls apart then add a little more chickpeas flour.
Q) Shall I use raw or boiled chickpeas for making Falafel?
I have tried falafels with both raw as well as boiled chickpeas. But seriously, nothing to match with the Falafels made with raw chickpeas. Soaked chickpeas, when grounded with herbs like parsley and onion-garlic then, believe me, the aroma it gives is simply mind-blowing. They are made so easily whereas the ones made with boiled chickpeas fall apart and is slightly ticklish to make.
If you are left with some chickpeas then you can try easy and healthy CHICKPEAS SALAD
Related Recipes:
Let's Connect!
Hope you will surely try out this yummy and healthy recipe of air fryer falafel for your loved ones. I will be happy if you share your creations on Instagram and tag me #samirasrecipediary there.

Thank you for reading this post. If you have liked this recipe then do let me know by leaving a comment below. Your feedback fuels my enthusiasm. You may share this post with your dear ones by clicking on the little buttons below. You may follow me on  Facebook   Pinterest    Quora too. for latest recipe updates. Thank you!
Easy Falafel Recipe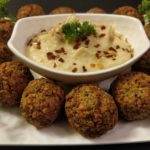 You may PIN this How to make FALAFEL IN AIR FRYER to try later:
Testimonials
PS: This post has embedded affiliate marketing links to enable me to earn some commissions out of the sale by any seller. The small amount of commission is used for the purpose of maintaining and running of this site without any extra cost to the buyer.