Evergreen Summer Drinks.... Healthy,Natural and Refreshing
With the onset of summers, as the day time temperatures soar, we seek refuge indoors.
Childhood memories of summers come to haunt me making me nostalgic.
Summers were very special - with long holidays from school. Afternoons were lazy and mostly indoors with an occasional sneaking out in the sun to play outdoors only to be called back by my mom. Her only worry would be that we may not fall sick due to excessive heat.
Due to the hot season, our eating habits would undergo a change - with loads of cold beverages and yes, you guessed it right,  ice creams and kulfis of various kinds.
Can't forget the multicoloured Chuskis (crushed ice with fruit or other flavoured syrups), my favourite being Kala-Khatta. This meant lurking around the kitchen eagerly and jumping in with mom once she started preparing any of these.
These days, fancy, gorgeous looking Mocktails, are served and no doubt, steal the show at any party.But when it comes to beating the heat in summers and or serving in a party, our age old evergreen Summer Drinks still tops the list.
Made from 100% natural ingredients without any artificial flavouring, they have an enormous cooling effect on our bodies.
Some of the traditional Indian Summer Drinks - be it "Thandai" or "Aam Panna" or "Bael ka Sharbat" or "Buttermilk" are all time favourites. Though now a days, all these are available in stores, but homemade ones are the best.
The homemade ones are devoid of any artificial flavorings or preservatives too and you could tweak the amount of fruit pulp to your taste.
Since I have consumed these since my childhood, I prefer fresh home made ones only. For eg. Fresh Aam panna tastes so much better and different from the one we get in stores.
Apart from this, they have immense therapeutic and nutritional benefits.
These are extremely simple to make, usually made in bulk and stored in refrigerator.
I would like to share some of my favourite evergreen Summer Drinks, healthy natural and refreshing
Bael ka Sherbet/ Juice
Bael ka Sherbet/ Squash ... our traditional drink to beat the heat is simply amazing.
Either you go out in sun or come back home in the sunny afternoon, Bael Sherbet gives you instant relief, as it not only quench your thirst but it cools your entire body system. It is said to protect you from hot and dry summer winds (loo).
Making Bael squash is very easy. To make check Bael ka sherbet recipe.
Thandai
Thandai is a  drink which cools and refreshes not only our body but also our minds.
Thandai gives us protection from hot winds (loo) and nose bleeds because of so many cooling ingredients present in it. But what are these cooling ingredients?
Thandai is actually prepared with a mixture of milk, nuts, seeds and spices, flavoured with rose water or kewra water. It is therefore considered to be God's drink also and hence similar to nectar.
To make click Thandai recipe.
Falsa Sherbet/Squash
Fuschia colour little fruit Falsa is amazing. Eaten with rock salt and chat masala, this fruit tastes awesome.
Falsa sherbet and kulfi are just out of the world. To know check how to make Falsa Sherbet recipe.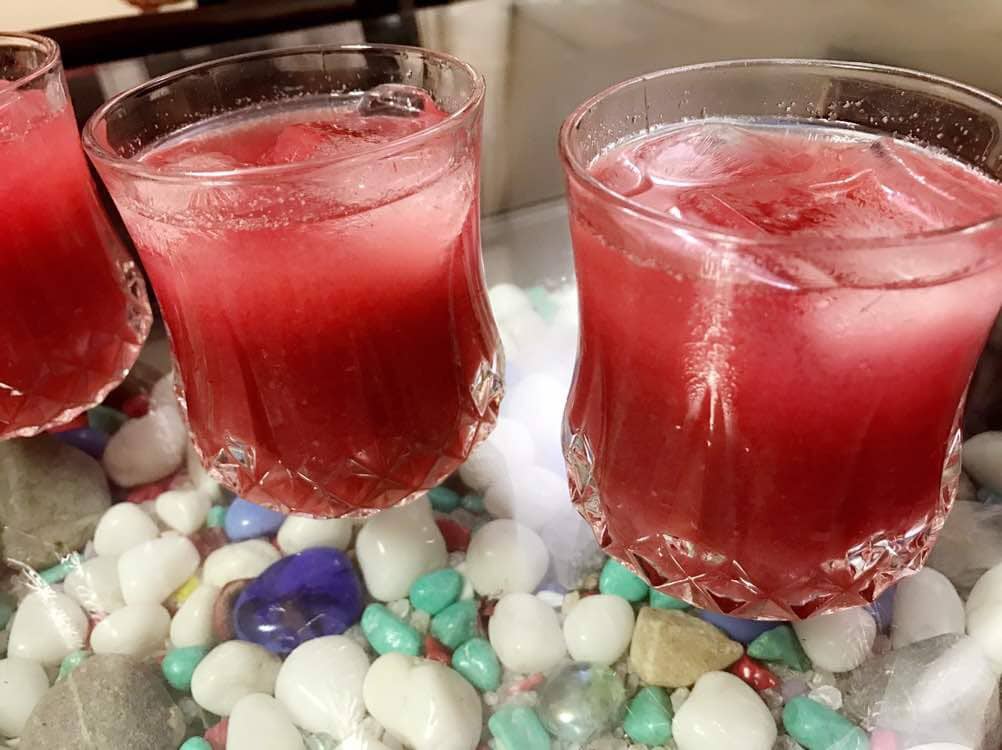 Enjoy these Summer Coolants....
Share your comments here in the comments section below.
If you like this recipe, please join me on my facebook page,
Thanks,
Samira