These baked Donuts are truly Guilt-Free as they are baked and made with wheat flour. What more one can ask for? 
These chocolate donuts, when dipped in homemade chocolate sauce and taste amazing!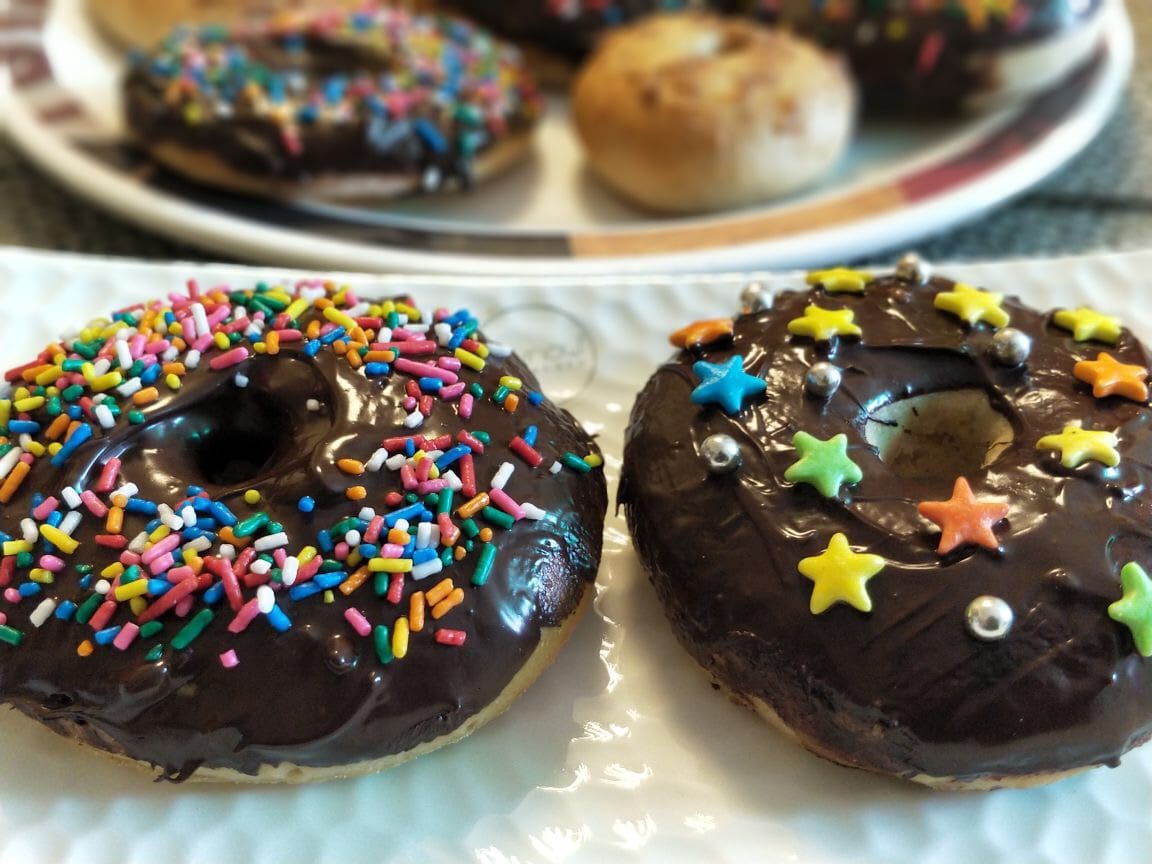 Doughnuts or Donuts? Who cares! As long as these tickle my taste buds, I am all ready for it. Btw, how do you like to write it?
If you thought that making doughnuts is some rocket science then let me assure you that it is the easiest one to do.
With the same dough that you make for making doughnuts, you can try sweet loaves of bread made with orange marmalade and Nutella: ORANGE BABKA BREAD or CHOCOLATE BRAIDED BREAD
Also, if not very fond of sweet bread then reduce the quantity of sugar to just 1 tsp and try other bread too like Ladi Pav or Domino's Style Garlic Bread or Stromboli.
My First Experience With Donuts
I made doughnuts for the first time a long time back when I had no knowledge about yeast.
But as you know, I am passionate about trying new things, so after reading a recipe in a magazine, I decided to try it out. The ingredients were simple except for the yeast. I bought yeast from the local market, whatever was available there. And started making my very first doughnuts. I had no idea what would happen, how they would turn out. But I followed the recipe blindly. And voila, they came out super good. Thanks to that recipe.
I am sharing almost the same recipe here but with a lot of changes. First of all, those were fried but now I make baked ones. Secondly, as I am trying to cut down on all-purpose flour gradually so in this recipe also I have substituted half of it with wheat flour. And lastly, most importantly I have reduced the quantity of yeast significantly. Yes,  from 3 tsp to 3/4 tsp. Unbelievable..isn't it? But it works just fine.
The purpose of sharing my experience is just to give you confidence that you can make it even though you don't know much about yeast.
Easy Recipe
This easy recipe of donuts uses yeast which gives it fluffiness and sponginess even when baked. Normally, doughnuts are fried but after trying out baked doughnuts I seriously feel is there any need to deep fry these when the baked ones too come out soft and fluffy? 
Anyways, for this recipe Just get instant yeast. Yes, it's important for this recipe. Take instant yeast, either from the market or online. Once you have the yeast, follow this recipe and you will have lovely doughnuts.
I have made these doughnuts many times and every time everybody has relished them fully. Three years back, when my blog completed six months even then I made these to celebrate my blogging journey. as an expression of gratitude to all my readers, for their support. love and feedback through various means. It is really very encouraging and motivating.
How To Make 
Making baked doughnuts is very easy. Once you have kneaded the dough well, then rest of the steps are quite easy. I made these using both whole wheat flour and refined flour and the result was amazing. You can replace the refined flour with an equal quantity of fine semolina also.
Also, in this recipe, I mixed instant yeast with the flour only and did not proof it separately. If you are not sure of working with yeast or of the quality of yeast then my suggestion is that you proof it in lukewarm water separately first. Once it gets frothy then add this solution to the flour and knead the dough. To have a detailed method, check this recipe of Pizza rolls where I have proofed yeast in lukewarm water first.
Once the dough is made, it is rolled out and roundels are cut using a bangle or any steel bowl. A small piece is cut from the centre to create the doughnut look. Thereafter it is baked. Lastly, dip it in chocolate sauce or strawberry sauce and enjoy.
 Donuts Without A Donut Pan
Doughnuts pan are there in the market but when 2 simple lids serve the purpose then why buy them. You need one big lid or bowl to cut the roundels and then you need a very small lid to cut it from the centre. The lid of vanilla essence or rose water or any such thing will serve the purpose beautifully. Just have a look at your pantry and you will get to see a lot many bottles with tiny lids. 
Step by Step Pictures
Take a big bowl, add all-purpose flour, wheat flour and salt. Mix roughly.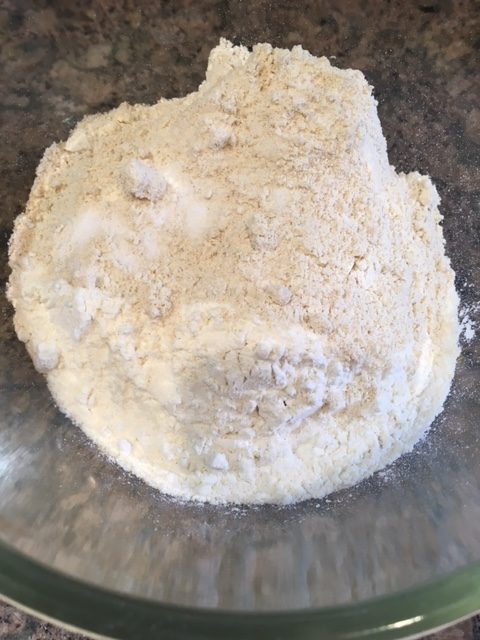 Add sugar, curd, instant yeast and butter.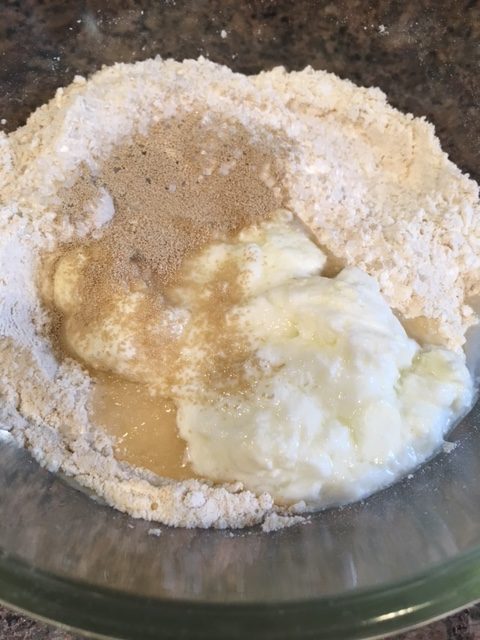 Knead into a smooth and supple dough using warm water. Knead for at least 10 to 15 minutes till it becomes smooth and shiny. The dough will be very sticky initially but continue kneading and it will stop sticking after some time. You may use dry flour if the dough is unmanageable but very little.
Grease a bowl. Put the dough in it, flip it so that it gets greased from all the sides.
Cover it, with a lid/plastic film/damp cloth and let it rest for at least an hour or till it becomes double in volume.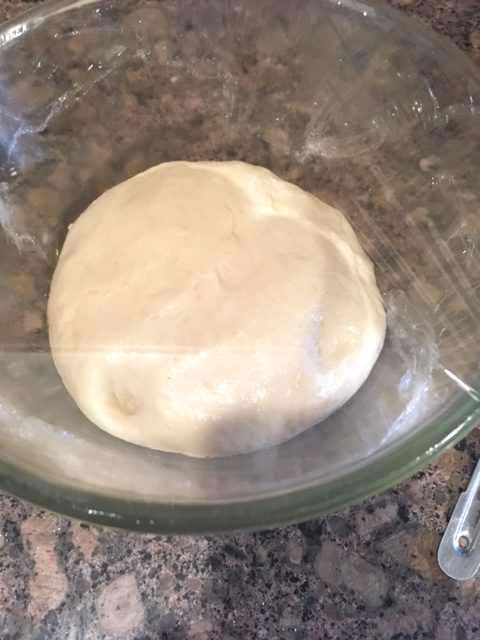 Deflate the dough. Dust flour on your working station and using a rolling pin roll the dough into 1/2" thickness.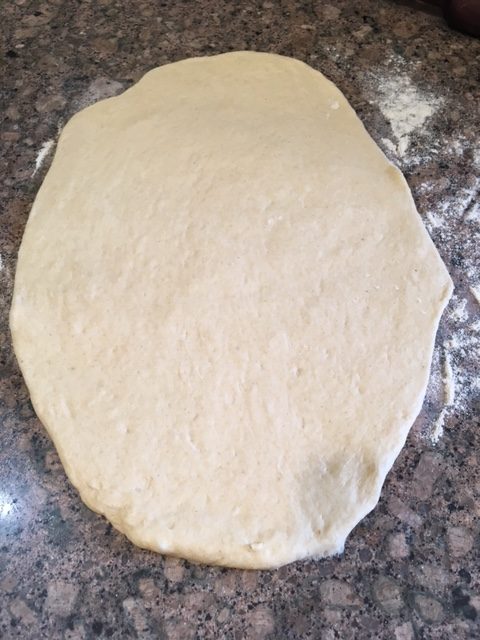 Using Donut cutter cut shapes. In the absence of a Donut cutter, cut using 2 lids, one big and one small, as shown in the pic below. Cut all the doughnuts like this.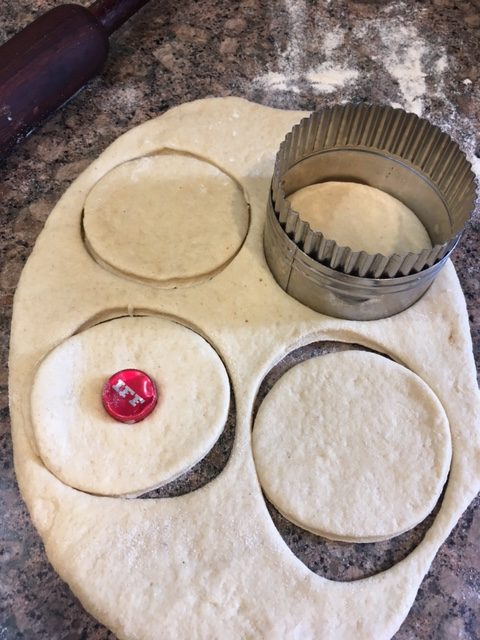 Line your baking tray with parchment paper and keep the doughnuts on this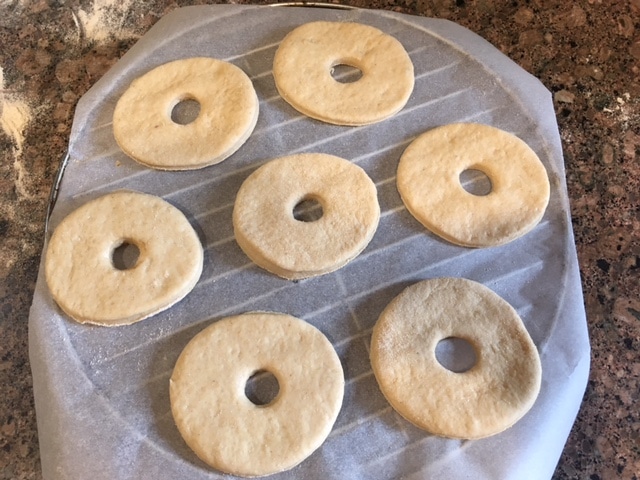 Cover it with some cloth and leave it for 30 to 40 minutes for the second rising.
After 30 minutes approximately, preheat the oven to 190 degrees Celsius for 15 minutes.
Milk wash your doughnuts before putting them in the oven. For this, take 1 tsp milk in a bowl and brush it lightly over the doughnuts.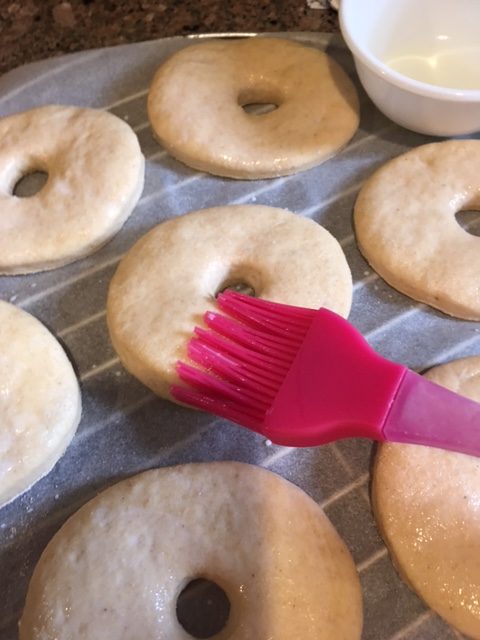 Bake for 15- 17 minutes. Take them out as soon as they get light brown. Over baking may make them hard.
Keep these on a wire rack. After a few minutes, place them upside down in melted dark chocolate or Chocolate Sauce.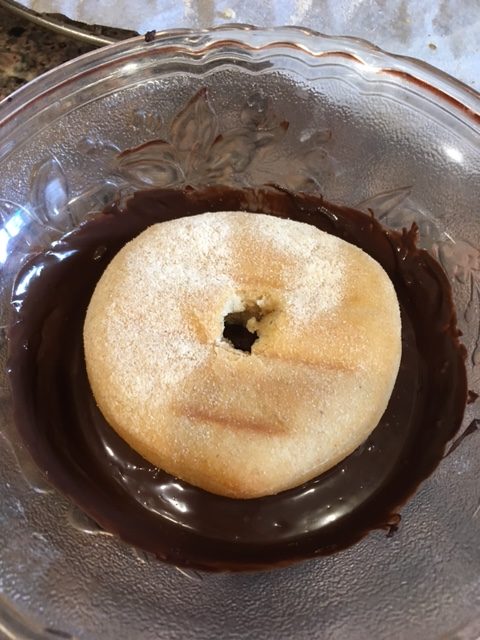 Or, place them upside down in melted butter first then in the cinnamon-sugar mix.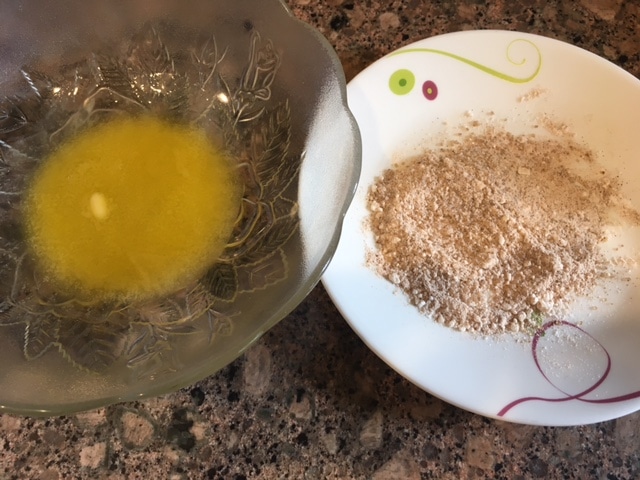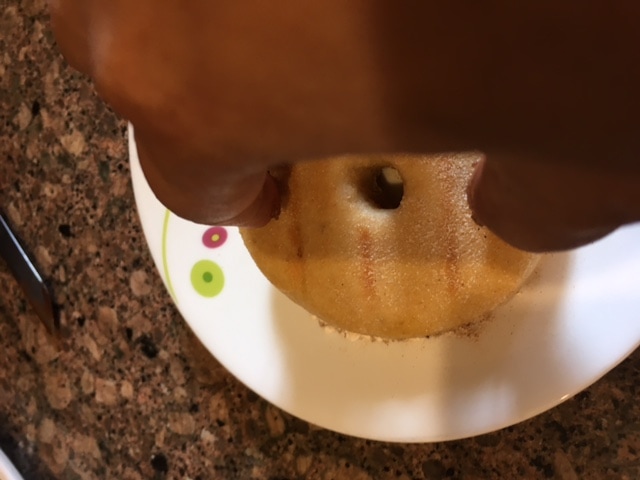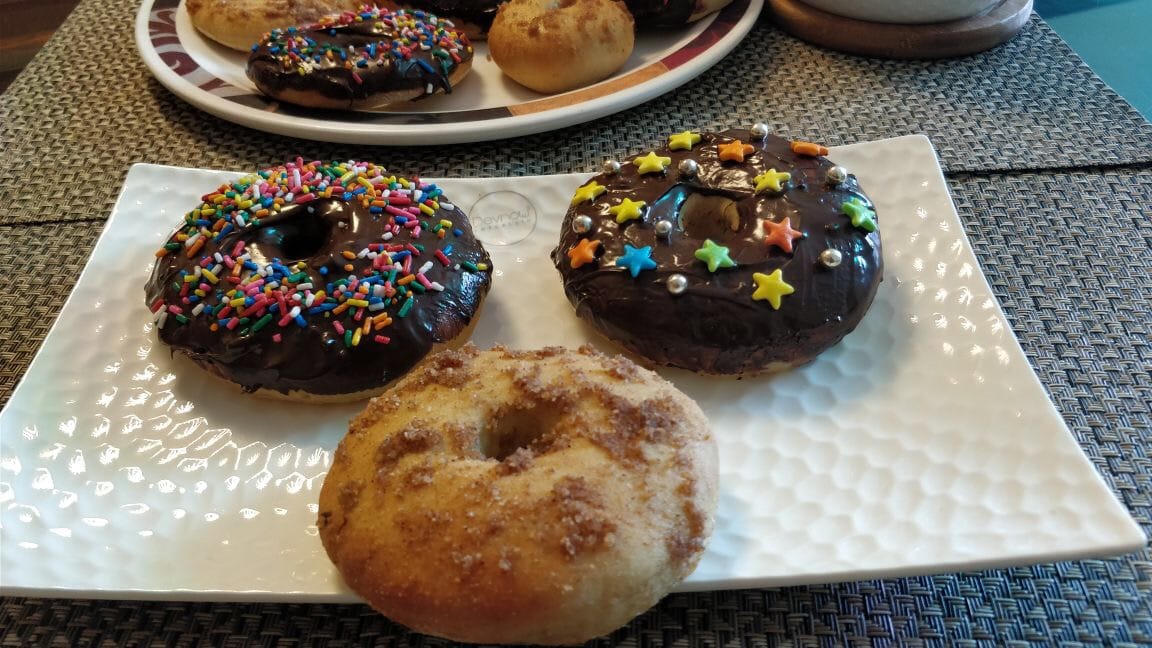 New To Bread Baking?
If you are new to bread making or have some inhibitions in using yeast, then my suggestion is that you first go through the basics by reading ALL ABOUT YEAST and BASICS OF BREAD MAKING.
However, if you are friendly with yeast then forget the above posts and dive straight into the recipe below.
FAQs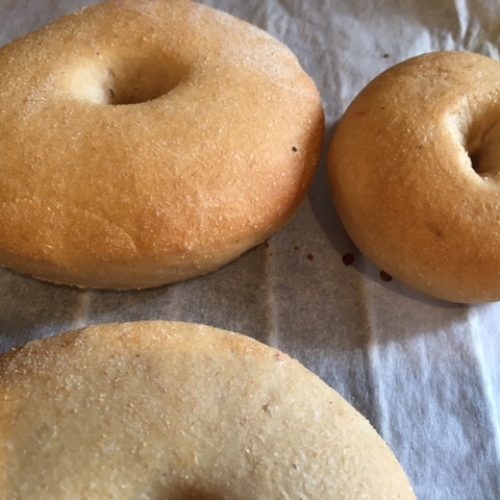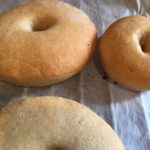 Donuts Recipe Without Eggs
Guilt free donuts made with wheat flour are a must try.
Total Time
1
hour
45
minutes
Ingredients
For Donut Dough
1

Cup (120 g)

All Purpose Flour

1

Cup (130 g)

Wheat Flour (Plus 2 or 3 Tbsp for Rolling the Dough)

1/4

Tsp

Salt

3

Tbsp

Sugar (See Note 1)

2

Tbsp

Curd

3/4

Tsp

Instant Yeast

1

Tbsp

Butter, Softened

1/2

Cup + 2 Tbsp

Lukewarm Water (See Note 2)

1

tsp

Oil (See Note 3)

1

tsp

Milk, For Milk Wash
For  Coating
1/4

Cup

Chocolate Sauce/ Melted Dark Chocolate

Sprinklers, Confetti etc

1

Tbsp

Melted Butter

1

Tbsp

Powdered Sugar + 1/2 tsp Powdered Cinnamon
Instructions
In a bowl, take both All Purpose flour and Wheat Flour, add salt and toss nicely.

Add sugar, curd, instant yeast and butter. Mix everything.

Using lukewarm water knead into a soft and supple dough. (See Note 4)

Grease a bowl. Flip the dough in it, so that it is greased from the top as well.

Cover the bowl and let it rest at some warm place for at least an hour or till it becomes double in volume. (See Note 5)

Deflate the dough, knead it lightly for 30 seconds or so.

Dust little flour on your working station and roll the dough, approx 1/2" thickness.

Using a doughnut cutter cut doughnuts. Alternatively, use a round lid or cutter or steel bowl and cut roundels. And use a small lid to cut round from the centre.

Remove the small centre and you have the perfect doughnut shape.

Collect the dough remained after cutting roundels, again roll it and make some more roundels.

Keep these shaped doughnuts in the baking tray lined with parchment paper.

Cover these donuts with some cloth and leave for around 3o to 40 minutes for second rising.

After 3o minutes, preheat the oven at 190 degrees for 15 minutes.

Brush the donuts with milk and bake these for 20-25 minutes.

Take out of the oven, keep donuts on the wire rack.
Assembly
After few minutes, place these donuts upside down in the chocolate sauce/melted dark chocolate.

Or, place donuts first in melted butter and then in cinnamon sugar.

Decorate these with confetti etc.

Serve warm with love.
Recipe Notes
Take normal sugar, no need to powder it.
Water should be lukewarm. Too hot water may kill the yeast and if not enough warm then the yeast will not activate.
Use any cooking oil, Refined oil or Olive oil or any other.
Knead the dough for at least 10 minutes till becomes smooth and shiny and stops sticking.  Also, keep it soft and supple.
Rising time may vary depending on the temperature. It might take up to 2 hours in winters. For better rising, keep the dough inside the oven.
Flip the dough in the greased bowl so that it is greased from all the sides. If dry, it may develop cracks while rising which is not good.
Doughnuts are best served warm. If required to keep them in the refrigerator, then warm them up in the microwave before serving.
To melt dark chocolate, either melt it in the microwave oven for 30 to 40 seconds or melt it on the gas stove using double boiler method.
The quantity of dark chocolate, butter, cinnamon depends on your preferences. Like, in my family everybody likes chocolate glaze so I have made more with chocolate.
If you can't keep all the doughnuts at a time in your oven then keep the remaining dough in the refrigerator. Once, you have made the first lot, take out the dough, shape, proof (rise) for 30-40 minutes and then bake.