How To Clean Silver At Home In Few Minutes? And yes, clean silver utensils or silver idols or silver ornaments easily in just a few minutes.
You must be thinking I am joking. Firstly, clean silver at home and then in just a few minutes. How is it possible?
But trust me, it is very much possible to clean silverware in home and in just 5 minutes without any scrubbing or rubbing. Cleaning silver utensils/jewellery is really a child's play with this method. An easy as well as quick method.
Related Recipes
How To Clean Silver Easily
Silver, be it jewellery or coins or utensils or idols, looks stunning only when shining. But, its also true that silver, when it comes in contact with air and moisture, tarnishes and loses its sheen. Thus, it is imperative to clean them. And, here I am sharing with you an easy method to clean it.
When it comes to clean silver idols on festivals like Diwali, we look for easy peasy and quick methods to do the work effectively as many other things are lined up too. And then this method is a boon as it works like a charm.
Clean Anything That Is Silver
You can clean anything of silver with this method, be it anklets or other silver jewellery or utensils or showpiece. The same method is followed for cleaning any of these.
Cleaning Silver Idols or Coins on Diwali
Along with lights, sweets, crackers, rangoli, pooja, new clothes, gifts etc, Diwali is also associated with cleaning. Most of the households are on a cleaning spree before Diwali. The feeling that Diwali is approaching somehow misses unless you do some hardcore cleaning of the house. Am I right? And on the day of Diwali or just a day prior to Diwali, we clean our silver pooja items including the idols of Goddess Laxmi and Lord Ganesha.
Thanksgiving
Earlier I used to clean these either with toothpaste or some silver polish.  Cleaning silver with toothpaste, no doubt, gives good results but it is a very laborious job taking time and muscle power both.
Then one day, my brother, Sameer,  called me up and shared this method of cleaning silver items with me. I tried and phew, within minutes, without any rubbing or scrubbing, I got sparkling clean silverware.
Since then, I always clean my silver items with this method only. Once, on Diwali,  I forgot to clean the idols and realised only an hour before pooja. But with this method that was ample time. I quickly did the process and was free within 10 minutes.
How To Clean Silver At Home Without Rubbing/Scrubbing?
You require just 3 ingredients for this cleaning method. And these 3 things are easily available in your kitchen all the time. These are salt, baking soda, and aluminium foil. It's basically the reaction of baking soda with aluminium that gives wonderfully clean results. You will see that as the silver gets clean and the aluminium foil gets tarnished.
Detailed Method Showing How to Clean Silver at Home with Step By Step Pics
Take out your tarnished silver idols/ items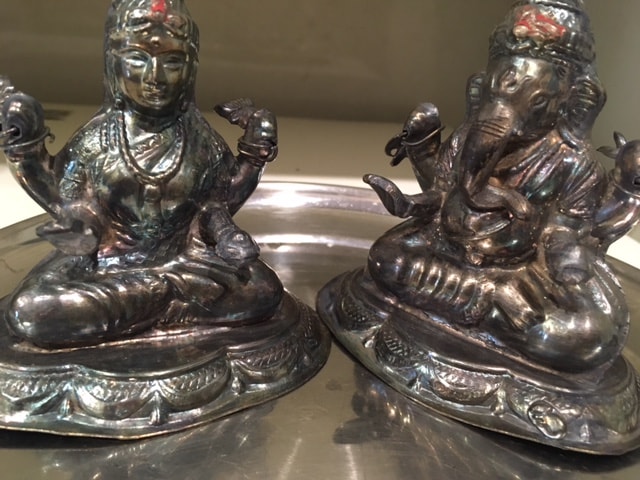 Keep these in a metal vessel, preferably aluminium (otherwise steel).
Put salt and baking soda in it.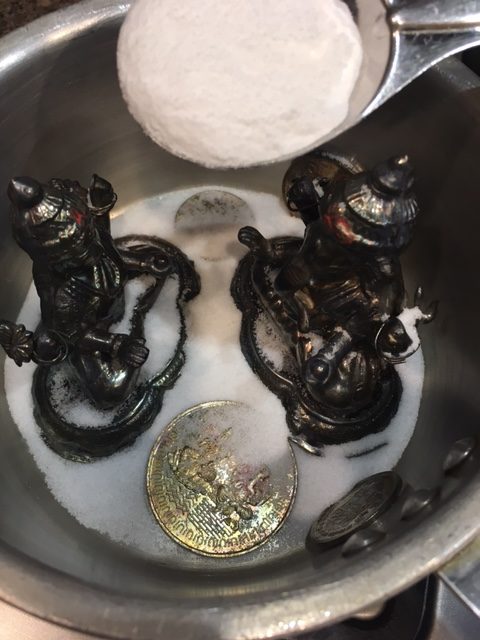 Put 2 or 3 pieces of aluminium foil in it.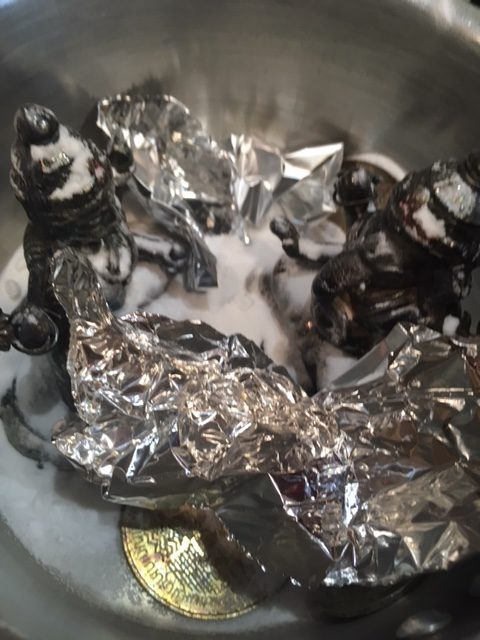 Pour boiling water and cover.
If not fully immersed, then after some time, invert the items in the same hot water.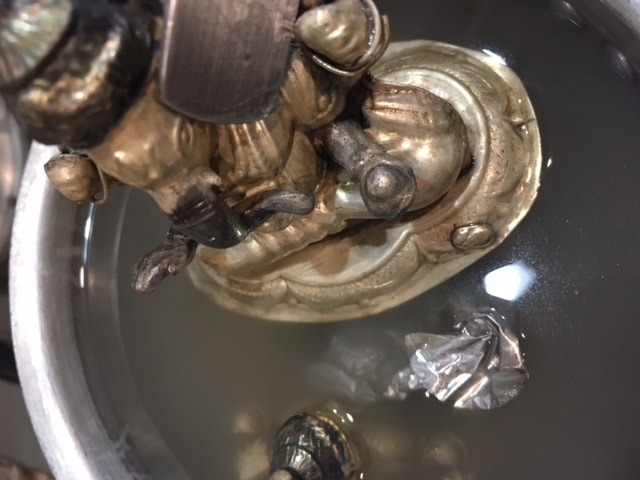 Clean the narrow or pointed uncleaned parts with a toothbrush.
Wash with water and wipe with a dry and soft cloth.
Sparkling silver idols/coins/utensils are ready.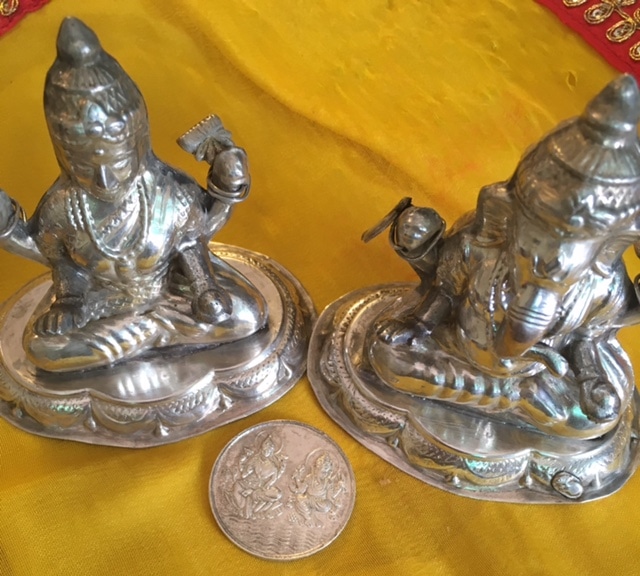 Let us Connect!
I hope you have liked this easy method of cleaning silver at home and will definitely give it a try. I would love to have your views regarding this.
Thank you for reading this post. If you have liked this  can PIN this  then do let me know by leaving a comment below. Your feedback fuels my enthusiasm. You may share this post with your dear ones by clicking on the little buttons below. You may follow me on       Facebook   Pinterest   Instagram(#samirasrecipediary) too. for latest recipe updates. Thank you
Method Card Of Clean Silver At Home
Clean Silver At Home Easily
This method ensures that you get sparkling silver without sweating out.
Ingredients
1

Tbsp

Salt

1

Tbsp

Baking Soda

6

'' by 6'' Pieces Of Aluminium foil

1

litre Boiling Water
Instructions
Put water to boil.

Till the water gets boiled, you keep your tarnished silver items in another empty vessel.

Take the vessel big enough to accommodate all your silver items.

Keep them separately, do not overlap these on one another.

Put salt and baking soda in it.

Put one or two aluminium foil pieces in it.

Pour boiling water on it.

Cover for 3 to 4 minutes.

If any portion remains uncleaned then clean it with a toothbrush or the same aluminium foil.

Wash it with water.

Wipe with a soft and dry cloth.

Sparkling silver items are ready.
Recipe Notes
You can take any vessel, be it steel or any other but aluminium is preferred. You can use your aluminium pressure cooker for this purpose. Do not use plastic buckets, please.
For pointed and narrow parts you may have to use a toothbrush. Please use a new toothbrush if using for pooja items.
Ensure that the items are fully immersed in water. In case, it is not possible then invert it in the same water after few minutes, meaning that dip the uncleaned portion and the cleaned portion will be on top now.
Take small pieces of aluminium foil, say about 2" by 2"  or 3" by 3"approximately.
You may even wrap your silver items in the aluminium foil and then proceed with the above procedure.
You can PIN this method to clean silver and save to try later when needed
Happy Cleaning...
Samira