Chocolate Braided Bread, popularly known as Babka bread is a sweet bread filled with Nutella. It is a beautiful, sumptuous, yummilicious, artistic piece of bread. A treat to the eyes as well as to the tongue.
Start your day with a sweet note by having this bread for breakfast. Pack this in your little one's lunch box. Serve them in the evening with a milkshake of their choice. Or, just let it be there for their midnight hunger pangs.
Though it looks like a piece of art it is actually very simple to make.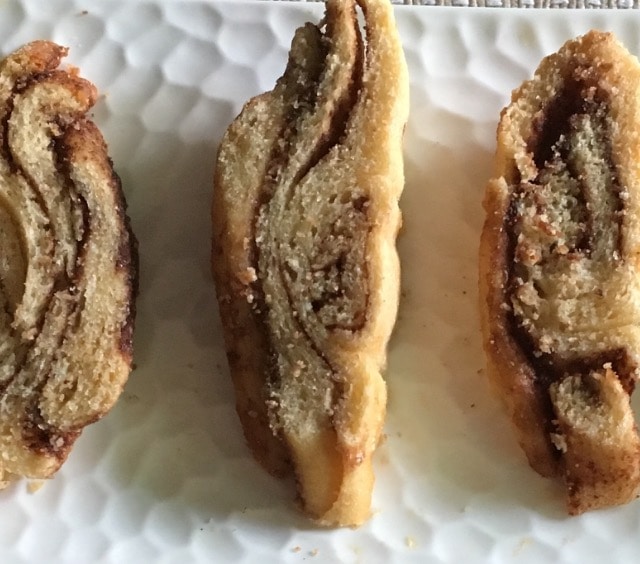 When you have this bread, it is difficult to say whether it is more delicious or more attractive to look at.
When I baked this bread for the first time, the whole house was filled with chocolatey flavor. All of us simply loved it. Though I was very apprehensive before trying out this bread but surprisingly it is very easy to braid it. If the dough is good then it can be easily braided.
I made 2 loaves and therefore got sleek slices. You can also place the two braided loaves, one on top of the other, in a baking tin and leave for second proofing.  During proofing as the loaves will rise they will stick to each other and once baked you will get one big loaf. I tried this method in my Orange Babka bread and got perfect slices. You may refer that and make this chocolate braided bread the same way.
If you are new to bread baking then I would suggest, you first go through my post which deals with the basics of bread making. It will give you all the details regarding adding yeast, kneading the dough, proofing etc
Why You Will Love This Recipe
No loaf tin is required to make this bread. No standard size of this bread so, you can easily divide the dough into 2 or 3 parts or maybe more if you are trying for the first time. . Like this, you can practice with a small portion of the dough and then make the remaining pieces of bread perfectly.
Made with whole wheat flour:  I have used wheat and all-purpose flour in the ratio of 70:30

But nowhere you will feel that it is wheat-based. It comes out extremely soft and flaky too. Before this, I tried the same bread using wheat flour and all-purpose flour half each, but no noticeable difference when used 70% wheat flour. So, why not avoid all-purpose flour as much as we can.

Unlike croissants, it is made with bread dough and has very little butter.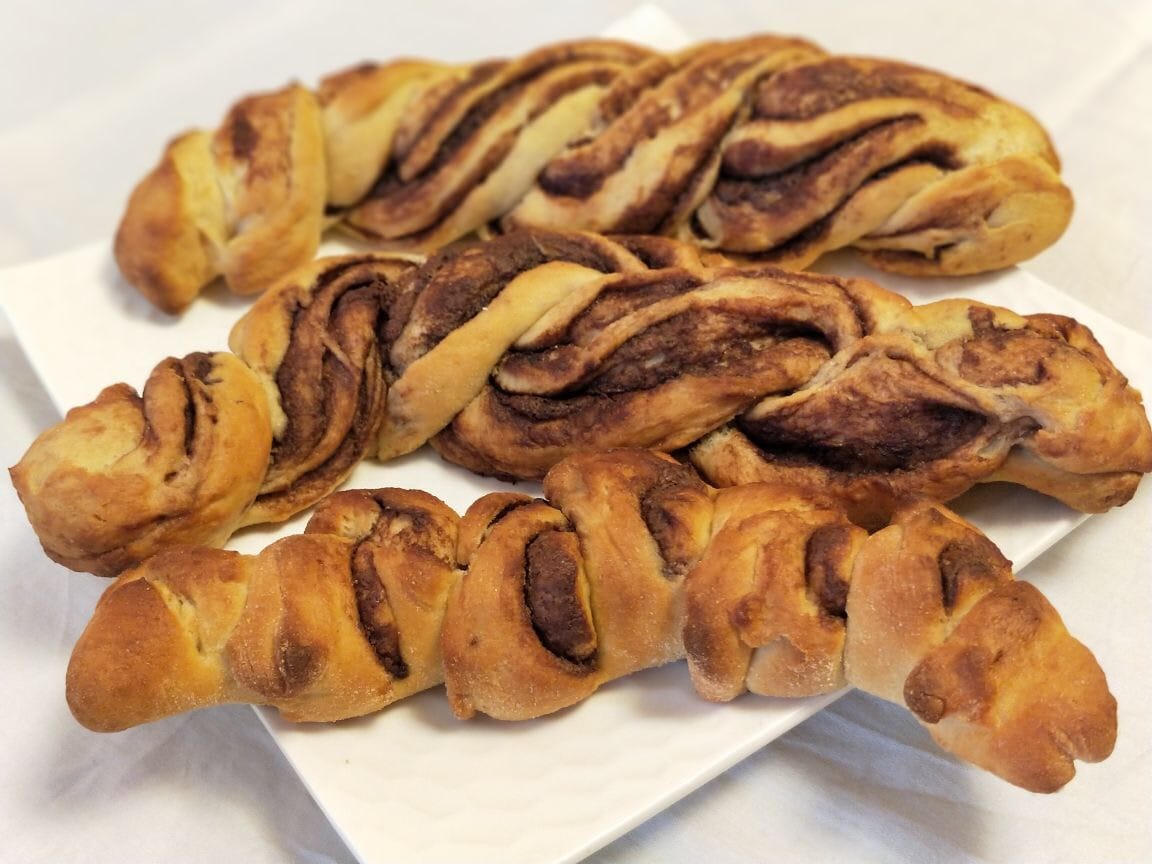 Step By Step Recipe
Take warm water in a cup. Put 1 tsp sugar and yeast. Cover and wait for 10-15 minutes or till frothy.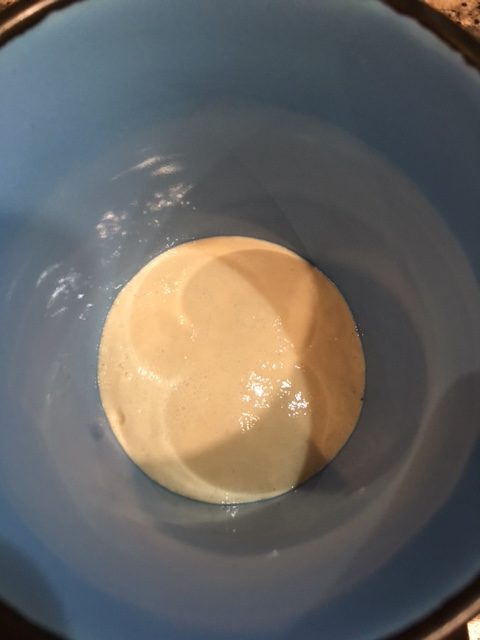 Sift whole wheat flour, all-purpose flour, milk powder, and salt at least 3 to 4 times.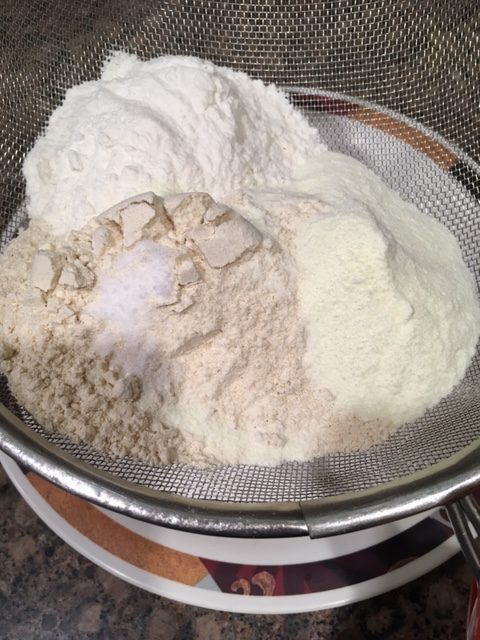 Take sifted flour in a big bowl, add powdered sugar, melted butter, and frothy yeast solution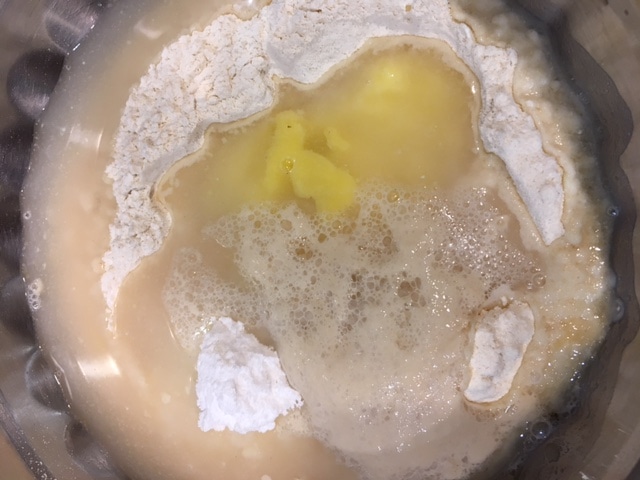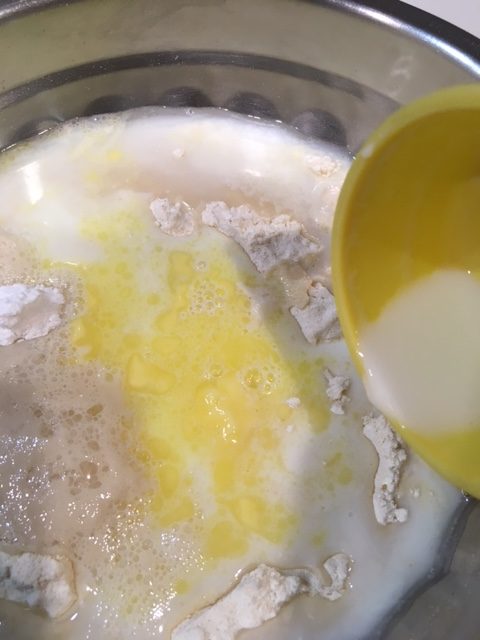 Mix everything and start kneading. It will be very sticky initially.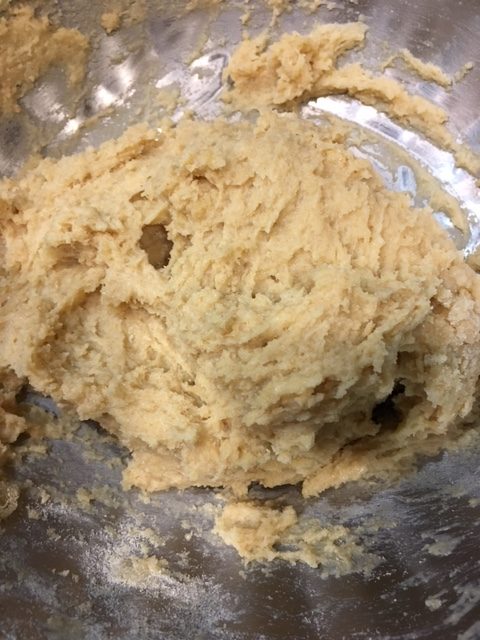 Keep kneading for roughly 15 minutes and it will stop sticking and will be smooth and shiny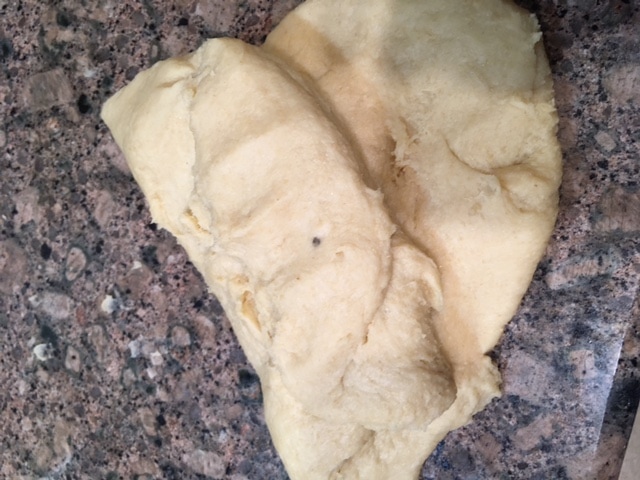 Grease a bowl liberally with oil. Flip the dough in it. Cover the bowl and leave it for an hour or so or till the dough doubles in volume.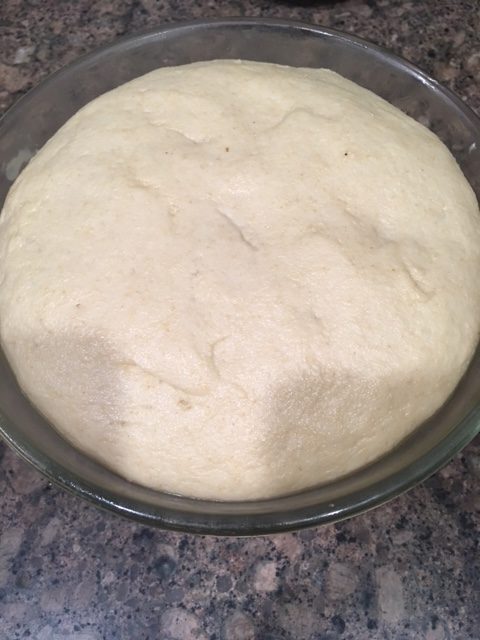 Punch the dough, cut into 2 parts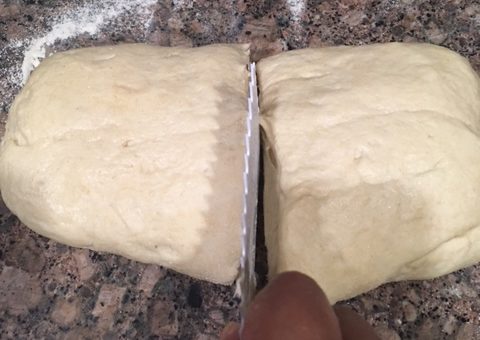 Keep one part covered in the bowl.
Sprinkle enough flour on the working surface, and roll out it thinly
Spread Nutella or thick chocolate sauce, leaving the edges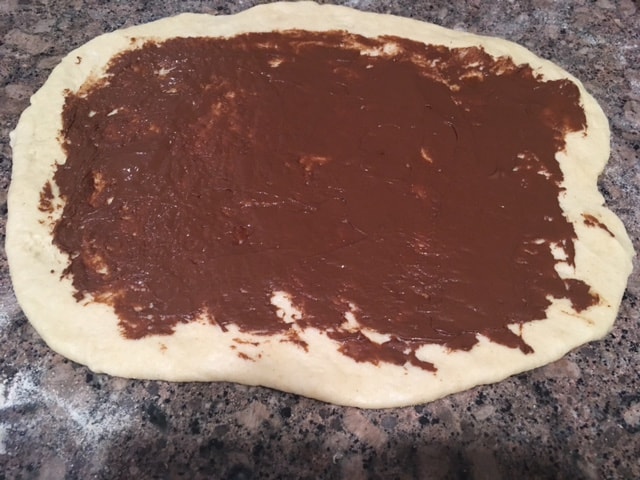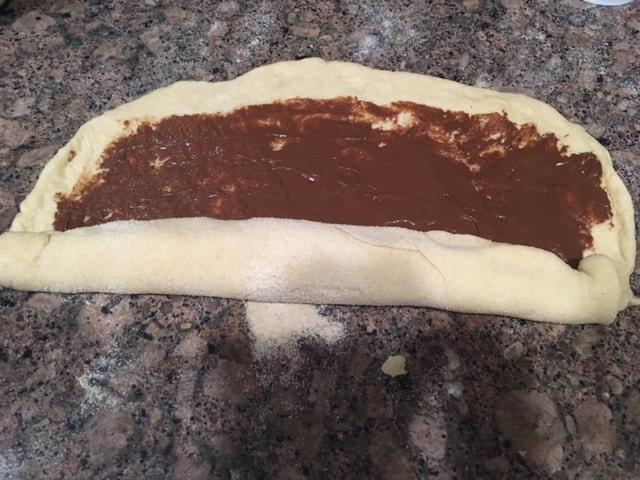 Once rolled, cut it from the center. Keep the 1/4 portion in the starting  intact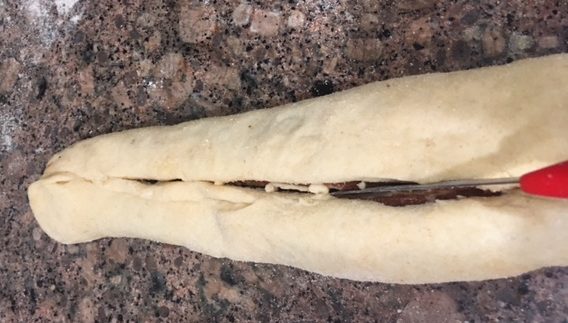 Start braiding. Take care to twist in a manner that the chocolate portion comes on top.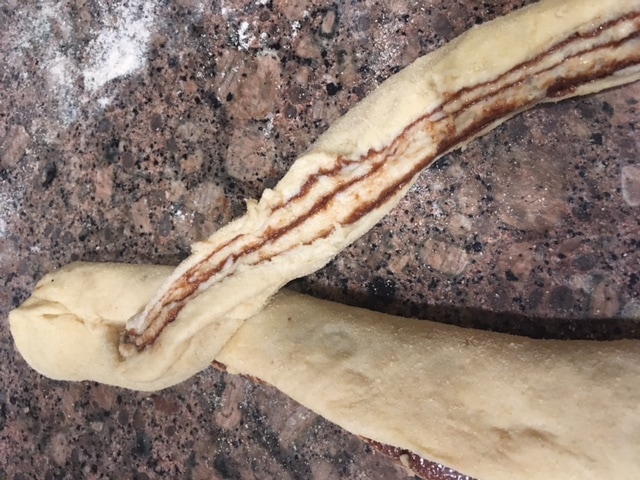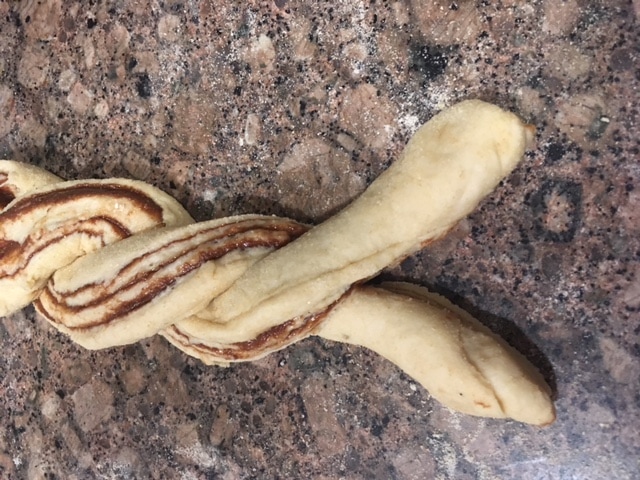 Once complete, tuck the edges. Now cut the remaining 1/4 portion on the other side which we left intact in the beginning.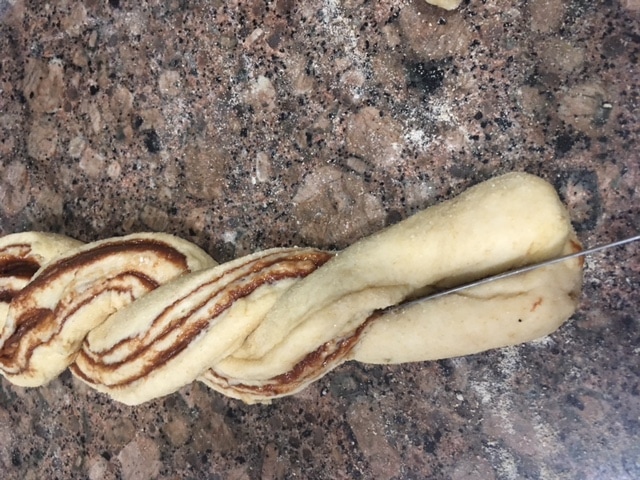 Braid it also. Carefully lift the braid and keep it on the parchment paper-lined in the baking tray.
Similarly, make the other braid.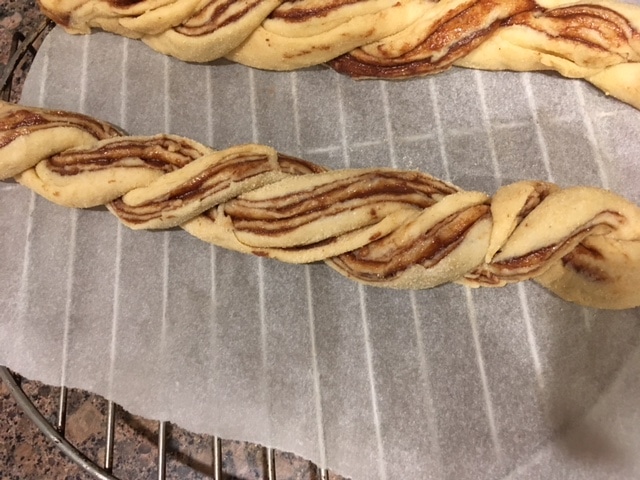 Cover it with a damp cloth and leave it for 20 to 25 minutes for the second rising.
10 minutes prior to baking, preheat the oven to 190 degrees for 10 minutes.
Make milk wash by mixing honey and milk.
Brush this wash on braided bread
Bake for 20 to 25 minutes till golden brown. Take out keep on a wire rack. Brush with butter. Cover with a damp cloth till cools down or at least 1o minutes.
Serve as it is or cut slices
FAQs
Q) Can I replace instant yeast with active dry yeast?
Yes, you can! For this recipe, use 1/2 tsp instant yeast or 2/3 Tsp Active Dry Yeast or 4 g Fresh Yeast
Q) Can I mix instant yeast directly into the flour?
Yes, you can. But, I have proved yeast in warm water, for two reasons.
Firstly, because I love to see the frothy water. It gives me immense happiness.
And secondly, it assures me that my yeast is good and I am going to get awesome bread. If you are sure that your yeast is good, then you can add it straight away in the flour along with other ingredients. (For more on this, you may refer to my 

Stromboli

Recipe).
Q) Can I skip all-purpose flour and use 100% wheat flour?
Yes, you can! In my Orange Marmalade bread, I have used only whole wheat flour.
Related Recipes
If new to bread making then these posts are especially for you 
Let's Connect!
I hope you have liked this recipe for making Chocolate Braided Braided and will surely try it out for your loved ones.
Thank you for reading this post. If you have liked this recipe then do let me know by leaving a comment below. Your feedback fuels my enthusiasm. You may share this post with your dear ones by clicking on the little buttons below. You may follow me on  Facebook   Pinterest   Instagram(#samirasrecipediary) too. for latest recipe updates. Thank you!
WP Recipe Maker #18933

remove





Prep Time: 20m

Cook Time: 25m

Proofing Time: 90m

Servings: 2 Loaves

For The Dough

- 1.5 Cup (210 g) Wheat Flour (Atta)

- 3/4 Cup 90 g All-Purpose Flour

- 3 Tbsp Milk Powder

- 1/4 Tsp Salt

- 1/2 Tsp Instant Yeast Or 2/3 Tsp Active Dry Yeast Or 4 g Fresh Yeast

- 40 g Powdered Sugar

- 40 g Butter, Softened

- 1/2 Cup Warm Water

- 1/2 Cup Milk, at room temperature

- 1/2 Tsp Oil, for greasing the bowl

For The Filling

- 1/4 Cup Wheat Flour, For Dusting

- 4 Tbsp Nutella

- 1 Tsp Milk, For Milk Wash

- 2 Drops Honey

For the Dough

1) Take warm water in a bowl. Dip your finger in it to check. If you can comfortably dip the finger in it then its fine otherwise not. It should not be very hot otherwise it will kill the yeast.

2) Put 1 tsp sugar and yeast in a bowl/cup.  Stir lightly. Cover and leave for 1o to 15 minutes or till frothy.

3) While the yeast is getting activated, you do other preparations.

4) Take both the flours, milk powder and salt in a bowl and sift it 3 to 4 times. This is very important, especially in wheat-based bread and cakes.

5) Take the sifted flour in a big bowl and add melted butter, powdered sugar and yeast solution. Also, add milk and start kneading.

6) The flour yeast mix will be very sticky initially. Keep kneading, tossing between your hands or pressing with heels of your hands or any other way you feel comfortable. Just be patient and continue doing so for at least 10 to 15 minutes till you get a smooth, shiny, non-sticky dough. Better not to use oil or dry flour to get rid of this stickiness.

7) Take a bowl, grease it with oil. Put the dough in the greased bowl, flip it so that gets greased from all sides.

8) Cover it with cling film or lid or just a plate.

9) Keep the bowl in a warm place, better inside the Otg or Microwave oven. Do not switch on these appliances.

10) Let the dough rise for an hour or so. Keep an eye on the dough 45 minutes onwards. Whenever it gets double its ready to be knocked down. Time varies according to weather, the quantity of yeast used, warmth in the kitchen etc., so, don't go by the clock but by the size of the dough. It should get double. Mine took 1 hour 15 minutes.

For the Bread

1) Punch the dough to release the gases accumulated therein.

2) Make a log and cut it into 2 parts. Do not tear the dough as it may destroy the gluten developed in the dough.

3) Take one part of the dough. Keep the other part in the bowl and cover it.

4) Sprinkle flour on your work surface. Put the dough and spread it into a rectangle. Ensure that the rolled dough is moving freely and is not sticking to the work surface. If sticking, then dismantle it, put more flour and then again roll it.

5) Spread Nutella on the rolled dough.

6) Start rolling from the bigger side and form a tight log.

7) Where the edges meet, from there only, split the log into 2 parts. Keep the starting 1/4 portion intact.

8) Start braiding with the two parts. Take care that the chocolate portion comes on top every time.

9) When finished, cut the starting portion also and braid it.

10) Carefully lift this braided loaf and keep it in the greased baking tray.Or in the baking tray lined with parchment paper.

11) Cover it with a damp cloth and leave it for the second rise for about 20 minutes.

12) Similarly, make the braid with the other portion of the dough.

13) Keep the two braids at a distance from each other, giving them space to rise.

14) 10 minutes prior to baking, preheat oven to 190 degrees for 10 minutes.

15) Mix milk and honey, and brush the braided bread with it.

16) Bake for 25 to 30 minutes till you can smell the lovely chocolate bread and the top gets golden brown.

17) After taking out of the oven, keep the braided bread on a wire rack. Brush little butter on these. Cover with a damp cloth and let it cool down, minimum for 10 minutes.

18) Enjoy, serve with love, milkshake optional.

The quantity of milk used may vary little, by a tablespoon more or less, depending on the flour. This is because liquid absorption capacity of different flours is different. Avoid making too long braids as then it is difficult to lift. If finding it difficult to braid, then keep the rolled log in the freezer for 5 to 10 minutes only. Tastes even better if warmed for few seconds in the microwave. If using granulated sugar, then dissolve it in milk first.