Bursting with the flavor of strawberries these strawberry muffins are amazing. These muffins are perfect for Valentine's Day or Marriage Anniversary or anytime just to celebrate this beautiful life.
Yes, these are undoubtedly The BEST, YUMMIEST, EASIEST and Very Healthy Strawberry Muffins. Pillowy soft and that too without eggs and without all-purpose flour. These are made 100% with wheat flour. Once you eat them, first of all, you can't stop at one. The second one (even third at times) is bound to follow.
You have to try these muffins. If you are not comfortable doing icing, for whatever reason, then you can just cover these with strawberry compote or leave them plain. They taste good either way.
Related Recipes
Best Eggless Strawberry Muffins Made With Wheat Flour
I have been making muffins since long but mostly these were chocolate muffins and at times vanilla or banana or apple muffins. But despite being a strawberry lover, never ever I thought of strawberry muffins. God knows why? Though they are the BEST. This is the first time I made these muffins and were such a great hit that I baked 4 batches (of 12 each) in just 4 days. And every time they vanished like a whiff. Frosted or plain, both tasted superb. I myself gorged on these even though I don't like muffins much. How can my trial of muffins be complete without sharing these with my muffins lovers' nephews, Abhi and Ayush? So, plan to bake at least another two lots for these boys in the coming week.
Like all my above-mentioned muffins even these strawberry muffins are wheat-based. They are made with easily available ingredients. I can bet upon that you have all these in your pantry all the time... just wheat flour, sugar, oil, curd, baking powder, baking soda and milk. Just go and get strawberries and then to your kitchen.
When you have fresh strawberries, then do not forget to try these easy strawberry delicacies:
Strawberry Muffins Without Any Essence
Bursting with the flavor of strawberries these muffins are amazing. Can you imagine a cake/muffin without any artificial flavoring like vanilla/strawberry extract? Actually, I didn't have strawberry essence and adding vanilla extract to strawberry muffins? No way. It's like adding vanilla essence to pineapple cake... ruining the flavor of both. I made these without any essence and trust me the natural aroma of strawberries is enough for these muffins. If you have strawberry essence then add that but please do not add vanilla essence. My Rasmalai Cake was also a big hit and one of the reasons was that I used almond essence in it instead of vanilla.
I also added little beetroot juice along with strawberry puree to enhance the color. You may skip that if not comfortable using it as it has nothing to do with taste.
These muffins are great to have in breakfast or for your kid's lunch box or as a dessert or as an evening snack or for any time munching.
Detailed Recipe of Eggless Strawberry Muffins with Step by Step Photos
Make Strawberry puree. If using jaggery powder then add it along with strawberries only in the mixer.
Extract beet juice.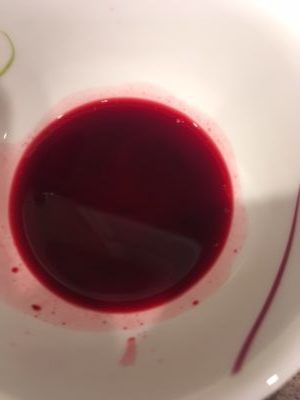 Arrange muffin liners in the muffin tray.
Preheat oven to 180 degrees C for 15 minutes.
Sift flour, baking powder, baking soda and salt 2 to 3 times.
Chop strawberries into small pieces.
Reserve some and dust the remaining with flour.
Mix oil, milk, curd, and sugar in a bowl until sugar dissolves.
Add the strawberry puree.
Add beet juice, though optional.
Fold dry mix of flour in the wet mix in 2 or 3 batches.
Fold chopped and dusted strawberries.
Keep the consistency thick.
Fill this in muffin liners up to half or a little more.
Sprinkle some chopped strawberries (reserved above).
Bake for 20 to 22 minutes.
Let them cool down completely before frosting.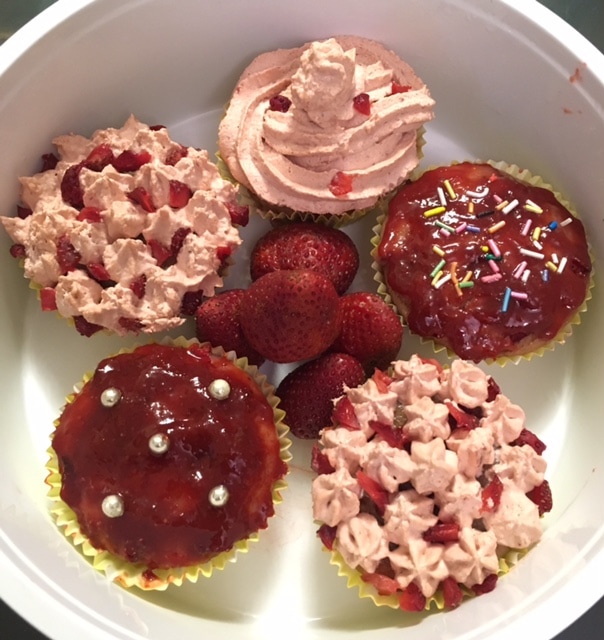 Take chilled cream in a chilled bowl.
Read: How to make Perfect Whipped ream
Beat with an electric beater till stiff peaks are formed.
Fold in strawberry sauce.
Fill in a piping bag, fitted with a nozzle, and decorate your muffins.
With the same recipe, you can make a cake too. Use a 6'' cake tin for this recipe and bake for 30 minutes. Then simply put some fresh strawberry jelly hearts and a beautiful cake is ready.
Eggless Strawberry Muffins Recipe Card
Strawberry Muffins
Ingredients
My Cup Measures 240 ml
1

Cup

130 g Wheat flour

1/2

teaspoon

Baking Powder

1/4

teaspoon

Baking Soda

1/8

teaspoon

Salt

3/4

Cup

Sugar/Brown Sugar/jaggery Powder

1/4

Cup

Oil

1/4

Cup

Curd

1/2

Cup

Milk

at room temperature

1/4

Cup

Strawberry Puree

1

teaspoon

Beetroot Juice

1/4

Cup

Chopped Strawberries
For Frosting
1

Cup

Whipping Cream

2

Tablespoon

Strawberry Sauce
Instructions
For Muffins
Make strawberry Puree. Just put washed, hulled and chopped strawberries in the blender and blend for a while and your strawberry puree is ready.

Arrange muffins liners in the muffins tray. In the absence of muffins liners, you can use silicon moulds or paper cups or glass bowls also. No need to grease any one of these except glass bowls.

Start preheating the oven. Preheat oven to 180 degrees C for 15 minutes.

Take flour, baking powder, baking soda and salt in a bowl and sift it twice or mix with a wire whisk.

Chop strawberries into small pieces. Reserve about 1 tablespoon of these for topping and dust the remaining with 1 tablespoon flour. Use from the above-sifted flour only. Do not take additional flour. This is done to avoid the sinking of fruits in the bottom and to ensure even distribution of fruits in the muffins.

In a bowl take oil, curd, milk, sugar and strawberry puree. Mix everything nicely till sugar dissolves completely and the mixture looks creamy.

Now depending on the color of your batter, add little beet juice. For beet juice, grate beet and squeeze it with your hands only to get the juice as you need only a spoonful of it only. I used 1 teaspoon of it. You may even skip this point.

Add flour mix to the wet mix in 2 or 3 batches, mixing with light hands in one direction only. Neither mix vigorously nor overdo it. Over mixing of the batter develops the gluten in it which in turn makes the muffins chewy and rubbery.

See that the batter is thick and not runny. In case it is too thick then add one or two teaspoon milk.

Lastly, fold dusted strawberry pieces in the batter.

Put muffin mix in the muffins liners. Fill each liner up to half or 2/3rd only.

Sprinkle chopped strawberries.

Tap the muffins tray on the kitchen counter 2 to3 times. This is done to release air bubbles if any.

Keep the muffins tray in the preheated oven and bake for 20 to 22 minutes. Baking time varies from oven to oven so keep a check 15 minutes onwards. However, fruit muffins take little longer than other muffins.

To check for the doneness of the muffins, insert a toothpick in the centre of any one muffin. If it comes out clean this means that they are baked. Along with this also press lightly one muffin. It should spring back.  In case it does not spring back then bake more for a minute or two. This is because otherwise, muffins may sink from the centre after taking out of the oven.

Keep the muffins on a wire rack till cools down completely.

Now eat as it is or cover with whipped cream or with strawberry jam/sauce.

Keep them in an airtight container in the refrigerator.
For Frosting
Take chilled whipping cream in a chilled bowl and whip till stiff peaks are formed.

Add strawberry sauce and mix it nicely.

Fill this in an icing bag and decorate your muffins.
Recipe Notes
Salt enhances the flavour of sugar, so go ahead.
Take normal sugar. No need to powder it.
If using jaggery powder then add it to the mixer while making strawberry puree only so that it is dissolved fully.
Any cooking oil can be used.
Better to use curd at room temperature. For this, take it out of the refrigerator about half an hour before starting to make muffins.
You may increase the quantity of strawberry puree and pieces as per your liking.
Use heavy whipping cream only for desired results.
FAQ's Regarding Strawberry Muffins
Q) How can I make my muffins light and fluffy?
A) Take care of the following points
Ensure that curd and milk are at room temperature. For this, take out these out of the refrigerator at least half an hour before making muffins.
Sift the flour multiple times.
Ensure that the baking powder and soda are added in adequate quantities and are not expired.
Q) What makes a muffin different from a cupcake?
A) It is the frosting that makes them stand apart from each other. Muffins are plain without any frosting (icing) whereas cupcakes are covered with whipped cream or buttercream or ganache.
Q) What can I do with wilted strawberries?
Strawberries wilt very fast and once wilted you don't enjoy eating them. Does this mean that they go into the bin? Definitely not! If strawberries get wilted then you can use them for making any of these:
Q) Can I make Strawberry muffins with frozen strawberries?
A) Strawberries are available for a very limited period. But you can enjoy these muffins round the year. How? Simple, store strawberries in your freezer.
Thank you for reading this post. I hope you have liked this easy method of making strawberry jelly. If you try this recipe then do share your feedback. Your feedback fuels my enthusiasm to post more good content.

Also, if you like this post then feel free to comment in the comment section below. You could share it in your social media circle by clicking little buttons below.

You can follow me on  Facebook, Pinterest, Twitter, Instagram (#samirasrecipediary).
Happy Baking...
Samira
Testimonials