Bathua Raita Recipe is a winter delicacy. It keeps you warm along with giving loads of nutrients. See here the easy way to make this delicious accompaniment using curd, Bathua and some spices.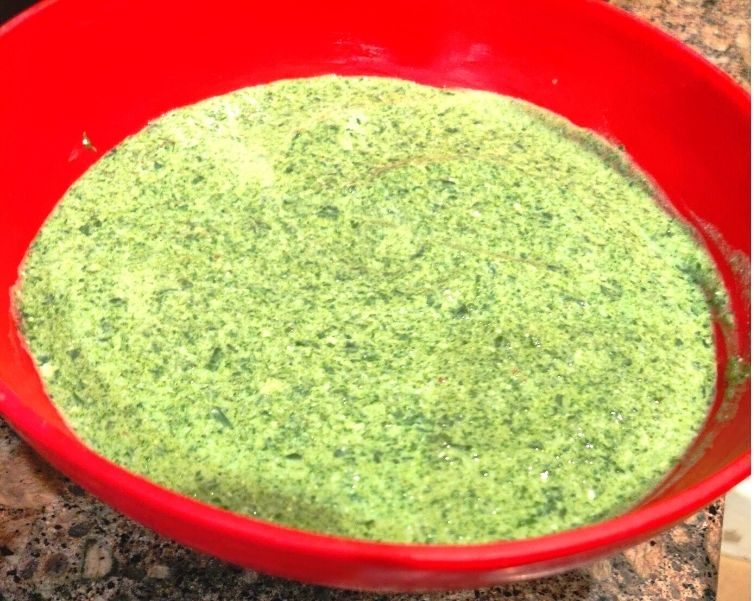 Winters and Green vegetables go hand in hand. We have an ample variety of green leafy vegetables in this season. Spinach (Palak), Fenugreek leaves (Methi), Mustard leaves (Sarson ka Saag) are well known for their taste and health benefits and enjoy the status of Delicacy all over. But at the same time, this Bathua leaves (Chenopodium), though super nutritious, is left somewhere behind and is not the talk of the town.
Benefits of Bathua
But do you know that this Bathua is a storehouse of many nutrients, iron being on the top? Suffering from anaemia? Then Bathua is one of the best natural remedies. Include Bathua in your diet and see the miracle.
Other than iron, it is loaded with fibre, Vitamin A and amino acids.
It is a good hypoglycemic agent which means that it helps in lowering the levels of blood sugar in people. You can read more about the benefits of Bathua here.
Different Ways to Consume Bathua
We can include Bathua in our diet in various forms.
You can make its Chapati/ Paratha.
Add it to your Sarson Ka Saag and
Mix it in beaten curd and thus make Bathua Raita.
Bathua Raita
Bathua Raita is a perfect combination in winters. Bathua is basically a warm vegetable so it combats the otherwise cold properties of curd.
I just love Bathua ka Raita, provided it is made properly without any shoots of it. Bathua, a leafy vegetable, has thick shoots, and no matter how finely you chop it, some of these remain and when added to the curd, then they are not mixed up properly. And when not mixed then they affect the texture of the Raita.
It is because of this reason that I thought of posting its recipe here.
Step By Step Recipe
The first and foremost thing is that you need to wash Bathua thoroughly.
After removing the leaves from the stalks, wash them. It has a lot of dust so while washing change the water several times till you get clean water.  Better to use a wide vessel for washing it. Also, the stalks can be washed and used for making soup stock.
Then, boil it. It gets cooked very quickly so cook it in the pressure cooker for just one whistle.
Put it in the strainer for 10 to 15 minutes.
When cool, squeeze out all extra water from it.
Very important...do not throw this water. Add it to your soups or knead chapati dough with it.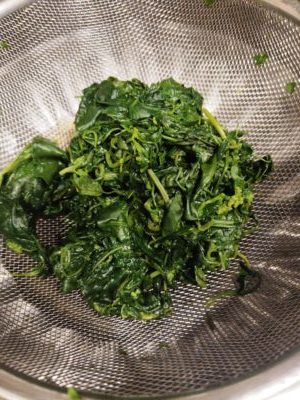 Thereafter, put the squeezed Bathua in the grinder and using the Pulse mode, grind it coarsely. We use Pulse mode so that we do not make its paste. If we grind it coarsely then very tiny traces of Bathua will be there which will enhance the taste of Raita.
Now, take curd and smoothen it using a wire whisk.
Ensure that no lumps are there.
You can even pass it through a strainer which will give you a creamy consistency.
Add salt, rock salt, roasted cumin powder, red chilli powder and grounded Bathua in it. Mix everything nicely.
Serve this yummy and nutritious Bathua Raita in your meals.
Some other winter recipes:
Let's Connect
Hope you will surely try out this easy and healthy Bathua Raita recipe. You may PIN this recipe to save it for later. And if you try it out, do share your feedback through comments/pics. If on Instagram then do remember to tag me using hashtag #samirasrecipediary

Your feedback fuels my enthusiasm to post more good content.

You may join my FaceBook page to know about the latest recipes and updates.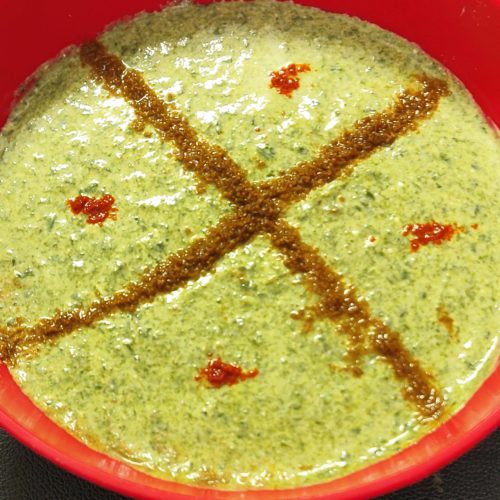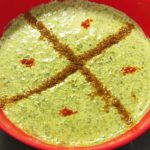 Bathua Raita Recipe
Bathua Raita is a Riata for winters. It keeps you warm along with giving loads of nutrients. See here the easy way to make this delicious Raita.
Ingredients
250

g

Bathua

250

g

Curd

1/2

Tsp

Salt

1/2

Tsp

Rock salt (Kala Namak)

1/2

Tsp

Roasted Cumin Powder

1/4

Tsp

Red Chilli Powder (Optional)
Instructions
Separate the leaves from the stalks.

Wash the leaves thoroughly in water, changing water 3 to 4 times, till you get clean water.

Boil it in the pressure cooker for just one whistle. Leaves have ample water in them so do not add much water.

When completely cool, squeeze out all extra water by pressing between your palms.

Grind it coarsely, using pulse mode.

Smoothen Curd using a whisk.

Add salt, rock salt, roasted cumin powder, red chilli powder and grounded  Bathua.

Mix nicely. Adjust consistency by adding little milk (at room temperature), if too thick.

Serve in meals along with Chapati/Paratha/Poori.
Recipe Notes
250 g of Bathua will give you roughly 100 g Bathua leaves.
Use the Bathua stalks for making vegetable stock for soups.
Use the water left after boiling Bathua for kneading flour or add it to your veggies/soups. Use it in whatever way you want but do not throw it.
So enjoy this nutritious Raita in these winters and avail its benefits.
Happy Cooking...Healthy Cooking...