Jump to Recipe
Eggless Banana Muffins recipe with walnuts and chocolate! A wonderful combo!  And when made with whole wheat flour then it becomes the perfect choice for breakfast. In fact, it can be had at any time of the day. Also can be easily packed in your little one's lunch box too and they will take it with pride.
The recipe is extremely simple and hassle-free. All the ingredients are always there in your kitchen, so no special shopping. You can make them in just 10 minutes and then another 15-17 minutes in the oven. By the time your oven gets preheated, your batter is ready.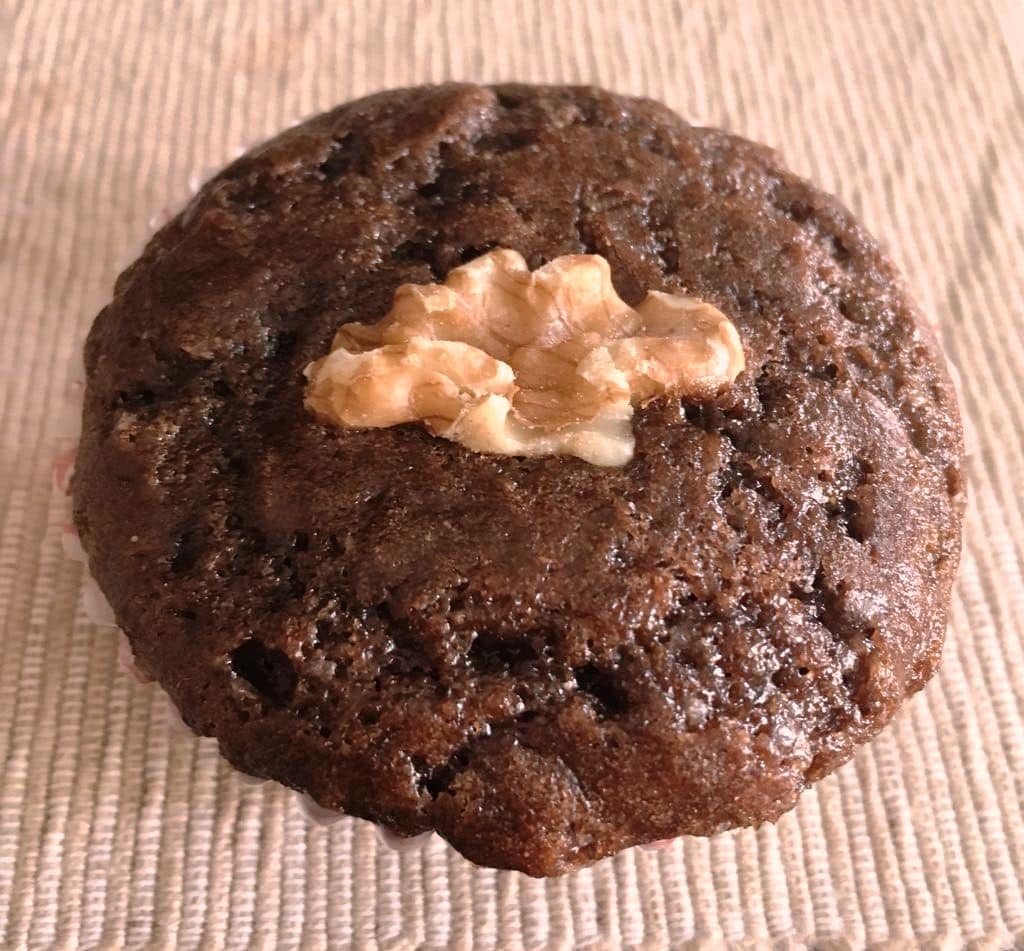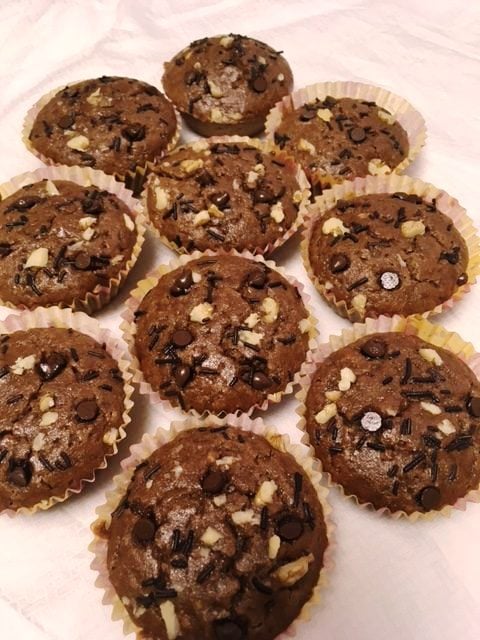 These banana muffins are my younger son Siddharth's favorite. He loves to have either these or simple chocolate muffins. And as these are healthy as well as simple to make, I too love making these. If in just one muffin, you can get the goodness of fruit, nuts, whole wheat that too with plenty of taste then why not?
You can make an eggless banana walnut cake too with this recipe. Instead of muffin molds, pour the cake batter in a cake tin, preferably 6" and bake in the preheated oven for 30 to 35 minutes till a skewer inserted comes out clean. For making this cake, I followed the same recipe but omitted cocoa powder and replaced refined sugar with coconut sugar.
Best Use Of Overripened Bananas
Banana muffins are made best with overripe bananas. Bananas, which have lost their color, gone extremely soft, which normally no one likes to eat, are ideal for making banana bread or cake or muffins. Well, this does not mean by any chance that you cannot use fresh bananas. Use as per the availability.
Another recipe with over-ripened bananas that you would love to try is Banana Pancakes (Eggless And With Jaggery)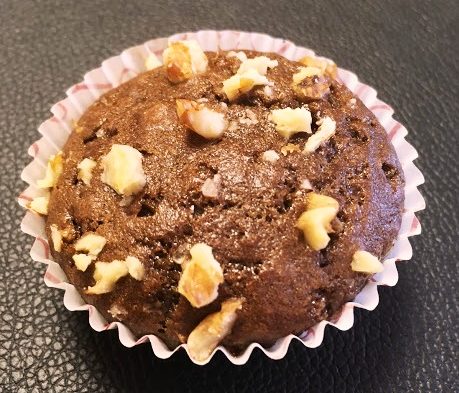 Step by Step Recipe
  1. Sift flour, baking powder, baking soda, cocoa powder, and salt. (Reserve 1 tablespoon of this flour for mixing walnuts)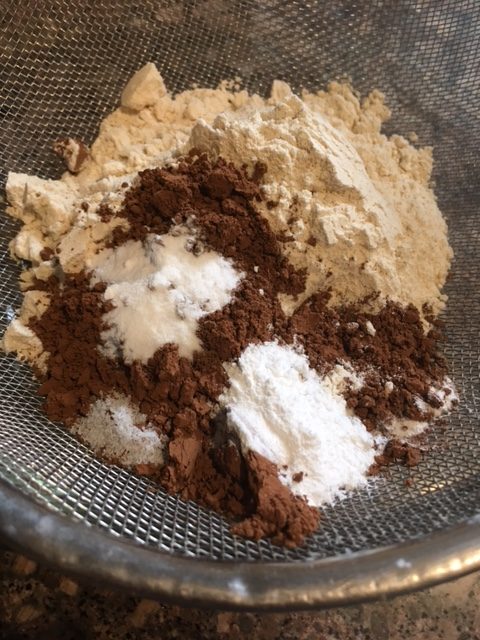 Add sugar and mix well. (You may use brown sugar or jaggery powder as well)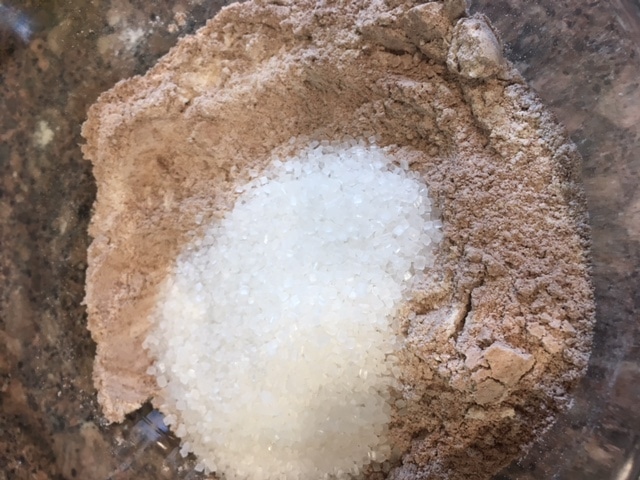 Make a well in the center and put oil, vanilla essence, milk, and curd.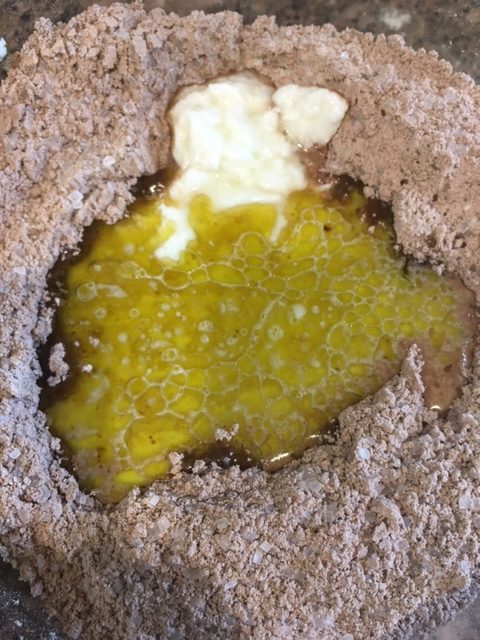 Tip: You can use bananas mashed with a fork too.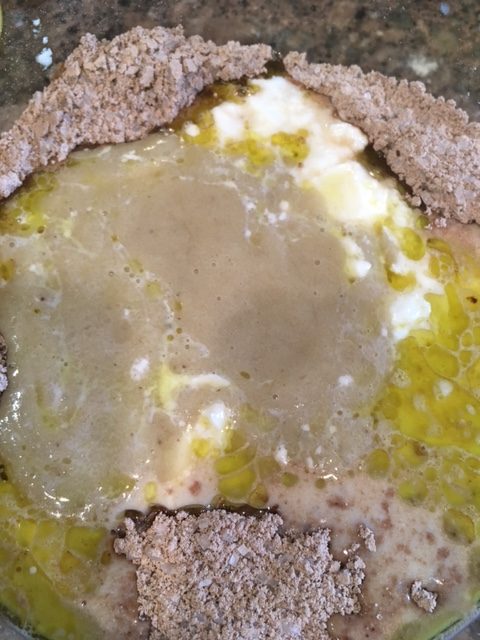 Mix chopped walnuts with 1 tbsp flour.
Mix everything with light hands and add walnuts
Tip: Mixing walnuts with dry flour ensures that they do not settle at the bottom and are evenly distributed in the cake or muffins.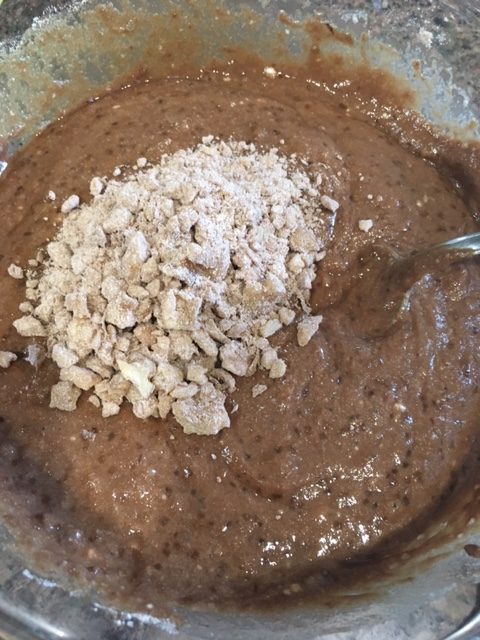 Mix everything and put the batter in muffin liners. Sprinkle walnuts/choco chips, if desired.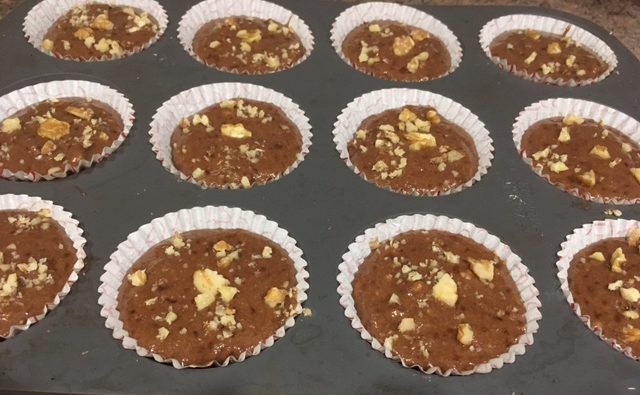 Bake at 180 C for 20 to 22 minutes 
Insert a toothpick to check that these are fully baked.
Tip: Banana muffins or banana cake take longer to bake due to moisture in it.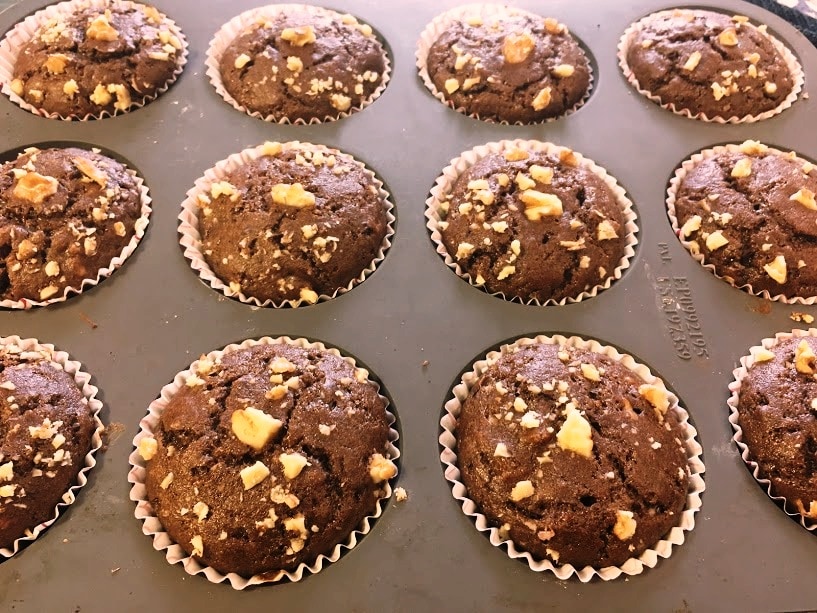 FAQs 
Q) Can I make a banana cake using this recipe?
Of course, you can! Instead of muffin molds, pour the batter into a 6" baking pan and bake it for 30 to 35 minutes. See the picture of my Banana Walnut cake above.
Q) Can I make it gluten-free?
No! But if you are interested in a gluten-free banana cake then do try this Ragi Banana Cake 
Q) Can I omit cocoa powder in this recipe?
 Omit cocoa powder if wish to have pure banana flavor. In that case, add 2 tbsp wheat flour more and the rest of the ingredients will remain the same.
Q) Can I replace refined sugar with some healthy alternative?
Yes, replace refined sugar with the same quantity of cane sugar or jaggery powder, or any other sweetener of your choice. If using jaggery powder then do sift it to get rid of tiny lumps in it.
Q) My bananas are fresh and not at all over-ripened. Can I still make muffins with these?
Banana bread is best made with over-ripened bananas. So, here's a hack for you. Put your yellow fresh bananas in the microwave oven for one or two minutes and see how quickly it turns into an over-ripened one. 
Q) Can I make these in a Cooker?
A) Yes. You can make these in Otg or even in a pressure cooker. You can bake this cake in a pressure cooker too. Here's the detailed method of baking a cake in a pressure cooker/wok.
Q) Can I  bake these muffins in Otg?
A) Of course, you can bake it in Otg.
If you are using an OTG, then, first of all, preheat it for at least 12 to 15 minutes with both the rods ON.
Thereafter, keep the baking tin on the middle rack and keep only the bottom rod ON.
Do not use the top rod. 
Each Otg is different so keep a check on the cake after 20 minutes only. It may take longer or shorter time than prescribed here.
My other Muffins/cakes which you may like are:
Let's Connect!
I am sure you will surely try this easy and wonderful recipe of Eggless Banana muffins.

Please do take out little time to comment below in the comments section as your feedback fuels my enthusiasm to post more good content. And if you like it then do share it with your dear ones also on your favourite social media sites.

If you wish to stay updated with the latest recipes then follow me on my Facebook page.
Eggless Banana Muffins Recipe
Banana Muffins, with walnuts, chocolate and whole wheat flour is a very easy recipe and a good way to feed bananas to your kids.
Ingredients
1

Cup

(120gms) Whole wheat flour (Atta)

2

Tablespoon

  Cocoa powder

1/2

Cup

 Sugar (See Note 3)

1/2

Teaspoon

  Baking powder

1/4

Teaspoon

  Baking soda

1/8

Teaspoon

 Salt

1/4

Cup

 Oil or melted butter

1/2

Teaspoon

 Vanilla Essence

1/2

Cup 

Milk, lukewarm

1

Tablespoon

 Curd

2

Bananas

pureed

1/4

Cup

plus 1 tsp Walnuts,

chopped

1

Tablespoon

Chocolate chips 

(optional)
Instructions
Preheat oven to 180 C for 10 minutes. While the oven is getting prepared you also do the following preparations.

Line muffins liners in the muffins pan.

Reserve 1 tsp flour and sift the remaining flour, cocoa powder, baking powder, baking soda and salt.

Put the sifted ingredients in a big bowl.

Make a well in the centre, by taking everything towards the wall of the bowl.

In the well, put wet ingredients in the given order- oil, vanilla extract, banana puree, milk, curd.

Mix everything very lightly.

Mix chopped walnuts (1/4 cup) with 1 tsp flour (reserved in step no. 3) (See Note 7)

Add these flour mixed chopped walnuts and mix.

Adjust consistency with milk, if required. Though keep it slightly on the thicker side.

Fill muffins liners up to three fourth.

Sprinkle some walnuts and choco chips (optional).

Bake for 20 to 22 minutes.

Check for doneness of the muffins by inserting a wooden skewer.

If baked properly then take out. If not, then bake for 2 or 3 minutes more.

After taking out, keep the muffins on a steel rack. This is necessary so that they do not get soggy at the bottom.

Remains good at room temperature for up to 2 days. For longer duration keep them in the refrigerator after keeping in an airtight container.

Serve with a smile, coffee optional.
Recipe Notes
Please use standard measuring cups only. Don't use cups available in your kitchen for tea, coffee, etc as they are of varied sizes. My 1 Cup measures 240 ml
The number of walnuts and chocolate chips can vary depending upon your taste.
Use normal sugar, castor, or powdered not required. Salt is added to enhance the flavor of sugar.
You can replace refined sugar with brown sugar or jaggery powder.
If using jaggery powder then add it along with bananas in the mixie and puree both together.
Can make this with 1 banana also, but then again it's a matter of choice.
Mixing walnuts with flour ensures that the nuts are evenly distributed and don't settle at the bottom of the muffins only.
A thick batter will give rocky texture muffins. If you like a smooth top, then go for the batter with a dropping consistency.
Do not over-mix the batter. Mix it lightly.
Can make these with all-purpose flour also or even half of each flour.
If using a silicon baking tray then first keep it in the baking tray and then fill the molds. This is because the tray is very soft and cannot be lifted once the molds are full.
Testimonials
Happy Baking…