Jump to Recipe

This Lemon Coriander Soup recipe is a clear soup recipe with the lovely aroma of coriander, the flavour of lemon and some crunchy veggies. Made from the stalks of coriander, which normally goes into the bin, this soup is highly aromatic and flavourful. Neither cornflour nor vegetable stock is used in this recipe.
Did I tell you that this Lemon and Coriander soup is vegan as well as gluten-free?

While having soups, if given an option, without a second thought, I would straight away go for my favourite Lemon Coriander Soup. Needless to say that it is the most aromatic, light and refreshing soup. The aroma of coriander just blows you away.
And on top of that, it is so light. You don't feel heavy but actually, feel like having food after having this soup.
In my family, we all prefer light and clear soups, not the very creamy and heavy ones. Even our Tomato soup is very watery. The reason is that creamy soups are very filling. They are good if you are having them as a substitute for meals. This is what I feel.
Must Read:
How to Make Lemon Coriander Soup without Vegetable Stock & Cornflour
The Lemon Coriander Soup that I make is actually a clear soup with the lovely aroma of coriander, the flavour of lemon and some crunchy veggies. 
I do not add any thickening agent like cornflour or gram flour.
And do you know which stock I use for making this soup? Any guesses? No, it's not the vegetable stock.
The stock of this Lemon Coriander Soup is made with coriander stalks. And that's the real beauty of this soup.
Call it Best out of Waste or whatever, but coriander stalks, are used for making this soup.
Coriander stalks are nothing but the thin stems of coriander which remain after removing the leaves.
These stalks are full of flavour and aroma. Do you know that coriander stalks are one of the main ingredients in Thai Cooking?
Normally, for making chutney or garnishing, I use them along with leaves. But if I plan to make Lemon Coriander Soup, then I purposefully collect the stalks, maybe for a day or two and then make this soup.
This soup made from coriander stalks stock is so different and flavourful as compared to that made from vegetable stock.
No stalks... No Lemon Coriander Soup. Yes, I would rather prefer not to make this soup if the stalks are not handy than to use vegetable stock.
I can feel that this idea is already tickling you and you can feel the aroma around you.
Jain Lemon Coriander Soup
I add neither onion nor garlic. As you know both onion and garlic have a strong flavour so I don't want to play with the aroma of coriander. So, this soup is perfect for my Jain friends too.
Step By Step Recipe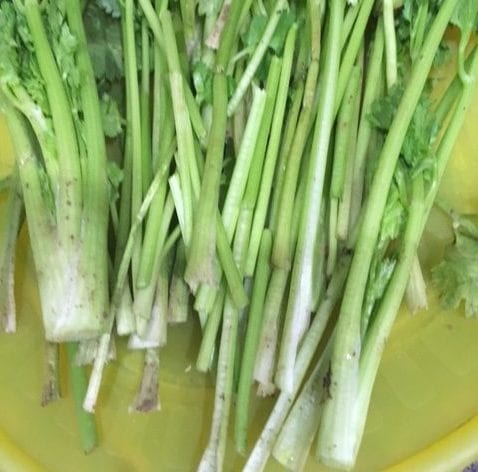 Rinse them thoroughly in the water maybe 3 to 4 times to get rid of all dirt and grime.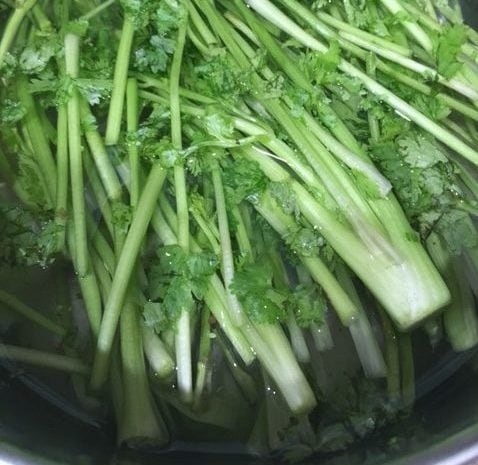 Boil these with lemongrass and 1 or 2 cups water in the pressure cooker, for 2 whistles.
Blend. (I used a hand mixer)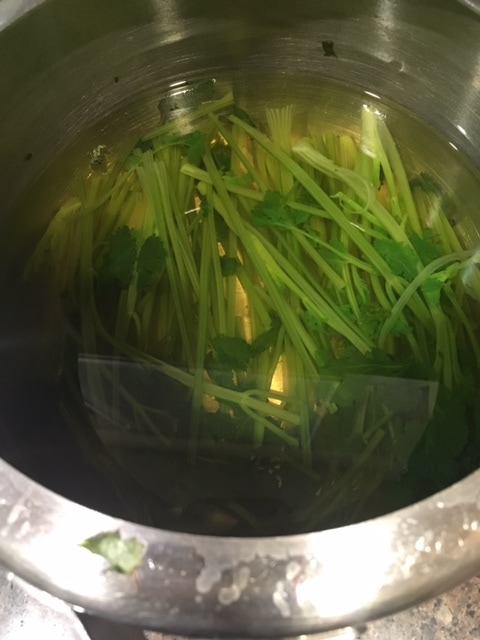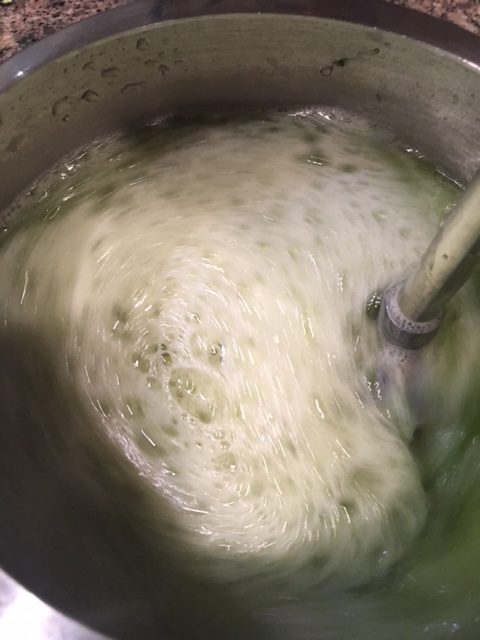 Slice veggies, as thinly as possible.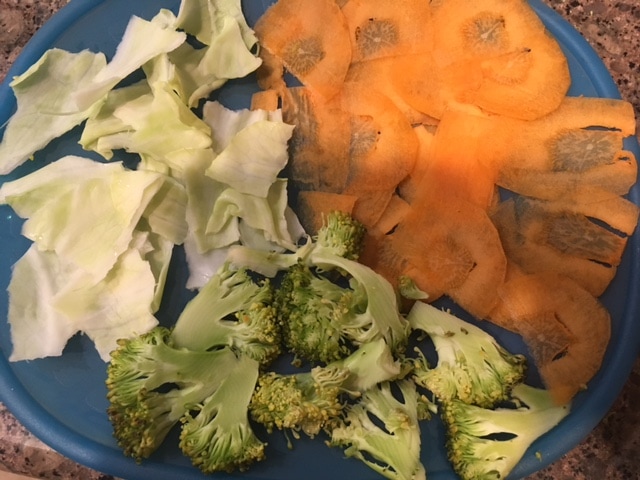 Heat a pan, put sliced veggies. Toss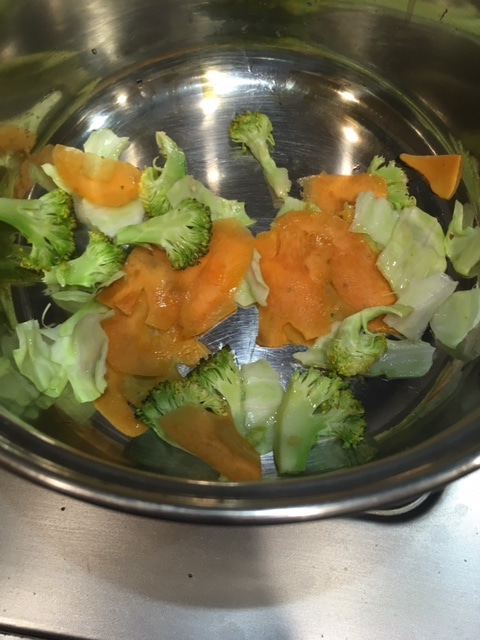 Pass stalks stock through a  sieve and put it in the vessel.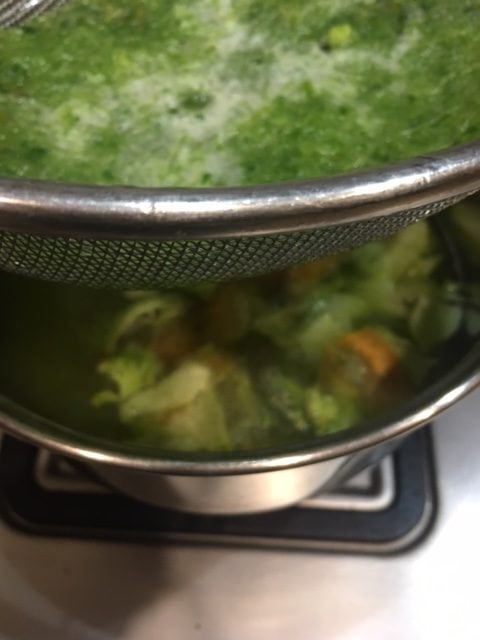 Add water. Boil for 2 to 3  minutes.
Add chopped coriander. Give just one boil.
Switch off the flame. Add lemon juice.
Serve with love, soup sticks optional.
Tip For Making Lemon and Coriander Soup
Coriander leaves lose their colour if boiled too long. Similarly, Vitamin C in the lemon juice gets destroyed once it is boiled.
So, to reap the full benefits of this soup, add coriander leaves and lemon juice in the end.
Let's Connect
I hope you have liked this Lemon Coriander Soup recipe and will surely try it out for your loved ones. I will be happy if you share your creations on Instagram and tag me #samirasrecipediary there.
Thank you for reading this post. If you have liked this recipe then do let me know by leaving a comment below. Your feedback fuels my enthusiasm. You may share this post with your dear ones by clicking on the little buttons below. You may follow me on  Facebook   Pinterest too. for the latest recipe updates. Thank you!
Veg Lemon Coriander Soup
Made from the stalks of coriander, which normally goes into the bin, this soup is highly aromatic and flavourful.
Ingredients
100

g

Bunch of Coriander/Cilantro

Few Sprigs of Lemongrass, Fresh or Dried (Optional)

1/4

Cup

Vegetables (Carrot, Cabbage, Broccoli etc), (cut into paper-thin slices)

Salt to taste

1

Lemon

Black Pepper to taste

1

Tsp

Chili Sauce (Optional)
Instructions
Take the bunch of coriander, remove the roots, if any.

Now remove the leaves and reserve these for later use.

After removing the leaves, you are left with stalks which means the thin stems. Wash these stalks thoroughly in water.

Put the cleaned and washed coriander stalks and lemongrass in the pressure cooker along with some water, approximately 1 to 2 cups.

Close the lid and boil these for 2 whistles.

While the stock is boiling, in the meantime, you do other preparations. Wash coriander leaves and finely chop them and keep them aside. Also, slice veggies, as thinly as possible.

Once the stock cools down, blend everything, that is the stalks and the water in the blender. You can even use a hand mixer and blend in the pressure cooker also even when hot.

After blending, pass everything through a strainer. This is your lovely, aromatic, green coloured stock.

Put a vessel on the gas stove, add sliced veggies in it. Toss it 2-3 times. If you want to add onion and garlic, then add 2 or 3 drops of oil and saute these.

Put the stalks stock in the vessel.

Add salt, chilli sauce and roughly 2 cups water and boil it for 2 to 3 minutes.

Lastly, add lots of chopped coriander leaves and give the last boil. (Reserve some for Garnishing)

Switch off the flame, squeeze lemon juice.

Garnish with some more chopped coriander.

Serve with love, bread optional.
Recipe Notes
I have used total 4 cups of water for 100 g of coriander. Some water while boiling the stalks and the rest with the soup. You may adjust the quantity of water depending upon the stalks quantity and quality.
Add coriander leaves only towards the end to enjoy their lovely green colour. If boiled for too long, they may get discoloured.
Put lemon juice also, in the end, to enjoy the full benefits of Vitamin C in it.
I have used cabbage, carrot and broccoli. (Mushrooms, we don't like and cauliflower was out of stock that day).
Instead of using a knife, tear cabbage into small pieces.
You may add green chillies instead of green chilli sauce.
Lemongrass adds lovely flavour but you can very well make without it also as it is slightly difficult to procure always.
You may PIN this Lemon Coriander Soup Recipe to save and try later:
Hope you will surely try out this yummy and healthy recipe of Lemon Coriander Soup for your loved ones. Do not forget to share your feedback. Your feedback fuels my enthusiasm to post more good content.
Happy Feedbacks!