Papaya Watermelon Smoothie, quick n easy to make, is perfect to start your day as it gives you a right push for the day at the right time.
Unless you have it you can't even imagine how delicious it tastes. Seriously, this was my first smoothie and was very skeptical as to how would it taste. But voila, when I made it, I was taken aback. I simply loved it and had not one but 2 and a half glasses of it. No sugar, no honey...nothing. It tasted superb on its own. However, as I  was not willing to add milk or yogurt, I used watermelon to balance the thickness of papaya pulp. Since I can't have very thick smoothies so diluted it with little water, I think about 1/4th cup. And it was perfect.
So, start a new habit and add Smoothies in your daily routine, preferably breakfast. And if you are wondering how a smoothie is different from a shake then read here.

Related Recipes
Smoothie In Breakfast
As it is said, " a happy soul resides inside a healthy body.''  And when it comes to health, diet plays an important role. Breakfast is the first meal of the day and as the saying goes, 'have breakfast like a king'. A good breakfast fuels you up and gets you ready for the day. It sets up your metabolism and you are likely to make healthy choices throughout the day. But, on the contrary, breakfast is either skipped or taken in a jiffy or taken too late.
I understand that mornings are too busy with lot many things to be handled simultaneously and that too one after the other. Then what to do? Skip breakfast?
Ever since I have started making smoothies in my breakfast I am really loving it. The guilt of not having the fruits during the daytime is no longer there as smoothie takes care of my daily quota of fruits. Also, it is so simple and quick to make. And above all, I love beverages. Having a cold beverage early in the morning makes my day. What about you?
Why Smoothie Is A Preferred Breakfast?
Smoothies though can be taken any time of the day but it is a preferred breakfast because of a number of reasons.
Smoothies are perfect to start your day.
These are fruit-based and give you the right push for the day at the right time, a quick and easy way to get a healthy dose of your daily nutrient needs.
As these are best made with frozen/ chilled fruits, so you can chop the fruits in the night, dump them in the refrigerator and in the morning just throw them in a blender with a liquid of your choice, like milk, yogurt or coconut water or simply water. Blend it for a minute and here you have a healthy breakfast. No straining nothing. It is basically fruit pulp as if you are eating fruits. Eating fruits require time but drinking fruits is much quicker. Isn't it? You can try a lot of combinations of fruits and liquids suiting your taste and requirements. Have it with some almonds and walnuts.
You can pack a lot of nutrition into one smoothie and get a delicious treat. As long as you stick with healthy ingredients and don't add extra sweeteners, you can enjoy these treats on a regular basis. Fruits have natural sugar called Fructose but still, if you need to sweeten your smoothie then use honey or dates.
Smoothie For Diabetics
Smoothies are absolutely healthy and are good for everybody including diabetics and weight watchers.  Fruits that are really good for diabetics are apples, pears, peaches, strawberries, grapes, oranges, grapefruit, plums, pomegranate, papaya and watermelon. Even if other fruits, you can balance the sugar levels by adding flax seeds or some nuts in your smoothie. You can check with your Doctor and then go for it. There are Diabetic friendly smoothies and you can have those.
Here, I am sharing with you one basic recipe for a SMOOTHIE... This is Papaya Watermelon Smoothie. This smoothie is good for everybody, even if you are a diabetic or are looking to shed extra kilos or suffering from High Blood Pressure. Papaya is a wonder fruit, you can read about the benefits of papaya here. Since papaya and watermelon, both are easily available round the year you can make it effortlessly. Watermelon can be replaced with orange juice or even water also.
Recipe Of Papaya Watermelon Smoothie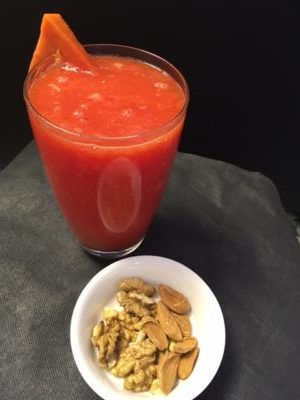 Actually no recipe as such. Just take chilled papaya and watermelon, blend them for a minute or so. If required, add little water and that's it. In case, you end up making more than keep the leftover in the refrigerator for later use. Use more of watermelon. Also, no need to pick out each n every seed of watermelon. These are very soft, blend well and will nowhere affect the taste of the smoothie.
Ingredients
1/2 Cup Papaya, peeled, deseeded and chopped
1 Cup Watermelon, deskinned and chopped
1/4 Cup Water (Optional)
Method
Put papaya and watermelon in the blender. Blend for a minute or so till properly blended. Add water, if required otherwise just leave it.
Pour it into a glass of your choice and enjoy with a handful of nuts.
Notes
Add honey in case the fruits are not very sweet.
If the watermelon is not available then add water or coconut water or yogurt or fresh orange juice.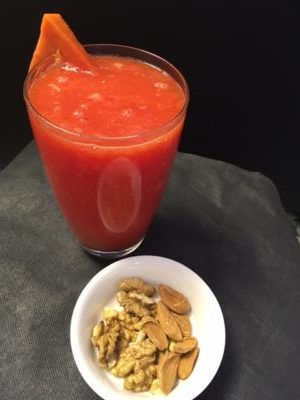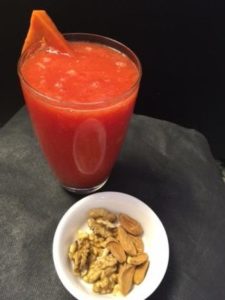 I will be sharing more smoothie recipes. I am sure you will give it a try. Just one try is needed because after that you yourself will not like to leave it. Make your own smoothie with whatever fruits you have.
As there can be endless combinations, so don't forget to share the recipe of your smoothies with us along with the pics.
So from today onwards, start a new habit and add Smoothies in your daily routine, preferably breakfast.
Also, share your views and experience regarding this New Habit...
If you have liked this post or any of my other recipes then please leave a comment below. Your feedback fuels my enthusiasm to post more good content.Also, join me on my Facebook page for more interesting tips and facts.
Now, its time for...
Food For Soul
Small Changes Can Make A Huge Difference