This Bread Dahi Vada recipe is oil-free and also without any cooking involved, in which Vadas are made with bread and are then soaked in whisked curd.
A very easy recipe which even children can make. Apt for the humid climate or for sudden guests or when there is not enough time or simply when you are not in a mood for any hardcore cooking.
Dahi Vada, Kanji Vada, Thandai, and any form of Chat are very well associated with Holi. These are some of the must-have delicacies at this festival. So, for this month's Blogging Marathon, I thought that this recipe would fit in beautifully under the Festival theme, hence came up with this post.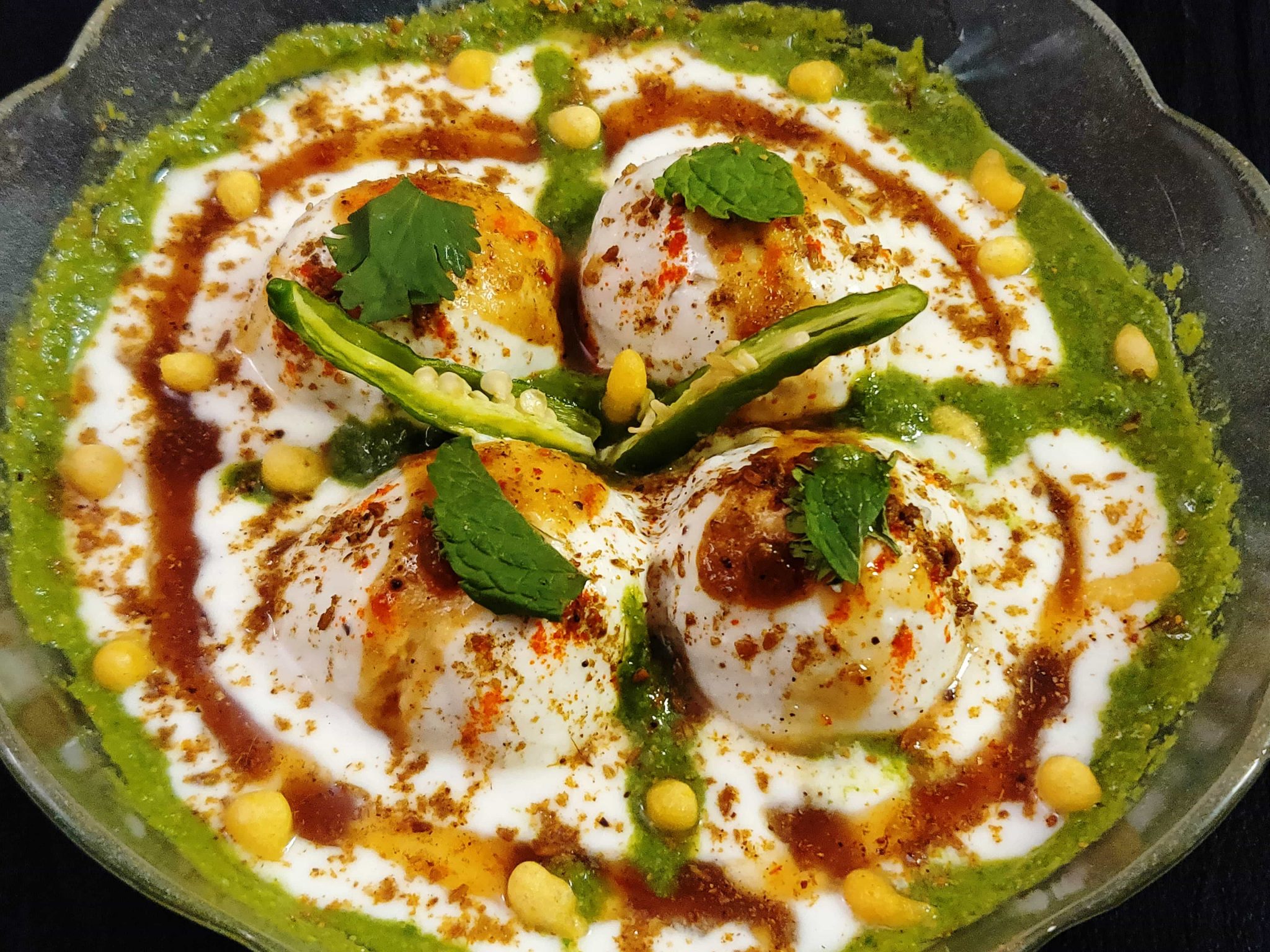 Oil-Free Dahi Vada without frying ... sounds unbelievable? But these are actually like this.
Be it a Chaat party or any festival or any get-together or lunch or dinner, it is incomplete without the preparation of Dahi Vada. These are undoubtedly the essence of the menu of any party. Fried dumplings of lentils, covered with yogurt and tamarind dip adds dollops of exoticness to any Indian menu.
Make it on Holi, Diwali, and for parties or just like that. In fact, this bread Dahi Bhalla recipe is just perfect for fireless cooking competitions in school. If you want to know how to make Dahi vada soft then read this complete post.
These no-cook Dahi Vadas are made with bread. These are very much no-cook and get ready very quickly but calling them instant would not be correct. Why I am saying so, will soon be clear to you.
If you feel that bread Dahi Vada tastes more like bread, then do check my secret tip shared below.
How To Make 
For making these Dahi Vada, you need bread and some filling of your choice. Normally this filling is of coconut, nuts and ginger. You can adjust the filling as per your choice.
 

Step By Step Photos
Make the filling. For this take grated coconut, chopped nuts like almonds and cashews, raisins, chironji, ginger julienne, pomegranate pearls and chopped coriander leaves. Mix everything and keep it aside.
Now take bread. You can take any bread here, be it white or brown or multigrain. But, to be honest, white bread suits this recipe the best. First of all, trim the edges of the bread.
Keep a bowl of water. Take one slice of bread, dip it in the water and squeeze all water by pressing it between your palms.
Keep 1 or 2 tablespoons of filling in the squeezed bread and close it. Shape it round by pressing between your hands. Just like you make bread rolls. But see that you give it a round shape and not oval.
Make all the Vadas like this.
Now, smoothen curd by whisking it for a while. Add a little sugar powder, cumin powder in the curd and mix properly.
In a shallow dish, keep all the stuffed vadas. Pour whisked curd over them so that they are fully covered in it. Keep this and the leftover Dahi in the refrigerator. Do not serve it immediately.
Now comes the trick. Let it be like this at least for a few hours, better if kept overnight or even for a day in the refrigerator. The trick is that in this resting time, bread absorbs yogurt very well and thus does not taste raw at all.
At the time of serving, add salt in the prepared yogurt and put it over these. Then little tamarind or dried mango powder chutney, little green coriander chutney. Also, check my Instant Meethi Chutney With Amchoor recipe.
Serve with love, food optional 🙂
FAQs 
Q) Why should I make Dahi Vada with bread?
Dahi Vada is generally made with lentils. Lentils are first soaked then ground into a paste, beaten a lot to give the desired softness, and then finally its balls (dumplings) are deep-fried!
Such a lengthy and laborious process! And thus requires time and planning. Apart from this, more and more people are switching over to healthy foods and thus do not want to have anything fried. In both these cases, this Oil-free No-Cook bread Dahi Vada recipe is a boon and serves the purpose very well.
Q) How to make Dahi vada soft?
This is a major concern while making Dahi vadas. But when you are making bread Dahi vadas then you are relieved from this tension as these Dahi vadas are soft only, melt-in-mouth, kind of texture.
Q) Do I feel the taste of raw bread while eating these?
Not at all! Just soak these in beaten curd for few hours and you will have the best Dahi vadas.
Q) Can I make these with brown or multigrain bread?
Yes, you can but there will be a slight difference in the taste. White bread gives the best results.
Related Recipes which you may like to try:
Let's Connect
So how did you like this recipe of bread Dahi Vadas?  Do let me know through your comments. You know your feedback fuels my enthusiasm to post more good content. Let's connect on Facebook, Pinterest, Instagram (#samirasrecipediary) too.
Bread Dahi Vada