Macaroni Salad recipe that is simple and light but full of taste. Mildly flavored with spices, bell peppers and crunchy peanuts, this salad is a delight to have any time of the day.
It's a pleasant change from the usual Macaroni made in red or white sauce.
Easy and quick to make this, vegan macaroni salad is a new favorite in our house. This salad can be had anytime and in fact, can be easily packed in the tiffin box also. So, if you are also looking for some easy macaroni recipes, then this salad is perfect to start with.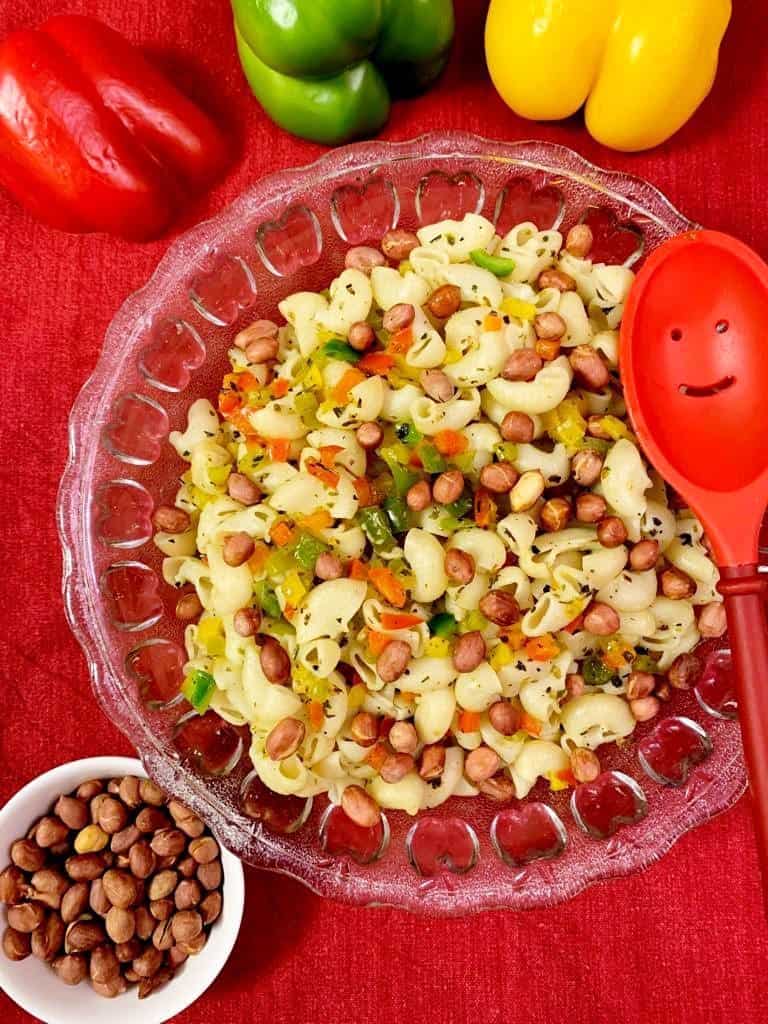 Macaroni Salad At My Place
Recently, my husband was all gaga for this salad after he had it in a hotel during his official visit to Nainital. Though he is not at all into cooking, but after coming back from there gave me an exact description of it so that I could try at home also. When I made it was a hit. All of us liked it a lot and then only I decided to share it with you all.
This Macaroni salad is quite similar to the Pasta Salad I have shared earlier but this one is a much simpler version of it.
The day before yesterday, I made Macaroni after ages. And can you believe it in the past 2 days I have made it 4 times? Everybody liked it so much that apart from the salad they also had it in Red Sauce, like Pasta. Actually, all these years Pasta is so much everywhere that this macaroni had taken a back seat. But then while making it the question as to whether pasta and macaroni are different or not was continuously bumping in my head. Though I was sure that they are the same but still.
And as I always say, a big thanks to my blogging which pushes me to go beyond my comfort zone and dig things further. Though short of time nowadays but still I had to and thus tried to do a little research on the differences between the two. And sharing the results with you. Not much of a difference but still it's going to be a good read.
Difference Between Pasta and Macaroni 
Appearance: Pasta comes in various shapes and sizes like penne, spaghetti, fusilli, etc. But Macaroni is in just one shape everywhere and that is elbow-shaped or say like alphabet c.
Ingredients: Pasta is made using wheat, water, rice, rye and/or eggs. But macaroni is just wheat and water, without any eggs.
Shelf life: Macaroni has a much longer shelf life than Pasta.
Popularity: Pasta is specific to the region whereas Macaroni is popular all over the world.
Production: Pasta can be made manually or in machines. But Macaroni is always machine made. Visualize its shape and you will immediately agree that this shape cannot be made with hands. (Source)
Basically, not much of a difference. Just like all squares are rectangles but all rectangles are not squares, similarly, all Macaroni are Pasta But all Pasta are not Macaroni.
Other salads that you may find interesting are:
Step By Step Recipe
A. Boil Macaroni
Take 3 Cups water in a big pan and boil it.
When the water starts boiling, add salt and Macaroni. Stir it so that it doesn't stick to the bottom of the pan.
Boil for 7 to 8 minutes till tender.
Drain in a strainer and keep it aside.
B. Make Salad
Chop bell peppers in small pieces.
Roast peanuts.
In a wok, take olive oil and saute bell peppers.
When slightly soft, mix in the boiled macaroni, herbs and roasted peanuts.
Adjust salt. Toss everything.
Serve with love, soup optional.
Frequently Asked Questions
Q) Can I replace macaroni with Pasta?
Yes, you can.
Q) What all vegetables can be added to this salad?
It tastes best with bell peppers only.